Cover pic: Kutjevo, Croatia @krauthaker
There are few things that evoke the bygone Austro-Hungarian Monarchy and the 'kaiserlich und königlich' times quite as perfectly as Olaszrizling. Of course, there's also wine spritzer, operetta, Musil's Man Without Qualities and Kafka's clerk-turned-bug, the eternal dilemma of the hue of the jam in Sachertorte, Klimt's The Kiss and the Danube in its entirety as it rolls its way through successive states, linking them together. However, that's enough of that, Olaszrizling is the real Monarchy, as endorsed by everyone in Central Europe.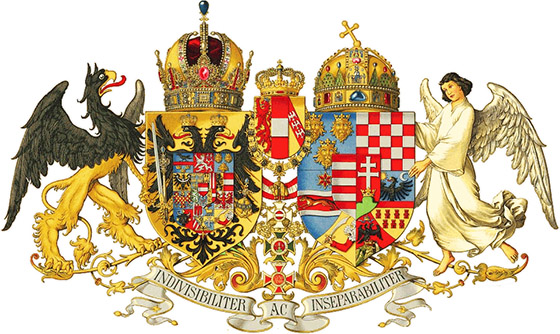 Medium Coat of arms of Cisleithania and Transleithania (see below) with supporters: a griffin in the dexter (for Austria) and an angel (for Hungary) in the sinister.
Why Olaszrizling in particular? Why not Kadarka? Or Furmint? The former is of course a horribly tricky variety, susceptible to rot and beset with all kinds of problems; the latter has not only come to be associated with Tokaj but also with some Slovenian producers. Moreover, neither of the varieties boasts quite such quantities as their sibling does, not a drop of which is Italian or Riesling. Let's just stop here for a moment. Then Olaszrizling isn't Riesling? Difficult question. The whole world (an old chestnut, I know, but repetition is the mother of all wisdom) knows Rhine Riesling as Riesling, doesn't it? It's one of the finest varieties, with unique and enticing acidity, with wonderful dry wines and magnificent sweet ones, it's a little as if we were talking about Furmint, except that only we really know the latter whereas the whole world is familiar with the former. So, there's Riesling and Olaszrizling, and of the two, the latter isn't Riesling, only in name, in reference to the erstwhile claim that the word Riesling originally meant a group of varieties, not a single cultivar. Therefore, there is Rajnai (Rhine), Olasz (Italian), Banat and even Black Rizling, and in the past, there was even Fehér (White) and Fekete (Black) rizling, just to add to the confusion. They are not related to each other; Fekete rizling is, for example, Pinot Meunier, a variety cultivated in Champagne, which the Germans choose to call Schwarzriesling (Black Riesling); this also caused a huge mix-up in Serbia, where Olaszrizling's local name was thought to have been resolved by renaming it to the old Serbian name of the variety: Grašac Beli (White Grašac). If I haven't managed to totally lose everyone yet, I'll continue…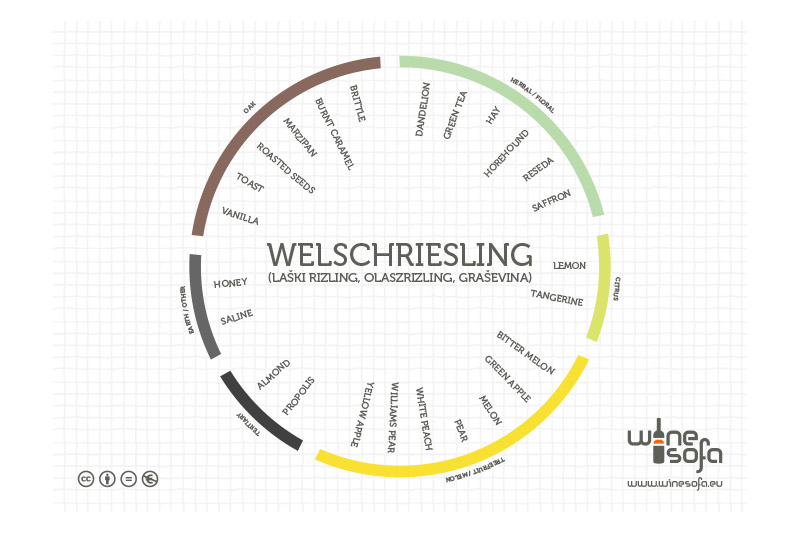 Our Welschriesling aroma profile (by Tamas Doma)
What for us in Hungary is Olaszrizling, is Welschriesling for our brothers-in-law in Austria, Graševina for the Croatians, Riesling Italico for the Romanians (Italians mostly call it this too), Laški Rizling for the Slovenes, Ryzlink Vlašský for the Czechs, Rizling Italijanski for the Serbs, but this name has been greatly eroded in the last 70 years and they've recently started using the local name of Grašac, and Rizling Vlašský for the Slovakians. Outside Europe, China is the largest producer of the variety and they use the Austrian name whereas the international wine press, with Jancis Robinson leading the charge, finally plumped for Graševina, which caused quite a stir with Hungarian winemakers.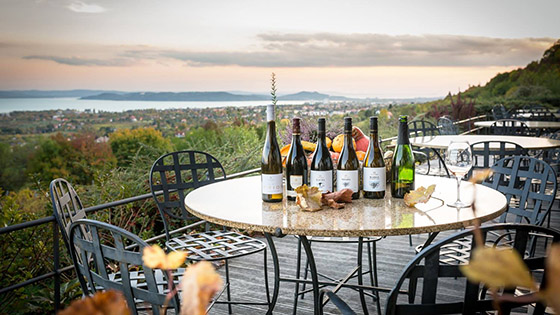 Csopak village, the lake Balaton and some of the Olaszrizlings from the region (Photo: Márga Bisztró)
So, how have we ended up here? Do they really want to take this variety away from the Hungarians by not favouring the Hungarian name? Are Hungarian Olaszrizlings better than their Croatian, Romanian and Slovakian counterparts? Hungarian consumers and perhaps most producers believe this too! And, actually, what do Csopak and Kutjevo in the article's title mean?
But first, a quick recap of the variety's many names and where each is used:

Let's start with the Austrians and the Slovenes
The flagship wines of the most renowned Austrian wine regions are not Welschrieslings, and that's a fact. Austrian wine marketing tends to oversimplify the world, with the Grüner Veltliner-Blaufränkisch mantra behind their wonderful achievements, giving rise to the illusion among normal wine drinkers that Austria is all about these two varieties, that they don't have any others, full-stop, end of story. Well, Wachau is really all about Grüner Veltliner and Riesling, as is Kremstal, whereas in the case of the Burgenland, red wines are what come to mind. However, it's also home to the Neusiedlersee, where you can find the wonderful sweet wines from Rust (look for them under the name of Ruster Ausbruch, from such hallmark producers as Ernst Triebaumer or Heidi Schröck) and on the other side of the lake, the eastern shore, the renowned Kracher winery is also worth a mention. The local sweet wines were traditionally a blend of Furmint and Gelber Muskateller (Muscat Blanc à Petits Grains) in the past, but they owe their modern countenances to Chardonnay and Welschriesling, so we can safely say that the world's most highly rated Welschrieslings come from here. And this is no joke, these wines score 95 or 96 points in the best vintages from Decanter and Wine Spectator columnists.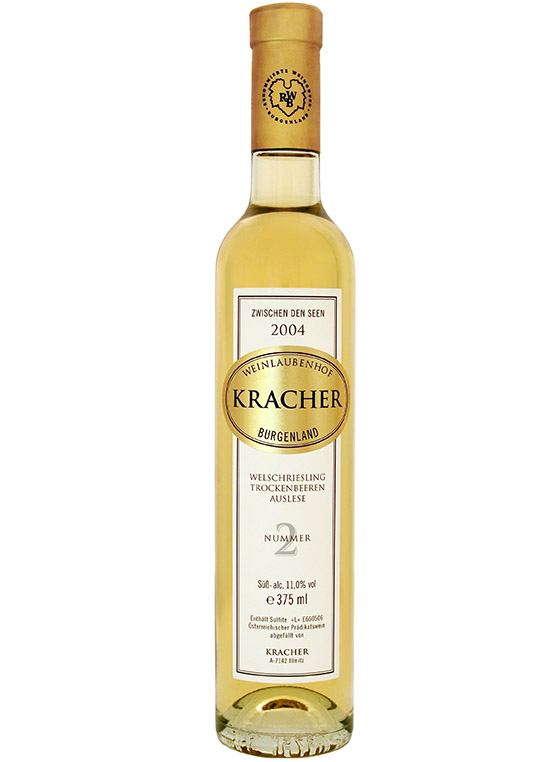 As we move away from the lake, the amount of botrytis and hence sweet wine decreases, but not the Welschriesling vineyards! The Szigeti sparkling wine winery in Gols even produces a traditional method sparkler from Welschriesling whilst almost everyone towards Eisenstadt produces a dry, light Welschriesling. The counterpole to these wines is Styria where the vineyards also twist and turn between the winding hills. Styrian winemakers, whether we are talking about Austrian or Slovenian producers, favour light, austere wines with crisp acidity. The biggest names in this area are unquestionably Manfred Tement and Erich Polz while on the other side of the border, the variety is showing promise at Valdhuber and the Gross family. The Puklavec family, the largest winery in perhaps the most famous Slovenian wine region, Jeruzalem-Ormož, also produce a significant number of bottles of Laški Rizling every year.

From the periphery to the centre
What's about in the Czech Republic and Romania? The variety is known and cultivated in both places, albeit not really in a leading role and you certainly have to do some research and seek out bottles in the shops. In our south-eastern neighbour, Davino and Domeniul Bogdan, and sometimes also Senator (under the name Varius) bottle Riesling Italico, but the Feteasca family still dominates the wine world here. Whereas some surprisingly good Czech Ryzlink Vlašský stands out from their sea of Müller-Thurgau. I'd just like to mention the Dunajovské Kopce association which sticks out from the Czech VOC protection of origin system. The two towns have hundreds of hectares just of this variety! (If I had to choose something from here, I'd definitely look for and recommend the wines from Vinárstvi Volarik, Mikrosvin or Kadrnka.) The variety is also grown in Albania, China, as already mentioned, and Brazil! It would be funny to come across a bottle of Vinícola Aurora (Brazil) or Chateau Changyu (China) somewhere in the world!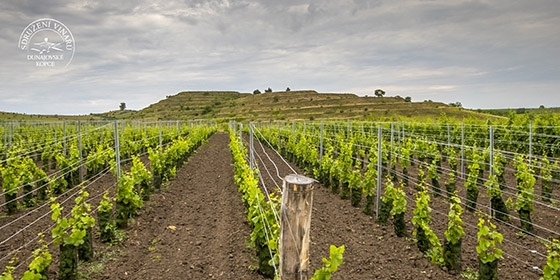 Serbia has also been banished to the periphery, although in the past, Rizling Italjanski was also an important variety in the Banat, along with Banat Rizling (Kreaca in Serbian). Unfortunately, the once world-famous Vrsac Helvécia winery, nationalised during communism under the name Vrsacki Vinogradi, was alone able to entomb the Rizling name for a hundred years on the whole Serbian market, irrespective of whether it was Italjanski, Rhine or Banat. This gigantic winery with 1600 hectares at its disposal has now gone bankrupt, although an unsuccessful attempt was made to sell it to the Chinese. The wine which emerged from their cellar, a parody of the name Rizling, was undrinkable, adulterated, sweetened, doused with citric acid and unworthy of being called wine. So Serb producers and like-minded wine writers realised that they needed to come up with a local name for the variety for those who still wanted to sell their Rizling Italijanski. So, every now and again, you will come across wonderful Grašac alongside Rizling Italjanski, for example from the Kis winery in Sremski Karlovci, or from the Šijački winery in Banoštor, under the name Aldumaš. The Italians also work with the variety, moreover they like to age it in oak, above all in the province of Friuli, which emerged from the shadow of the Monarchy. However, it is not a flagship variety there either.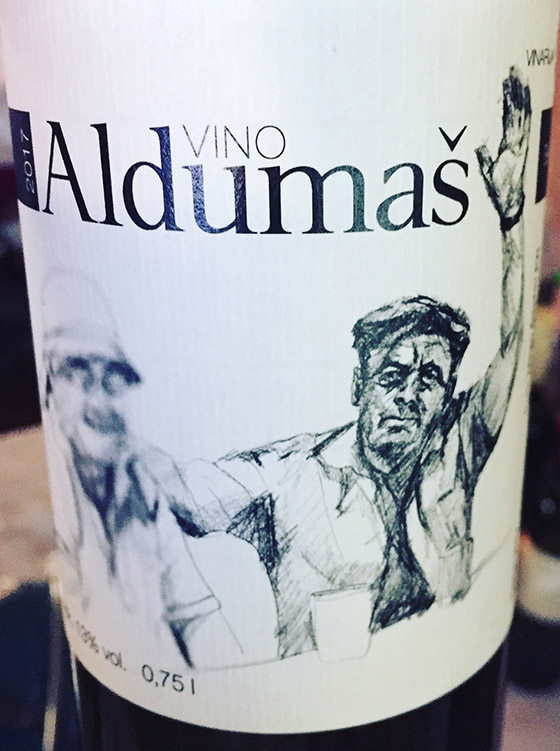 Photo: Daniel Ercsey
Things get more serious from this point on though. There is a wonderful Olaszrizling competition in Hungary, whose name, Aranytőke (Golden vine), commemorates the communist Mátyás Rákosi's 'Kombinat' period, which, despite its name, brings together a really serious collection of Olaszrizlings every year in Egerszólát. Looking at the last few years' statistics, it seems that one of the highest scores for a dry wine was awarded to a Slovakian whereas a Croatian producer received this for their sweet wine. As well as the Hungarians, of course. Although relatively few producers in Slovakia place much emphasis on the variety, there are a handful who take it seriously in almost every wine region. Well-made Rizling Vlašský is bottled not only by Svätý Jur and Dubovský&Grančič, who won the gold medal in Egerszólát I mentioned earlier, but also by Martin Pomfy, Vinidi, Movino, Janousek&Polák and Chateau Topolcianky, mostly in the Malokarpatska and Nitrianska wine regions. A special mention should go to the natural face of the variety, which Strekov1075 (Zsolt Sütő), the Kasnyíks and Matus Vdovjak represent with a really wide range of styles from wines bottled unfiltered and on their lees to orange wine made in qvevri. All in all, it seems that Slovakian Rizling Vlašský represents a more austere style with livelier acidity due to the climate but no real varietally specific concept.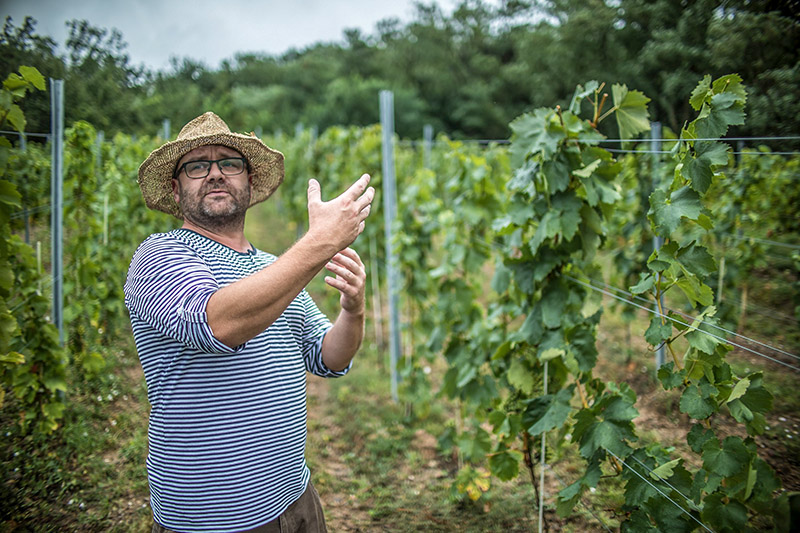 Matus Vdovjak (Photo: PixelTaster)
There's definitely Olaszrizling everywhere in Hungary. True, not in Tokaj, although there was some in the past. It's cultivated on around 4,000 hectares, making it second in the world. As well as the Olaszrizlings from the Great Plain (which are very drinkable, fresh, reductive wines), there is also Zala where Doctor Bussay used to make some memorable fiery, full-bodied wines, which got me irrevocably hooked on the variety and it's thanks to these wines that I took one of the wine world's most prominent wine writers, the otherwise talented Matt Kramer, for a fool, as he had dubbed Olaszrizling a 'loser' variety. Then there is Eger and the Olaszrizlings from Egerszólát (that wine competition is no coincidence), which was really playfully transplanted in public opinion by Lajos Gál's "Szó-lá-ti" wine. Last, but not least, there is the immense sea of loess stretching to the south of the Balaton's southern shore and its own wonderful Olaszrizlings, from which those from Siklós stand out, thanks to Tamás Joó!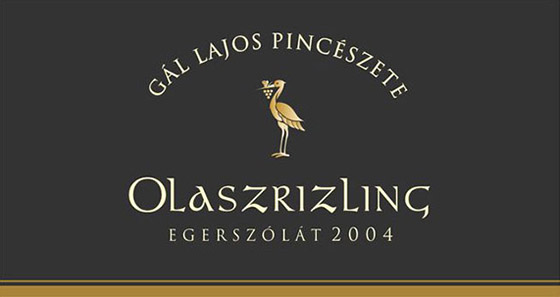 So, we've now arrived in Croatia, more precisely in Slavonia, because although there is also Graševina in the Zagorje region close to the Slovenian border, it's obvious that its essence must be sought in the central and eastern parts of continental Croatia. Croatia has roughly 5,000 hectares of Graševina (and a further 3,000 hectares in people's gardens) and based on tastings from the past few years and frequent blind tastings as well as the International Graševina Conference organised in Zagreb for the first time last year, it is clear that they do have a concept for the variety. Anyway, we're talking about the Croatian Baranja close to Villány and Mohács in Hungary (which is charming and not to be missed, especially Batina, Zmajevac and Suza as well as Kopački Rit and Osijek's old town), about the area along the Danube around Erdut or about Ilok in the Srijem as its precursor. Croatian Graševina is namely a tight, quaffable wine with good acidity ad 3-5g residual sugar making it smooth and silky, which has resulted in every fourth bottle of wine sold in Croatia being Graševina!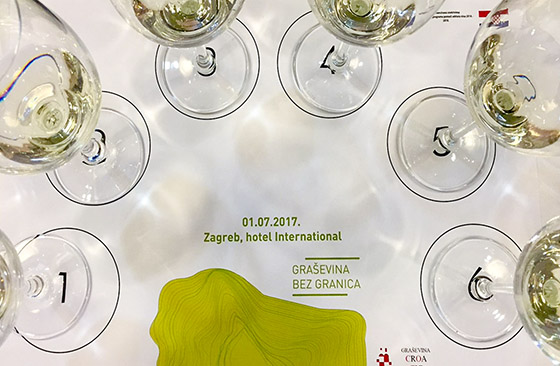 The Croatians have crept in ahead of us
Does that make Csopak small fry? Certainly not! The Olaszrizlings from the northern shore of Hungary's Lake Balaton are unrivalled in their own genre, yet each is unrivalled in its own way. Badacsony and Somló because of the basalt whereas Csopak because of the country's possibly best functioning origin protection and quality system. It's amazing what they've managed to achieve and that they've done all this arm-in-arm with Olaszrizling! Moreover, there's also BalatonBor, which is Olaszrizling too; it may not yet be fully mature, but that hardly to be expected after just a few years.
What Csopak is for the Hungarians, Kutjevo is for the Croatians. In both regions, vineyard-selected Olaszrizlings and Graševinas are the stars. Furthermore, what Jásdi, Figula or Szent Donát are for Csopak, Krauthaker, Enjingi or Galić are for Kutjevo; Krauthaker is one of Croatia's most renowned winemakers, the Graševina apostle. His Mitrovac Graševina (he has several each year) features almost permanently in Decanter tests and international wine competitions. It's also worth comparing the wonderful Csopak vineyard-selected wines, those that are members of the Csopak Codex and even those that are not (e.g. Figula).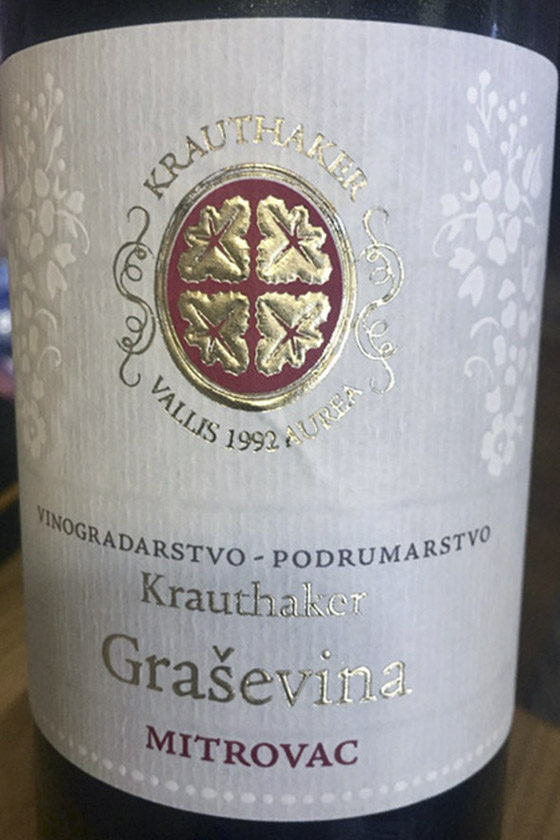 Photo: Daniel Ercsey
So, what's the conclusion? Essentially, perhaps that even though Csopak's top wines (The 2015 vintage was really quite amazing!) are certainly the world's most beautiful and mineral Olaszrizlings, thus far the Croatians have demonstrated their power in the €6 and below category, standardising Graševina in a likeable, economic way, which is also comprehensible internationally. Admittedly, the world, however, has positioned this so that is accessible and can be tasted by many people. From this perspective, the Croatians have an irrecoverable advantage whereas the Hungarians have their unique wines in Csopak. You really have to taste the latter but don't forget about the former either!