The Csopak Codex (Csopaki Kódex) is an independent origin and trademark protection system, focussed on Csopak's traditional variety, Olaszrizling (aka Graševina in Croatia and Welschriesling in Austria), which has been the dominant variety in the Balatonfüred-Csopak region since the late nineteenth century. Its stated aim is to create a higher level of protection for Csopak's quality wines. Wines bearing the trademark's seal of approval, the two-tailed golden lion also featured on the town's coat of arms, have to meet stringent rules relating to quality and protection of origin. Its motto 'Vinae Csopak Nobilis Districtus' harks back to the third century when Roman Emperor Probus identified wines originating from around the Balaton with the name 'Vinae Pannonaie Nobilis Districtus'. The system is built on four pillars and production is rigorously controlled right from pruning through to the finished bottled wine.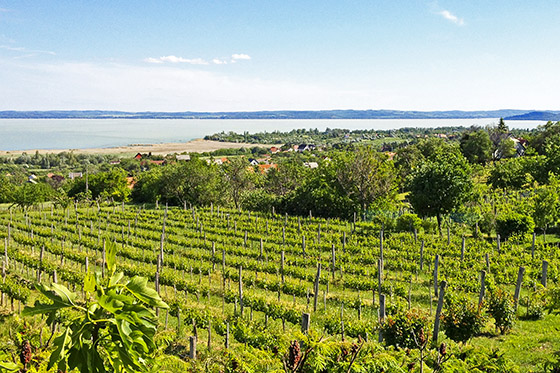 Csopak is situated on the northern shore of Lake Balaton, which ensures it good ripening conditions. The area, comprising five settlements and thirty first-class vineyards, is an extremely diverse area geologically. The wide range of soils influence the acidity and flavour and aroma profile of the wines in the various vineyards, as does the distance of the vines from the lake and the gradient and exposure of the slopes; proximity to valleys and forests also intensifies any cooling effects. Csopak believes that its focus on this one main variety enables their wines to effectively show these differences within the region. Thus, the main objective of the scheme is to promote and develop a common system for single-vineyard-selected wines.
The Codex Vinitoris, meaning the grape growers' regulations, are the specifications which dictate rigorous control throughout the production process. Wines may only be made from grapes originating from thirty vineyards within the settlements of Csopak, Paloznak, Lovas, Alsóörs and Felsőörs. The vines must be at least ten years' old and there are strict regulations regarding pruning, training, missing vines, yield, quality of harvest and brix levels. Control naturally continues in the winery, with hygiene of extreme importance and tasting of the new wines before they must pass a tasting panel in order to be entitled to be bottled in the Burgundy-style bottle. The wines must be fermented spontaneously or with a neutral yeast, must be between 12% and 13% ABV, contain a minimum of 5.5g acidity and a maximum of 4g residual sugar. and age for at least nine months (six months in stainless steel and/or oak and three months in oak) before they can be released.
The wines are generally characterised by flavours derived from the dominant soils and bedrock, i.e. dolomite, marl and Permian sandstone, and by almond notes.
So, know you know where Csopak is and what the Codex means, let's taste some wines.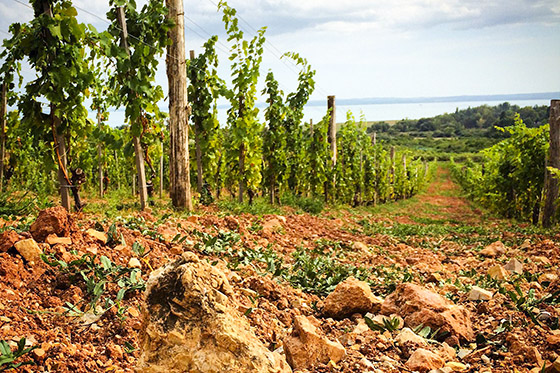 Petrányi Pince, Rizling Kódex Szitahegy 2015 (sample, sandstone and marl) I 88 points
Attractive nose with intense almond aroma along with some pear and peach. A touch vegetal, with yellow apple and nuts on the palate. Fresh and crisp with good acidity and a solid structure. A harmonic wine with a medium finish dominated by citrus and mineral notes.
Petrányi Pince, Rizling Kódex Szitahegy 2014 (sandstone and marl) I 86 points
A perfumed, floral wine with fresh grape, white peach, apple, lemon and grapefruit on the nose. Medium-bodied with a taut structure and zesty acidity. Pear, yellow apple and almond on the palate, together with some toast and a slightly bitter note. Medium finish characterised by salty minerality.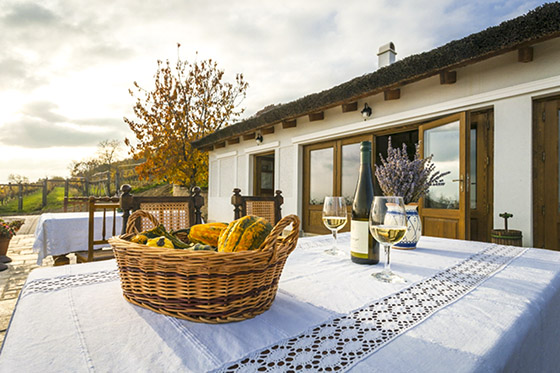 Homola Pincészet, Hajnóczy Olaszrizling 2014 I 83 points
Initially dominated by aromas of nuts, toast and vanilla. As the wine opened, ripe intense apple, grapefruit and white peach showed through along with some almond and dill. Bright and fresh with high, zippy acidity and a salty undertone. Complex wine with some vegetal, celery notes and a slight bitterness.
Homola Pincészet, Hajnóczy Olaszrizling 2015 I 89 points
Intense on the nose with ripe yellow apple, grapefruit, caramel, butter and some chalkiness. Some vegetal notes are also present. Zesty, fresh lime acidity, with attractive minerality and concentrated ripe fruit reminiscent of candied fruit. Oak feels better integrated on the palate than the nose, but has only recently been bottled. A juicy wine with a long salty finish.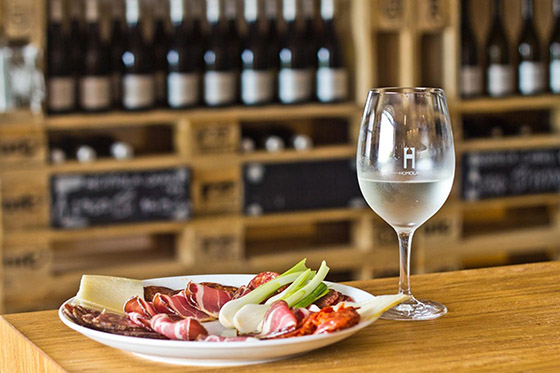 Jásdi Pince, Csopaki Olaszrizling 2015 (Estate wine, not Codex) I 87 points
Intense ripe fruit on the nose, dominated by apple and almond with some perfume and floral notes. Intensely mineral on the palate. Smooth acidity with lovely bright fruit, lime and pear drops. Relatively long finish. Extremely attractive everyday wine.
Jásdi Pince, Lőczedombi Olaszrizling 2015 (sandstone) I 85 points
Nutty and toasty on the nose with some Williams pear, apple and lemon. Slightly stalky taste. Stony, mineral and pear flavours with a relatively short salty finish.
Jásdi Pince, Siralomvágó 2015 (dolomite) I 88 points
Pleasant ripe fruit and perfume on the nose. Apple, citrus and pear. Intense, mineral and crisp on the palate with flavours of marzipan and peach. Long, juicy, concentrated finish.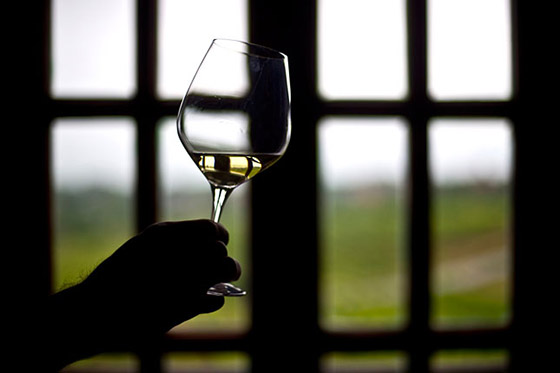 Guden Birtok, Vitéz Cuvée 2015 (estate wine, not Codex) I 86 points
Intense aromas of stewed apple, exotic fruit, tangerine, almond and some floral notes. Crisp acidity and a medium body. Fresh lime fruit and a mineral, salty finish. Fresh, balanced, elegant and vibrant wine.
Guden Birtok, Slikker Olaszrizling 2015 I 87 points
Perfumed and floral with bright fruit aromas. Mineral and salty on the palate with some vegetal character of cucumber and celery and plenty of crunchy green apple. Attractive and very drinkable wine.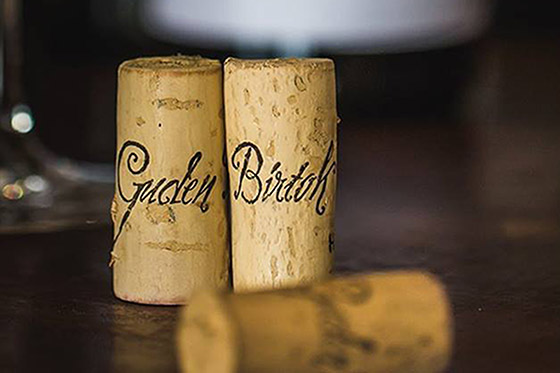 Szent Donát Birtok, Slikker Olaszrizling 2015 (Permian sandstone, red clay, rich in iron and magnesium) I 89 points
Intense, ripe pear fruit aromas with a touch of mint. Crisp, lively acidity and a taut structure with plenty of yellow apple and mineral linearity. Elegant and balanced wine.
Szent Donát Birtok, Kishegy Olaszrizling 2015 (high pH soil, loess, clay and limestone with marl bedrock) I 87 points
Attractive nose with nuts, pear, toast and some floral notes. Fresh, zesty acidity, linear structure, but perhaps a little austere. Crunchy fruit, mineral and stony with a slight vegetal character.
Szent Donát Birtok, Csopak 2015 (estate wine, not Codex) I 84 points
Fresh bright lemon, pear and apple fruit with attractive minerality. Less structured and thinner than the vineyard-selected wines, but still an attractive, quaffable wine.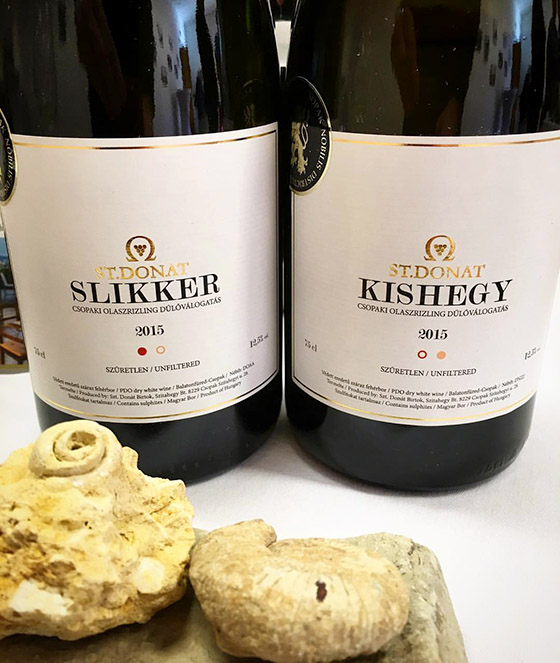 Fekete Pince, Hegyalja Olaszrizling 2015 I 87 points
Bright fruit with a touch of toast. Nutty, oily with a whiff of petrol. Minerally and concentrated on the palate with zesty acidity. Multi-layered with flavours of pineapple and grapefruit, mineral and waxiness. Long mineral finish.
Fekete Pince, Ötsoros Olaszrizling 2015 (selected from only five rows) I 85 points
Attractive pear and apple fruit with some stoniness on the nose. Zippy acidity, with fresh, crunchy fruit. White peach, lemon and mineral notes. Simple but very attractive wine.
Fekete Pince, Zuzmararfehér Olaszrizling 2014 (late harvested) I 85 points
Just off dry. Not a classic Olaszrizling, so not Codex. Relatively high alcohol at 14%, noticeable on the finish. Complex wine with nuttiness, peach, apricot, honey and caramel on the nose. Honey, stone fruits and minerality on the palate. Full bodied, buttery and oily with some vanilla notes. Pleasant wine with relatively long finish.
Söptei Pince, Nagykút Olaszrizling 2015 (sample) (sandstone and clay) I 86 points
Moderately intense wine with floral and grape notes. Well-structured with lively acidity and mineral, apple and almond flavours. Medium finish with a stony character.
Söptei Pince, Olaszrizling Hegybor 2015 (not codex) I 85 points
Aromas of nuts, ripe apple and herbs. Moderately intense with almond and mineral character on the palate. Zippy acidity and tight structure. Fresh and very drinkable.
Söptei Pince, Nagykút Olaszrizling 2014 I 87 points
Intense wine with ripe grapefruit, mandarin and peach on the nose. Concentrated wine with luscious ripe fruit, vibrant acidity and a salty, mineral finish. Focussed, but perhaps slightly austere.
* The wines were tasted at an Csopaki Kódex event organised as part of Olaszrizling October at the Etap wine bar in Budapest.