It is no exaggeration that the wine region around Ilok, the rows of vines running uphill, even Ilok itself, its castle with the church inside, the cellars, the streets winding below the castle, all this is simply wonderful. The Danube slowly flows underneath, while the renovated castle, the heritage of the Odescalchi family on the top of Principovac can be seen from far away. In other words, we have arrived in the land of Traminac…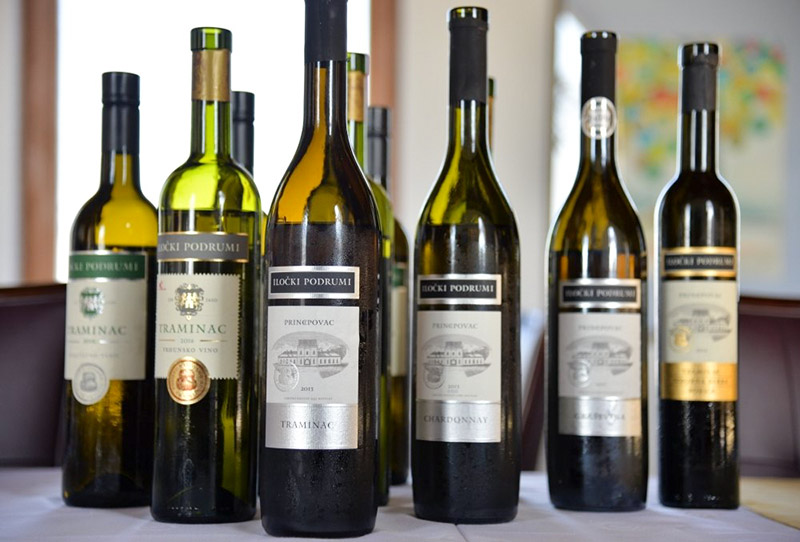 Photo: Piroska Koltai - Wine a'More Travel
I had my first encounter with Ilocki Podrumi years ago in the form of a 2009 Principovac Traminac received as a gift. I clearly remember because it belongs to those (really) few wines whose taste and mood I'll remember as long as I live. It was awesome, full-bodied still its acids fresh, with a rose scent typical of this variety but revealing something completely new in its taste. It showed tropical and citrus fruits, honey and flowers, with such fullness and acids that I thought only a hidden, small volcanic wine region in the north-western part of Hungary can offer. It reminded me of Somló.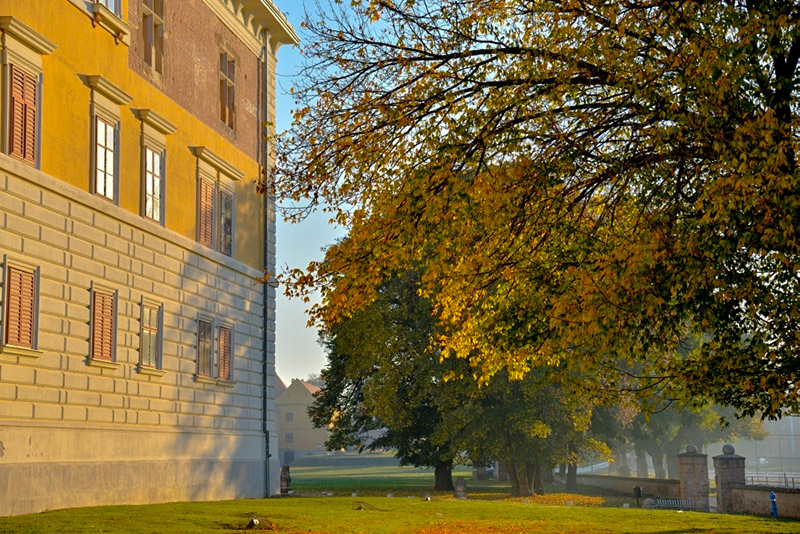 Ilok early in the morning by Piroska Koltai - Wine a'More Travel
Those intending to judge a Central and Eastern European cellar based only on its size and the dry facts will be thoroughly surprised. Ilocki Podrumi with its 360-hectare estate and its integrated 600 hectares is one of the largest wineries of the region. This might mean undrinkable wines if we make a routine decision … badly. This, however, could not be further from the truth. The winery is a special mixture of good taste and professionalism (including everything that belongs to the company), something I had the chance to see long ago.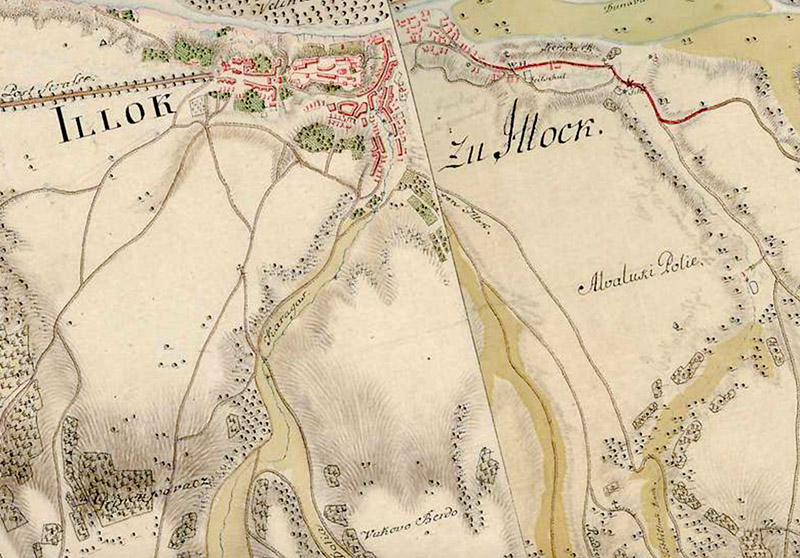 Ilok in a map from 1770. You can find the 2 best known vineyards of our days, located on the left side below. Principovacz & Vukovo Berdo.
The cellar in the castle was built by Nicholas of Ilok around 1450 on ancient Roman foundations. Later came the Ottoman rule followed by the Odescalchi family as landowners. They were the ones to plant Traminer for the first time in 1710. Close attention was paid to the variety from the very beginning and in the 19th century experiments were made to ferment the Traminac in wooden tubs lined with glass, so basically, the first reductive Traminac of the world were made here and the archetype of the scented, fresh and modern Traminac was born. What is more, Ilok wines were transported on the Danube exclusively in marked barrels from the very first phase of the estate construction thus guaranteeing quality and protecting its origin.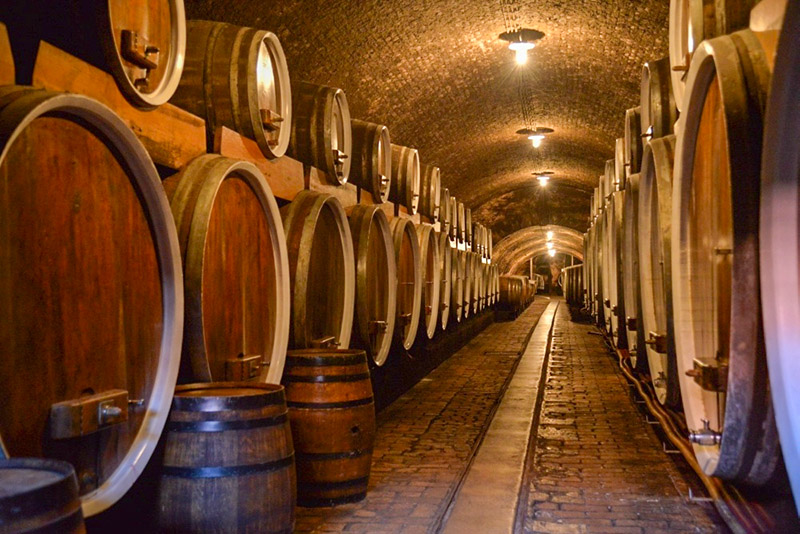 Photo: Piroska Koltai - Wine a'More Travel
During the Communism the quality and reputation of the cooperative's wines could be preserved (though not its private property) so Ilocki Podrumi did not have to start brand-building from scratch. The castle that belongs to the estate (up on the hill) was sold in 2005 and now it functions as a museum. In the 19th-century winery located nearby, a restaurant opened in 2009 and the cellar built underneath in the 18th century houses tasting rooms for wine tourists. Luxury river boats have stopped in Ilok since 2015 thus taking advantage of the proximity of the Danube so every week some 200-500 tourists visit the estate section located in the castle where there are 18 well-equipped double or twin rooms for those wishing to taste the wines. Guided tours are organized to the 15th-century cellar under the castle and the old wine stock with 180 bottles from the 1963 vintage, among others, can also be seen. These wines are for sale, obviously, but you have to pay an arm and a leg for them: one bottle costs 7500 euros.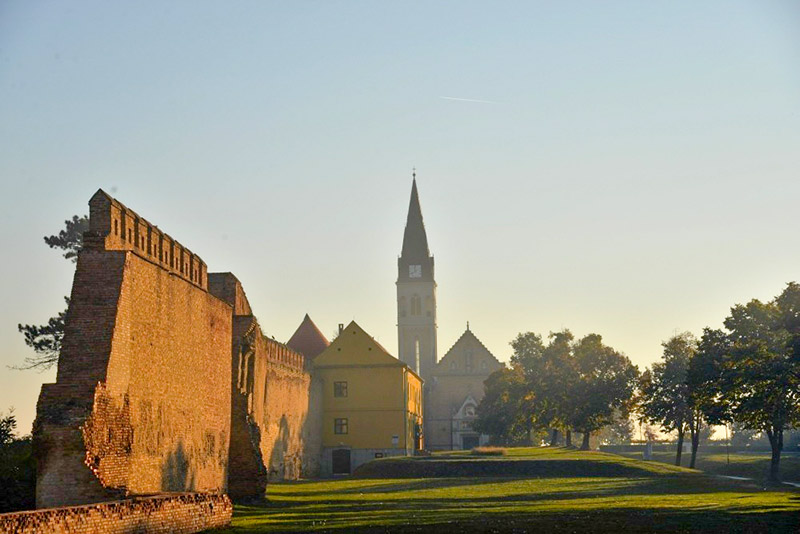 Ilok Fortress and the old church by Piroska Koltai - Wine a'More Travel
Currently, the two major parts of the estate are the 135-hectare Vukovo and the Principovac hills lying on 125 hectares with a renovated and smart yellow castle. The external tasting room of the estate also functions as a wonderful venue for wedding receptions and other events, and is the centre of future wine-tourism developments. Once there are more places to stay surrounded by vines (already planted), Ilok will be heaven on earth. The world has no problem drinking the annual 4.5 million litres of wine (65% of which is Grasevina) produced at Ilocki Podrumi. This can only be better if you come to Ilok to pick it up personally. And if I were you, I wouldn't wait long. Ilok is a great place and once it is discovered by the world, it will be impossible to get there. Come until it still has its wonderful, elegant and quiet charm.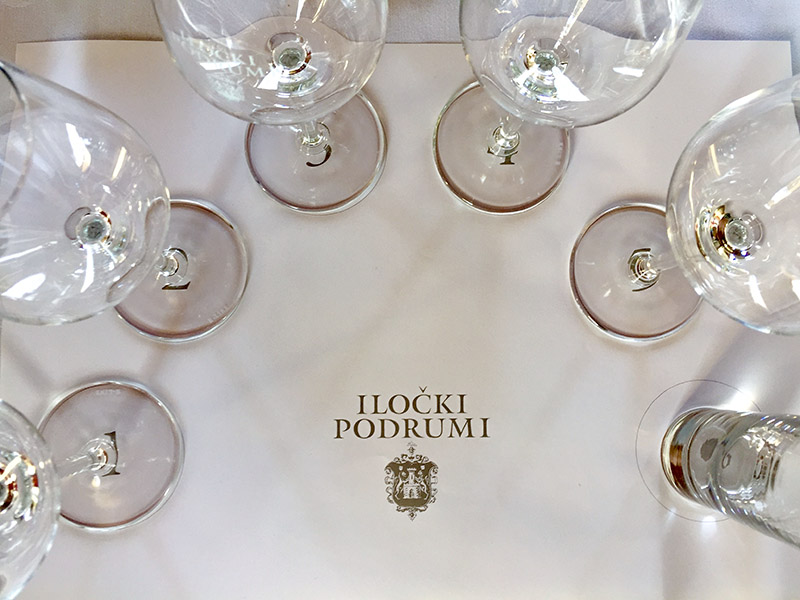 Photo: Daniel Ercsey
Let's see the tasting notes:
Rosé traditional method sparkling wine 2015 I 84-86 points
Lovely mousse with medium-sized bubbles, strawberry and raspberry on the nose. Lots of citrus fruit and red berries on the palate. Very drinkable, edgy wine.
Grasevina 2016 selected I 84-85 points
Nose of apricot, pear, white flowers and green apple. Light and linear, the palate reflects the nose. Very quaffable with the acidity rounding out on the finish.
Grasevina 2016 premium I 86-88 points
Ripe white-fleshed fruit and a touch of honey on the nose. Medium body, smooth acidity and ripe, complex flavours with a note of sunflower seed, white flowers and some bitterness on the finish.
Grasevina 2011 principovac I 87 points
Deep golden colour, chestnut honey, ripe apple and pear as well as apricot compote on the nose. Full body, rounded acidity, ripe and overripe character. Creamy texture with a little honey, medlar and ripe pineapple on the palate. Long finish.
Chardonnay 2016 selected I 86-88 points
Aromas of citrus fruit, pear and a little butter. Medium body, appealing acidity, very drinkable wine with plenty of fruit and a touch of citrus fruit.
Chardonnay 2016 premium I 84 points
Restrained nose of mandarin. Medium body and rounded acidity with flavours of apple and pear. Feels a little flabby. A predictable wine.
Chardonnay 2013 principovac I 86 points
Beautiful ripeness and complexity with pineapple, honey, apricot and medlar on the nose. Full body and rounded acidity with overripe white-fleshed fruit, pear compote and honey. Yet a medium finish.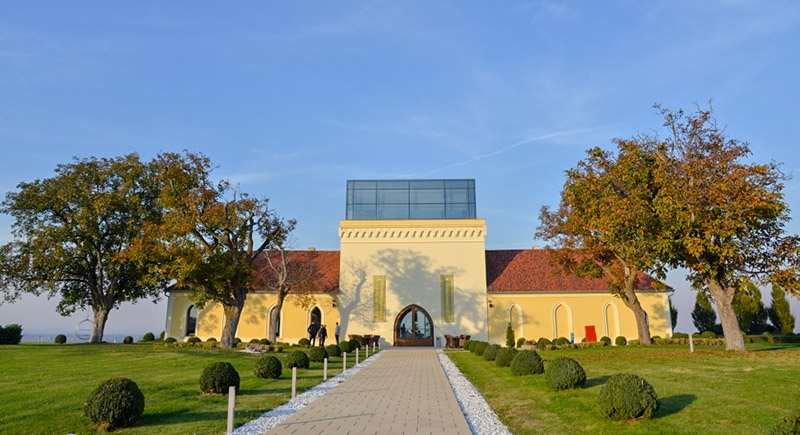 Principovac Castle by Piroska Koltai - Wine a'More Travel
Traminac 2016 selected I 86-87 points
Citrus fruit and plenty of rose on the nose. Razor-sharp acidity, edgy and fresh with plenty of citrus fruit, apple and pear. Very quaffable with a moderately long finish.
Traminac 2016 premium I 84-85 points
Restrained nose with a touch of citrus, apple and minerality. Medium body and rounded acidity with green apple on the palate. Medium finish.
Traminac 2013 principovac I 90-92 points
Caucasian tea, honey and oriental spice on the nose. Full body and rounded acidity with ripe white-fleshed fruit, orange oil, flowers, honey and peach on the complex palate. Endless finish.
Traminac Izborna Berba Bobica 2012 TBA I 90-91 points
Dried apricot, Mediterranean citrus fruit, a touch of green tea, a hint of mango and coconut on the nose. Moderately full body, broad and flowing structure and very complex palate. Ripe apricot, tea, oriental spices and rose oil. Very long. One to remember!
Rosé 2016 selected I 81-83 points
Restrained nose of mainly cherry and sour cherry. Light and fruity with good acidity. A little short.
Kapistran Crni 2015 selected I 85-86 points
Very fruity nose, mainly sour cherry. Light on the palate with good acidity. Fruity, fresh and very quaffable. Great basic red wine!
Kapistran Crni 2016 premium I 86-87 points
Sweet spices, coconut, a pinch of cocoa and blackberry on the nose. Medium to full-bodied, lively acidity and silky tannins. On the palate, sour cherry, cherry, vanilla, clove and coconut. Very drinkable. Great food wine with a touch of elegance.