The small wine region surrounding Somló hill, in the northwest of Hungary, is unique. 'Unique' is a word that's usually overused, but it's accurate for Somló (pronounced 'shomlo') because I have yet to find another wine region like it. Here's why it should be on every wine lover's bucket list of destinations.
1 It's a special wine region for all sorts of reasons, but most derive from the 431m-high extinct volcano at its heart. The small cone-shaped hill (one of three hills that make up the region) rises up from the Pannonian Plain like a hat placed on a large dining table. All the way round – including the northern side – is a patchwork of small vineyards. Including the flat areas at the foot of the hill, there are 832ha, which are owned by 1,204 individual wine producers! Most are weekend winemakers and only 42 sell their wines commercially. Of these, there are only two 'big' producers – Tornai and Kreinbacher. For the visitor it means it's an easy area to explore by foot and to get to grips with in a few days.
2 It's a region with peaks and troughs throughout its long history of winemaking. The Romans probably introduced vines to the hills, which reached their pinnacle of fame in the 18th and 19th centuries. The wine, with its high acidity and minerality, was very stable and aged well, and the ruling Habsburgs ordered it for family weddings, believing the 'minerality' would ensure male heirs. Consequently, Somló wines came to be known as the 'wedding night wine'. Others used the wine as a medicine to treat stomach problems, ulcers and cholera. During Hungary's communist era, the region lost its identity as the grapes were processed in the Balaton area and blended with fruit from other regions. Independence brought new life in the 1990s and some significant investments and improvements in the last decade. Still, the 'wedding night' legend lives on and maverick winemaker István Spiegelberg calls his white blend Nászéjszakák Bora (wedding night wine). I served wine from the region at my daughter's wedding last year and two of the bridesmaids have gone on to produce boys. But I also served lots of other wines too!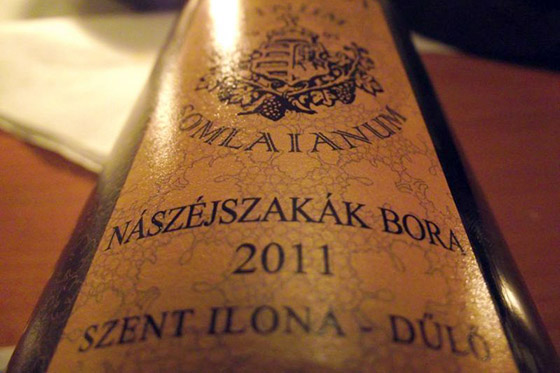 Photo by Az ihatóbb Magyarországért
3 The region's signature grape variety is Juhfark, and Somló is the only place where this white grape – named after the sheep-tail shape of the bunch – is grown in meaningful quantities. Uprooted by the communists because it is disease-prone and difficult, it has become synonymous with Somló this century. Around the dormant volcano you will taste it in a variety of styles – from young and fresh to old and orange. In some the wood is obvious; in others the dried apple, pear and toasted almond characteristics come the fore. Local winemakers have mixed feelings about the variety. Karoly Kolonics, a fourth-generation winemaker on the hill, told me this is because Juhfark requires four times the work of other varieties. However, he admits, it sets Somló apart and is, therefore, good for marketing the region. "Juhfark is hard work," he said, "But if you work hard, your wine is good. It has fine acidity and a special feeling." One of the most interesting Juhfarks (pronounced: you-fark) I encountered on the hill came from Barcza Bálint. His 2015 varietal comes from grapes grown on both the north and south sides, with half of each being vinified in new oak while the other halves are fermented and matured in stainless steel tanks. He also has a sweet version made from botrytised berries. Other top producers include Tornai, Somló Vandor, Szabo, Csordá-Fodor, Fekete, Kolonics, and Kreinbacher.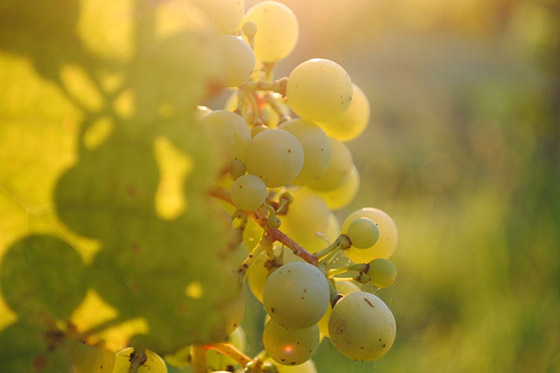 4 Its more than Juhfark. The region produces some outstanding wines made from Hungary's great whites – the two varieties associated with Tokaji wines, Furmint and Hárslevelü, and Central Europe's workhorse grape, Olaszrizling (probably better known as Welschriesling). All of the top Juhfark producers have excellent dry Furmints too. One of the men who helped to reintroduce Juhfark, Béla Fekete – known locally as Béla Bácsi (Uncle Béla) – made his name with Hárslevelű, his favourite variety. If you only taste one range of wines from Somló, make it his. Although he has retired, most of the wines coming out of Fekete still carry his hand and fingerprints. The surprising thing to see at his small winery is the wines aging in food-grade plastic containers. Fekete also produces a decent Chardonnay. For Olaszrizling, visit Fekete's neighbour, Károly Kolonics – who also runs a guest house. Károly bottles each barrel separately and the differences from the same vintage are astonishing.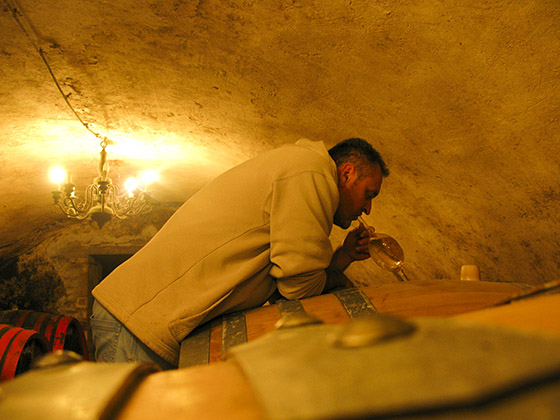 My other favourite Olaszrizling came from Kőfejtő (see below), while Bálint Barcza has an excellent Olaszrizling-Furmint blend.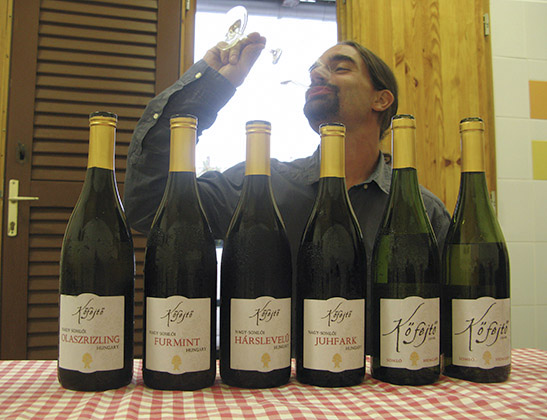 5 A group of young guns has moved into the region and is aiming to do exciting things there. These artisans include friends Bálint Barcza, Tamás Kis of Somlói Vándor and Péter Tóth of Kőfejtő, who all studied together. Bálint comes from a long line of winemakers and worked at Kreinbacher before starting to make his own wine in 2011. He makes wine from all of Somló's key varieties, but Furmint is his favourite. He also makes a Pinot Gris from a 0.7ha site near Lake Balaton. The wanderer (vándor) Tamás Kis has 4.5ha spread over nine sites on all four sides of the hill. He started part-time in 2010, combining it with a job at an Eger winery, and moved here permanently in 2014. He farms organically because "I live in the vineyards and I want to live clean." And he makes wine with few additions because "I want to show the taste of Somló as much as I can". He majors in Juhfark but also produces good Hárslevelü and Olaszrizling wines, and, in 2015, he bottled some Kabar because "after fermentation it was such a big pleasure".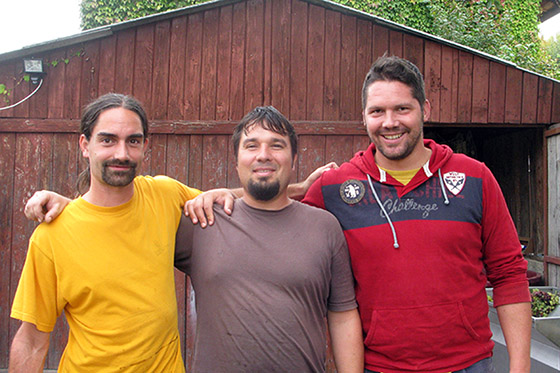 Péter Tóth is from the region but worked elsewhere to gain experience before launching his Kőfejtő Cuvée to much acclaim in 2011. Olaszrizling is the main variety in his 2.5ha but he also has Furmint, Hárslevelű and Juhfark in his blends. In his cellar, near the old quarry (kőfejtő), I tried my first Ezerfürtű.
6 It is full of great characters but few are like Berlin-born István (Stephan) Spiegelberg. His family had a holiday home on the hill and since bottling his "hobby wine" in 2004, he has become a fixture in the area. So much so that he plans to open a bar and café on one of the walking routes in May. He makes the wine in his own style, which includes playing Gregorian chant music to it in his cellar. One of the most expensive suppliers on the hill, his wines come from 2ha of old, mixed vines. One plot could have as many as 60 varieties in it, he reckons. The former BMW test driver also rents another 1ha of Hárslevelű and Chardonnay.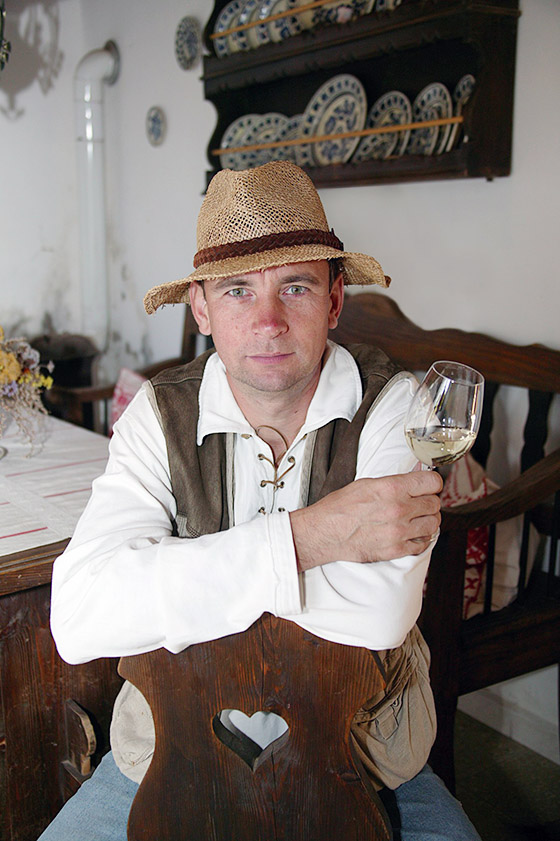 7 Another winehouse with its own style and cult following is Somlói Apátsági Pince (Somló Abbey Winery). Owned by IT expert Zoltán Balogh, the wine is made from some of the former abbey's oldest vineyards by father and daughter Tibor and Dora Fazekas. Biodynamic methods and late picking are used to produce very distinctive wines from all of the region's key varieties plus Traminer. The key thing about their style is that the wines all have a notable but pleasing amount of residual sugar in them. Because of their consistent approach and natural methods, each vintage shows exactly what Somló has been like that year.
8 As well as several fascinating and talented artisan producers, the region also boasts two stunning modern wineries. These belong to the big two producers, Kreinbacher and Tornai. Building contractor József Kreinbacher established his wine estate in 2002, going organic in 2008, opening his very functional and beautiful winery in 2011 and adding a restaurant and 16-room hotel in 2015. Kreinbacher makes a wide range of clean, fresh wines from the local white grapes plus some excellent sparkling wines using Furmint and the méthod traditionelle. Kreinbacher has also planted his favourite grape, Syrah, in some premium plots, and thinks this could be the next big story in Somló. The Syrah I tasted was okay but if I were a Somló producer, I would continue with the whites for now.

Tornai, now run by the third generation, is one of the most reliable producers in the region. From its 57ha and six-year-old winery, it produces 10 varietals and one cuvee, covering three price levels (Top Selection, Prémium and Friss/Fresh). Its premium and top Furmints have a creamy texture from oak aging and a long-lasting, rich finish. The Juhfarks cover the range from fruity to oak-aged to single-vineyard selection.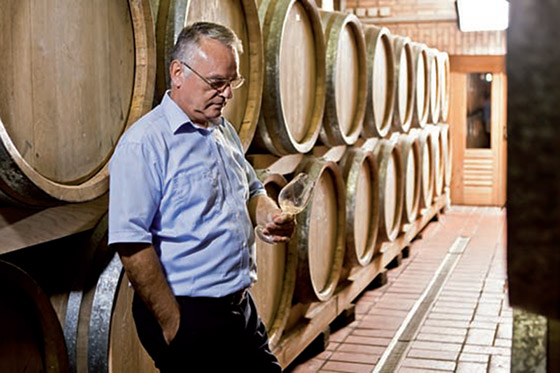 Photo by Agrárium7
9 Where else can you buy Zenit on tap? The wine shop at Tornai offers Furmint, Olaszrizling, Juhfark and the widely spread but not widely known Zenit on tap. Just pop along with your litre containers and fill them up for about €2. The bargain-priced Zenit 2015 that I tasted was full of apple and citrus flavours and had good acidity. It also showed that the vineyards on the flat area have their place in Somló.
10 But, chiefly, this is the place for terroir wines. Whatever the grape variety, whatever the peculiarities of the vintage, after several years the wines taste very similar. It's the distinct and powerful expression of a unique place. It's the minerally taste of a volcanic hill. Somló.