The figure is rather respectable in itself, but if we also consider that this is happening in one of Hungary's smallest, although most exciting, volcanic wine regions, then we can rightly hope for some lovely wines for the celebratory table.
We have to seek out the Tornai winery in Somló, in the wine region which is formed from just two hills; this wine region is known for its soils spread over the areas of basalt bedrock. It is partly thanks to this that the white wines from here generally have long ageing potential, but often they are difficult to drink until they are at least 2-3 years old due to their sharp acidity. Some wineries have recently launched more easy-drinking, fresher wines in an attempt to counteract this problem, among them the Tornai Winery. These wines were given the name Friss, meaning fresh in Hungarian.

The Tornai family bought its first vineyard on the Somló Hill in 1946. They first had cordon-trained vines (1962) here and perhaps they were also the first to bottle wine in the region during communism in 1984. This last piece of information is important because private wineries were not really able to bottle their wines at that time, only the cooperatives. It was also an important step in the winery's life when their wines were served on the sadly now defunct MALÉV (Hungarian Airlines) and also appeared at the Seville World Fair. As one of the largest wineries on the Hill, they also feel responsible for the wine region, with an equally innovative attitude towards their profession. We hope that their success will continue uninterrupted.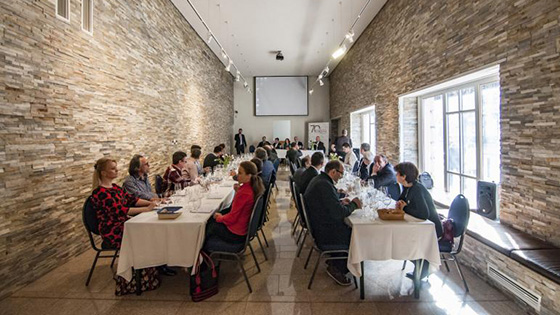 Now, on the other hand, here are the wines we tasted.
Irsai Olivér 2015 Friss I 80-82 points
Relatively simple citrus aroma. The palate is also dominated by citrus fruits. Light and easy drinking.
Olaszrizling 2015 Friss (tank sample)
Green apple and plasticine on the nose. Medium bodied on the palate with rounded acidity and citrus fruit. It is not yet really showing what it can do. At the moment, 76 points, but I'd like to taste it again in another six months.
Sauvignon Blanc 2015 Friss I 85-87 points
Very restrained aroma of gooseberry and flint. Taut structure with citrus fruits, gooseberry and salty notes. Long finish with wet stone and wonderful acidity.
Juhfark 20115 Premium I 83-84 points
Neutral nose with a little wet stone. Medium bodied with fresh acidity and citrus fruits. Still young.
Furmint 2015 Premium I 86-88 points
Restrained on the nose with aromas of green apple and a little pear. On the palate, vibrant acidity, citrus fruit and apricot kernel. Long finish. Still very young but certainly has great potential.
Szürkebarát (Pinot Gris) 2015 Premium I 87-89 points
On the nose, melon, flowers, green apple and chalk. Full bodied with rounded acidity, plenty of fruit, a little minerality, phosphorus and a long finish. Is already really lovely.
Grófi Juhfark 2013 Top Selection I 90-91 points
Honey, Mediterranean citrus fruit, orange zest, dried fruit, wet stone and herbs on the nose. Full body, totally mouth filling, heavy and perhaps a little rustic. In addition, lively acidity, typical 'Somló' character. The palate mirrors the nose, with a long mineral finish. Perhaps the alcohol is a little high, but it is still magnificent.
Aranyhegy Juhfark 2013 Top Selection I 87-88 points
Lean and mineral nose. Elegent, tight structure, full body with perhaps slightly too lively acidity, which thus makes the palate overly citrussy.
Tramini 2013 Top Selection I 84-86 points
Intense characteristic varietal notes of rose on the nose. Full bodied on the palate, with slightly flabby acidity. Rose, citrus fruits and apricot. Slightly bitter on the finish.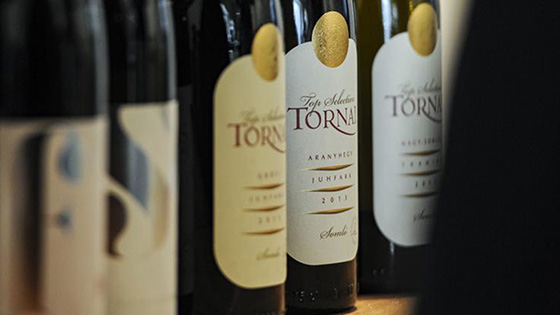 Now however for the older wines we tasted at the birthday celebrations.
Apátsági Furmint 2008 Top Selection I 85-86 points
Fine maturity with a little honey, touch of petrol, flowers and Mediterranean bouquet garni on the nose. Full bodied with attractive acidity and a restrained palate of citrus fruits, thyme, oregano and a little pepper. The acidity is rather dominant. It is not showing well at the moment. I liked it better previously.
Aranyhegy Juhfark 2008 Top Selection I 91-92 points
Very intense nose with salt, wet stone and candied fruit, Mediterranean herbs, nutmeg and allspice. Lively acidity, full bodied, with spice, candied orange zest and minerality on the palate. Vital, rich, simply fantastic.
Apátsági Furmint 2007 Top Selection I 89-91 points
An intensive nose with yeasty notes and a serious amount of barrel spices. Generous and velvety, oak notes are clearly present in the wine, but without any tannic roughness. The acidity is vibrant and the finish is long. Already showing its potential.
Grófi Juhfark 2007 Top Selection I 85-86 points
On the nose, orange marmalade, orange zest and some bitterness. More than medium bodied on the palate, with lively acidity and favours of citrus fruit and jamminess. Already past its best.
Apátsági Furmint 2006 Top Selection I 86-87 points
Restrained nose of yeast and white pepper. Rich and full bodied, with attractive acidity, a lot of citrus fruit, orange zest and minerality. Some brittle on the finish.
Aranyhegy Furmint 2006 Top Selection I 83-84 points
Thyme, lovage and dried fruit on the nose. Full body and lively acidity with dried fruit, candied orange peel and a little residual sugar on the palate. Unfortunately, a little empty on the mid-palate and the brittle on the finish is also not terribly compelling.
Juhfark Nr. 71 2006 Top Selection I 74-76 points
Strange nose of blackberry joghurt and tea. Lively, but already piquant feeling of acidity and honey.
Furmint 2001 I 83-84 points
At first glance, demonstrates a fortified character as alcohol and yeasty notes dominate on the nose. Similar impression on the palate with walnut, hazelnut, yeast and alcohol bitterness. However, due to the vibrant acidity, a touch of citrus also appears. Rather interesting than good.
Olaszrizling Jégbor (Ice wine) 2004 I 86-87 points
Interesting nose of purple flowers and peach compote. Full bodied, with rounded acidity. The palate is dominated by the flavour of peach compote and the finish has a distinct bitterness.