Imagine being involved in the 1855 Bordeaux Classification or the classification of the vineyards of the Côte d'Or, being part of history in the making. Well, Austria is currently in the process of constructing its appellation system, of defining and identifying its Erste Lagen and Große Lagen, and moving towards a classification system based on terroir rather than variety and sweetness.
The Österreiche Traditionsweingüter (Association of Austrian Traditional Wine Estates), or ÖTW, was founded in 1992 with just this goal in mind. Initially only incorporating the Danube Region, that is Kamptal, Kremstal, Traisental and Wagram, it has been expanded this year to include Wien (Vienna) and Carnuntum, and there are rumours that Wachau will also be joining the DAC (Districtus Austraie Controllatus) club next year.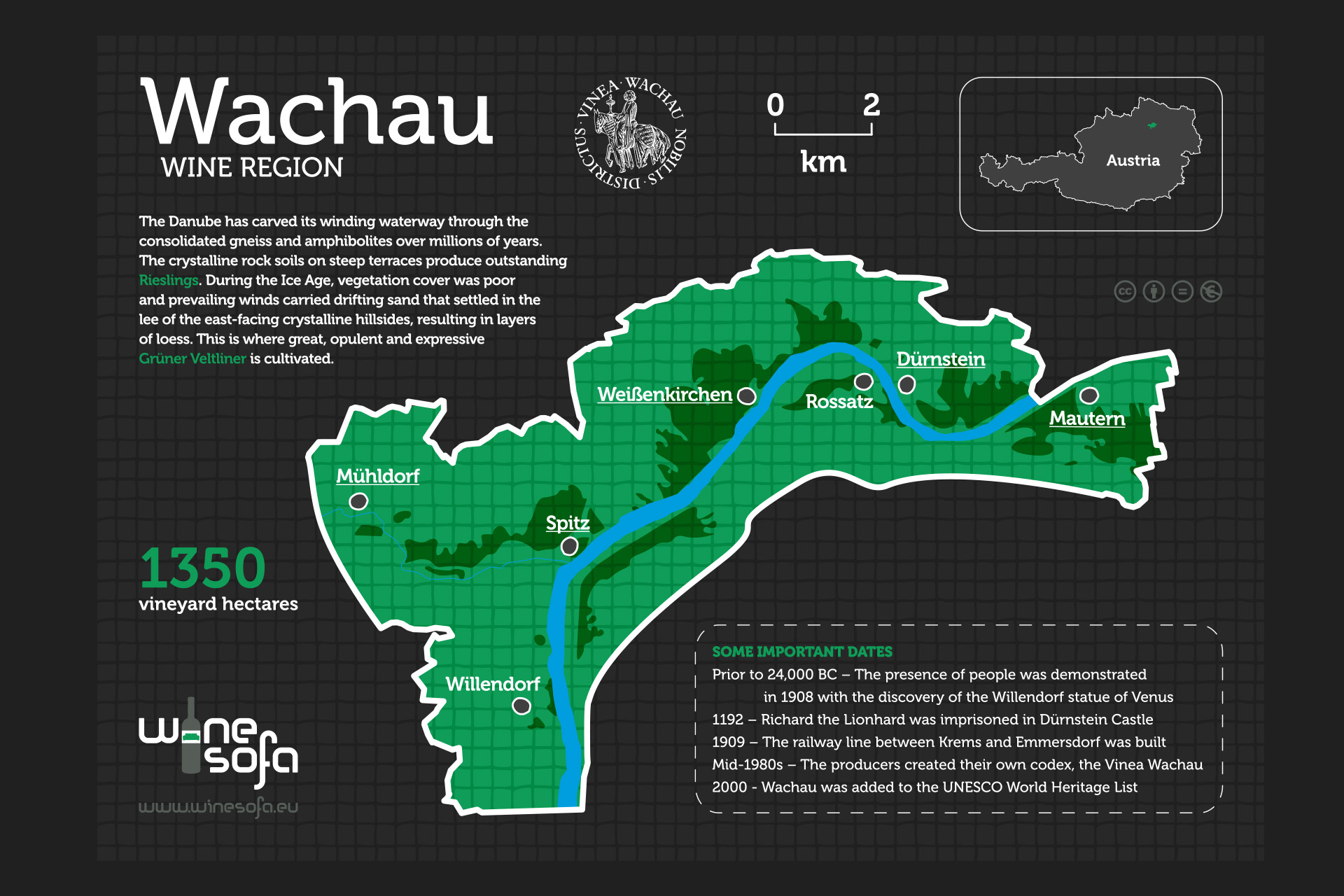 Wachau infoposter by Tamas Doma
So, how do you get involved in history in the making? Well, as you can imagine, you can't set up quality classification system overnight. Firstly, you need to define the basis of your appellation system. Will it be property-based, like in Bordeaux, village-based, as in Champagne, or vineyard-based, like in Burgundy? Do you classify the vineyard itself or the wine coming from the vineyard? The ÖTW, which is, incidentally, a private association, unconnected to Austrian Wine Marketing or the government, has decided on a vineyard-based system, as in Burgundy: vineyards will be classified according to their significance. Then, of course, you need to research the vineyards and start to build your system. No mean feat, especially when you are doing it from scratch, as in Austria. The ÖTW made its first vineyard classification in 2010 and held its first preview tasting in 2011, nearly 20 years after the association was founded.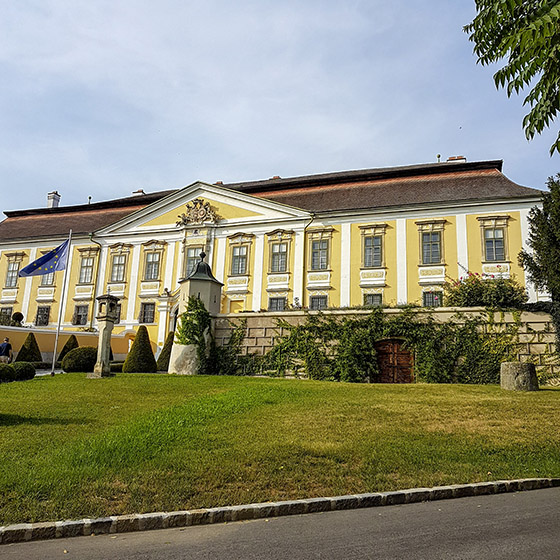 Schloss Gobelsburg by Sue Tolson
Michael Moosbrugger, CEO of Schloss Gobelsburg and Chairman of the ÖTW, explained the need for such a classification. In the nineteenth century, wine was generally sold by origin, by the name of the town or village, with vineyard names rarely used. Most vineyards were mixed plantings, so wines were generally field blends rather than varietals – the change to varietal planting came after WWII. Naturally, this then developed into wines being marketed as such. At this time, nobody imagined that Grüner Veltliner and Riesling would become so dominant. However, there are drawbacks to this kind of marketing – Grüner Veltliner is increasingly planted elsewhere and, of course, renowned Riesling is also produced in many other significant wine regions. So how can Austrian quality wine differentiate itself and promote itself to the wine consumer?
Photo: Sue Tolson
The idea is to offer a system of orientation based on a pyramid of region, village and vineyard (Ried) with vineyards being classified as Große Lage (grand cru), Erste Lage (premier cru) and non-classified. The ÖTW is taking a bottom-up approach, having first identified the Erste Lage vineyards, which means both Erste and Große Lagen together, approximately 20% of the vineyards. They then expect to be able to identify the 3-5% which count as Große Lage vineyards in about 10 years or so. Michael points out that it took around 40 years to classify the Burgundy vineyards and expects that it will take around the same amount of time to do so in Austria. The Danube Region has already identified its 60 Erste Lagen, Wien its 12, Carnuntum is planning to do so this year and Styria has also just introduced a DAC system in its three regions. The ÖTW is working together with the Steirische Terroir & Klassik Weingüter (STK) and the German Prädikatsweinguter (VDP) to establish a harmonised classification system in the German-speaking world, using the same terminology. A blessing for everyone who finds German labelling obfuscatory and baffling.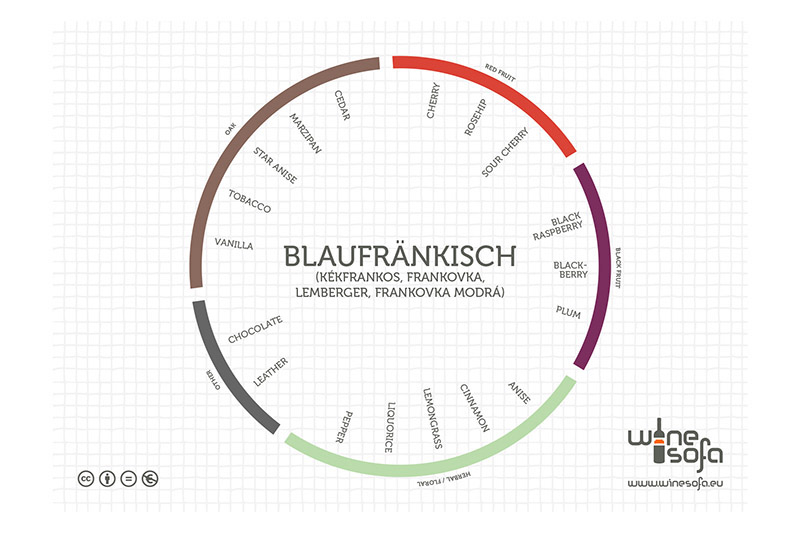 Blaufrankisch infoposter by Tamas Doma
History in the making
So, how did I come to be involved in this history in the making? Well, as well as looking at a huge range of factors to identify the significance of a vineyard, including its historical relevance, number of producers making single-vineyard wines from it, what percentage of wine produced there is sold as such, price on market, price variance for wines, etc (Michael shows a slide here with a dizzying number of columns translating into factors relating to the vineyard, in typical Germanic detail, and there's one of these for each vineyard!), each year every wine from the designated vineyards is tasted by an army of international and local experts, wine journalists, sommeliers and trade representatives at a 'silent tasting', and I was participating in this over three days.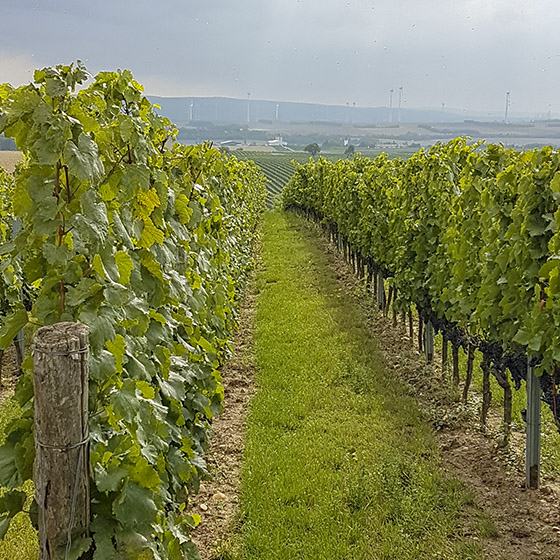 Carnuntum vineyard by Sue Tolson
Silent tasting in Carnuntum
We began our 'silent tasting' in the historic setting of the opulently painted Festsaal of Schloss Petronell, "the perfect setting for a historic moment", says Fritz Wieninger, head of the ÖTW Wien. The historic moment being the first tasting for the Erste Lage wines of Wien and Carnuntum. Erste Lagen for Wien had already been defined, so we tasted 22 wines from these vineyards. Although Wien's DAC is currently solely for Wiener Gemischter Satz (a white field blend), they also see the potential for Weissburgunder (Pinot Blanc), Grüner Veltliner and Riesling, and plan to add them to the DAC in the future. Carnuntum has plumped for Zweigelt and Blaufränkisch and blends thereof for its reds, known as Rubin, and Grüner Veltliner, Chardonnay and Weissburgunder for the whites in its forthcoming DAC, which added a further 55 wines from Erste Lage candidate vineyards to the schedule for the day.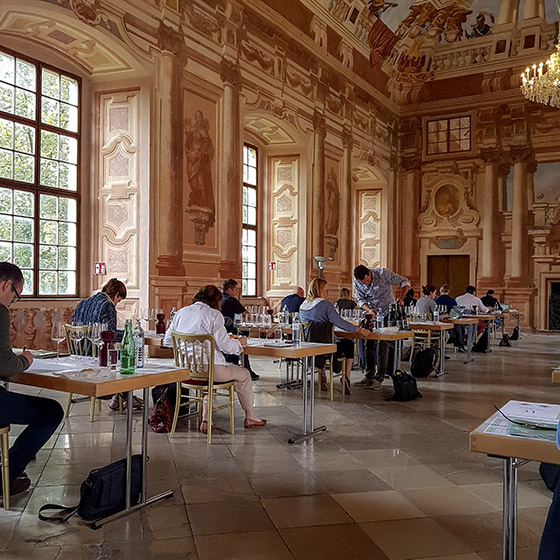 Photo: Sue Tolson
Tasters could 'order' wines in flights of six, selected from the 77, organised as they chose, so they could taste by variety, vineyard, soil type or whatever criteria they wished. These would then be served at each table by the two regions' winemakers. A recipe for chaos, I thought, but was extremely pleasantly surprised by the efficiency of the system. Having marked your six choices down on a slip of paper, you raised it, it was collected (sometimes within seconds) and your wines delivered rapidly to your table, allowing you to taste at your own pace, compare and re-taste as you wished. Kudos to the organisation! And a silent tasting it was: if the noise level rose above a murmur, then tasters were politely shushed – you could have heard a pin drop at times. Comprehensive spreadsheets listed the wines by vineyard rather than producer, bearing in mind the idea here is to classify the vineyards rather than judge the winemakers. Michael insists that the idea is not to be an elitist club and is in fact trying to open the association to more producers who share their values so as to get a wider basis for classifying the vineyards.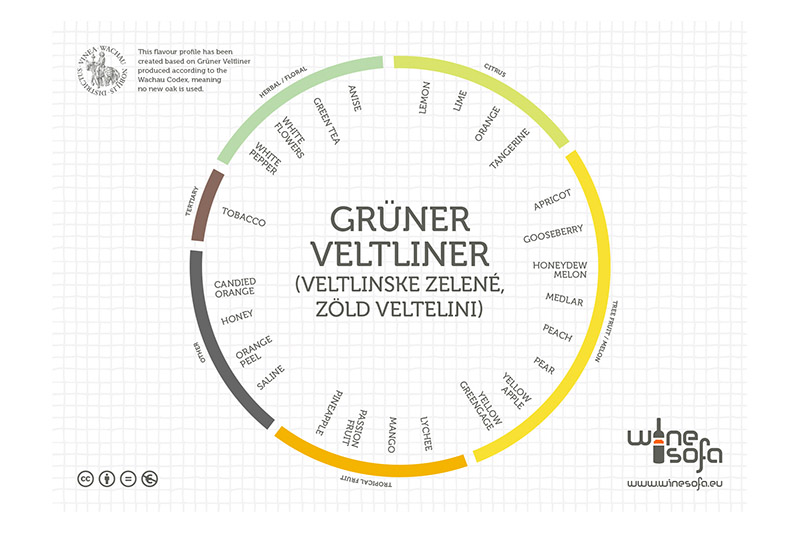 Grüner Veltliner infoposter by Tamas Doma
We were then whisked off in small groups on various tours of the Carnuntum vineyards, to get a better idea of the region's characteristics. Phillip Grassl led our group around some of the vineyards surrounding Höflein and Göttlesbrunn, where the legions of towering wind turbines (just like the legionnaires in Carnuntum's Roman heyday when the settlement boasted around 50,000 inhabitants - far more than Vienna at the time) beyond the rolling vineyards bear testimony to this being Austria's windiest region and, as Phillip tells us, also Austria's daytime hotspot. Burgenland's Leithaberg lies just behind the hills, but Carnuntum's vineyards boast greater altitude, meaning that the temperature drops 2-3°C more at night than around Lake Neusiedl, helping to ensure grapes retain fresh acidity for crisp whites and the region's signature reds of Zweigelt and Blaufränkisch, with which they hope to build their region's identity.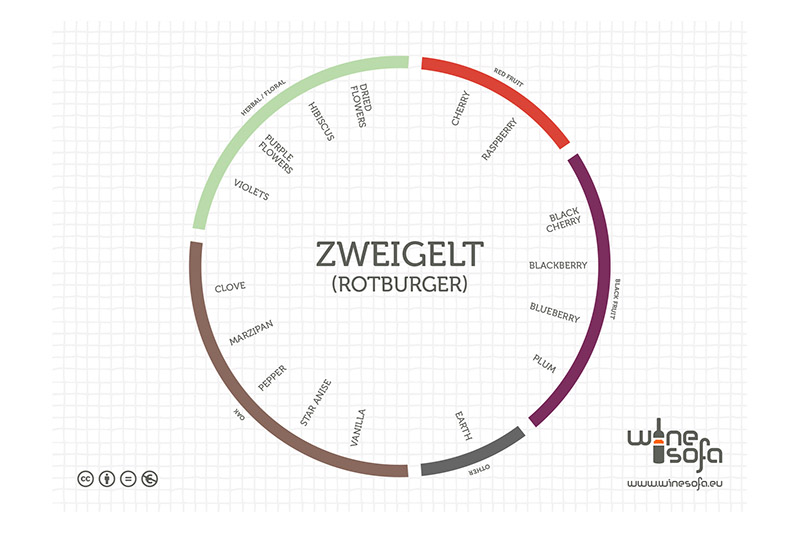 Zweigelt infoposter by Tamas Doma
Vineyard classification – a dynamic process
Days 2 and 3 saw us move to Schloss Grafenegg in Wagram, where 143 Grüner Veltliner and Riesling, the only two varieties permitted for the Kamptal, Kremstal, Traisental and Wagram DACs, were on the menu. Again, each taster could determine their own tasting schedule and the same delivery system was in place, although rather than in an airy elaborate ballroom, we were seated in a warren of white-painted rooms, but this did not detract from the organisational efficiency of the winemakers.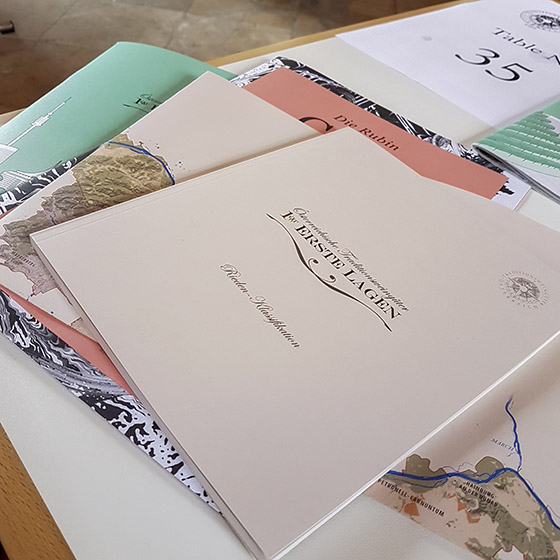 Photo: Sue Tolson
The vast majority of the wines were from 2017 and at times, it was difficult to see beyond the Rieslings' searing acidity and citrus-dominated palate, many were also somewhat closed and, of course, extremely young. However, the generosity of fruit, structure and plentiful acidity bode well for their future. The Grüner Veltliners, with their bright fruit and peppery notes, were easier on the palate and showed great promise too. And the potential to develop greater complexity and smoothness akin to our 36 aperitif wines of the previous day – beautiful, complex Grüner Veltliners and Rieslings from 2013 and 2008.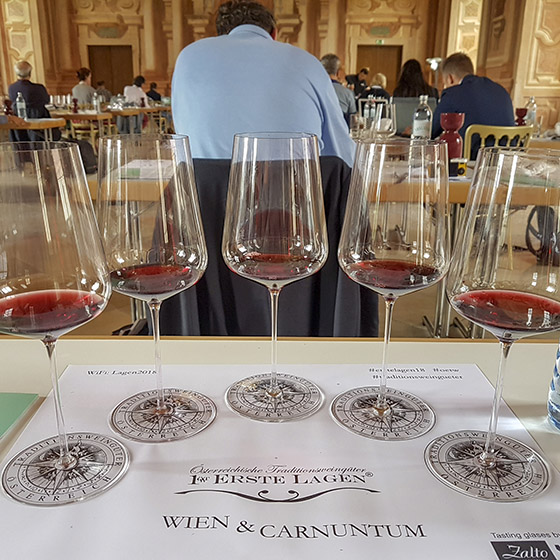 Photo: Sue Tolson
These tastings have been held annually since 2011 and help to make the vineyard classification dynamic – tasting scores from these international tastings and local blind tastings are compiled and added to the database of information, scores and other data are adjusted, and vineyards may move in and out of the classification, Michael told us. In the end, all this will also help them to identify the Große Lagen and finally have the classification enshrined in legislation.
The Austrian wine scene is in slow revolution and I feel privileged to play a part in it. Out with Grüner Veltliner, Riesling, Blaufränkisch and Zwiegelt. Out with Kabinett and Spätlese. In with terroir and origin. In with Heiligenstein, Spitzenberg, Langenlois and Nussberg. Will this make life easier for consumers? Michael and the ÖTW certainly hope so.
Many thanks to ÖTW and Wine&Partners who organised the events and whose guest I was for these three days.