The wine-growing regions of Kremstal, Kamptal and Wagram were once part of Austria's most famous wine region, Wachau. Now they are trying to surge ahead with their own identity and their own quality symbol, 1ÖTW. Chris Boiling visits to sip and see what these three areas have to offer the wine world…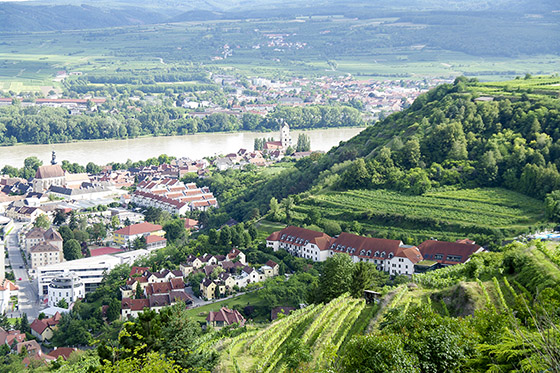 1 Single vineyards. In these three regions, on the north side of the River Danube, there is a real emphasis on single vineyards – or 'Ried' as they are officially called in Austria. And for a very good reason: the historic vineyard sites, such as Heiligenstein, Gaisberg, Seeberg, Pfaffenberg, Käferberg, and Lamm, have their own identity and produce their own distinctive wines. At a tasting of the 2015 vintage in the historic Grafenegg Castle last month, I was amazed at how the characteristics of a vineyard shone through, often trumping the handiwork of the winemaker. Since 1992 the Österreichische Traditionsweingüter (ÖTW, Austrian traditional wine estates) has been working to classify the outstanding vineyard sites of the Danube areas. It has identified 63 such sites (about 16% of the vineyard area) which "consistently yield exceptional wines", according to the association's chairman, Michael Moosbrugger, who leases his estate, Schloss Gobelsburg, from Cistercian monks. These top sites are being called 'Erste Lage' ('first growth'), but it's not a legal term yet so it can't be put on the label. However, after tasting 132 Erste Lagen wines in two days, I can say the 1ÖTW symbol on the labels is, in 98% of cases, a sign of a high quality 'Austrian-style' wine that expresses the character of the vineyard and the vintage – and the two grape varieties allowed in Erste Lagen wines.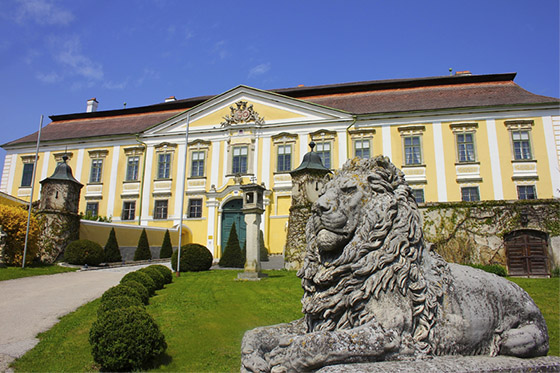 2 Grüner Veltliner. Austria's signature grape is the traditional variety in these three regions, west of Vienna. Of the 10,000ha of vineland here, about 55% is Grüner Veltliner. The typical 'GrüVee' is a green-tinged, full-bodied, intriguingly spicy, white peppery wine that can be enjoyed on its own or with dishes such as fried fish, grilled chicken or Wiener schnitzel. The higher-alcohol 'Reserve' wines also stand up to spicy Asian meals. After tasting 63 Grüner Veltliners in Grafenegg Castle, I selected the one made by Alwin Jurtschitsch from organic grapes grown on the southeast-facing Dechant vineyard near Langenlois as my favourite. Made from old vines, it is rich and long-lasting. "It's everything a good Grüner Veltliner should be," was my note during the tasting. Other top sites in the tasting were Gaisberg, Heiligenstein, Käferberg, and Gebling. Top producers included Allram, Bründlmayer, Hirsch, Weszeli, Hiedler, Geyerhof, Unger, Schmid, Malat, Buchegger, Mantlerhof, Türk, Loimer, and Schloss Gobelsburg. At dinner in area's main town, Krems, I also had the chance to taste older vintages – delicious, complex, savoury Grüner Veltliners from 2010, 2005 and 1995 from producers such as Nigl, Hiedler, Jurtschitsch, Geyerhof, Petra Unger, Buchegger, Leth, Türk, and Karl Fritsch, who is reckoned to be one of the best winemakers in the whole of Austria. Out and about, I also tasted a sweet Grüner Veltliner – an auslese from the Spiegel site in Wagram, made by Mantlerhof. At the Mantler house, which has been in the family since 1816, I also tasted Grüner Veltliners from the 1970s and 1986 – proving this is a grape variety that is as versatile and age-worthy as a Riesling. Something worth knowing if, as in my case, petrol aromas trigger memories of car-sickness as a child.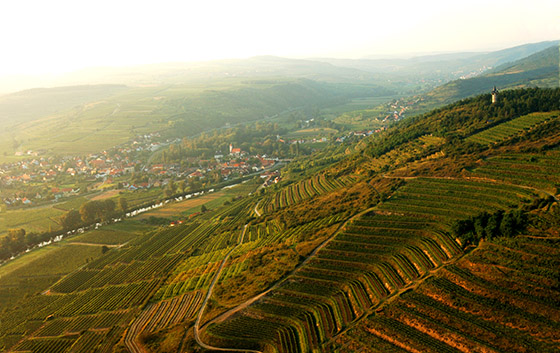 3 Riesling. This is the other varietal that can be used for Erste Lagen wines, accounting for about 10% of the vines in the area. After tasting 58 Rieslings from the warm 2015 vintage, my favourites came from Kamptal's Heiligenstein (produced by Jurtschitsch), Loiserberg (Jurtschitsch, Loimer), Seeberg (Loimer), and Kremstal's Pellingen (Nigl), Silberbichl (Malat), and Ehrenfels (Proidl). My note on this last wine was: "I just want to take the bottle away and find a fish lunch." However, my favourite wine overall was the Nigl from the terraces of Pellingen, one of the vineyards overlooked by the ruins of the ancient Seftenberg castle. This, for me, is a stereotypical vineyard in Kremstal. It has a south to south-westerly aspect, with a gradient of about 35% reaching up from one of the Danube's many tributaries. Grüner Veltliner is planted on the richer lower terraces and Riesling is planted on the steeper, rockier upper parts. Usually the lower parts are loess (composing of silt-sized sediment), but at Pellingen it is largely crystalline rock. As Austrian Riesling is grown in warmer conditions, it is often more full-bodied, spicier and less acidic than its German counterpart. And, fortunately for me, the petrol aromas in the aged versions are more subtle.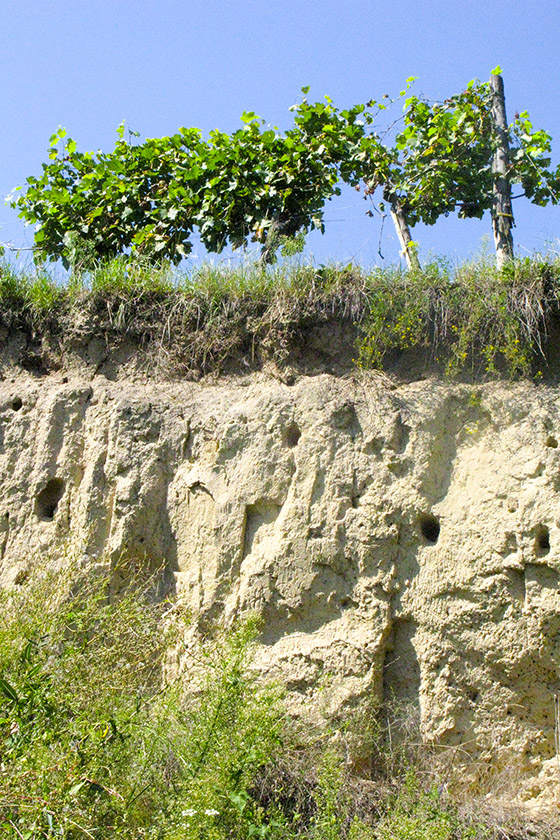 4 The soil. This is a great place to discover the important role soil plays in 'terroir wines'. The winemakers that I met seemed keener to show me their rich mosaic of soils and rocks than their historic cellars. The plateaux of deep loess are fascinating. You can see how the 'dust' built up in several stages during the Ice Age. It's like reading the 270-million-year-old history of the land. Alongside the roads that cut through the hills, there are sheer, hard faces of loess, but when you break a piece off it crumbles in your fingertips. So it's easy for the vines' roots to penetrate – to find nutrients and water without the need for fertilisers or irrigation. No wonder there is a growing band of organic and biodynamic farmers here. Of the four wineries I visited in one day, all were practising sustainable farming: Hirsch has been organic since 2006; Mantlerhof since the farm was flooded in 2002 and they decided it was time to start afresh; Rainer Wess is not certified as organic but says he adheres to the principles; and Franz Leth told me he has reduced chemicals "to the absolute minimum required". Those following biodynamic principles include Sepp-Moser, Fred Loimer, Ilse Maier and Nikolaihof. Grüner Veltliner, which needs more water and nutrients than Riesling, thrives in the loess, while Riesling likes to struggle a bit in the gneiss and granite. Understanding the geology helped me to realise how one area could produce excellent wines from two grape varieties with such different needs.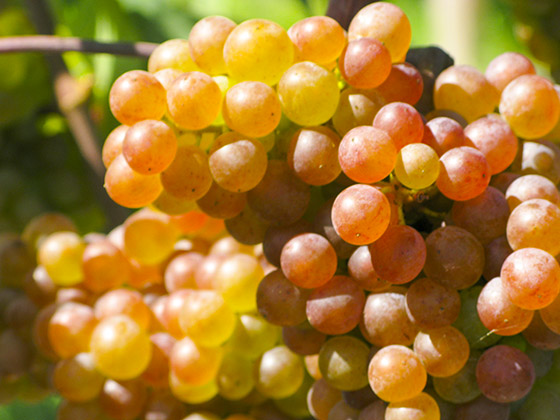 5 Rare grape varieties. Although the Erste Lagen wines are made exclusively from Grüner Veltliner and Riesling grapes, other varieties are grown here, especially on the wider loess and loam terraces leading to the Danube. In fact, there is more of the red Zweigelt grown here than Riesling. You will also find Pinot Blanc, Chardonnay, Sauvignon Blanc, Cabernet Sauvignon and Pinot Noir marketed under the regional designation, 'Niederösterreich' (Lower Austria). But of all the other grapes grown here, the most interesting is Roter Veltliner. It's an ancient Austrian variety that develops a red skin but only makes white wine. Josef Mantler told me they tried to make a rosé in 2013 using only the brightest red grapes, fermentation on the skins, frequent punching down – all the techniques used to make a red wine – but the red shimmer disappeared after filtration. Despite its name and peppery flavour, Roter Veltliner is not related to Grüner Veltliner, but it is one of the parents of a whole host of minor varieties, including Neuburger, Rotgipfler, Zierfandler, and Hetera. Roter Veltliner makes a powerful, full-bodied, spicy white wine but it only seems to thrive in deep loess soils. Good examples include Mantlerhof's Reisenthal 2015 and Reisenthal 2011 Reserve 'M', which comes in magnum bottles to encourage sharing. At Weingut Leth, in Fels am Wagram, Franz Leth took me through his Roter Veltliner collection, starting with the light, fresh Klassik 2015, going on to the more multi-layered single vineyard Scheiben 2014 and then going back to 1990, which still tasted very fresh and had a vivid structure. My conclusion was that Roter Veltliner has more than a word in common with Grüner Veltliner. Roter Veltliner is the creamier, nuttier, riper version. The apple flavours are red, sweet, baked and dried, and the citrus component is more like mandarin and orange peel. But it's not too rich or bold and won't overpower delicate fish or white meat dishes.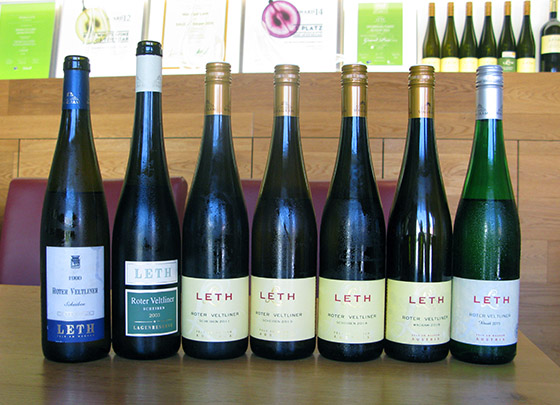 The other grape variety that I tried for the first time here was Neuburger. Rainer Wess gave me an almost 'orange' version – still in a barrique after extended skin contact and awaiting bottling next year – and Mantlerhof gave me a fresher version in which its nutty, spicy heritage was clear. Mr Mantler planted 0.5ha of Neuburger when he got married, to honour his new wife Margit's ancestor, Kristof Ferstl, who planted some Neuburger vines in the Wachau after finding them floating down the Danube.
6 Good value. This region is not all about Erste Lagen wines. My visits to the wineries showed that their entry-level Grüner Veltliners and Rieslings are very tasty and very good value. Mantlerhof's Weitgasse Grüner Veltliner 2015 is for sale at the cellar for €5.25 and its Riesling from the Zehetnerin vineyard costs €7.35. Rainer Wess's excellent entry-level Grüner Veltliner costs €8.50 while his Erste Lagen versions go for €22.
7 Good for wine tourism. This is a relatively compact area, with all the important wine-growing towns within a short distance of each other. Towns worth visiting include Langenlois (Austria's largest wine-producing town), Schiltern, Gobelsburg, Haindorf and Zöbing, and the wine commune of Straß im Straßertale. Wine villages include Etsdorf, Hadersdorf, Kammern, Lengenfeld and Schönberg. I used Krems as a base, staying at the Steigenberger Hotel. Krems is only about 50 minutes by car from Vienna and is on the Danube. Next time, if my budget allowed, I'd stay at the Loisium Wine and Spa Resort in Langenlois. This is not just a hotel, it's also a wine museum, with a renovated baroque winemaker house and a restaurant listing Grüner Veltliners back to the 1930s. It also offers a laser and sound show in the 900-year-old cellar, vinotherapy in the spa, and "farmgate prices" in the shop, where you will find more than 200 wines from Lower Austria. Wineries that have hotels include Malat and Hutter in Krems, and Nigl in Senftenberg.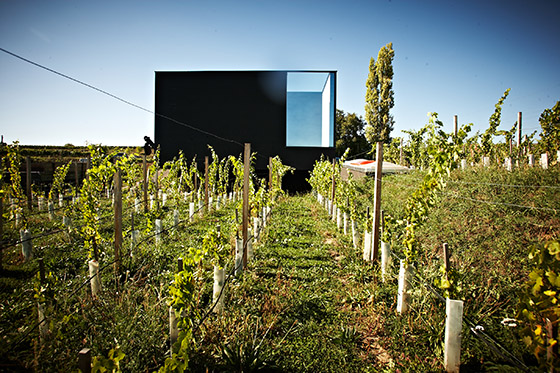 Other things to see in the area include the Kunsthalle Krems (an art gallery), the Gottweig Abbey (founded in 1083 and still home to more than 50 Benedictine monks), Weritas in Kirchberg (which offers wines from all of Wagram's top producers on a lovely terrace), and a traditional kellergasse (cellar street). Probably the best is in Absberg. Then go and compare it with a modern cellar, such as the black box of Fred Loimer. At a tasting of Rieslings from around the world in London, his Seeberg 2013 and 2009 were the 'wows' but his winery is more so.
8 Grafenegg Castle. This is another place that deserves singling out. It's where I spent two mornings tasting the area's top wines and one evening listening to a world-class orchestra. Every summer, for the past ten years, top musicians come here to play the type of music for which Austria is famous in the open-air Wolkenturm. Also of interest to wine lovers is the Vinothegg in the park. It offers wines from 33 local producers.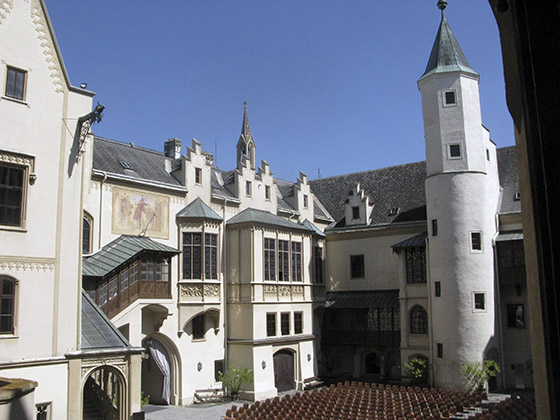 9 The Tour de Vin. This is probably the best event for wine lovers. This is when the Traditionsweingüter of Kremstal, Kamptal, Wagram and Traisental (the region south of the Danube) open their cellar doors. Visitors can taste the wines, buy them, meet the winemakers, and tour the vineyards by foot, tractor or Segway! The next Tour de Vin will take place on May 6 and 7, 2017. The price in 2016 was €20. The highlight of the weekend is the Magnum Party in Kloster Und in Krems on Saturday evening. The wines from the traditional wineries are poured from magnum bottles. The evening, which costs visitors €20 with the Traditionsweingüter entrance 'button' and €30 without it, also features live music and a DJ.
10 Vienna. Austria's capital is less than an hour away. And Vienna is a wine destination in its own right. It's the only capital city that's also a wine region and it has its own special cuvée – Gemischter Satz. This is the traditional Viennese wine that's become quite trendy over the past decade. It's a field blend featuring anything from three to 20 different white grape varieties, made in the vineyards overlooking the city. Paul Kiefer, who's in charge of sales at one of the leading producers, Mayer am Pfarrplatz, explained the advantages of a field blend to me this way: "It's very nice because you get the acidity of Riesling, the spiciness of Grüner Veltliner, and you get the flavours of Traminer or Muskateller. If they are fermented together it's a completely different taste to a blend because if you have a blend with 5-7% Traminer, the Traminer is much louder and maybe it tastes a little bit perfumed, but if the grapes ferment together it's a much more complex style."
Wine and travel writer Chris Boiling also runs wine tours in Slovenia. One leads to a WSET Level 2 qualification; the others combine wine and yoga, and wine and writing workshops! For further details, visit ywine.press or email