You are new here? For the 2nd part of this article click here.
Noble sweet wines have been produced around Lake Neusiedl in Austria for centuries. The shallow lake, which at times can even dry out completely, although it hasn't happened for quite some years now, creates the perfect conditions for botrytis, the noble rot that is responsible for some of the world's most prestigious wines, to thrive. Morning mists settle over the vineyards, later dispersing and being replaced by warm autumn sunshine which dries and concentrates the grapes even further.
The charming small baroque town of Rust on the western shore is home to Ruster Ausbruch, a botrytised wine which has been produced there since the sixteenth century and which historically brought great fame to the region. However, the flat, marshy lands on the eastern shore around Seewinkel, punctuated by numerous smaller lakes, also produces some of Austria's finest sweet dessert wines, which are helping to restamp Lake Neusiedl's presence in this niche market.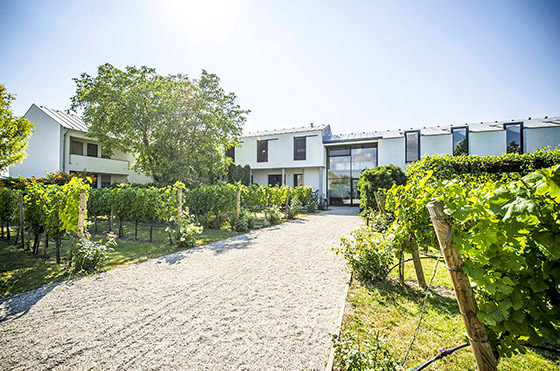 One producer in particular was instrumental in doing this. In 1993, Alois Kracher opened the eyes of the world to the quality of his Trockenbeerenauslese wines, showing them blind in London alongside the wines of the famous Bordeaux sweet appellation, Sauternes, even including iconic Château Yquem in the line-up. Austrian sweet wines had lost their reputation due to the 'antifreeze' scandal of the mid-1980s, so he believed he had nothing to lose in putting the quality of his TBA wines to the test. And he certainly won, rather than lost, gaining international recognition of his unique wines.
A pharmacist by trade, Alois Kracher took over the management of his father's estate in Ilmitz in 1986, finally giving up his day job in 1991. He was known for his innovation and search for greater knowledge, learning from great sweet winemakers in Sauternes and the German Saar. His low-yield, high-density vineyards planted on both gravelly and sandy soils between Ilmitz and the lake shore and the range of varieties planted – Welschriesling, Chardonnay, Traminer, Scheurebe, Muscat Ottonel, Rosenmuskateller and Zweigelt - gave him plenty of room for creating a wide range of stunning, racy, sweet wines with great longevity and finesse. Although the vineyards appear very flat, there are undulations of up to a metre and a half, which also has an influence on the development of botrytis in different spots.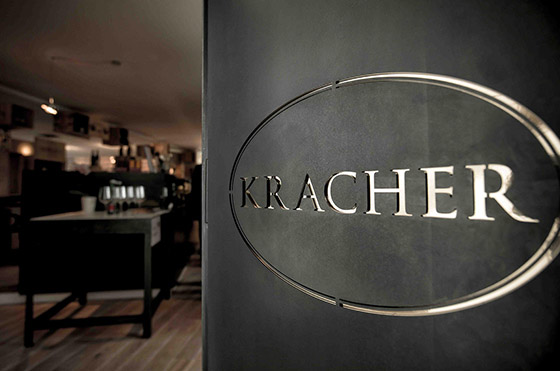 He went so far as to vinify and age the grapes picked each day separately, ending up with many individual lots, which he could then blend together to get just the right balance in the wine.
After his untimely death in 2007, his son Gerhard kept his entrepreneurial spirit alive. Ten to fifteen different TBAs in the two distinct styles devised by his father in the late 80s are still produced each year. 'Zwischen den Seen' is a more reductive style, aged in large neutral acacia casks or stainless steel in the classic style of the region, whereas 'Nouvelle Vague' is vinified in new oak, giving more depth, spice, greater longevity and a more international style. The majority of their TBAs are numbered, ranked according to concentration of fruit, often with multiple bottlings of one variety. One wine per vintage, the most harmonious rather than the most concentrated, is selected as the 'Grande Cuvée.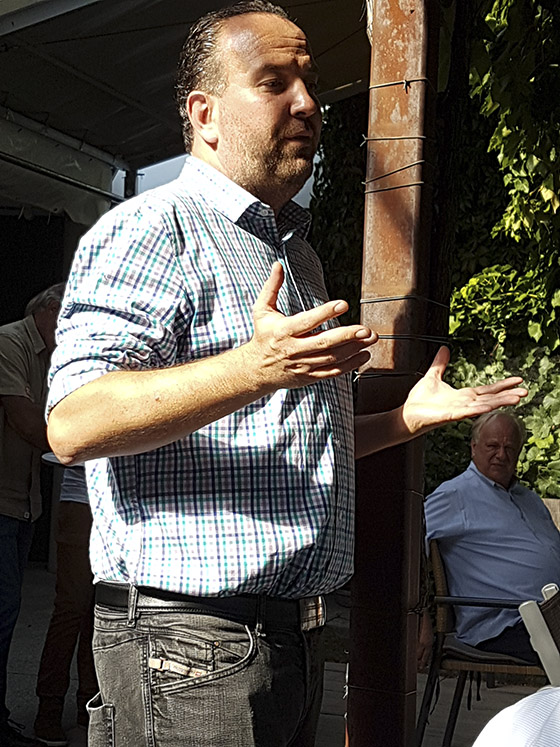 In addition to world famous Trockenbeerenauslese and Beerenauslese, they also produce Auslese, Eiswein and small quantities of white and red wine.
For the last twenty years, the winery has welcomed visitors to its vintage presentation and fine wine event, where they showcase their own wines and host other prestigious wineries from elsewhere in Europe. We visited the modest winery, hidden behind a large gate on Ilmitz's main road shortly before this prestigious event took place, but were welcomed for our tasting of sweet wines from the Kracher winery and some of its fellow Seewinkel producers under a lovely verdant canopy of vines while preparations continued in the background.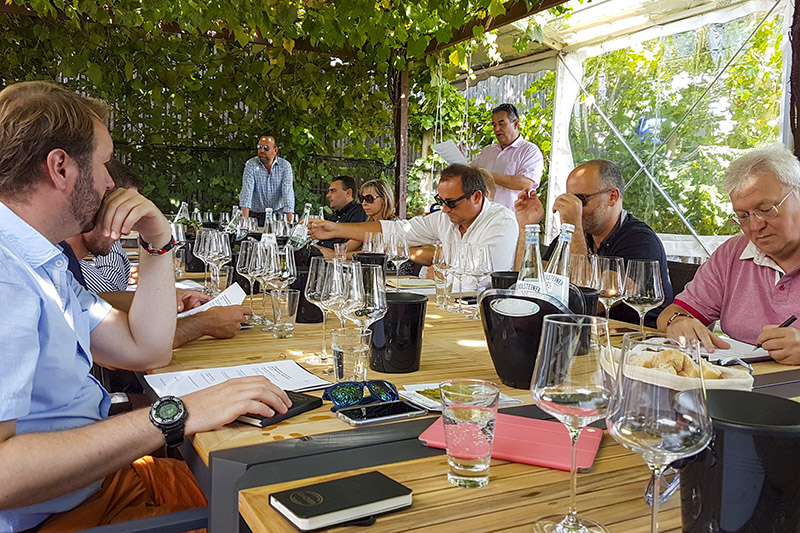 Beerenauslese Cuvée 2015 (Welschriesling and Chardonnay) I 92 points
Aged for 2 years - 80% in stainless steel and 20% used barrique. A luscious, concentrated and complex wine, with some spiciness and saltiness adding an extra dimension. Bright acidity with notes of caramel, toffee, mandarin, marmalade, dried peach and hazelnuts. Long, intense honeyed finish.
Trockenbeerenauslese Grande Cuvée No. 6 'Nouvelle Vague' 2013 (big brother of the BA – Welschriesling and Chardonnay) I 94 points
The Chardonnay was aged in new and used barriques, the Welschriesling in large casks. A succulent, concentrated wine with great complexity. Your senses are assaulted by orange, peach, marmalade, honey, spice, vanilla and caramel mingled with savoury notes of almond, hazelnut and mushroom. Zesty acidity and a finish that seems to linger for ever.
Trockenbeerenauslese Welschriesling No. 7 'Zwischen den Seen' 2007 I 95 points
Here, between the lakes, is where you get the most botrytis. Only stainless steel and large 500-1000l casks. Complex palette of cognac, dark marmalade, Seville orange, white peach, apple and apricot rounded with walnut, tobacco, smoke and spice. An attractive savoury, salty note freshens the palette along with beautiful acidity and a long, luscious finish.
Trockenbeerenauslese Zweigelt 2015 'Nouvelle Vague No. 3 I 92 points
Pale ruby wine, turning to garnet. A perfumed, floral, plum, dried cherry and cranberry-driven wine with notes of mandarin, nut and marmalade. Lusciously infinite finish.
Trockenbeerenauslese Zweigelt 2007 'Nouvelle Vague' No. 4 I 94 points
Very concentrated nectar of smoky dried fruit, plum, spice, coffee and walnut. A luscious, complex wine with spicy botrytis and notes of dried leaves. Lingering finish.