You are new here? For the 1st part of this article click here.
Gerhard Pittnauer is a purist, he believes in adding nothing to his wines, except perhaps sulphur. Certified biodynamic since 2009 although farming biodynamically since 2006, Gerhard and his wife Brigitte aim to produce wines that reflect their origins and leave as little footprint on the land as possible. Vines have been planted around Gols near Lake Neusiedl since the thirteenth century and they believe that they should observe traditions and ensure that the land is still viable for viticulture for generations to come. They eschew cultured yeasts, enzymes or heavy-handed use of oak, preferring to make wines with genuine originality and an individual style, that also allow the variety and terroir to shine through. They are members of the Pannobile group of producers, who share their commitment to the land to the north of Lake Neusiedl and its typical varieties. Incidentally, the name Pannobile comes from Pannon + nobile – incorporating the notion of the Pannonian region with the quality of their wines.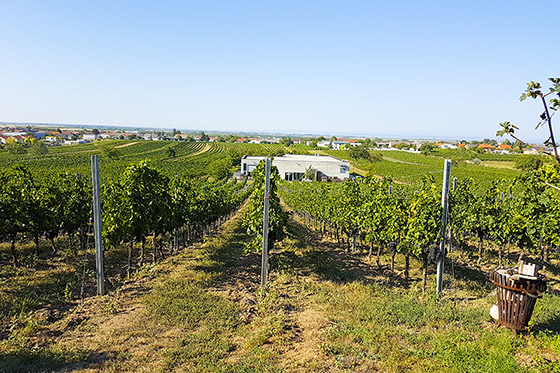 Gerhard leads us down through the vineyards from Claus Preisinger's modernistic building, where we will later taste the wines of all nine Pannobile producers, to his modest winery located further down the slope, where his wife Brigitte greets us in their stylish tasting room, lined with examples of their wines sporting individualistic graphic labels, perfect for their individualistic wines. Later, I discover the unusual style of their website, when I want to check some details – at first glance, it looks like you have stumbled into someone's private realm and have to log in before being presented with an interface resembling a computer desktop with spreadsheets, letters, working guidelines and photos. They don't follow fashions and trends, they do what they love and produce what they like.
We make a quick stop en route to taste their Pitt Nat Conversion Blanc 2016, a Pét-Nat, i.e. gently sparkling cloudy wine produced by the méthode ancestrale in which the initial fermentation finishes in the bottle without any additives producing a gently carbonated wine. The name plays on Pittnauer and natural. Although Gerhard has set up chairs and a table and has the wine cooling, he has neglected to bring a bottle opener; however, an enterprising member of the group manages to get the bottle open somehow for us to taste. Produced from Riesling, Welschriesling, Pinot Gris, Grüner Veltliner and Müller-Thurgau, it's a delightfully fragrant, cloudy wine with attactive fruit flavours and creamy, gentle bubbles.
Gerhard took over the estate from his parents at the beginning of the nineties and has turned it from a small, no-name winery into one of the most prominent in the region, exporting to both Germany and the UK. Gerhard was also named Falstaff winemaker of the year in 2014. They own around 18 hectares and buy in grapes from a further 20. They do pretty much everything in the family; though, Gerhard jokes, they do have a tractor guy. Most of the vineyards are planted to red, with just 5% white grapes.
Once at the winery, we do a quick tour and taste a few of the wines. All wines are matured in oak except for the rosé we try first.
The Rosé Dogma 2016 (Blaufränkisch and St Laurent) is an attractive burst of juicy red fruit, smooth and round with some tannins on the end. Gerhard points out that he had tried to get more lees in to keep it fresh, as the cloudiness helps to preserve the wine when there is no sulphur. We discover the truth of this shortly.
The name 'Dogma' was inspired by a group of Danish filmmakers, including Lars Trier, whose concept was to get back to the 'real' film, so no added music, etc. Gerhard decided to use the same principle for wine – to get back to the basics. If you are using healthy grapes, then there is no need for the extras, so the Dogma wines don't even contain sulphur.
We then taste the Perfect Day 2016 (Chardonnay and Muscat Ottonel) – an attractive aromatic wine with orange, spice and plenty of tannic grip.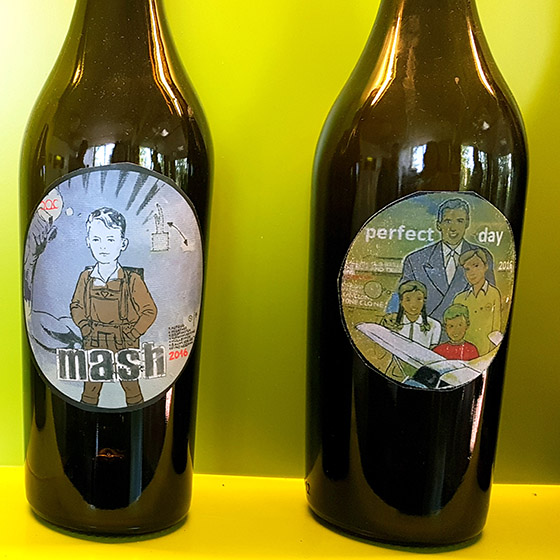 His Mash 2016 is a natural, biodynamic wine produced from Grüner Veltliner, Sauvignon Blanc and Chardonnay). Whole bunch maceration is followed by skin fermentation, blending and then bottling. A wonderfully saline and nutty wine with notes of orange, spice and peach. Bone dry with grippy tannins from the skins and stems, but inherently refreshing and drinkable.
There is also a Blaufränkisch Dogma 2016 produced with the same no-sulphur concept. A mix-up with labels occurs here, and the bottle labelled with Dogma contains a totally different wine. They remember there is one open in the fridge, but don't remember how long it's been open, but set off in search of it. A note on the bottle reveals it was opened on 10 August and it's now 30 August! We try it anyway, and wow! The wine is still amazingly fresh, and with no sulphur! Bright fruit-driven wine with plenty of cherry and spicy pepper. Very fresh acidity and quite Burgundian in style.
Gerhard explains that to select for natural wines – currently only 10% of his wines 20,000 bottles are produced 'naturally', it's important to taste and taste again. Decisions are made on their feelings and senses, no lab analysis here. The best are refreshing, and show varietal and vintage character.
The Pittnauers are also well-known for their Pinot Noir and St Laurent and Gerhard is a great proponent of St Laurent's finesse and elegance. He feels it's one of the most sensitive varieties in the world, thanks to its relationship with Pinot Noir, and enjoys trying to get the most out of it. He wishes it would get more respect and recognition.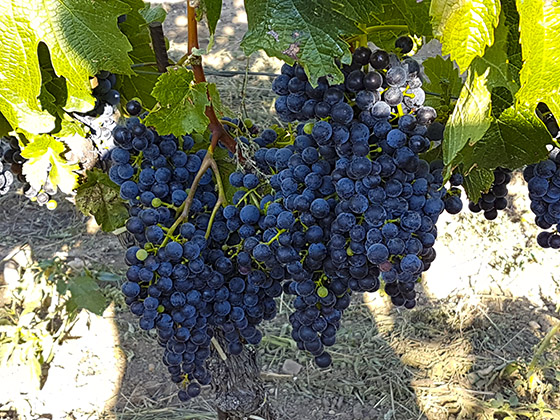 We first try his basic Pinot Noir 2015, a beautiful cocktail of cherry and plum with a touch of toast and coffee. It's tense and nervy, with lovely fresh acidity and silky tannins.
He discuss how his Pinot fits into the Pinot world – he believes there are three groups: the New World, Burgundy and German-speak lands, which is of course where we are. He has picked his Pinot yesterday, whereas he leaves the St Laurent longer as it doesn't build sugar so high as Pinot, i.e. a maximum of 13%, so he has six hectares of St Laurent instead of Pinot for just this reason.
Next, the St Laurent Ried Altenberg 2015. With its attractive crunchy black and red fruit and spice, fresh acidity, grainy tannins and amazing finesse and elegance, it's easy to see why Gerhard is so enamoured with this variety.
Gerhard does not let us leave without trying Burgenland's signature red grape, Blaufränkisch. His Blaufränkisch Rosenberg 2015 is produced biodynamically, with only the addition of sulphur. Bursting with elegant black fruit, spice, liquorice, a taut tannic structure and refreshing acidity, it boasts great drinkability and elegance.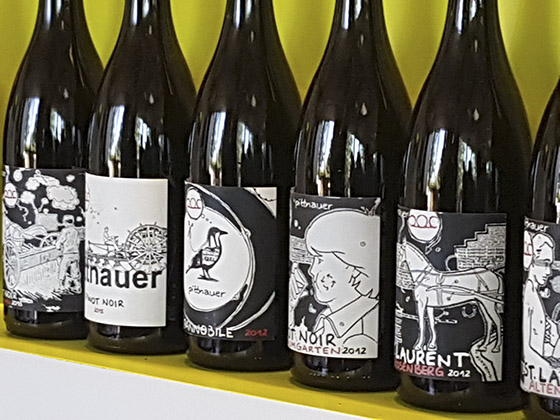 Finally, before we head back up the hill, Gerhard produces just one more wine for us to try. The still fermenting Rosenmuskateller 2017 was fermented one week on the skills, pressed, fermentation stopped and bottled. It's just starting to ferment again and will probably end up as a pét-nat, Attractively aromatic and floral with juicy cherry notes and a touch of sweetness, it's refreshingly low in alcohol at just 10%.
Back up the hill, we retry the Perfect Day and Dogma, along with his Pannobile 2015 from Zweigelt, Blaufränkisch and St Laurent. A beautiful deep ruby wine with plenty of black cherries, herbs and a touch of graphite. Powerful, mineral and complex, with ripe, well-integrated tannins and lively acidity. A multi-layered, ethereal wine that gives a hint of the potential to come if you hang onto it for a year or two.
Here at the Preisinger winery, we also three wines from each of the Pannobile producers, including their red Pannobile offerings, which show the range of styles possible to highlight the Gols terroir and the permitted varieties of Zweigelt, Blaufränkisch and St Laurent. But I think you may already have tired of tasting notes...
You can read more about Neusiedl Lake within a few days in the third part of this article.