If you make it to Vienna for VieVinum which is actually not all that easy as it only takes place every two years, so that the whole thing doesn't lose momentum (and also because in the intervening years, there are roadshows in all Austrian wine regions), and this means that a winelover is in the Hofburg in Vienna, then it's not enough that the three days will already be insufficient to taste all the wines of the 600 exhibitors (an average Wachau winery brought along 8-10 wines to show, from which you can calculate that you'd need to taste 4,800-6,000 wines over the three days, which is completely impossible), but as well as this, your spirit is ruffled further by amazing masterclasses!
Most masterclasses (80%) are free but require pre-registration. This is important as they all fill up. And no wonder! Just read what I wrote about the Zweigelt masterclass! Who wouldn't want to attend something like this?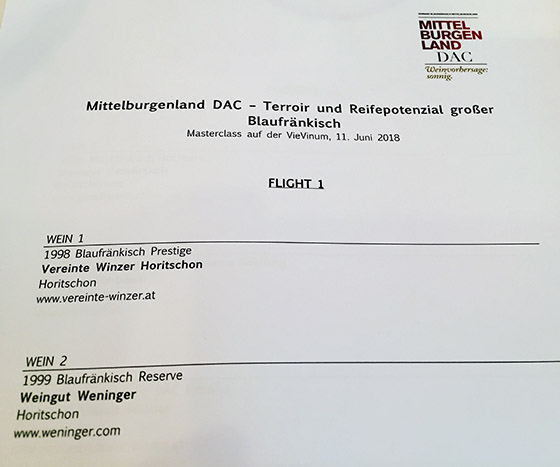 Photo: Daniel Ercsey
So that's how I ended up in the "20-year tasting" organised by the Mittelburgenland DAC. The room was empty ten minutes before the start, however it was completely full within eight minutes. I had done well not to be enticed away by the numerous other seductions! On the one hand, I learnt something, or rather I had got an inkling about the ageing possibilities ensuing from the Austrian Blaufränkisch style, on the other, I was able to marvel at the maturation form of these wines, at how they were behaving at such an age.
But I've already done a lot of talking, here are the wines!
Vereinte Winzer Horitschon - Blaufrankisch Prestige 1998 I 87 points
Medium ruby in colour with a smoky, mushroom nose and a background of plum and cherry. Medium body with a beautiful range of spices, lively acidity and taut tannins. Flavours of mushroom, sour cherry and rosehip. Well balanced with a medium finish. In my view, it's past its peak, but according to the experts leading the tasting, it can still age for a further 5-10 years.
Weingut Weninger - Blaufrankisch Reserve 1999 I 91 points
Restrained nose that is mostly dominated by spice (cinnamon) with plum, tobacco and leather in the background. Showing explosive form on the palate! Medium body with vibrant acidity, red berry fruit, sour cherry, cherry and a beautiful spice mix. Vibrantly fresh, elegant and long.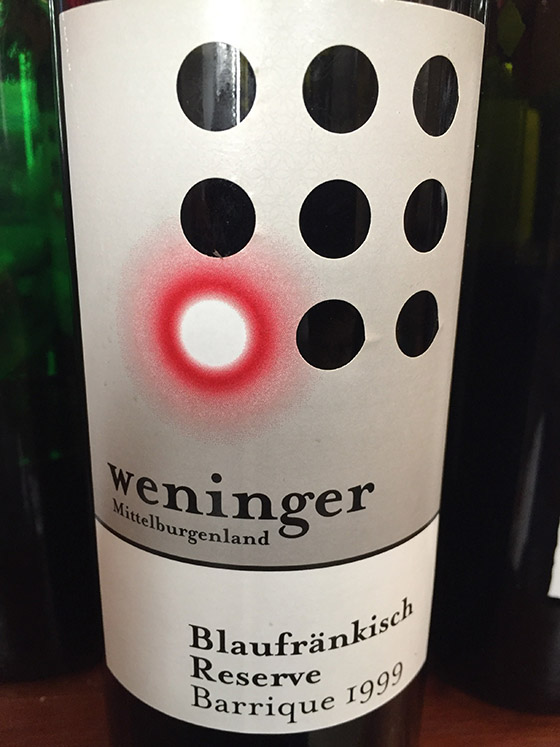 Photo: Daniel Ercsey
Weingut Hans Igler - Blaufrankisch Juwel 2000 I 93 points
Ripe black berry fruit on the nose, backed up with a mix of sweet spice, a pinch of nutmeg and a dash of anise. Medium to full bodied on the palate with taut tannins and lively acidity. Flavours of sour cherry, cherry, rosehip, sour cherry liqueur, chocolate, vanilla and spicy oak. Mature, long and wonderful!
Weingut Tisch - Blaufrankisch Selection 2004 I 90 points
Intense nose of black berry fruit with notes of leather, cinnamon and meat. Full bodied on the palate with ripe tannins, fresh acidity, vanilla, black berry fruit, chocolate and cinnamon. Rich, complex wine with a chocolatey finish. It was a real experience now, don't wait any longer to drink!
Weingut Gesellmann - Blaufrankisch Hochberc 2006 I 86 points
Oriental spice on the nose, along with star anise, pepper, mustard seed, sour cherry and blackberry. Medium to full bodied with lively acidity and firm tannins and flavours of sour cherry and cherry. A rather acidity-dominated wine with a medium to long finish which is unfortunately led by dominant tannins.
With regard to the previous two wines, I'd like to add here that Sascha Speicher said that the 2004 wine was cool and elegant as that was what the vintage was like, whereas the 2006 was rich and warm. Recalling the vintages, he was completely correct, although the two wines showed just the opposite!
Weingut Kirnbauer - Mittelburgenland DAC Reserve Goldberg 2009 I 94 points
Aromas of meat, camembert cheese and black berry fruit. Concentrated and full bodied on the palate, yet elegant and with good acidity, a really vibrant wine with plenty of red and black berry fruit with sweet tannins at the same time as a background of spices. It's in wonderful shape! Infinite.
Weingut Juliana Wieder - Mittelburgenland DAC Reserve 2009 I 90 points
Spice and black berries on the nose. Full bodied on the palate with lively acidity and firm tannins which are a little drying yet also mature. Plenty of fruit and spice, predominantly oriental spice. Medium to long finish with cinnamon, sandalwood and anise.
Weingut Maria und Josef Reumann - Mittelburgenland DAC Reserve V-Max 2012 I 87 points
Bags of ripe black berry fruit, liquorice and a touch of horehound on the nose. Medium to full bodied with vibrant acidity, meaty tannins and tons of red and black berry fruit on the palate. Marzipan, vanilla, star anise and sour cherry liqueur in the background. The nose and palate differ totally from one another, displaying a different character.
Weingut J. Heinrich - Mittelburgenland DAC Reserve V-Max 2012 I 91 points
Sweet spiciness, cedar, a touch of resin, balsamic vinegar and coconut on the nose. Full bodied and concentrated on the palate with lively acidity, ripe tannins, plenty of spice and black berry fruit in the background. Long finish with serious potential.
Weingut Gager - Mittelburgenland DAC Reserve Mitterberg 2012 I 92 points
Restrained rather spicy nose with a touch of cherry in the background. Tight and linear on the palate, well balanced with lively acidity and plenty of red berry fruit. Lovely wine with long ageing potential.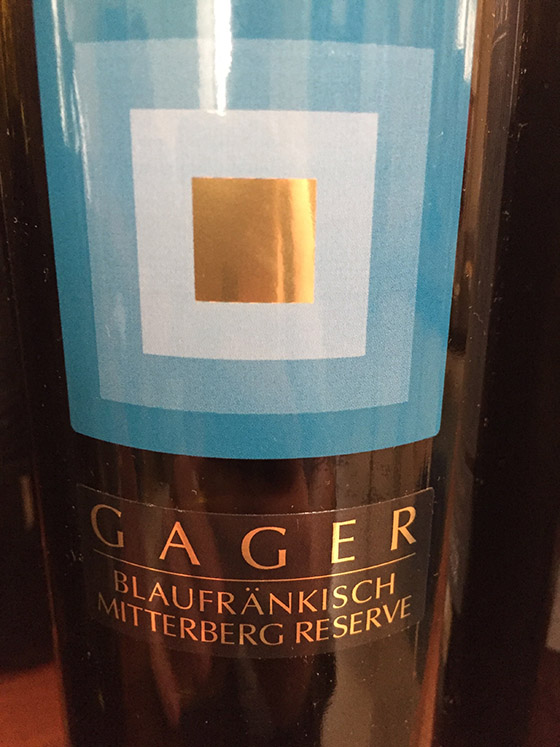 Photo: Daniel Ercsey
Weingut Prickler - Mittelburgenland DAC Reserve V-Max 2012 I 94 points
Purple flowers, sweet spice, vanilla, cloves, black cherry, nutmeg and graphite on the nose. Incredibly concentrated on the palate, meaty tannins and lovely acidity. Spicy oak quite intense on the palate with plenty of fruit in the background along with graphite and liquorice. The finish is almost infinite. Still too young, I'd wait to drink this. Great promise!
That was the Blaufränkisch tasting from Mittelburgenland in 2018 at VieVinum at the Hofburg. Special thanks go to Brad Knowles's compelling and sometimes humorous translations, sometimes in English, sometimes in German, but certainly in South African style! 😊