Day one: obviously, different measures must be taken if one travels by car, plane or train but the point remains the same. If, for instance, we get to Vienna on a Friday morning and leave our luggage at our accommodation (or at its reception if the room is not yet prepared), let us go downtown at once. It is relatively quick and easy if we take the underground to Stephansplatz where Stephansdom, one of Vienna's symbols towers over us when we reach the surface. The construction of this wonderful cathedral was started in 1147 and it has looked much the same since the second half of the 1300s. From here it takes only a few steps to taste the most famous Wiener Schnitzel made, interestingly enough, from pork not veal. It is worth coming to Figlmüller at lunchtime (and book the table weeks in advance) because in this 111 year-old restaurant even making a reservation at dinnertime is difficult.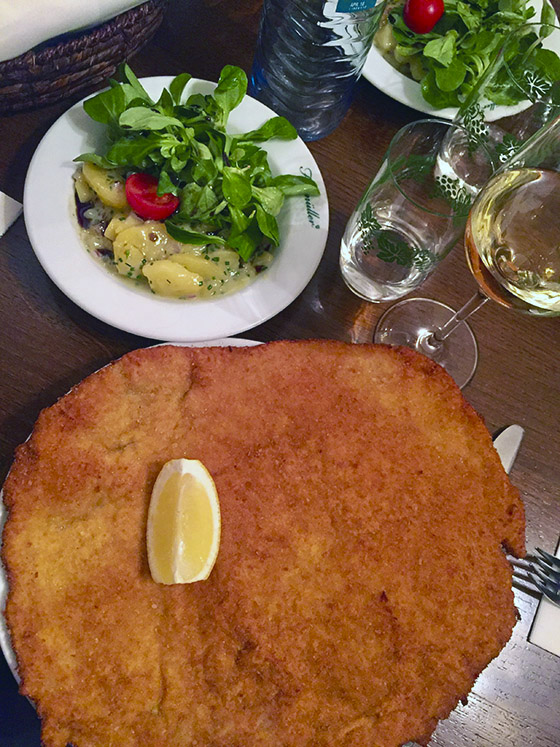 After lunch have a good cup of coffee and a slice of Sachertorte in a traditional café before visiting the Naturhistoriches Museum. This is no joke: the Natural History Museum in Vienna is really fantastic. The Venus of Willendorf is on display there, the Dinosaur Hall is also great besides the section on human evolution, and many stuffed animals await the children (who can enter free of charge) and adults alike.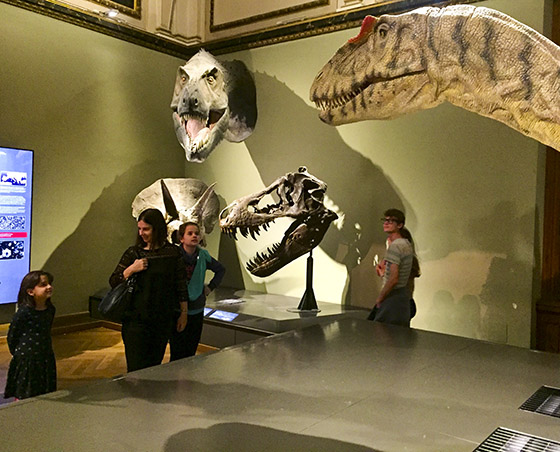 Expect to spend quite some time here. It is well worth it. Hop on the underground when dinnertime is near and take a merely 5-minute walk from Karlsplatz station to the Naschmarkt where you cannot only do the shopping but it is full of superb little restaurants, diners and what is more, a great wine bar at one corner.
On day two we can fascinate the kids by renting a car. (It can often be arranged at the hotel reception, as well but if we do not find this a reliable solution, it is also possible to book a car on the Internet in advance.) Our next destination is Wachau. "All right but how shall we convince the children?" If the trip itself is not attractive enough, we can tell them that the statue we saw the day before (i.e. the Venus of Willendorf) was found in Willendorf where someone made it 30,000 years ago and this Willendorf is a part of Wachau. On our way there, motorway A1 is recommended until Melk where we cannot only see the wonderful landscape but the famous Melk Abbey is also located there.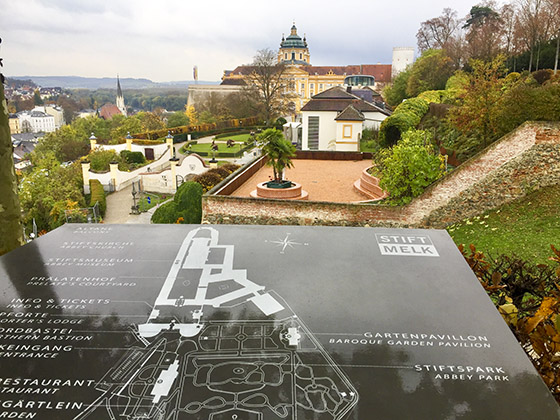 For those who like churches and libraries, it is a must to stop there but those who do not, can also take a walk in the small town situated below the Abbey. It takes a mere 10 more minutes from Melk to reach Willendorf where a tiny museum is dedicated to Venus (although, unfortunately, it is closed from November and does not open until the spring) and a statue has been erected where the find had been discovered. It was interesting to see how my two daughters (aged 7 and 10) realized that the statue they had seen the day before had been made here and then they tried to imagine the Danube valley without houses and railway; how it could have looked a long, long time ago. Afterwards, let us move on to Spitz where it is a good idea to walk up to the mountain top next to the river (for the fantastic view). We may drive as long as the parking lot of the cemetery behind the mount (type: Spitz, Quitten 1 in the GPS) and a steep asphalt road leads us to the top. It takes only 10 minutes and it is indeed time well spent.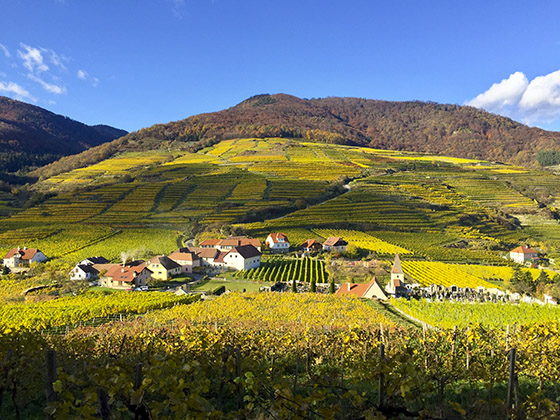 We should not leave the place without lunch: Gatshof Prankl offers delicious food made of organic ingredients at a reasonable price: you can try, for example, dumplings filled with apricot. After lunch let us continue our journey to Dürnstein.(do not be intimidated by driving so much as the distances covered are not long: Melk-Willendorf 10 minutes, Willendorf-Spitz 10 minutes, Spitz-Dürnstein approx. 12 minutes.)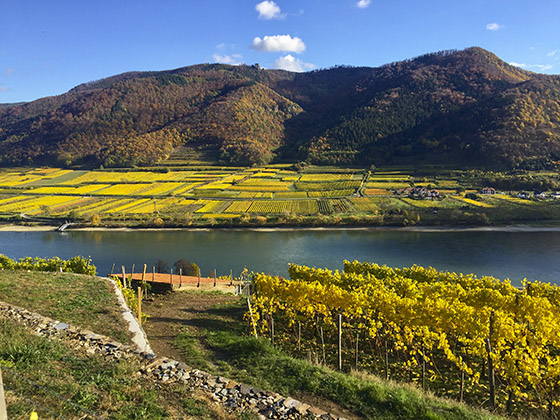 Dürnstein is probably the most photographed town in Wachau thanks to its castle ruin, the blue church tower and its location. There is no car traffic in this town. You have to drive through a tunnel and when leaving it, take a left immediately to the parking lot (make sure you have some coins for payment). You may take a pleasant walk in the streets of this town full of souvenir shops offering the famous products of Wachau: wine and apricot, mostly. Personally, I would not recommend buying wine here as it is only a 5-minute walk (or one-minute drive) to Domäne Wachau where you can find everything in one place.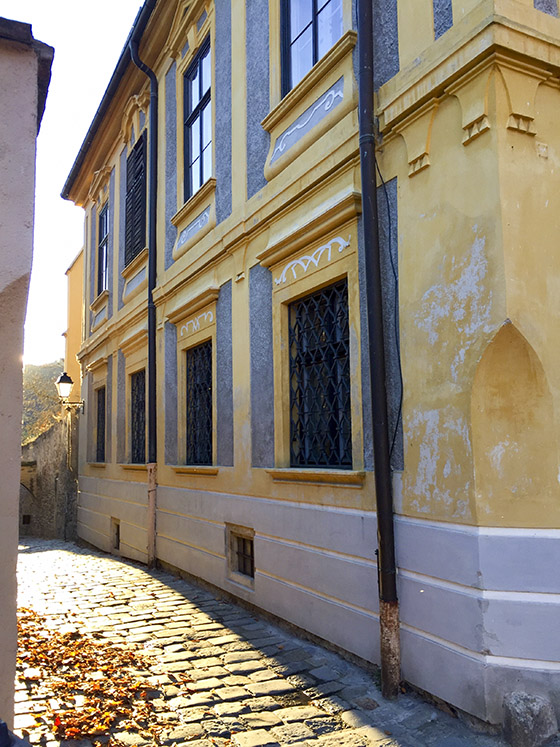 The largest winery of the region is Domane Wachau operating as a cooperative; wine (containing lots of parcel-select items) is made on the cultivated 440 hectares of land. The major varieties of the area are Grüner Veltliner (also called Grüvee) and Riesling. The three quality classifications, Steinfeder, Federspiel and Smaragd are displayed on the labels. The first has a maximum alcohol content of 11.5%, the second 11.5–12.5%, while Smaragd over 12.5%, respectively.
Having had a good time and learnt that the English king, Richard the Lionheart was held captive for two years here once he had been taken prisoner on his way home from the Holy Land, we may move on. After leaving Wachau, we arrive in Krems (where it is also worth stopping and having a walk) and we can call it a day. It is best to drive back to Vienna on motorways S5-A22. Those interested in real Viennese wine-bars must reserve a table in Mayer am Pfarrplatz where even Beethoven lived for a while. On its website it is indicated when live music can be enjoyed.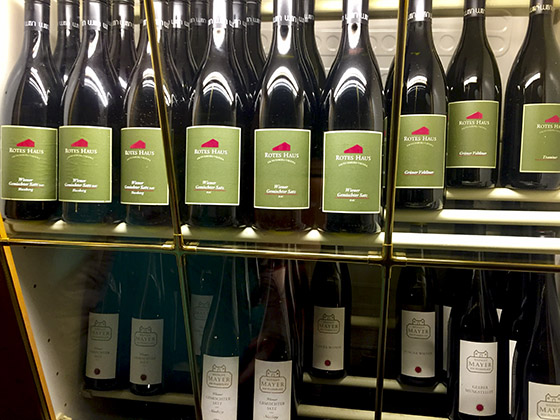 A glass of Gemischter Satz, the newly discovered Viennese wine is recommended with the food. (It is really Viennese as there are hundreds of hectares of vineyards in Vienna today. Mr. Wieninger is probably one of the most famous local winemakers but if you decide to try the restaurant's own wines, you will not be disappointed either.) In Austria it is allowed to drive after having a glass of wine, so you can go back to your hotel by car and with a clear conscience.
Shall we rest on the third day? No way! Not when we are in Vienna. So let us make the most of it. After returning the car (if we have not done that the night before), check the weather. If it is sunny, head to the Prater where the kids will definitely have a great time as long as they can. However, if it rains why not visit the Belvedere to see Gustav Klimt's famous painting, 'The Kiss'?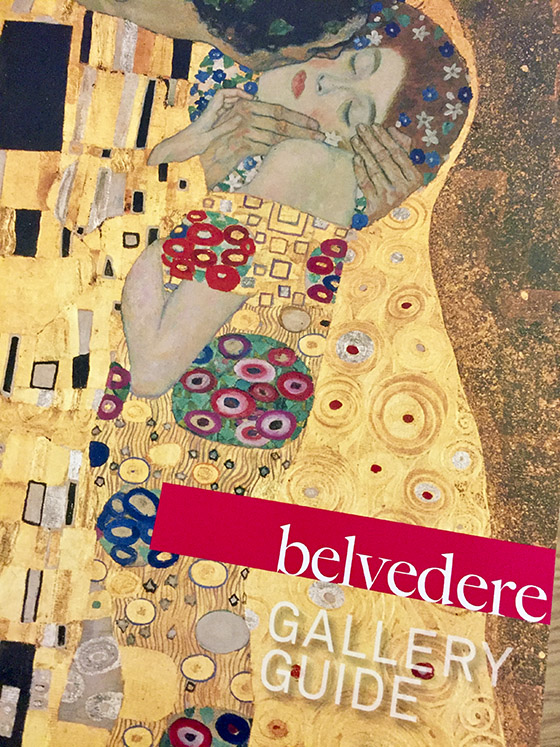 You should have some good Tafelspitz for lunch, which is also an Austrian speciality and then it is time to buy some souvenirs for ourselves and the family, as well as for those who stayed at home. A plane ticket to Vienna might be a good idea so that they could also have a similarly wonderful adventure.