Márga Bisztró at Szent Donát in Csopak affords one of the most beautiful views of the Balaton, overlooking Balatonfüred and the Tihany peninsular, as does the terrace had it not been too cold and wet to consider sitting out there.
We were there to meet the Head Chef, Zoltán Endrédi, and the new Creative Chef, Roland Varga, formerly at the best-known restaurant in Veszprém, Chianti, where he turned the Italian restaurant into a fusion bistro, cleverly combining international and Hungarian ingredients. The pair have known each other for more than ten years and believe in sharing ideas and experiences, so already feel like they have been working together.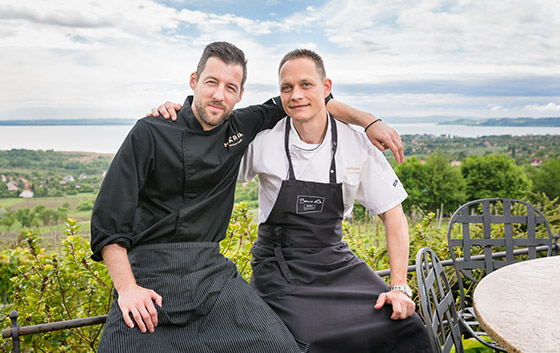 They believe that the menu should be based on seasonal local ingredients, sourced from the surrounding countryside and even from the estate's own vegetable garden, where the rhubarb is just coming into season. They want to be able to match the outstanding panorama and Szent Donát's wine with high quality food, playing with textures and creating harmony on the plate. However, they aim to cater to local inhabitants too, not only visitors from Budapest, ensuring there is enough choice on the menu for people to come several times in a week if they wish.
The Balaton is the country's stomach, they say, a fusion area where conception restaurants are on the increase. Although, of course, they'll also be taking local Bakony cuisine into account too, sourcing mushrooms and truffles from the forest, as well as game and local fish. High quality ingredients are key and they will purchase regularly from local producers. If something is no longer available, they'll change the menu, they won't just pop down to the market to fill the gap. Naturally, as it's the restaurant of a winery, both the wines and food have to shine equally, so great attention is also paid to matching. The aim is to further increase the quality and innovativeness of the food, hoping to get into the top 20 Hungarian restaurants in the near future. If you want a table in the summer, even for lunch, you'll already need to book several days in advance.
Szent Donát Winery, named after a historic patron saint of the vines in the Balaton, was founded in 2001 and their first wines were bottled in 2003. They quickly outgrew themselves, so expanded the cellar and built the restaurant and terrace. Additionally, they added a couple more hectares of vines each year, either buying old vines or planting themselves, until they reached the current 12 hectares. By 2012, they were opening all year round and had to decide whether to focus on the winery or the restaurant, which was already receiving 20,000 visitors per year. Tamás Kovács, the owner, said that in 2015 they decided to give the restaurant a new name in order to make the distinction between the two. Boasting the highest of panoramas, the restaurant was named after the terroir, the marl soils and so became 'Márga'.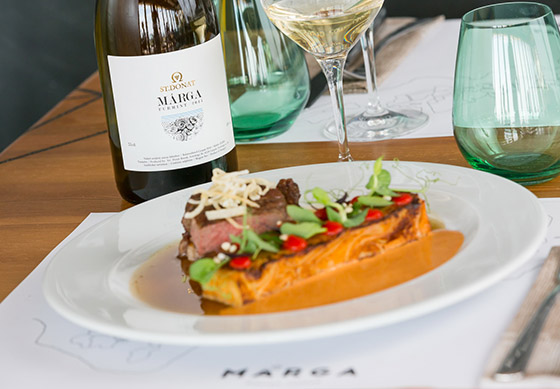 Tamás is planning to further extend the cellar and is also in the process of turning organic. They will be the first in Csopak to do this. They'll also replant some of their vines in Csopak, add to the Kékfrankos they have on Tihany and buy a few more small parcels of land to try to achieve a complete, enclosed estate.
Tamás takes us on a brief jeep tour of some of the vineyards, regaling us with historic tales and explaining the difference the various Csopak soils make to the wines. There are two main soil types in Csopak. The red clay, which gives wines that are elegant, delicate and light, and which can be drunk earlier. The white limestone, marl, gives wines with more acidity, body, extract and a slightly salty finish, although they can be softer depending on the vintage, and they need another year before drinking. Most winemakers in Csopak will try to make vineyard-selected wines from both soil types to show the difference. Along the way, we see some areas of abandoned vines, currently a hot topic at the Balaton, where grand cru vineyards in the hands of property speculators remain uncultivated and run wild, while local communities look on in despair at the demise of their cultural landscape. However, they are now starting to fight back…
Back at the estate centre, we visit the cellar and winery, which currently has a capacity of 20 hectares, approximately 80,000 bottles. Interestingly the cellar has an elaborate fireplace and is entered through a hidden door. Tamás tells us it was designed by Ferenc Heimann, the brother of Zoltán Heimann, the prominent Szekszárd winemaker, who has a penchant for adding such features to any cellar he designs. Tamás also has the first pyrogranite fermenters in the country, which he uses for his Furmint. His came from Italy, but now they are also being manufactured in Hungary.
Finally, a bit of wine-tasting before sitting down to lunch. And here I have to say that if the restaurant's path from here is upwards, I'll certainly be back. The asparagus soup with goat's cheese, duck breast with dumpling and paprika sauce, and basil creme brulée with chocolate ice-cream would certainly be worth another trip!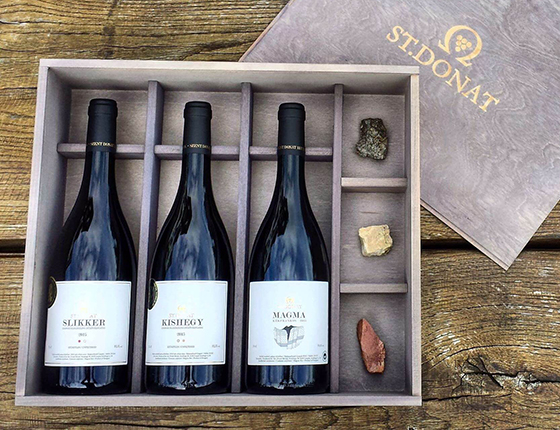 The wines
Szent Donát's wines are certainly terroir-driven. In addition to the two vineyard-selected Olaszrizling, there is also a 'soil' range – Olaszrizling from limestone soils (Meszes), Furmint from marl (Márga) and Kékfrankos from volcanic soils (Magma). You can also buy the soil range or the two vineyard-selected wines plus the Kékfrankos in a presentation box together with samples of the rocks.
Rosé 2016 I 84 points (Merlot/Syrah)
Made from bought-in grapes. Fresh, light and fruity, very quaffable.
Csopak 2015 I 85 points (Olaszrizling hegybor)
Bright and clear with aromas of lemon, pear and apple. Medium-bodied with attractive minerality, zesty lemon and almond. Slightly thinner and less structured than the selections, but still pleasantly quaffable.
Meszes 2015 I 87 points (Olaszrizling válogatás)
A fresh, crisp wine with good acidity and attractive citrus notes. Structured and balanced with lovely almond, lemon and yellow flavours. Creamy textured with a long, slightly salty finish.
Márga 2015 I 89 points (Furmint válogatás)
Robust wine with plenty of fresh acidity. Ripe pear and quince with a slightly floral note. Distinct mineral character with a creamy mouthfeel and long stony finish.
Slikker 2015 I 89 points (single vineyard) (classic red clay soils, 30-year-old vines)
Intense pear and citrus on the nose with a touch of herbs. Crisp, lively acidity with plenty of ripe yellow apple, fresh lemon and mineral linearity. Elegant and balanced with a salty finish.
Kishegy 2015 I 87 points (single vineyard) (limestone, marl soils, 60-year-old vines)
Nuts, pear and apple on those nose with a touch of almond blossom. Zesty and fresh with good acidity and crunchy fruit. Perhaps a little austere on the palate but with a pleasant salty finish.
Magma 2015 I 87 points (Kékfrankos selection - from Tihany)
Fermented in open vat with no fining or filtering followed by 10 months in oak. A light fruity wine with plenty of fresh acidity and low tannins. Spicy and slightly floral with tons of sour cherry and blueberry on the palate. A real winner.
Photos by Miklós Szabó