In particular, what do the famous DOCs of Collio and Colli Orientali del Friuli have to offer in terms of wines, sights, grapes and accommodation? As usual for Wine Sofa, Chris boils it down to 10 points…
1 It's a beautiful part of Italy. Friuli is in a favoured spot in the northeast corner of Italy, near the borders with Austria and Slovenia. Many of the rolling hills run along an almost ideal east-west line between the sheltering Julian Alps to the north and the temperature-moderating Adriatic Sea to the south. The soil is special too: a marl known as 'ponca', a clay rich in limestone and sandstone. Between the vineyards are woods, fruit trees, and historic towns. These towns include: Cividale del Friuli, a UNESCO world heritage site; Palmanova, which is shaped like a nine-pointed star for military reasons; and Gradisca d'Isonzo, another fortress town built by the Venetians. It's the ideal setting for some of Europe's best – and most intriguing – wines.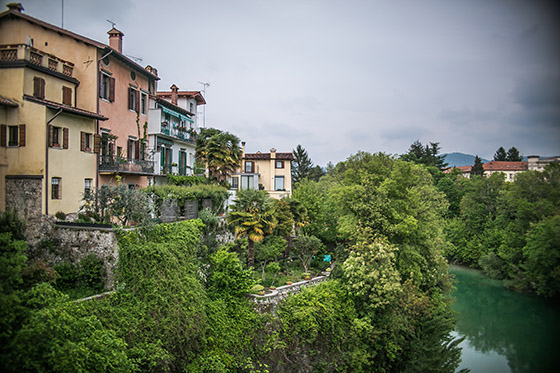 2 It's the home of some legendary winemakers. Josko Gravener and the late Stanko Radikon put it on the winemaking map, but others soon learned the 'Oslavia School' lessons: the rediscovery and reinterpretation of old techniques that make full use of the whole berry, even in white wines. Graduates include Dario Princic, Nicolò Bensa, and Silvestro Primosic who produced the first official bottle of the consortium of Collio wine producers and has now handed the reins to his sons, Marko and Boris. Just as Nicolò is training up his son, Stefano, at La Castellada. And now Stanko Radikon's son Saša is continuing where his father left off. But I met other less well-known winemakers making excellent wines. Alvaro Pecorari and his family produce one of the best Pinot Grigios in Italy at Lis Neris in San Lorenzo. Renato Keber in Zegla makes complex, powerful, tasty white wines that are aged for at least three years before they are released. And Mauro Mauri of Borgo San Daniele in Cormons uses a solera system in the cellar to conserve part of the yeasts from each vintage. "In this way the DNA of our wines is handed on from year to year," he says.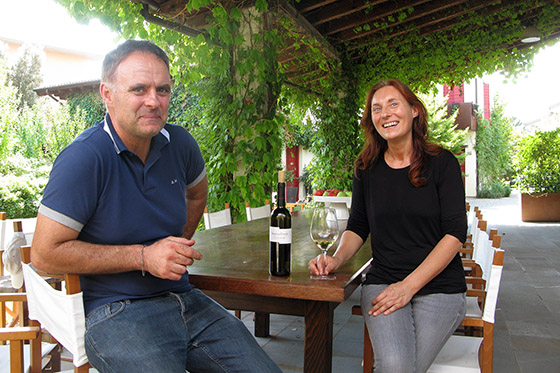 3 It's the home of some great white grapes. "We are known for white wines but not one," says Adriano Gigante in Corno di Rosazzo. He and his family make 17 wines, 10 of which are white. These 17 wines come from 14 different grape varieties. This diversity is great for wine tourists and wine lovers but it makes it difficult to give the region an identity. The main varieties from a visitor's point of view are Ribolla Gialla and Friulano (previously Tocai Friulano but known elsewhere as Sauvignon Vert or Sauvignonasse). Friulano is like the region's house wine. A classic example is the one from Borgo San Daniele with its delicate aromas of wild flowers, sweet almonds and orange peel, its green apple and green fig flavours, and a little almond on the finish. I tasted other good examples from Specogna, Visintini and Roncus. For more concentrated single-vineyard versions, try Gigante's Friulano Vigneto Storico or Keber's Zegla.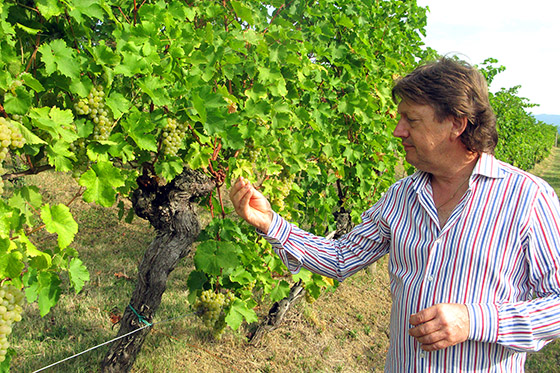 Ribolla Gialla is the darling of the region's natural winemakers but I also tasted it in fresh, sparkling and sweet styles. As a dry wine it has lovely citrus and white floral aromas with a small dash of white pepper. The top producers include Radikon, Primosic, Princic, La Castellada, Fiegl, Il Carpino and Josko Gravner. Among the other white varietals that stood out are Keber's Pinot Bianco 2009, Borgo San Daniele's Malvasia Istriana and Primosic's Sauvignon Blanc. Primosic also has a very commercial field blend featuring Sauvignon Blanc, Chardonnay, Friulano and Ribolla Gialla called Klin. Roncus' Vecchie Vigne comes from an old mixed vineyard planted by brother and sister Marco and Antonella's grandfather. It features Malvasia, Friulano and Ribolla Gialla. Another interesting blend is Lis Neris' Confini, which combines Pinot Grigio, Traminer and Riesling. The first two varieties are harvested late, and fermented and matured in oak. Borgo San Daniele has a very nice Riesling-Malvasia blend, Jiasik Bianco.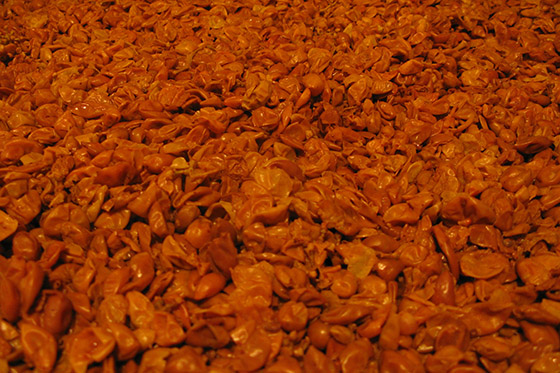 4 There are some interesting reds too. As well as the French varieties, you will find Schioppettino, the brutally tannic Pignolo and Tazzelenghe, and Refosco del Peduncolo Rosso (making probably the most complex of all the Refosco wines). Of these, the one that really shines is Schioppettino which, thankfully, was saved from extinction in the 1970s by Paolo Rapuzzi of the Ronchi di Cialla winery and is now gaining a good fan base. It's easy to see why. It's deeply-coloured, has the aromas and flavours of blackcurrant, black cherry and green peppercorn, a medium body, high acidity and mild tannins. The spicy, peppery aroma and flavour are its distinguishing features. It makes Syrah taste like water.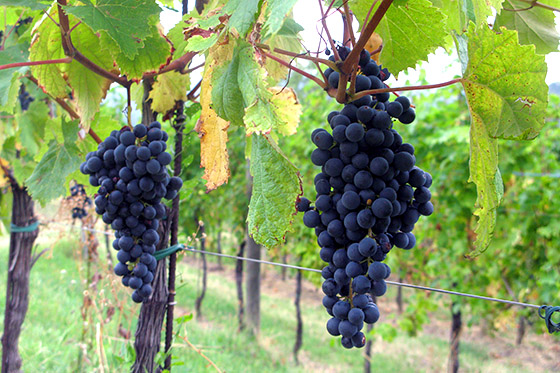 Top producers include Ronchi di Cialla, Antico Broilo, La Viarte, Petrussa, and Colli di Poianis. When Gabriel Ceschia's grandfather planted Schioppettino in the Prepotto area, the neighbours, who were planting Pinot Grigio and Merlot, told him he was crazy. But it has become one of the best areas for the grape and has its own DOC title. It's easy to spot on a bottle as it takes up most of the label: Friuli Colli Orientali Schioppettino di Prepotto. "It's a special expression of the terroir," Gabriel told me. "I love it a lot." Lis Fadis, a beautifully renovated farmhouse above the steep hills of Spessa and Prepotto, uses its Schioppettino to spice up its "red for women", Bergul – a blend of Refosco, Schioppettino, and Merlot. Gigante has a refreshing, summery sparkling rosé made from Schioppettino.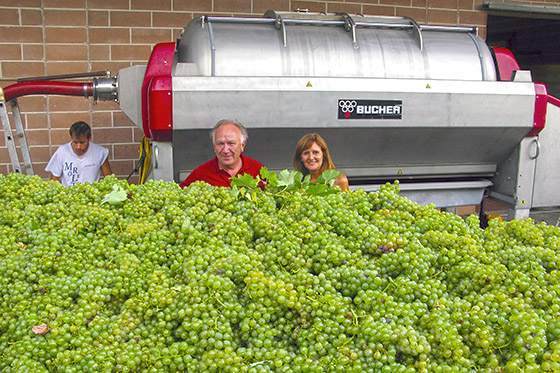 5 And don't forget its sweet wines. Friuli has two grapes that produce excellent dessert wines, Picolit and Verduzzo Friulano, which have their own DOCG areas. At the Colli di Poianis vineyards Gabriel and Maura Ceschia retain the old system of planting these vines: seven rows of Picolit, three rows of Verduzzo, seven rows of Picolit, three rows of Verduzzo etc. Gabriel cuts the shoots so the grapes dry on the vine. "You feel all the fruit of autumn, and all the leaves of autumn," he said as we sat on his veranda enjoying the wine, with its delicate acacia honey, tropical fruit, fresh citrus and white flower aromas and flavours.
Some experts argue that Picolit is Italy's best grape. Indeed, at certain points in history its sweet wines ranked alongside Chateau D'Yquem and Tokaji's Essencia. But it only produces small bunches with very few berries (often 15 or less) due to partial sterility of the male pollen (hence the practice of planting it near Verduzzo). The Perusini winery helped to save the variety in the 1950s and the largest producer is La Roncaia.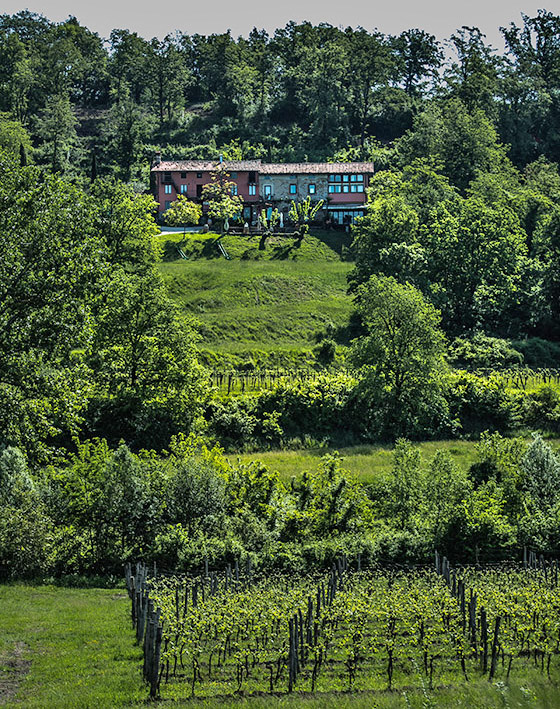 The best Verduzzos come from DOCG Ramandolo in the north of the region. Its profile is light with acacia honey, tropical fruits, marzipan, and tannins. Gigante makes wines from both varieties. Lis Neris adds 5% Riesling to its Verduzzo to produce Tal Luc.
6 Many of the wineries offer accommodation. Places that I can recommend for both their wine and accommodation include: Colli di Poianis in Prepotto, which has three two-bedroom apartments and a double room; Gigante, which offers B&B at their farm and winery in Corno di Rosazzo; Lis Neris, which has four rooms in a renovated farm next to the winery; Roncus, which is run by a brother and sister who now own the land where their grandfather was a tenant farmer, and have four small apartments near the winery in Capriva del Friuli; and Keber, which has four apartments and two double rooms in Zegla, close to the border with Slovenia.
7 One winery in particular deserves our support. The historic estate of Villa Russiz in Capriva del Friuli uses the money it makes from its wine operation to support underprivileged children and has a children's home near the winery. The wines show a different side of Friuli as the estate was set up in 1869 by a French count and agronomist, Théodor de La Tour. He was the first to see the potential for French varieties such as Sauvignon Blanc, Chardonnay, Merlot and Cabernet Sauvignon in the region. His impressive mausoleum sits above a Merlot vineyard. One of the wines, a young, fresh white blend, is called Les Enfants.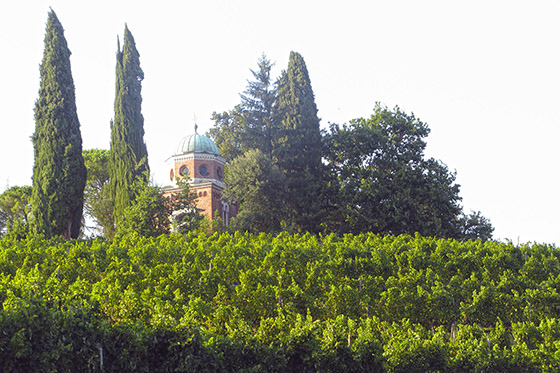 8 You can borrow a bike for free. The Villa Nachini Cabassi information point and shop in Corno di Rosazzo makes a great starting point for any tour of the region. Run by a consortium of local wineries, the historic villa offers wines from 28 local producers, local food products, tastings, and has a great restaurant. It also offers free bikes (you have to leave your passport as a deposit)! They have laid out some routes past wineries and historical buildings but they are still working on the map. The villa and restaurant also exhibit one of the area's other key products – chairs. So they have made this the place to sit, drink and eat.
9 "It's not possible to eat bad things here." So says Maura Ceschia of Colli di Poianis, one of my favourite wineries in the region. During the changes of borders and flags, the region's cuisine has been influenced by Austrians, Hungarians, Venetians and Slavs, as well as Italians. So you are just as likely to find goulash and apple strudel as pasta here. Local specialties include sweet ham from Cormons, smoked by cherry and laurel wood. Another specialty is Brovada – turnip chips marinated in red grape marc. Gubana is a cake with a snail-shaped filling of raisins, pine nuts, walnuts and, sometimes, grappa. One of the most romantic restaurants I've ever visited is Perusini's Trattoria al Postiglione in Gramogliano.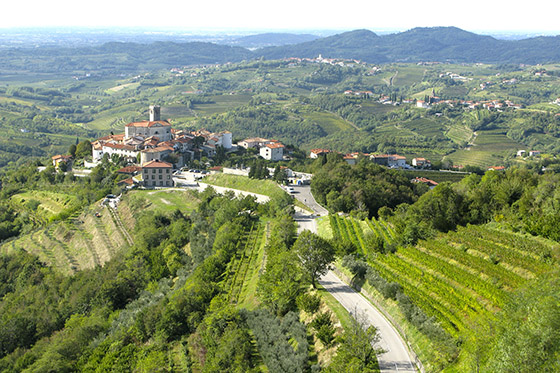 10 It's close to another great winemaking region – Slovenia's most famous sub-region, Goriška Brda. It's easy to zigzag across the border without really noticing you have left one country and entered another. In Goriška Brda you will find some of Slovenia's star winemakers, such as Aleš Kristančič of Movia, Marjan Simčič, Edi Simčič, and Ščurek, and some of its prettiest little towns, including Šmartno (pictured). I recently had an unforgettable evening in the valley below Šmartno – dinner at the Štekar winery. Natural winemaker Janko Štekar, the 10th generation of his family to farm these steep hills, is an entertaining host with idiosyncratic wines. "I make wines that I like, that the land produces," he says. It certainly is a special area.