Originally, I didn't want to go to Sremski Karlovci. Well, more precisely I didn't plan to go there for the wine. This wonderful little town – that reminds me so much of Szentendre (which was also greatly influenced by the Serbs and is also located on the Danube bank) in Hungary – is where one of the most important peace treaties of Central and Eastern Europe was signed. This was where on 26 January 1699 the Sultan of the Turks and the Habsburg Emperor, representing the Holy League signed the peace treaty, which was the most important milestone in diminishing the Turkish influence in Europe. A beautiful chapel was erected in memory of the treaty and I did want to go there (and even though I passed it twice, I simply couldn't make it there), but finally, I ended up with tasting wine, of course but I don't mind it a bit.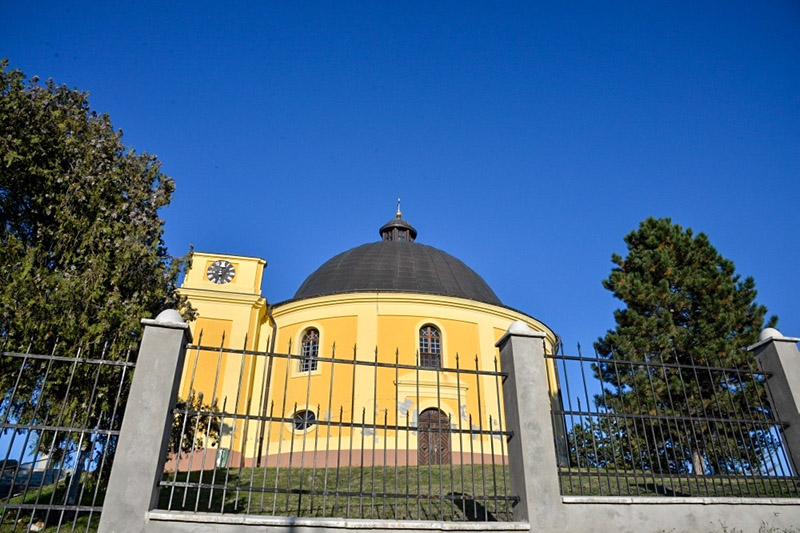 Lady of Peace chapel, Photo: Piroska Koltai - Wine a'More Travel
How did it happen? Two of my fellow travellers (Luiz Alberto, the number one #winelover, Piroska Koltai from Wine a'More Travel, Mirjana Maksimovic and Tomislav Ivanovic from Serbia), Mirjana and Tomislav had organized a surprise cellar visit in a lovely little street of the town. This is how I found myself in the court of Kis Winery.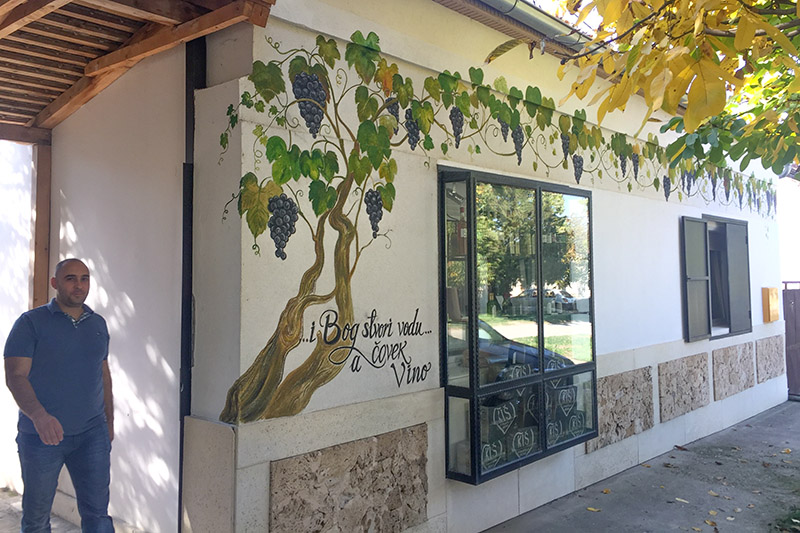 Photo: Daniel Ercsey
I immediately realized that I knew them even though I had never been there before. I knew their wines, that is. At least one. Last spring, I was in Pécs as a judge at the Portugieser du Monde wine competition, and furthermore, I was presiding one of the juries so I had more influence (and responsibility) than usual concerning the final result. I clearly remember that there was no dispute about the absolute winner among Portugiesers. The votes of the jury were unanimous. I remembered the label of that winner wine (straight after shaking hands with the cellar manager, Sinisa Popov) and then the Champion award, which is also greatly honoured, also came to my mind. It was funny to see that when I had put together the pieces, Sinisa also started to recognize me as one of the people who gave that award to his wine.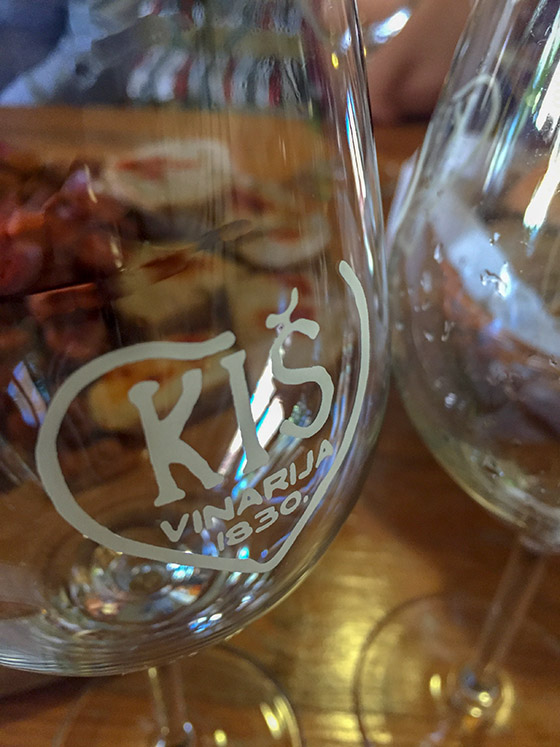 Photo: Daniel Ercsey
Not that the atmosphere needed any improvement as Sinisa is a great host. As soon as we sat down we were offered plates full of sausages, hams, cracklings and freshly baked bread followed by wines only to prepare us for the cellar visit when we tasted what the barrels hold.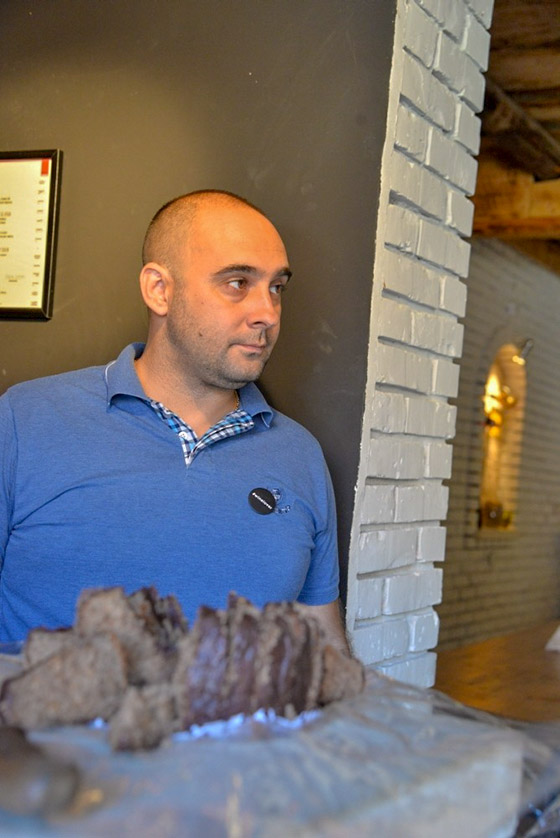 Sinisa Popov, Photo: Piroska Koltai - Wine a'More Travel
The Kis family has been living in Sremski Karlovci since 1830 when they moved here from today's Czech Republic (but back then it meant moving within one country, the Habsburg Empire). They have been making wine ever since and were among the first ones after the phylloxera epidemic who participated in the restoration. Slavko Kis was born in 1931 and became a legend already in his life, Fortunately, it seems that his work has not ended when he passed away in 2015. He was the first to plant the Riesling vines in the wine region and did a lot to make Bermet more popular.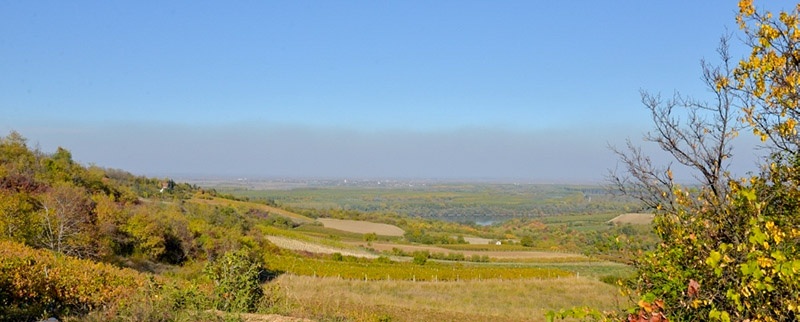 Matej vineyard, Photo: Piroska Koltai - Wine a'More Travel
Currently the Kis estate means 11.5 hectares of cultivated land located mostly in the cauldron-shaped single vineyard of Matej overlooking the Danube. In 2017 another hectare of Grasac was planted and two hectares of Riesling are planned to be established in 2018.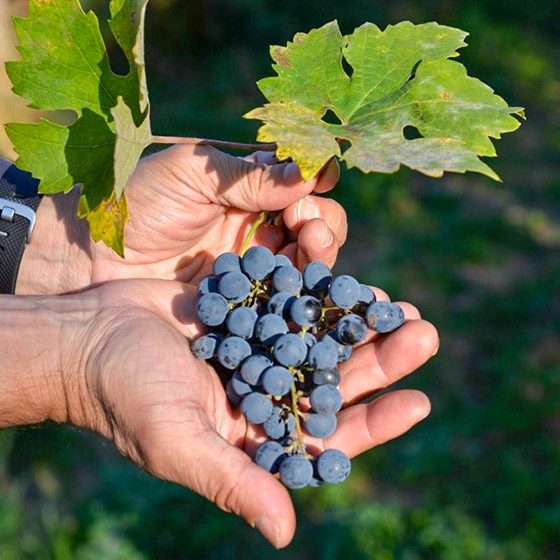 Photo: Piroska Koltai - Wine a'More Travel
Sremski Karlovci is practically a must-see if you visit Serbia. And if you have come all this way, don't make do with the cakes sold at the Main Square – visit Kis Winery. Ask for a glass of Bermet (the best I've ever tasted), some good Grasac, or maybe some of my prized Portugieser and listen to the history of the Kis family.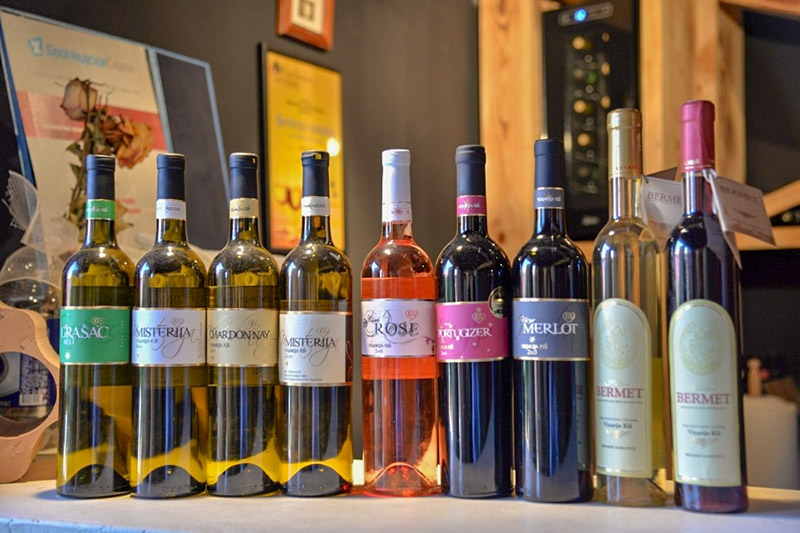 Photo: Piroska Koltai - Wine a'More Travel
And the tasting notes:
Grasac Beli 2016 I 86-87 points
Apple, reseda and flowers on the nose. Medium-bodied, razor-sharp acidity, citrus fruit, apple, flowers and the variety's characteristic bitterness on the palate. Very drinkable!
Misterija 2016 (semi dry Riesling) I 85-86 points
Restrained aroma of flowers. Tight structure and fresh acidity, with sweet citrus, pear and white flowers on the palate. True Riesling character!
Misterija 2011 I 81-83 points
Not overly intense nose showing flowers and citrus fruit. Smooth acidity and medium body with flavours of citrus, fig and a little tonic water on the finish.
Portugieser 2016 I 88-90 points
Pure and exciting nose with amazing fruitiness. Lightly textured and very fruity on the palate with mellow acidity and silky tannins. Very drinkable, super!