At the same time when Busós walk in the streets of Mohács, other Busós appear in the Šokac villages of Baranja County in Croatia; bean is cooked in clay pots, cauldrons filled with fish soup are hung over open fires and the same smoke makes the clipped and grilled carp ('csíptetős ponty') sweet. It is probably the southernmost corner of Baranja (the northern part belongs to Hungary) that cherishes its traditions the most.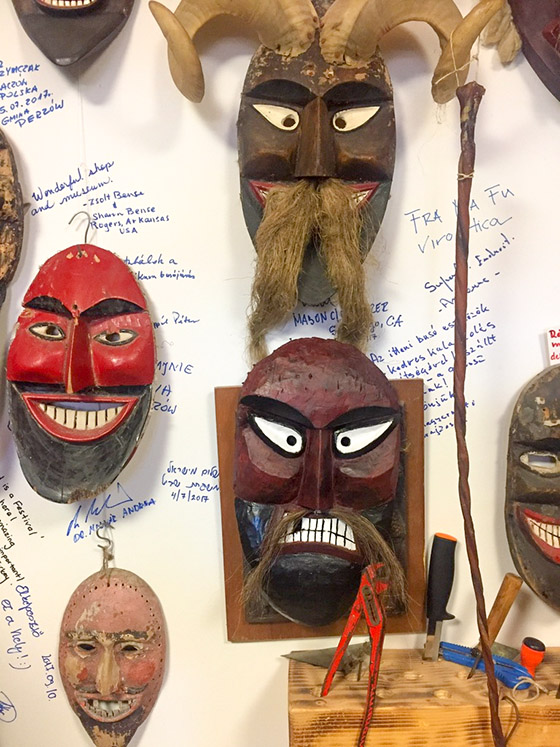 Busó masks in Mohács, Hungary by Daniel Ercsey
It is hard to choose the nationality whose gastronomy is the most prominent in the Drava Corner. The area, together with the its folk culture, stretches south from Mohács in Hungary down till the point where the Drava joins the Danube; Šokci, Croatians, Hungarians, Swabians, and Serbians living together for centuries have created a shared and unique culinary art. The landscape is reflected in the gastronomy; restaurants and wayside inns are proud to offer local specialities matched with wines from nearby cellars. More and more people seem to notice this neglected part of the world where war was raging in the 90s.

The Croatian Baranja
Zmajevac, Suza and Karanac are all villages with sincere local cuisine. Culinary tourism was triggered by fish soup a few years ago, or more precisely, fish paprikash – as it is often called here. It is a thick soup made from a variety of freshwater fishes or sometimes only carp – a true cultural heritage of the Carpathian basin. While on the other side of Baranya, i.e. in Hungary, fish dishes and old-school fish restaurants are almost totally extinct or their quality level has ebbed away with time, in Croatia cauldrons are rarely empty. However, guests must be prepared for a 50-minute wait, by all means, if they order fish soup as the paprikash is only cooked by order and many times over an open fire. There is no pre-cooked base or some ready-made soup waiting to be heated up. Nevertheless, freshness and sincerity turn guests into regulars.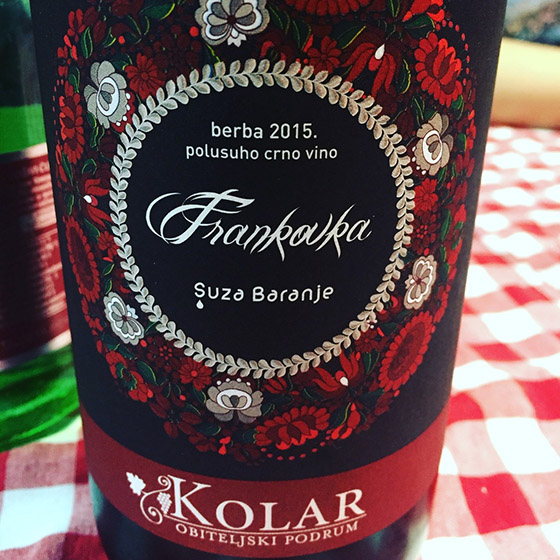 Frankovka aka Blaufrankisch from Baranja by Daniel Ercsey
When we were in the Kovač Čarda in Suza, every table had a steaming cauldron and more fiš paprikaš, as Croatians call it, was being prepared in the kitchen. The many tourists are fed not only in fish inns but also in restaurants operating in villages situated in the Drava Corner and offering traditional dishes. Josić, Kormorán or Baranjska kuća are all fine examples. Hungry guests arrive from nearby smaller and larger towns and also from Hungary or even from Zagreb, attracted by not only the beautiful countryside but often and primarily by the region's gastronomy and wine.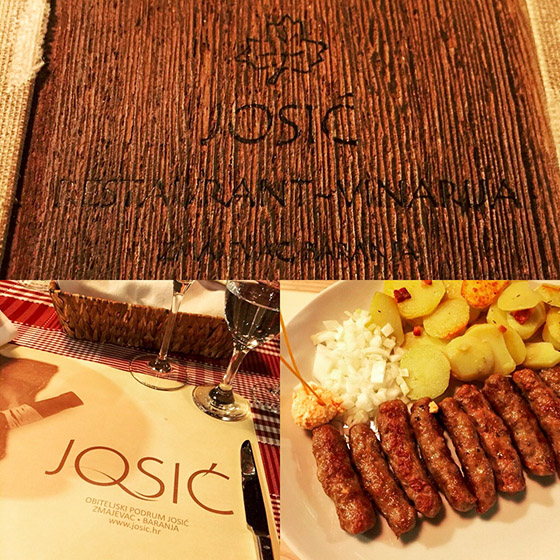 In the famous Josic restaurant by Daniel Ercsey
This area has always been a wine-growing region and many say that the name Baranya originates from the words 'bor' meaning wine and 'anya' meaning mother in Hungarian ('mother of wine'). In the hill of Banova Kosa there are currently about 700 hectares of vineyard mostly owned by Belje Cellar. It is one of the most modern and well-known wineries of Croatia, which has made the region popular and hopefully, this increased tourism will affect smaller cellars, as well.
Pinkert Winery trilogy in Suza by Daniel Ercsey
The names of Gerstmajer, Kalazic, Kollár or Pinkert are becoming increasingly well-known among Croatian winelovers. One can only hope that the expansion of the now only fledging wine tourism will not make its greatest virtue disappear; namely hosts' interest in their guests, the wonderful feeling that every time we visit the region we receive much more than we have paid for. The majority of wineries consider Graševina the main variety and this is cultivated in two-thirds of the whole area. The mature, full-bodied, fruity and mineral wines do not have low alcohol content and match nicely almost all local dishes.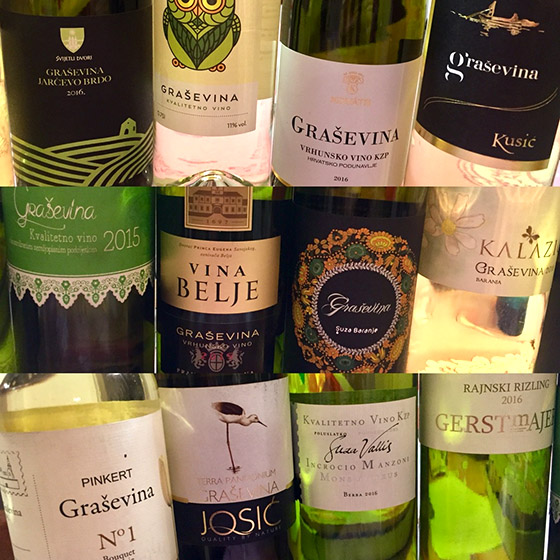 Twelve shades of Baranja by Daniel Ercsey
The above-mentioned clipped and grilled carp also goes well with this wine, but locals offer the same with fish chips and the so-called hill beans made in clay pots. And there is more than just fish in the kitchens: people are starting to discover the wildlife living in forests and wet habitats (let's not forget that one of the largest game reserves of Central Europe, the Kopacki Meadow is situated here) so venison, boar and pheasant appear more frequently on menus. Either this or world trends are the reason why red wines have come to the fore; Cabernet Sauvignon and Merlot have found their places on the hillsides but the values of Blaufränkisch have also been rediscovered.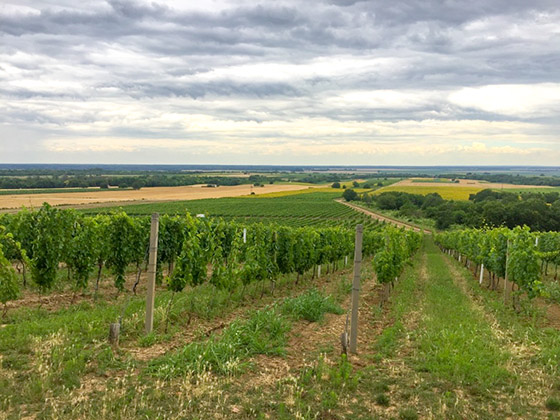 Vineyard in Suza by Daniel Ercsey
Čobanac is where Blaufränkisch and Welschriesling meet, and it may be finely matched with a fruity red wine as well as some heavier Graševina. Čobanac is basically a simple dish somewhere between stew and goulash, with intensive aroma. It is irresistible when offered with fresh home-made bread; its secret is probably the fresh and good quality local ingredients and the essential spice: paprika. Paprika-growing is an old tradition in the villages close-by both on the Croatian and Serbian banks of the Danube. The predominantly Hungarian residents sell sweet, rich, and fruity paprika which is a must when making the special kulen, a food every local is proud of. It is available in supermarkets, too and the version made by Belje is authentic and well-made. More mature kulen is offered by Matijević and Dobrovac.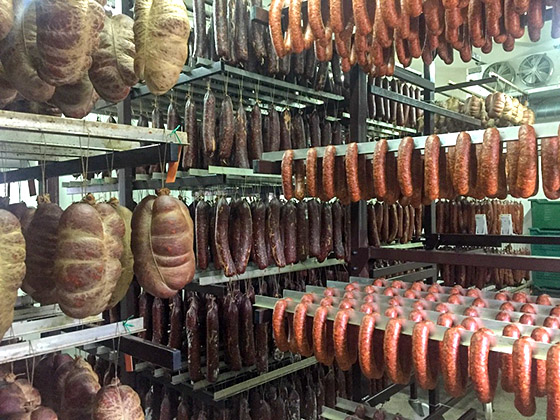 Kulens and sausages in Suza by Daniel Ercsey
Kulen is always the star of cold buffets in Baranja; sausages, ham, bacon, head cheese or pork pudding can come only second. The other star is cracklings so much so that there is even its own festival – Čvarakfest – organized in Karanac every December. This is when long-forgotten ingredients, such as escargot and frogleg are also served.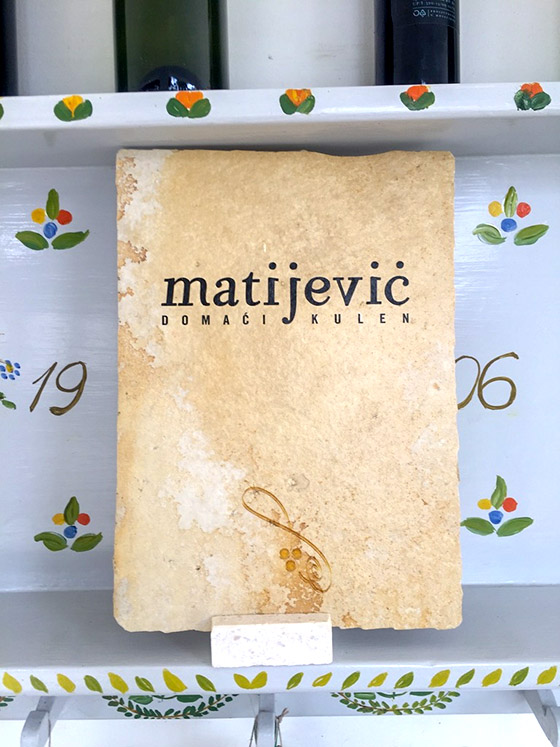 The best Kulen in the region by Daniel Ercsey
Nevertheless, there is more excitement than simply creating classic dishes in a special manner. Josić Restaurant leaves traditions behind from time to time and comes up with quite interesting courses.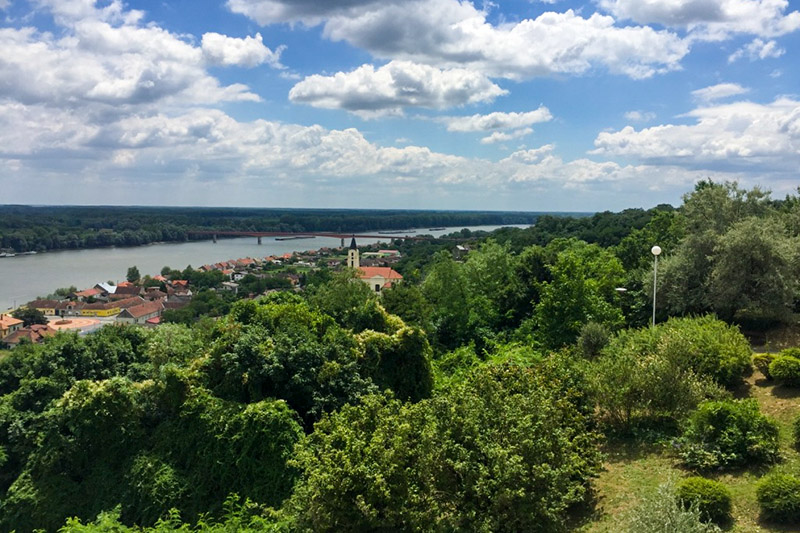 View of Batina and the Danube from the top of the hill by Daniel Ercsey
The region has the potential for a breakthrough in tourism; it has started with rural tourism and expanded with winemaking and gastronomy. Access is easy on the motorways coming from both the directions of Zagreb and Budapest. The Drava Corner is unique because they were able to preserve their traditions and based developments thereon. Let's hope that this direction will not change.