Perhaps the soundtrack from Fiddler on the Roof would also be playing for those who called in, and of course Mozart, Haydn, Strauss, Lehár, Bartók, Suchoň, Dvořák, Osterc, Stanković, Papandopulo, Zajc, Enescu, Zamfir, Kavaldzsiev and Chopin. Why specifically these composers? Because my vinotheque would be about something other than those you're already familiar with.
What's the point of always doing the same as everyone else?
Imagine you live in London, or perhaps in Liverpool, Sheffield or Manchester. You realise you have no wine and home and the in-laws are coming over for dinner. The old guy is a big wine connoisseur and he's always moaning that there's no decent wine at yours, although of course there is at his! You have absolutely no chance of laying in wines like he can, someone who, during his forty years of legal or medical practice or stock brokerage, has accumulated serious reserves of the best Bordeaux and Burgundy vintages, magnums from Champagne houses and one or two great German Trockenbeerenauslese. These are wines costing £400-900 a bottle, with the cheapest being around £100-150. It's no surprise that he scorns cheap Bordeaux, there isn't even any cheap Burgundy, Champagne is also expensive and you can't hold of any sweet German wine where you live. So, there's no other choice, you'll drink beer whereas he will grumble the whole evening.
So, this is where I come in!
In my vinoteque, you'll only be able to get Central and Eastern European wines! Of course, this in itself will not sell the wines, I would emphasise on the sign that these are wines from the Austro-Hungarian Monarchy. This is because everyone has heard of this and because most of the CEE countries were previously under the rule of the Monarchy. That's the idea. Then I'd select wines which would meet the needs of both the average wine lover and a professional. There would be light, aromatic wines, let's say from Slovakia and the Czech Republic, of course there'd be Gru-Vee and Riesling from Austria, Blaufränkisch from the Burgenland and Hungary, Furmint from Slovenia and Tokaj, Olaszrizling from Csopak, Tramini, Malvazija and Plavac Mali from Croatia, Zilavka from Bosnia and Prokupac from Serbia, Kadarka from Villány and Minis, Feteasca neagra from Romania, Cabernet Franc from Villány and sweet wines from Slovakia, Hungary, Austria, Italy and Romania. Oh, I've forgotten to mention rosé! There would be light (say Hungarian) and more full-bodied (say Croatian) ones too. You could put together a small collection of these wines over decades, just like from France, couldn't you?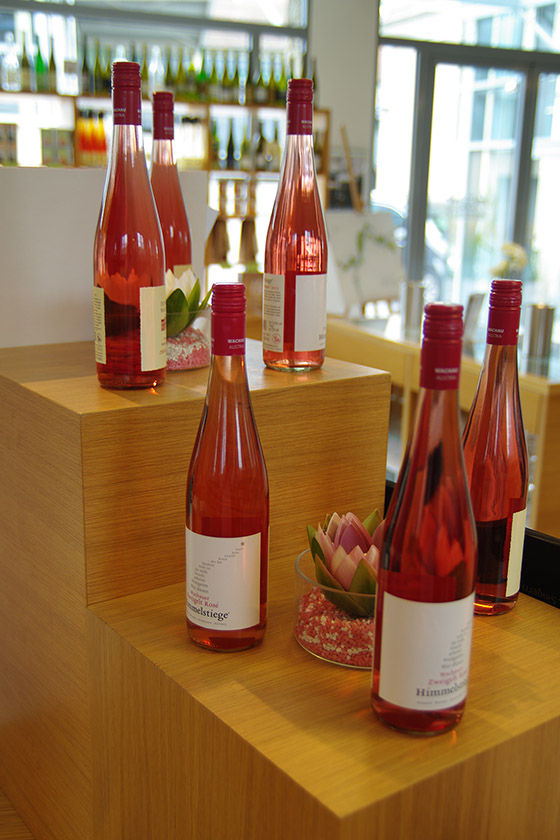 The wall would be full of maps of the old wine-growing lands and modern infographics of today's wine regions. Of course, I'd write a large CEE Wine Atlas too, packed with maps and fantastic photos, but I'd also think about those who are still wary of the unknown. Part of the wine shop would be given over to a small wine bar, with three or four tables, coffee and pastries for breakfast, and wine and snacks in the evening, such as CEE cold cuts, cheeses, olive, salami, ham, bread and so on. You'd be able to get wine by the glass from all the main varieties and regions, which would be a good representation of the rest too.
How would the wine list look?
Oh, I already have this in mind too! A sparkling wine, a light tank-method sparkling wine and an aged traditional-method sparkling wine, beneath this a Cserszegi Fűszeres and a Moravian Muscat, then a Federspiel Gru-Vee, a Zilavka and a Malvazija. Then for the more serious whites, a vineyard-selected Olaszrizling, a Juhfark from Somló, an Austrian Riesling and a dry Furmint from Tokaj. Slovenia would represent orange wines. There'd be a rosé from Szekszárd and one from Macedonia. Kadarka, Feteasca Neagra and Prokupac would speak for the light reds. Full-bodied reds would feature a Plavac Mali, let's say from Dingac, and a Villány Cabernet Franc, oh and a good Austrian Blaufränkisch, which could mark the transition between the light and the full-bodied wines. Finally, two sweet wines, one lighter version (which I might vary weekly between a Cotnar and a Friuli) and a weightier one, let's say from Rust or Tokaj.
If you could just have a go at this, what would you sell in the shop?
I don't really know. Obviously, it would be great if I could list a variety of different wines from several wineries, so perhaps it would be simpler if I gave names rather than wines. From Austria, I'd definitely work with Domäne Wachau and Johann Donabaum is close to my heart as well as Weingut Stadt Krems and the Pichler-Krutzler estate, who also have Burgenland Blaufränkisch in their range. In addition, there'd also be some lovely Kékfrankos, let's say from the Nador and Garger wineries (the latter is Hungarian). Georg Seiler from Rust would represent sweet wines. I would choose Czech wines from Sonberk, especially Moravian Muscat. I would work with Vinidi, Žitavské Vinice, Terra Parna and Jaro Macik from Slovakia, oh and with Strekov 1075 too. From Slovenia, there's no question that I'd list Verus, Marof and Cotar, the latter because there'd also be at least two or preferably three orange wines (let's say the wines of Matus Vdovjak from Slovakia, Lagvinari and Ramaz Nikoladze, and possibly Clai from Croatia). I'd only select wines from the northern regions of Italy, to be more specific, just from Friuli, and from Marco Cecchini in particular. From Croatia, Milos, Korta Katarina and Roxanich, and from the continental part Ilocki Podrumi. Vinarija Škegro from Bosnia, Budimir and DiBonis from Serbia, Balla Géza, Nachbil, Liliac, the great Cotnari winery and of course Rotenberg from Romania. From Hungary, there would be Figula's wines, Erzsébet Pince, Malatinszky, the Posta brothers, the Benedek winery and the Gál vineyard, oh and Kreinbacher from Somló. That makes a nice round forty producers. It would be quite a job, it might even turn my hair grey, so I'm happy for now that I've gathered it all together and got it down on paper. Perhaps someone else might make it reality. And if you do, please don't forget to tell me about it!