The atmospheric cellars belonging to the Erzsébet winery date back to 1743 and were previously used as a fermenting and ageing cellar by the Russian Wine Trade Company, set up to provide the Russian court with Tokaj wines. They lie on a narrow street behind the main street in Tokaj, where all the houses have cellars honeycombed underneath them. The insides are paved with volcanic rock and, as in most Tokaj cellars, are covered with a thick layer of black mould, which helps maintain constant humidity of about 90% in the cellars, which, Miklós Prácser explains, remain at a constant temperature of around 13°C all year round, perfect for storing the golden treasure that is concealed within.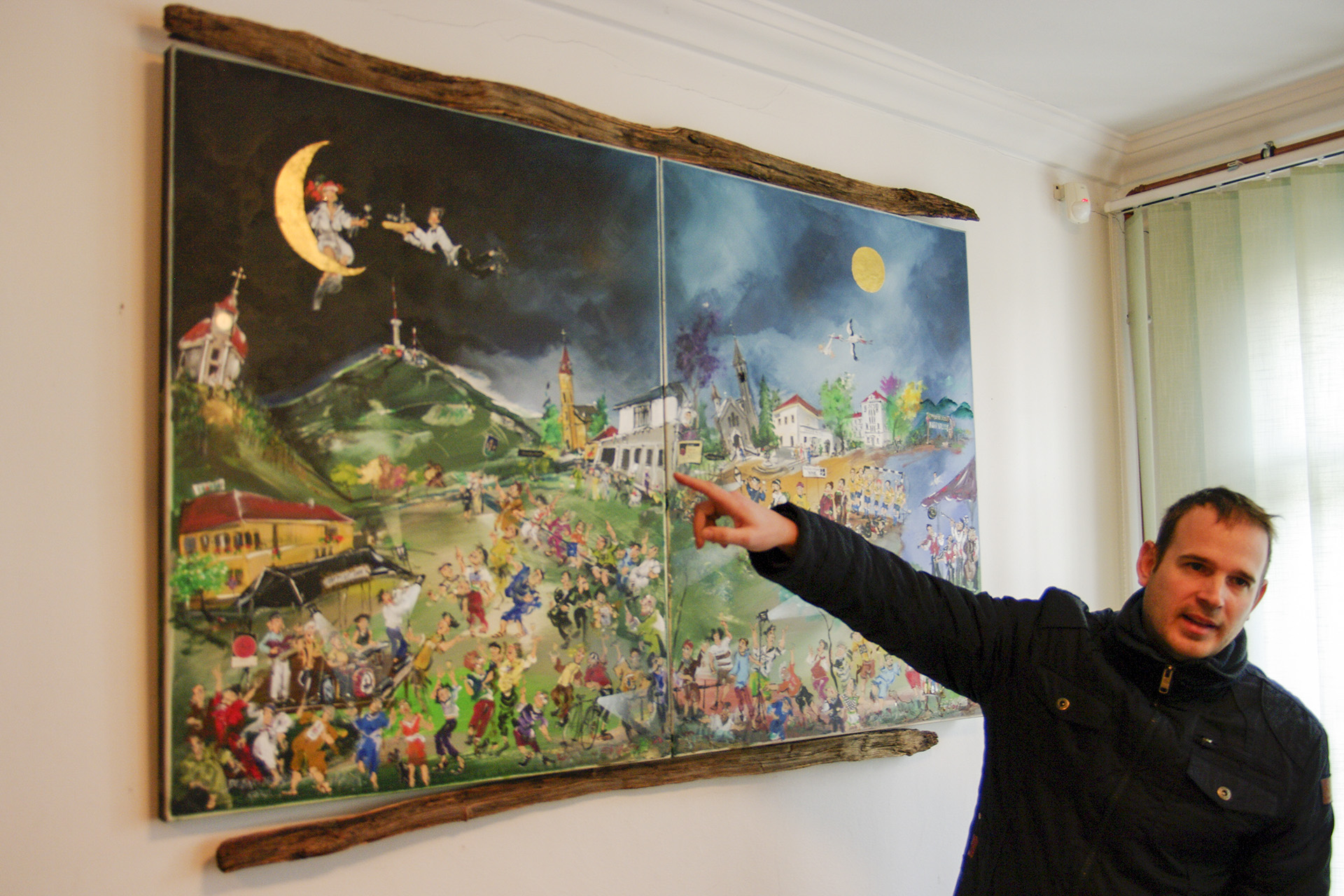 That golden treasure is Tokaj aszú, which has slowly been filling the branches of the cellars since the early 1990s. The winery only stores aszú in these cellars, the wines are not fermented here; their dry wines are matured in their press house in Tarcal. Aszú is not produced every year, only in years where the conditions are right for the noble rot, botrytis, to carry out its work on the grapes. 2012 yielded a little aszú, whereas 2013 was a great aszú year, says Miklós.
Miklós pointed out a stack of magnums, unusually containing aszú, which is normally bottled in 500ml bottles. Fourteen bottles of 2012 aszú awaiting his lucky god child Camilla when she comes of age. Although there is perhaps a danger that one of those will disappear before this time if the temptation is too great! For scientific purposes, of course! The cellar also houses a small 'museum' of wine, where the family stores wines from each previous vintage.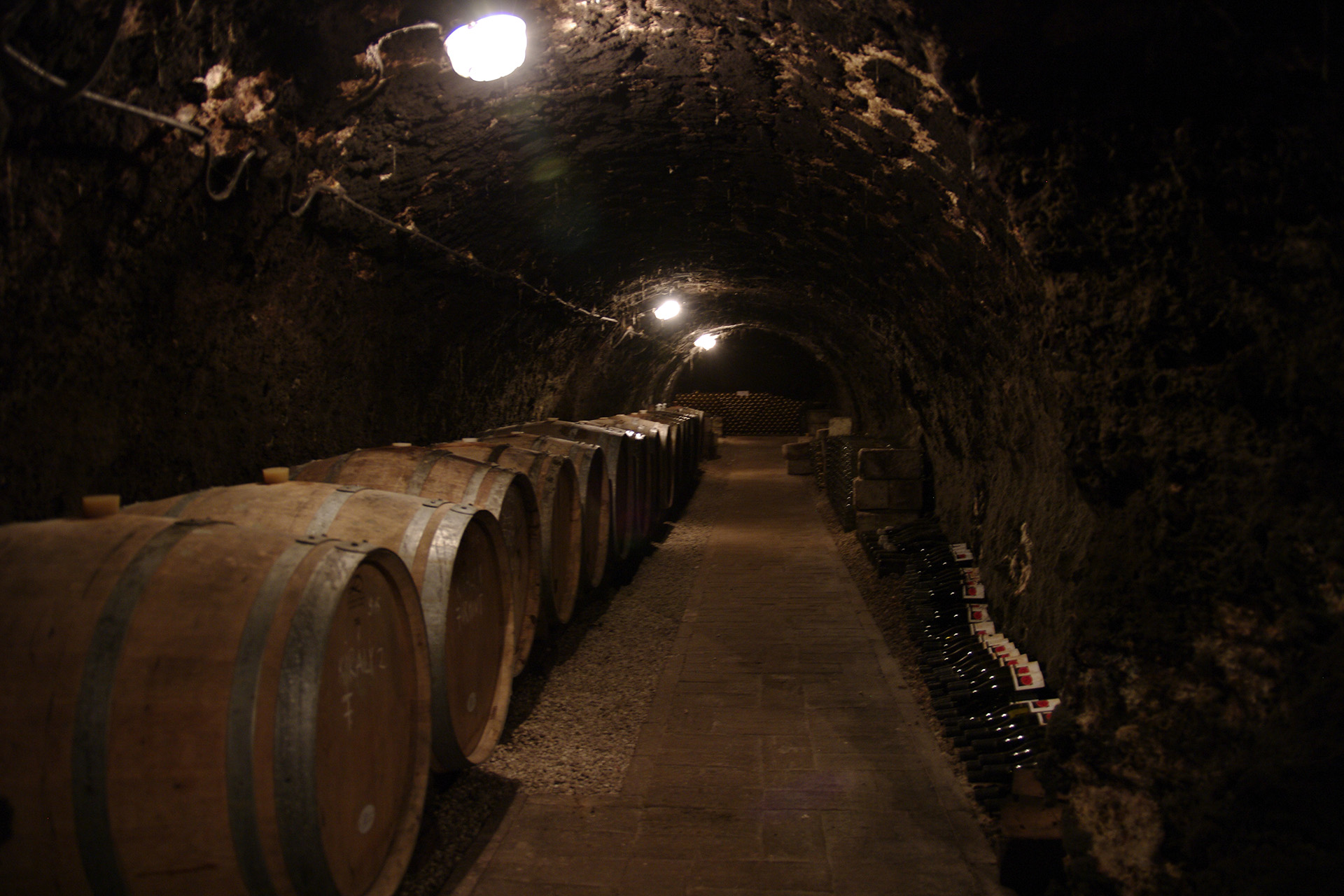 They carried major reconstruction work in 2006 and a cosy tasting room was added, the torch room, lit with electric lights resembling medieval torches, where we tasted a range of their wines.
As you enter the cellars, you see a beautiful, large colourful painting, painted by Zoltán Debreczeni in 2010 representing the winery, family and Tokaj.
The Erzsébet winery was bought by Miklós's parents Erzsébet (like the Tsarina) and Miklós, who had previously worked for the state wine company, in 1989. They bottled their first vintage of five puttonyos aszú in 1993, by hand in the kitchen of the family home in Tarcal, the most sterile place in the building, Miklós laughs. Naturally, they no longer do this, and their aszú is bottled using the facilities of other wineries.
They have 7.5 hectares under vine and a further 7.5 lying fallow; they plan to plant 3 hectares in the Veresek vineyard later this year. Their vineyards lie within the historic first and second class vineyards areas of Veresek, Becsek, Király and Zafir. The majority of the vineyards are planted with Furmint, followed by Hárslevelű, although they have planting of all six permitted varieties.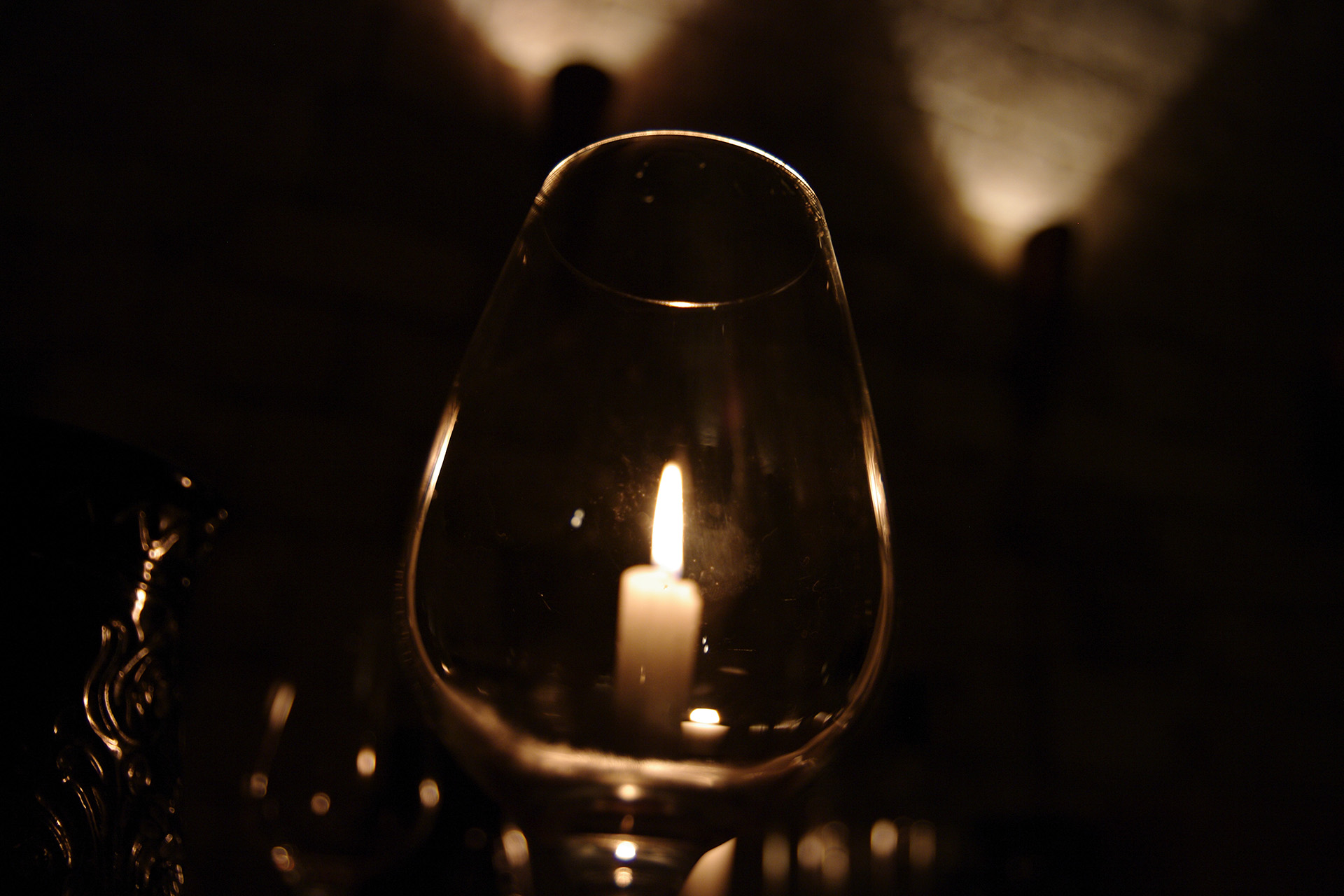 Tasting notes
Muscal Lunée 2015 I 80-82 points
Reductive, easy-drinking, relatively low alcohol wine with a touch of residual sugar. Fresh varietal aromas of lychee, rose, grape, apricot and peach. Crisp and aromatic light wine.
Zafir 2015 (tank sample – 70% Furmint, 30% Hárslevelű) I 82-84 points
On the nose, nuts, pear and quince with a touch of white blossom. On the palate, creamy with flavours of white peach, grapefruit, pear, lemon peel and mandarin. Crisp acidity and a slightly salty, mineral finish.
Betsek 2015 (80% Hárslevelű, 20% Kabar) I 86-88 points
Aromas of ripe autumn fruits, quince, pear, honey, white stone fruits and some spice, with a touch of waxiness. On the palate, almond blossom, quince, grapefruit and spice. Crisp, zesty acidity and a lingering salty finish with a slight bitter almond note.
Zafir 2012 I 88-90 points
Honey, ripe quince, apple and pear, almond, stone fruits and a hint of butterscotch on the nose. Creamy and mouth filling with brioche, dried apricot and stone fruits. Long crisp, mineral finish with lemon citrus zestiness.
Kabar - Betsek vineyard 2014 I 86-88 points
Ripe autumn fruits, stone fruits, honey and perfume on the nose. On the palate, crisp acidity with melon, exotic fruits and honey. Long salty, fruity finish.
Király vineyard Furmint 2013 I 91-93 points
Ripe fruity nose of quince and pear, with creamy almond and peach. On the palate, zesty acidity with brioche, lovely citrus and almond notes. Lingering marzipan and mineral finish. Full bodied and smooth.
Élethárs 2015 I 82-84 points
Honey, fresh stone fruits, apple, pear and mandarin. Fresh and fruity on the palate with a long, sweet fruity finish. Shows great varietal character.
6 puttonyos aszú 2010 (100% Furmint) I 94-96 points
Rich nose of honey, sultana, fig, dried apricot and spice. On the palate, fresh acidity with flavours of butterscotch, mandarin, dried fruit cinnamon, sweet tropical fruit and mushroom. Luscious with a long zesty finish.
6 puttonyos aszú 2008 I 96-97 points
Rich and sweet on the nose, with tobacco, fig, walnut, date, coffee, toffee, mushroom, raisin and a medicinal note. Fresh acidity with a long, lingering finish. Flavours of cinnamon, honey, sultana and dried peach.
Aszú eszencia 2003 (Furmint) I 97-98 points
Tobacco, oak, fig, forest floor, cinnamon, walnut and dried apricots on the nose. Very complex with crisp acidity. Flavours of orange, marmalade, dried peach, butterscotch, toffee, coffee, mushroom and cocoa. Long, long finish.