The Pósta brothers' winery is not only interesting in name (their name means post or post office in Hungarian), but fortunately the wines themselves are also pretty attention-grabbing, which for example Jamie Goode has also noticed. Of course, that is not a virtue in itself, but it's a good indication of the strength and determination of the young winery, which first bottled its wines in 2006.
Its new plantings will soon increase the size of the estate to 25 hectares, which is of course not small and thus goes beyond a simple family business. However, that's not a problem for the Pósta boys, as they actually manage numerous businesses among which the most important is an international freight company. So it's no coincidence that that the name 'post office works' appears in their email address.
Gergő is responsible for the grapes and the wines. He graduated as a specialist in plant conservation, so right from the beginning he's been oriented towards biodynamics. Along the way, he's refined his expectations, so now we can say that they don't use absorbent agents and pesticides in the vineyard. Some years and in certain areas of the vineyard, however, he cultivates the vines biodynamically and does not used cultured yeasts, but if the weather and the grapes need it, he will intervene, in contradiction to biodynamics. So they are in the bizarre position that they are not biodynamic enough for the biodynamic camp, but the opposing camp considers them hardcore environmentally friendly. In contradiction to the scenic cellar plus tasting room pairing currently fashionable in the area, they first sorted out their vines and built the wine-making facilities (this latter moreover is on an industrial estate!) and only now are they starting to concern themselves with the potential issue of wine tourists. They have numerous ideas, amongst which a small house in the vineyard seems the most appropriate, with a small cellar, tasting room, terrace in the summer, vines below, overlooking the vineyards on the opposite side of the valley, the other wineries and also the town of Szekszárd lying below.
Beyond the wines, the small farmhouse in the vineyard and viticultural questions, there is however something else, perhaps the main reason why it's worth visiting them in person. And that is the captivating personality of the older brother, Péter. He's rather the cellar manager, who organises things, gives tastings, speaks, travels and tells jokes. He's got a typically strong personality, someone who dares to joke with others and to make fun of himself too. As he also said to us:
A wine is not artisan because it's made in a hundred-year-old cellar, but because of how it's made.
Their next big project is to turn a newly purchased petrol station into a wine bar and tourist information centre. We hope they'll also be successful with this. A wine region can only make a go of things if there are also people like these working to ensure its success, and they are sorely needed!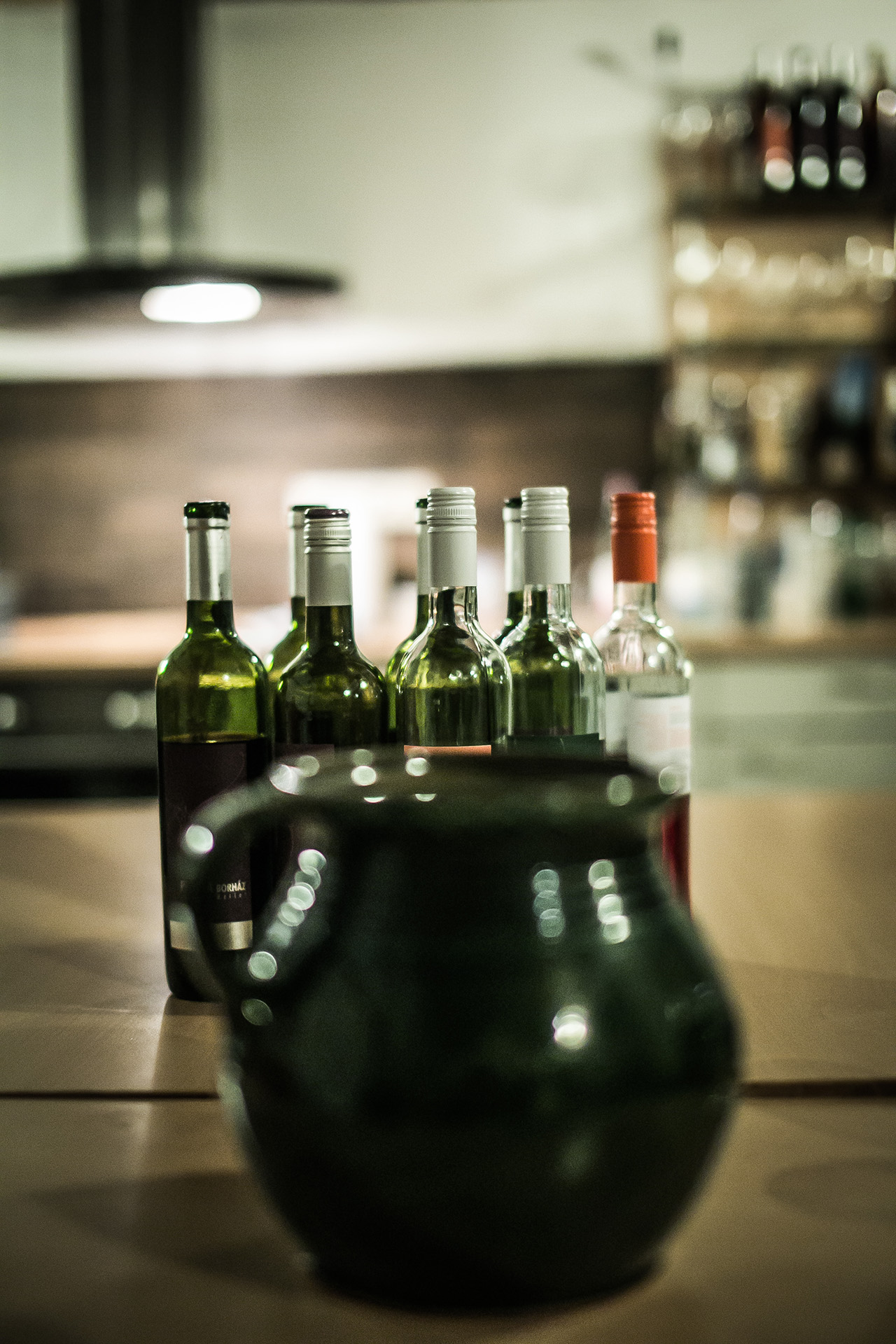 Tasting notes
Rosé 2014 I 78-79 points
On the nose, slightly bitter aroma, herbs and thyme. On the palate, light, with pronounced acidity, grass and unripe cherries. Shows a marked influence of the vintage, the finish is also bitter.
Blanc 2014 (Olaszrizling+Sauvignon blanc) I 82-84 points
On the nose, a little tar, flowers, peach, medlar, almond and goosberry. On the palate, light, fresh and tightly structured. Flavours of citrus fruits and apple. Very drinkable.
Fuxli 2014 I 81-83 points
Pure fruit on the nose, cherry, sour cherry and a little basil. On the palate, medium bodied with lively acidity, sour cherry, citrus fruits and a little pepper.
Kadarka 2012 I 88-89 points
Not a very 'kadarka' Kadarka, at least in terms of structure. Full-bodied, mouth-filling structure with pepper, some jammy notes, plum and sour cherry. Silky texture and a long finish.
Kadarka 2011 I 90-91 points
Beautiful aromas of fruit and spices. Light bodied, with rounded acidity, flavours of red berry fruit and lovely spiciness. Complex yet playful wine with a long finish.
Kékfrankos 2012 I 91-93 points
Plum, cherry, sour cherry, nutmeg and marzipan on the nose. Medium bodied with vibrant acidity and tight structure. The palate mirrors the nose, filled out with oriental spices and anise. Long finish, elegant, super!
Noir 2012 I 80-82 points
Beetroot, celery and earthy notes on the nose. On the palate, soup herbs and red berries. Lovely acidity with a medium finish.
Cabernet Franc 2012 I 89-90 points
Aromas of chocolate, black pepper, cinnamon, blackberry, smoke and vanilla. Full bodied with lovely acidity and firm tannins. Flavours of blackberry, sour cherry, pepper and star anise. Long and elegant, but still very young.
Merlot 2011 I 84-85 points
Aromas of cherry, marzipan, blackberry and cranberry. Full bodied with rounded acidity and slightly drying tannins. Notes of overripeness, compote and pepper. Alcohol a little warming on the finish.