There's a lovely anecdote which explains how the Czech word for deer (jelen, which means 'present' in Hungarian) ends up in the expression být z něčeho jelen. This means to be confused; not to understand something. At the time of the Austro-Hungarian Monarchy, the military language of command was German, but in the army's Hungarian units, it was often Hungarian. It was often the case that Czech soldiers were commandeered into Hungarian corps. The Czech guys thought it was funny that the Hungarians shouted out the word jelen, 'deer', at roll-call. Then they started to make fun of the Hungarian jelen, deer. On the other hand, the Hungarian expression 'Csehül áll', although also derived from this time, is far less pejorative and refers to the time when the Habsburgs overthrew the state after the 30-year war and introduced absolute rule. When they tried this in Hungary too, it was common in political discourse to say that they also want to 'put us in the Czechs' shoes' (cseh lábra akarnak állítani which later became csehül állunk), which came to mean 'in a very difficult situation'. Well, what I mean is that the Czechs are not in their own shoes when it comes to Czech wine, even if Moravia only has 16,000 hectares of vineyards (the total vineyard area in the Czech Republic is 17,000 hectares, the remaining thousand hectares is in Prague and to the north of Prague in Bohemia). These 17,000 hectares are going from strength to strength in both aromatic varieties (such as Moravian Muscat, Devin or Irsai Oliver) and varieties that you wouldn't expect from here such as Pinot Noir, Frankovka (which is Blaufränkisch or Kékfrankos) and Ryzlink Vlašský (Which is Graševina or Olaszrizling).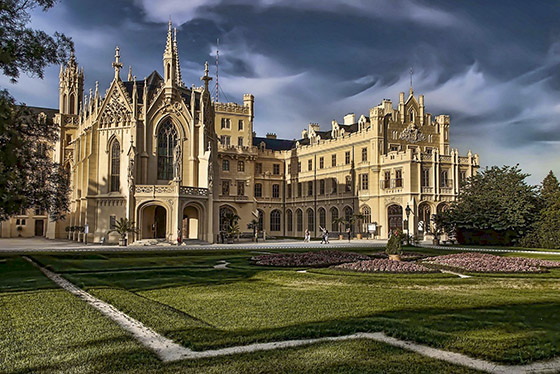 Photo: Lednice
Advanced primer
The year 1101 may not mean anything to someone delving into Moravia's history, since it's just the first mention of any vineyards here, whereas 1249 might be more familiar. This is when the town of Mikulov (at that time Nikolsburg) was bestowed on the House of Liechtenstein. The ruling family of the world's sixth smallest country, whom it's also named after, was at that time still successfully anti-Habsburg, and then within a couple of years of successfully following Habsburg-friendly policies, became the richest family in the empire. They began to plant vineyards near Mikulov, which boosted the wine life of the region so much that in 1355 the city of Brno waived the tax on the wines of the growers who registered their vineyards in the region.
Speaking of Mikulov! If there is a troublesome small town in the south of the Czech Republic, then this is it! Just a few kilometres from the Austrian border, it was already a settlement boasting a splendid castle and old town while in Hungarian hands under King Mátyás; later, Gábor Bethlen Prince of Transylvania and King Ferdinand made peace here, and according to legend, Rabbi Judah ben Bezalel, who created the Golem of Prague, served here. Two Liechtenstein family castles nearby, Lednice and Valtice are impressive sights too. The latter also holds a surprise for wine lovers, as you can taste the best hundred wines from the Czech Wine Salon, even together with a professional sommelier!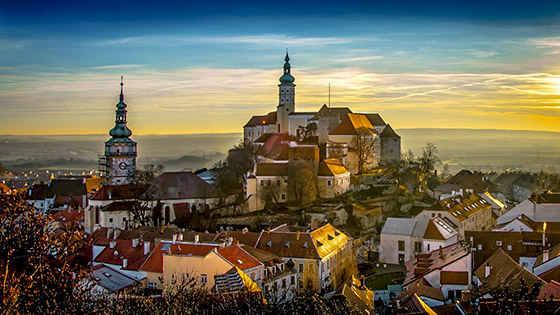 Photo: Mikulov
By the 1600s, the Poles and Saxons were also buying wines from the region, and in 1784, the winemaking communities were classified into three levels based on the quality of their wines. Schools specialising in grape and fruit production were established in the region's towns at the end of the 1800s, but this prosperity was also ended here by phylloxera. In the 1930s, just 3,780 hectares of vines remained in Moravia, which almost meant the absolute disappearance of Czech wine. However, we are now at the point where a good Czech Pinot Noir is no surprise or just to where a simple wine writer is knocked for six by a Czech Ryzlink Vlašský or Frankovka.
Moravian wine geography
It's not easy to make head or tail of the Czech wine regions, sub-regions and areas of geographic-protected origin. Theoretically, the country has two wine regions, Bohemia and Moravia. The former is divided into two subregions, Litomerice and Melnik, while the latter, and the subject of this article, is split into four. In order, these are Znojmo, Mikulov, Velké Pavlovice and Slovácko. Znojmo's environs are all about Grüner Veltliner, Riesling, Pálava, Sauvignon Blanc and Müller-Thurgau, well, and also the lovely old town, the first deployment of shit-filled barrels during a battle and, of course, King Sigmund of Hungary who died here while trying to rescue his wife, Barbara of Celje, from the castle. Family disputes were no easier in the past either! Beautiful verdant vines flourish on the southern side of the River Dyje gorge, and Attila Geönczeöl once wittily noted that anyone who complained about their steep vineyards should come here and take a look. Slovácko, as its name suggests, is the area closest to Slovakia, where Riesling and Müller-Thurgau also thrive on its sandier soils as well as a little Pinot Noir and Pinot Gris, spiced up with Moravian Muscat. Velké Pavlovice is the most aromatic region, producing Müller-Thurgau, Traminer and Moravian Muscat as well as a little Portugieser and Ryzlink Vlašský whereas Mikulov is home to Ryzlink Vlašský, Chardonnay, Grüner Veltliner and Pinot Blanc. Enough of the boring facts, now for something more interesting!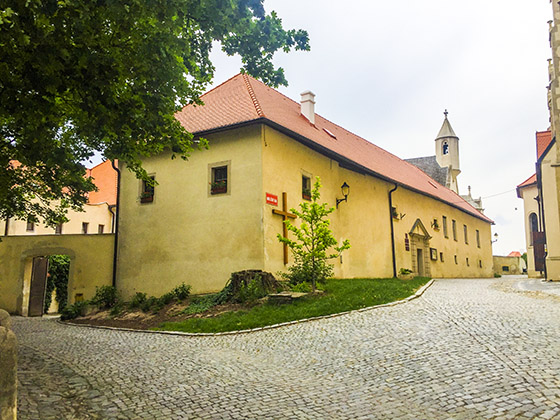 Photo: Znojmo by Daniel Ercsey
VOC on the horizon
VOC, i.e. Vína originální certifikace, is the Czech version of AOC, the qualifier for wines of protected designation of origin. There are six of these: Blatnice, Znojmo, Mikulov, Pálava, Valtice and Modré Hory. However, some of these include communities in several subregions, so of course it is not mandatory for winemakers working in those communities to participate. Therefore, in theory it's possible to come across a winemaker not based in the Mikulov region who, let's say, sells Mikulov VOC wine while you can just as easily find wine in Mikulov which is not labelled as Mikulov VOC. Moreover, the philosophy behind the VOCs is not uniform, so now I'd like to muddy the waters even further. Dunajovské Kopce, for example, is not a VOC, although it acts and works like one.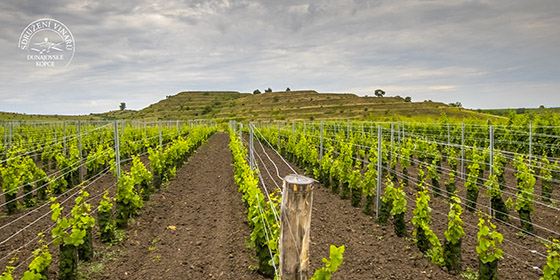 Photo: Dunajovske Kopce
Now that I've already mentioned it, let's not dwell on it. Two villages (Dolní Dunajovice and Březí), 16 producers and 800 hectares, all of which are exclusively planted with Ryzlink Vlašský. And what Ryzlink Vlašský! Four of the five local Ryzlink Vlašskýs tasted at the Prague wine show were five-star wines! Of course, they present all this unbelievably modestly and quietly, in the knowledge that Ryzlink Vlašský is an ancient Czech variety, not knowing about Csopaki Olaszrizling or Croatian Graševina or even about the international Graševina conference organised in Zagreb last year. Maybe they are right, it's just worth working carefully, beautifully, just like the stars in the sky.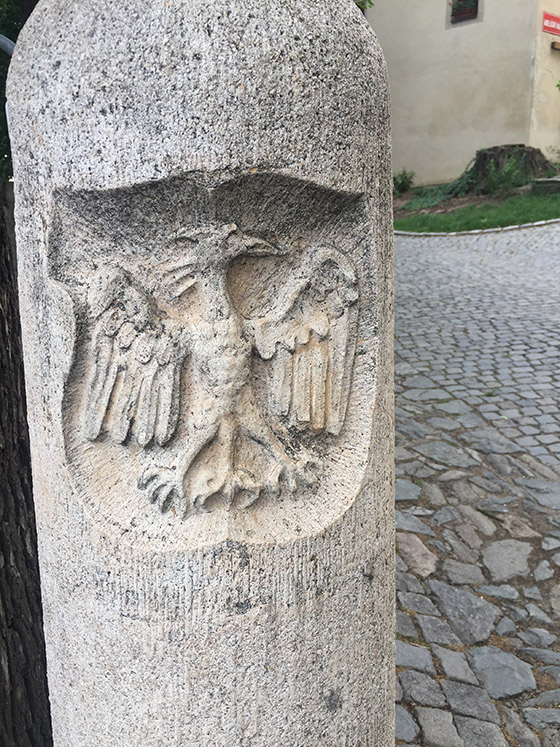 Photo: Znojmo by Daniel Ercsey
It's clear from the above that Moravia is all about white wines, so I'm sure it won't be a surprise if I add that some Czech Pinot Noir has already attracted the attention of Decanter's judges who awarded them 92 points, and not just once. The real pinnacle is Bořetice Stapleton&Springer, who specialise in Pinot, they don't really trouble themselves with anything else. In light of this, it's particularly interesting that Bořetice is the central town of the Modré Hory VOC, the only black grape-based denomination in the Czech Republic, where the permitted varieties are Frankovka, St Laurent and Portugieser. Yes, it's not an error, it does not include Pinot Noir. Of the three varieties, Frankovka is the most important and the 18 wineries which constitute the VOC are working on whittling it down to one varietal, just Frankovka. Currently they can produce both red and rosé from the 130 hectares. Five communities belong to the denomination: Kobylí, Vrbice, Bořetice, Němčičky and Velké Pavlovice. Again, it's no slip of the pen that Velké Pavlovice also gives its name to the white-wine subregion. It's not all that easy, is it?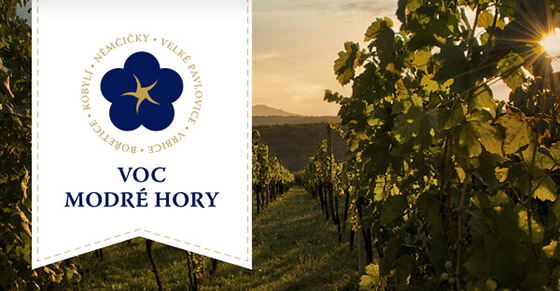 Their website is, however, fantastic, presenting not only the members and the wines, the five villages' 44 classified vineyards, their exposure, altitude, exposure and pH value of the soils, but also which types of permitted wines the individual members have produced in the last few years. Staggering, isn't it? My tasting experiences have shown that the local red wine (mainly Frankovka) is light, quaffable, without evident oak, but the winemakers said that a kind of reserve Frankovka is also being added to the product specification, where more oak will be used. If you've managed to read this far, your head is probably throbbing due to Czech wine, so I can now only recommend hitting the road – the Moravian wine region is not far from Brno where you can reset your pH values afterwards. I'd personally recommend the Pegas brewery, which also has a hotel and restaurant. Zdravi!