As usual, we wander around different wine regions, mostly staying inside the Carpathian Basin. We did the same in May, though it could have been otherwise as I had spent almost two whole weeks in China at the CMB Wine Competition visiting wineries and other sights and did not miss to say a prayer for my family at the St Joseph's Church in Beijing (大聖若瑟堂). This was where I saw the following sign next to the pews:
In ancient times, God spoke to his people many times and in many ways, but never by cell-phone.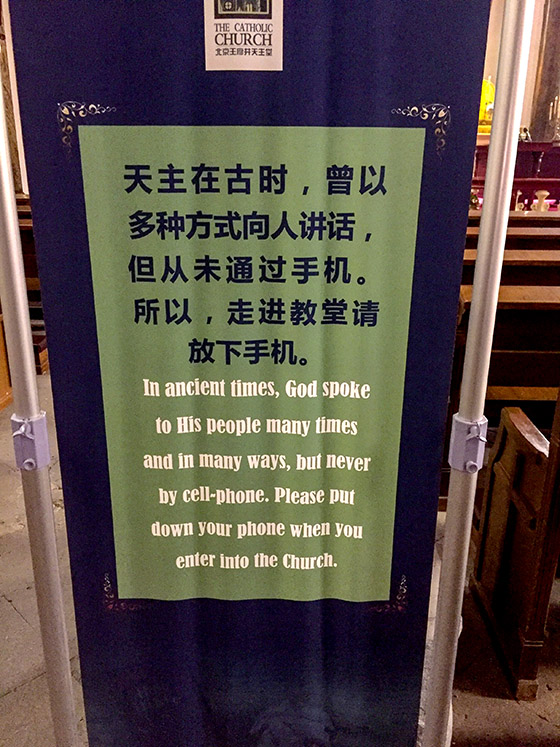 Photo: Daniel Ercsey
I have spent quite a lot of time thinking about this sentence while in China and after arriving home. It is indeed impolite to disturb the silence of the church, the mess and the sermon but is it really unimaginable that God is trying to make contact with me via my phone?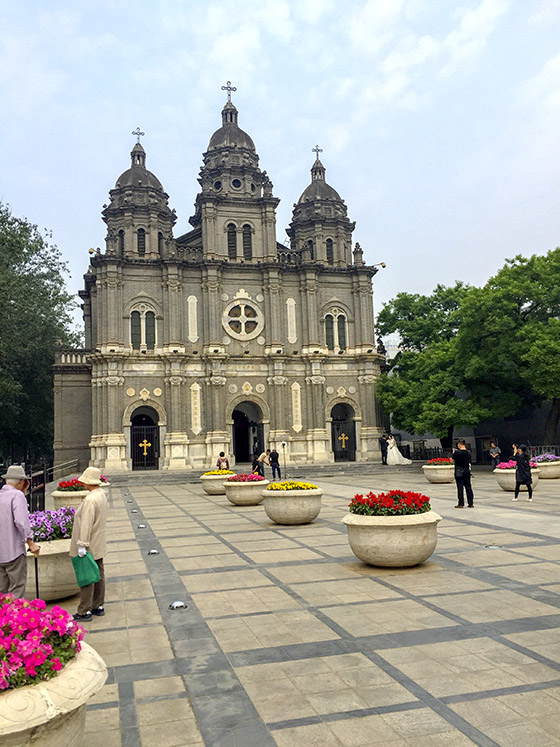 The curch in Beijing by Daniel Ercsey
I have received the comforting answer, or rather comfort without an answer, a kind of resignation in a press house in Slovakia. Attila Geönczeöl is an old friend of mine working as a winemaker in Kamenica and Hronom. He used to help me as a wine-writer at the beginning of my career but later decided to make wine and cultivate his ancestors' lands. The valley of the Hron river and the Mužla hills are really old vineyards. They may have not become world-famous because the traditionally largest estate-owner, the Roman Catholic Archdiocese of Esztergom had purchased or collected the wines made in the region so these were mostly consumed as altar wines. Attila's press house was built in Kamenica nad Hronom (a village inhabited by Hungarians and also known as Garamkövesd) in 1882 but the formerly huge vineyards have shrunk and only a few hectares are cultivated today by the local residents. However, those who grow vines here can make wonderful wines on the slopes of volcanic hills which are similar to the nearby Börzsöny Mountains in Hungary. Almost 1,000 hectares of vineyards remained around the villages of Mužla, Belá and Strekov.
Chinese barbecue by Daniel Ercsey
In 1256 the noblemen of Muzsla (now called Mužla) sold not only their vineyards stretching all the way to Bélafalva (Belá today) to the Archdiocese of Esztergom but also their fishery rights; this was the first time these vineyards were mentioned in writing. Later, mostly press houses and just a few cellars were built on the hills as there were huge cellars in Esztergom waiting for the Mužla wines paid as tithe. Communism then devastated the region even though Esztergom had lost its vineyards and wines earlier, as the result of the Treaty of Trianon formally ending World War I. Fortunately or thank God, the local agricultural cooperative did not let the region down and in the 1960s and 70s new vines were planted. Paradoxically, the years after the change of the regime did not bring prosperity either: many had moved from the area and the villages, leaving uncultivated lands behind. Then finally, some people living in Strekov, Mužla, Belá and Kamenica nad Hronom had enough of this and started working on the lands again, washing out barrels, and looking after farm roads. The real miracle happened only afterwards. It worked! Today, the star winemakers of Slovakia are exactly the Hungarians living in these hills. The Kasnyík brothers, Bandi Mátyás, Tibor Melecsky, Attila Geönczeöl, Zsolt Sütő, and József Drozdík are all winemakers who believe in natural wines made in the most honest way; who tell every visitor that they were called by the land, the region, and the ghost of their ancestors.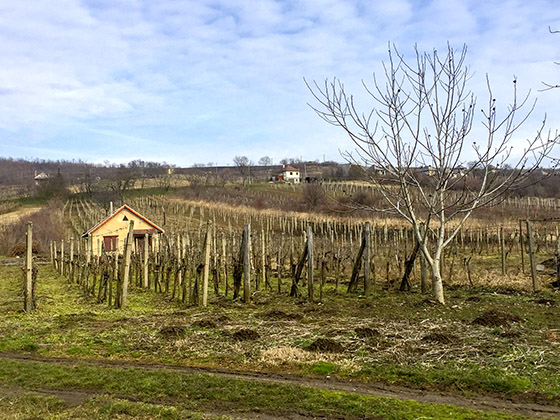 Vineyards in Mužla by Daniel Ercsey
I was just sitting in the cellar in Kamenica nad Hronom. It was dark with only some candles lit. Outside the weather was cool and I was sipping Attila's wines and listening to stories about his predecessors, fairs held a hundred years ago, anecdotes and what wine could be like in Mužla hill two hundred years ago. Then, after five hours (a tasting can so easily stretch this long, mind you) I realized that my phone was not ringing, was not beeping, no text messages, no facebook notifications, no Instagram comments were received even though this is a part of life for a journalist. In the cellar inside the mountain there was no signal. Still, I got more of this than of belated messages. Attention. Silence. Understanding. Honesty. All these words and their meanings can be found in Attila's wines. And if Chinese Catholics were drinking Geönczeöl wines, they would not need the sign in their Beijing church any more.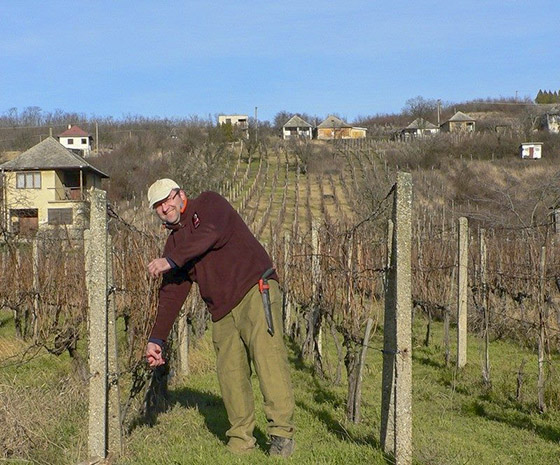 Attila Geönczeöl in his vineyard in Mužla
Geönczeöl Pince - Tramini 2017
Rose-watery, ripe Williams pear scent typical of the Tramini variety appears in the glass. This wine is easy to drink but is not for beginners who get dazed by the scent and think it is just some simple sweet wine. Let's try to see what is in the deep and discover the details behind the scent. It is well worth it.