Uncovering the unexplored potential of Greek Thrace
Setting off for Alexandroupolis in north-eastern Greece marked a leap into the vinous unknown. A small port which was to be our base for discovering Greek Thrace and its wines, in an area marking the border between Europe and Asia, not necessarily high on the list of Greek touristic destinations; indeed, there only seemed to be flights arriving from Athens at the small, sleepy airport. There are also very few words dedicated to Greek Thrace as a wine region, so I embarked with very few preconceptions.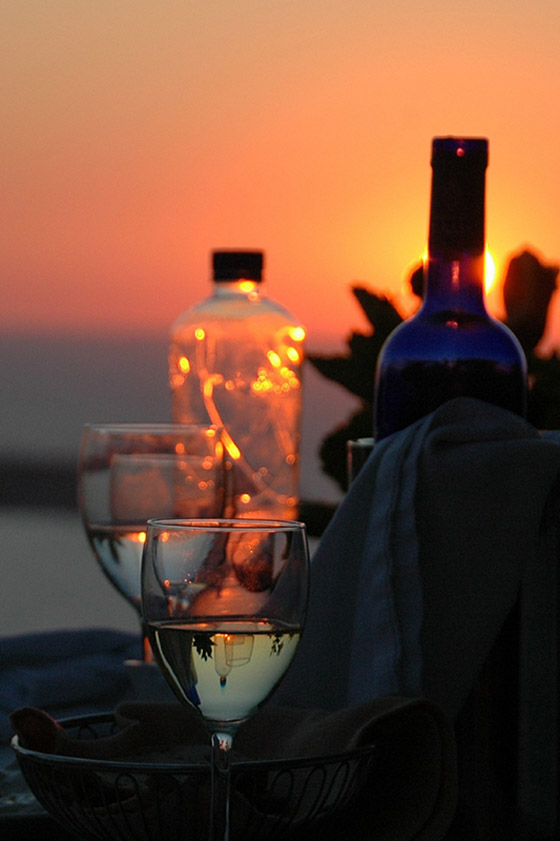 Greek wine is any case rather unexplored territory for me and many people, the tongue-twisting names, Greek letters and unfamiliar varieties constituting a hurdle to learning more. Beyond the elegant, citrus, mineral Assyrtiko from Santorini, the high acid and tannin Xinomavro from Naoussa and the lush red Agiorgitiko from Nemea, and recent trips to Athens and Cyprus, my awareness of Greek wines is somewhat patchy, to say the least. I've gamely tried Greek wines at various events in the last years, but their names do not seem inclined to stick in my head.
Greece was closely associated with viticulture and winemaking in ancient times with Greek colonisers spreading vines all around the Mediterranean and laying the foundation for viticulture and the later development of wine. However, 400 years of Ottoman rule were also not kind to these traditions. They discouraged winemaking and consumption and levied punitive taxes, thus many abandoned their vineyards. In the twentieth century, Greece was known for inexpensive table wine, unregulated bulk wine, most likely straight from the barrel, and the ubiquitous Retsina of the tavernas, with pine resin barely disguising the bad quality. Now many winemakers are trained in top western schools and their efforts and serious investments in technology are starting to pay off with Greek wines winning many awards. On another positive note, they have numerous indigenous varieties and their distinctive flavours afford them a strong marketing advantage. However, most people are unaware of what Greece has to offer and it is challenging to raise awareness of its rich palette of varieties and flavours.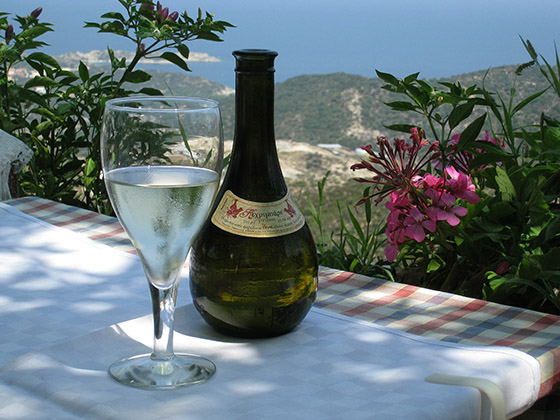 But, I'm getting side-tracked, back to Thrace.
Thrace, now divided by Greek, Turkish and Bulgarian borders, was known in antiquity for the quality of its wines and was also highly regarded during the Middle Ages. Avdira and Maronia were some of the greatest vineyards of Byzantium with the celebrated Pamiti wine being produced here. One French consul in Constantinople is said to have likened the area to Bordeaux. Indeed, we learnt at the Ethnographical Museum in Alexandroupolis that there was so much wine here in the past that it was used with mud to build houses instead of water, so that it wouldn't go to waste! After a boom in the wake of phylloxera in France when currants were cultivated here to 'improve' French wines, locals turned to tobacco cultivation. Although, refugees from East Thrace and Asia Minor planted small vineyards, which were then grubbed up in the 1960s. Viticulture in the area has slumbered since then and is now only starting to be rediscovered, mainly in the area around Mount Ismaros and in Avdira, where a new generation of winemakers is producing wines from Greek varieties, which may also be blended with international varieties.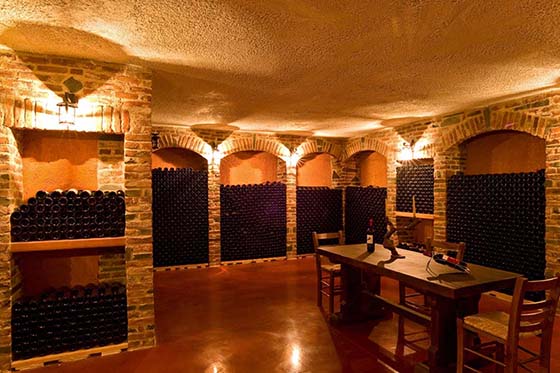 Our first visit was to Ktima Vourvoukeli, run by the Vourvoukeli family since 1999, when Niko and Flora decided to try and revive the old Avdira vineyard area and planted two hectares with indigenous and international varieties; they have since been joined by two of their sons, Georgios and Odysseas, and now have around 13 hectares. The winery building with its natural cellar cut out of volcanic rock, was completed in 2004. The family say they have the history and the varieties, but they now need to demonstrate the future of Greek winemaking and thus try to experiment and do something new every year to make something unique from this area. As it is cooler here, they generally harvest 2-4 weeks later than the rest of Greece, meaning the grapes have longer hang times.
This gives them particularly good results with Assyrtiko, which is milder and fruitier than that from Santorini. Georgios says it is also approachable much earlier than Santorini's and is considerably cheaper! They are one of only three wineries to make a single varietal with Limnio and plan to produce a larger range of varietal wines. They also have two series of blends, Avdiros and Lagara, where international varieties pair up with local varieties, such as Pamiti, Assyrtiko and Limnio. This includes a fresh, crisp Lagara White, a Sauvignon Blanc and Assyrtiko blend with lovely fruit and zesty acidity, which is the most common white blend in northern Greece. The Avdiros red blend combines Limnio, Syrah and the pink-skinned Pamiti to give a bright, fresh fruity wine with an attractive spiciness. The Avdiros series pays tribute to the Abderos or Avdiros, friend of Hercules who lost his life helping Hercules with his eighth labour, the capture of Diomedes's wild horses; whilst left to guard the horses, they tore him apart and ate him. Hercules founded the city of Avdira in his memory.
The following day, we visited the newly founded Melnar winery on Samothraki island. After a wet and windy ferry ride, we drove up a tortuously steep and narrow road to reach the imposing winery, nearing completion. They have planted four hectares of vines - Assyrtiko, Sauvignon Blanc, Malagousia and Syrah - which are yet to come into production; these are the only vines on the island, so they are still using bought-in grapes from the mainland to produce their wines.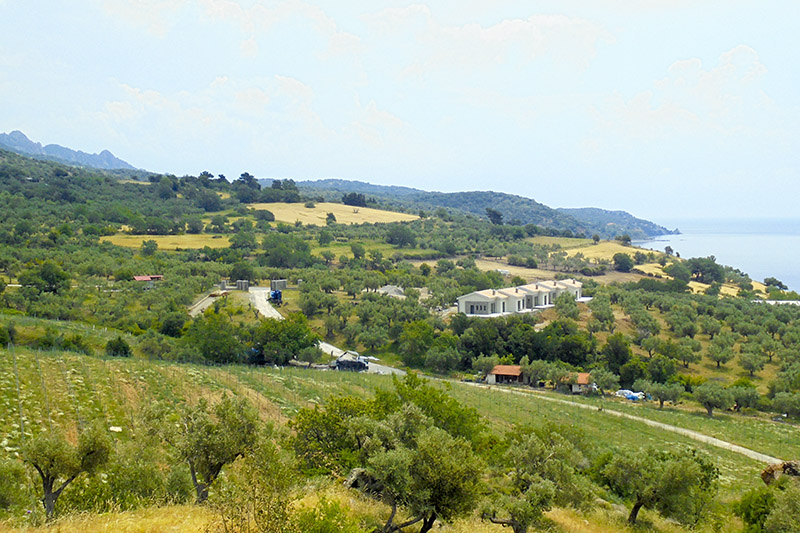 The island is believed to be full of mysteries and was the home to many secret ceremonies in ancient times; it was notorious as the island of orgies! The winemaker, Georgios, says that it's a blessed place full of energy and with unexplored potential in its volcanic soils. However, they'll need to experiment a lot with varieties due to this. Georgios is clearly already tinkering with the bought-in grapes, as along with the Assyrtiko, Malagousia, Syrah and Mavroudi, he has also created a rosé from Mavroudi which has been aged six months in oak, producing a wine laden with toast, coffee and creamy vanilla as well as bright cherry and strawberry. Long and quite nutty, it was also reminiscent of condensed milk and toffee. Many didn't find it to their taste, but I found it quite an intriguing experiment. It will be interesting to see the results from the vines on Samothraki.
You can read more about Greek Thrace region within a few days in the second part of this article.