The vineyards of Attica, the largest in Greece today, are planted mostly with Savatiano, Malagouzia and Roditis, but Agiorigitiko and Merlot are also proving successful. By tradition, it was the home of retsina, particularly in the Mesogaia district.
As we drove down back roads and dirt tracks on the way to Domaine Papagiannakos, located a stone's throw away from Athens airport, in order to avoid some potential blockades on the main road, Vassilis Papagiannakos explained how in his father's time, the family winery had simply supplied barrels of 1000 litres of wine to the tavernas in Athens. Most families would try to have at least one family member in Athens who ran a taverna, so that the wines had a natural sales outlet. These wines would then be drunk within the month. At that time, high alcohol content was desirable, generally reaching up to 14%, as the wine would then be less likely to oxidise or otherwise spoil, thus overripe grapes provided the basis for the wine made in the region and the grapes were then hot fermented at temperatures of up to 35-40%.
The situation is rather different now, he assures me. The grapes are now picked at the optimum time, in order to retain acidity and they are fermented in temperature-controlled tanks with cooling jackets at 14°C, thus resulting in fresh, fruitier wines. Wines produced from the Savatiano grapes, the traditional grape for retsina, are still dominant in the region, 98% of plantings are still of this variety. Although the region is rich in all kinds of bounty, such as pistachios, grapes and figs – in fact, Royal figs, a variety unique to the region.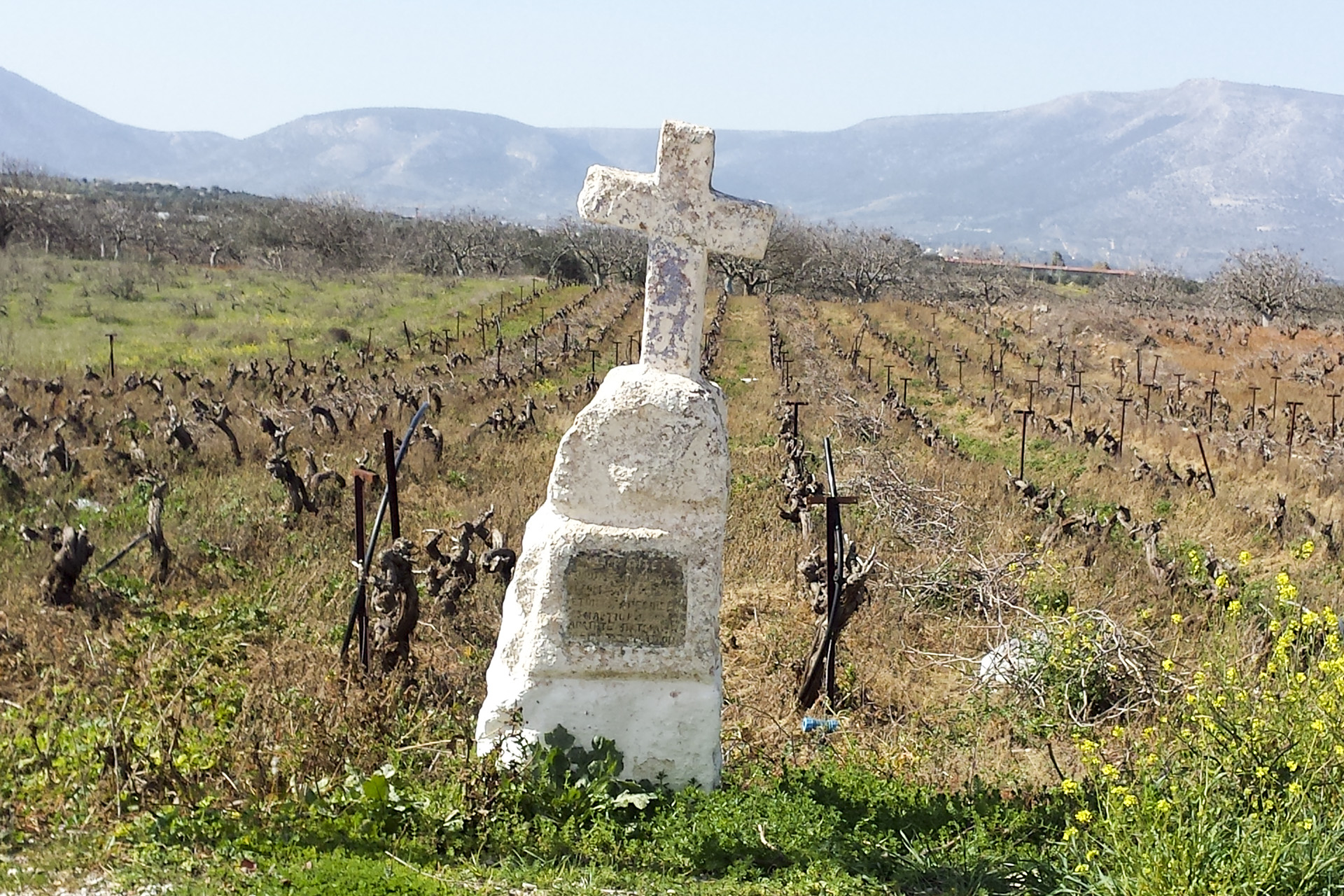 The soils in the area are limestone and clay, with some areas a deep red in colour; they get no rain from May to September, Vasillis tells me. Pruning of the 60-year-old bush vines is done by hand, as is the harvest. So it is a laborious and expensive production process. I witnessed the pruning at first hand as we passed his cousin Christos and companions, who were busy in the vineyard, cutting the vines back.
Winemaking in the family goes back three generations. Previously the family were grape farmers. They have 20 hectares of vines and rent a further 20. There are a group of 15-20 producers, with the family providing guidance on cultivation.
Vasillis convinced his father in the early 80s to have one barrel of wine without resin to see what the results would be like. So far, fresh wines for Savatiano are looking extremely promising, with the 2012 being released in February. They only started quality production in 1994 or so, with the first bottled wines being produced in 1995. They don't have so much experience with ageing so far, but have found that it ages perfectly, as evidenced by those I tried – five vintages between 2015 and 2008. Fresh, mineral and zesty with lemon and stone fruit when young; the older they get, the more interesting they become, putting on weight, gaining in complexity and developing notes of honey, spice and nuts.
Keeping with tradition, Vasillis does produce retsina too. Made by dipping a large 1kg 'tea bag' of resin into 1000 litres of wine, it is unlike any retsina I'd ever tasted in a Greek restaurant, with flavours of pine, lemon, eucalyptus, rosemary and a touch of wood, along with ripe peach, apple and pear.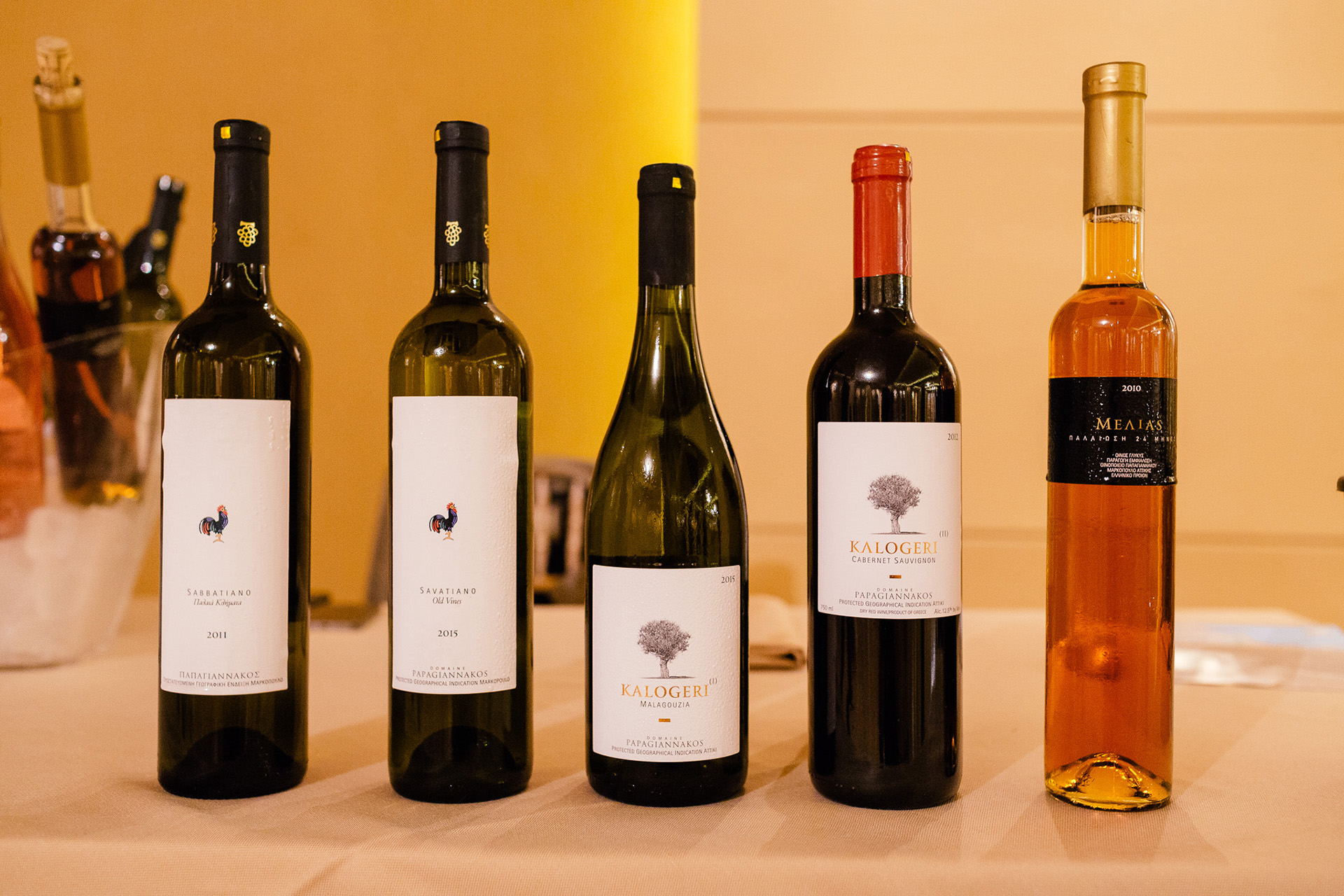 After the tasting with Vasillis and his daughter Angeliki in their modernistic winery building with innovative bioclimatic standards, where they were preparing for a wedding party the next day, we set off for the nearby sea. Not content with picking me up from the nearest underground station, preparing a tasting of twelve of their wines, Vasillis, Angeliki and her partner swept me and two more #winelovers who were staying an additional couple of days in the area off to a local tavern overlooking the sea for a lunch of meze and more of his delicious wine before driving me to the airport to catch my flight home. Greek hospitality clearly has no limits!