This summer, my wife and I were considering where to spend our holidays. We have two daughters and the youngest can't swim confidently yet, so gentle, sandy beaches were the only option. Croatia and Slovenia, closest to Budapest, were thus out of the question, leaving only Italy and Greece.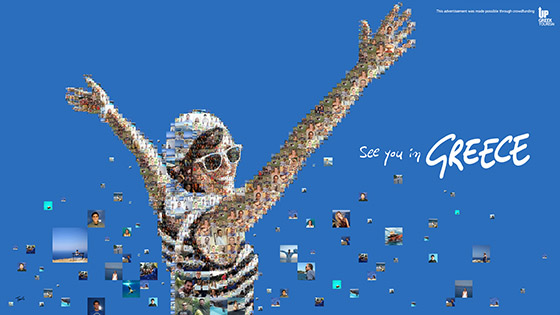 As a teenager, I spent many holidays on mainland Greece; I have wonderful memories of Thessaloniki and southwards, so it wasn't hard to convince my family. Moreover, Wizzair have launched direct flights from Budapest (whereas Easyjet and Ryanair operate flights from various English and German cities), so it's hardly surprising that this stretch of seashore centred around Paralia has become very popular with Hungarians. We chose Olympic Beach (Olympiaki Akti), booked accommodation online, bought plane tickets and rented a car.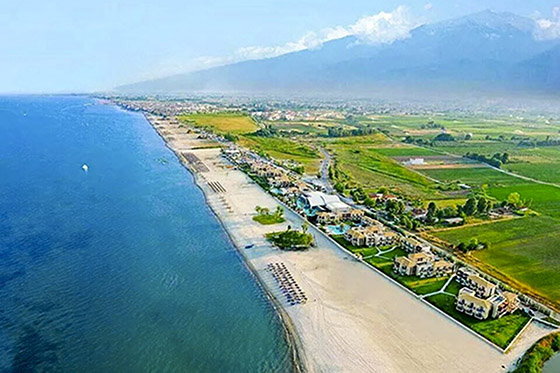 Although news about Greece was contradictory, with everyone discussing the state bankruptcy, we didn't see any sign of this. People were pleasant and calm, the coastal hustle and bustle hadn't changed in the last twenty years. Nor had the offers from the small seafront travel agencies! You can take a cruise on a glass-bottomed boat, pirate ship, disco boat or buy a one-day bus trip to the Meteors (a fantastic place, a real must) and Olympus. You can consume endless doughnuts and frappes on the beach, while the restaurants dish up gyros, pizza, hamburger, chips and – at best – grilled fish or squid. Everything is aimed at tourists, apparently mostly only Hungarians, Serbs, Russians and Macedonians, rarely Germans and English. But what if you don't drink beer, rather wine with dinner? The house wine unfortunately leaves something to be desired, what's more the better places serve retsina. So I asked for help from the #winelover group, which responded immediately. If we spend our holidays on this stretch of coast, the closest wine destination is Naoussa. A quick consultation with the family, a bag as a gift for my wife, extra portions of ice cream for the kids and the next day I was already speeding off, with their permission, northwest towards the mountains.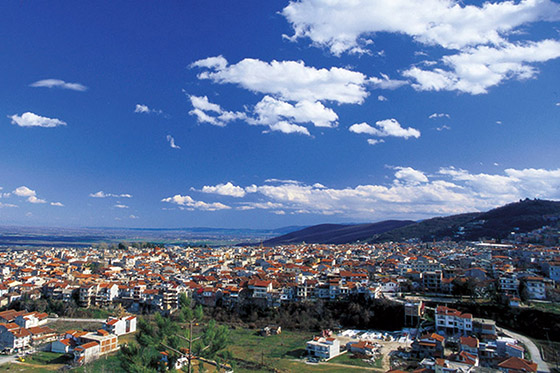 Route for drivers:
The nearest town is Katerini, here you can head north towards Thessaloniki on the M1. After about 30 minutes, turn off at Klidi towards the west on the M2 and you'll reach Veria after about 20 minutes. From here, you can reach Naoussa, about 80 minutes from the coast, on the northbound main road. It's not far at all, is it?
If you take your family, or girlfriend, with you, you should visit the area's attractions. Of course, the Meteors (true, still quite far away) overshadow everything, but for some reason tourists are generally unaware that Alexander the Great was born around here! That's already exciting, isn't it? The ancient Pella is only thirty minutes from Naoussa, an unspectacular ruined town with wonderful mosaics, but even so, it's eerie walking around where the world's greatest military leader was born! East of Veria, just ten minutes away, is Vergina, the ancient Aigai, first capital of the Macedonians, where Alexander the Great's father, Philipp II, whose tomb can still be viewed, was murdered. Finally, Aristotle lived and taught in Naoussa, more specifically in the Nymphaion grove, where in addition to the aristocratic small fry, it subsequently fell to him to teach the great general.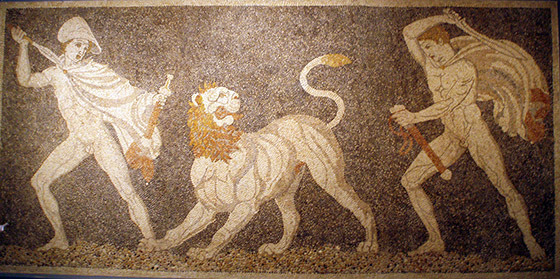 Enough of my story, we came to drink wine after all! Unfortunately, in the stifling summer heat, people often prefer a cold beer (sacrilege, I know), so Naoussa wines are already at a disadvantage in a heat wave. The world's taste in wine has clearly shifted towards light, fruity, fresh, early-drinking wines, and well, Naoussa doesn't really fit the bill.
Naoussa's most important grape variety is Xinomavro (ksee-NOH-mah-vroh). Many say the name means 'acid black'. It's amazing that wines born in such a hot climate sustain such acidity! It's no coincidence that Xinomavro is Greece's second most popular variety, at least as far as the 2,389 hectares (2008 data) is concerned.
Naturally, the large wineries don't only have serious red wines, so driving around to find something you can sip on the patio after an evening on the beach is time well spent.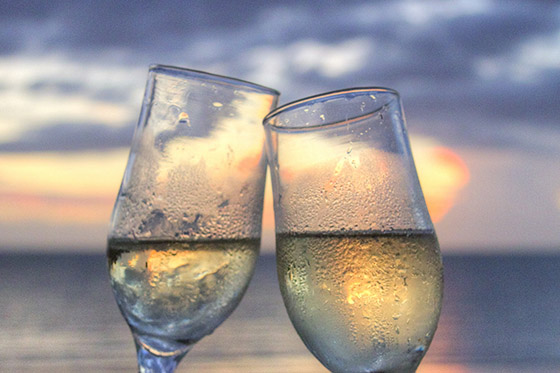 Yes, but how can you find the wineries? The bad news is that they aren't signposted. Even worse, if they are, then most likely they'll be in the Greek alphabet. Like everywhere in the world, winemakers – no matter how surprising – work here too. There's always something to do in the vineyard or winery, so always ensure you send an email or Facebook message before setting off, or maybe even call them, because most winemakers (true of almost every winemaker in the world), won't answer the first two. Oh, and always hire a car with GPS and test it before leaving. A small but vexing problem was that although the navigation system worked, I was unable to change the default Italian language. It was funny, while trying to follow the map around Naoussa's winding roads, going round in circles and asking directions from locals with sign language, in the alleyways an increasingly angry female voice shouted 'a destra!' from the car.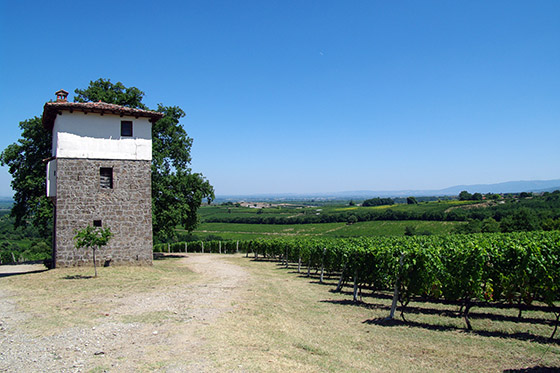 If you want to play it safe and drink wine during your holiday, you should definitely begin with the big guys. Boutari is a given, as in addition to their winery here, they have six more around the world. This is no coincidence. Without the Boutaris family, perhaps neither Naoussa nor Xinomavro would exist. The winery was established in 1879 and their wines can be found in 45 countries. It's not entirely by chance that Wines&Spirits named them in the Top10 international wineries. Talking about the Boutaris family, we should say a few words about the Kir-Yianni estate too, which separated from the Boutari group in 1997, becoming independent, within the Boutaris family, more precisely under the management of Yiannis Boutaris, major of Thessaloniki since 2011. Both wineries also produce light white, rosé and sparkling wines, as they also have interests in other wine regions. Although, if you do decide to fill the boot with rosé – when I was there it was 39°C, so I do understand – don't go home without at least one bottle of the famous local red wine. It'll definitely go down well at Christmas!
Wines produced from Xinomavro have flavours of strawberry and plum in their youth, but as they mature, these flavours change into unmistakeable olive oil and dried tomato notes. Also expect vibrant acidity and intense tannins, the latter gaining elegance with bottle ageing. Don't worry about the colour, Xinomavro tends to 'fade' with age, developing an often intense brick hue.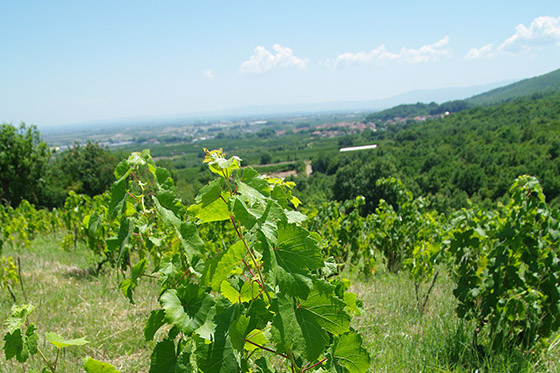 The braver could seek out smaller, more traditional or even modernist wineries. Lately, the best example is French-educated Kostis Dalamaras, who is returning to tradition by introducing small reforms. This is not surprising if you consider that his family has been making wine in Naoussa since 1840. If, however, you are interested in traditional Naoussa, head for Fountis Nikolaos or Ktima Foundi. Here you can taste and buy things that many people can but dream of, for example the winery's Xinomavro from the nineties. It's a bit like Piedmont, where 'new Barolo' is also approachable when young, whereas 'old school' wines only become great after twenty years.
Suggested one-day Naoussa car tour: Watch the sunrise on the beach, then jump into an open-topped jeep and head for Naoussa. En route, visit the fabulous Macedonian royal tombs in Vergina, drink a frappe and then stop off at Kostis Dalamaras. Stroll in the vines, taste all the wines and buy something you like. By midday, it will already be so hot that you won't want any lunch, so cool down somewhere or meditate in Aristotle's grove. Drop in to Kir-Yianni in the afternoon, climb the Ottoman watchtower with its views of the estate, do some tasting on the wonderful terrace and take two cartons of rosé for your friends.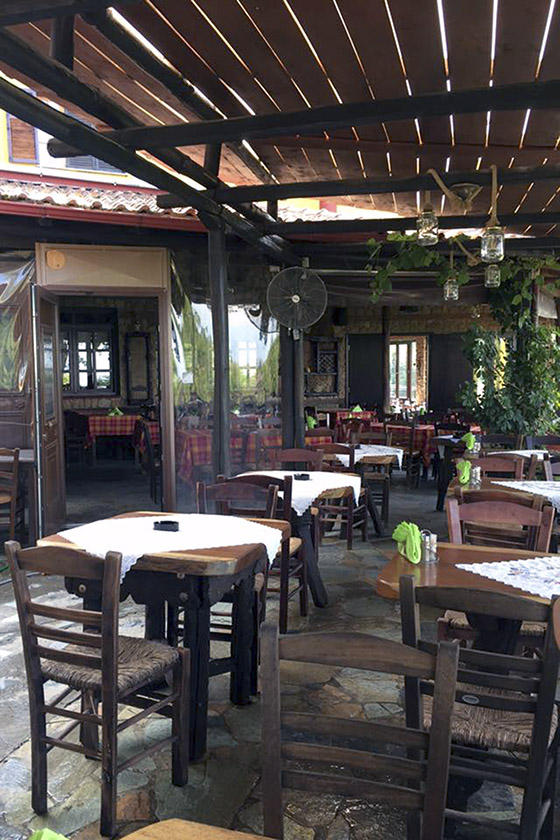 One-day Naoussa tour for fathers or with the family: Have breakfast with the family, sit in the family car and trundle off to Pella, where you can show the kids where Alexander the Great was born. Have a gyros and continue to Naoussa. You can find wines at Ktima Foundi for both yourselves and the grandparents. If it's terribly hot, then quickly return to the coast, but if you can cope, pop over to Boutari, then break away from the seaside pizza-cola-chips Trinity and meander along a marvellous mountain road (in winter, there are ski pistes nearby) to Arkochori. Just 30 minutes and you can taste real Macedonian cuisine in the Taverna xarama 1992. Order 5-6 starters, grilled cheese, sautéed wild mushrooms, salads, and lamb and wild boar as mains. The only danger is that you'll then want to head there every evening from Olympic Beach for dinner.