The author's favourite region comes under the microscope in the second episode of our series on Croatian wine geography.
I have found favourites and excitement throughout all the regions of Croatia, yet on seeing the hills that break up the Slavonian Plain and the vineyards hidden amongst the bends of the Danube, my heart begins to beat faster. We have arrived in the world of Graševina.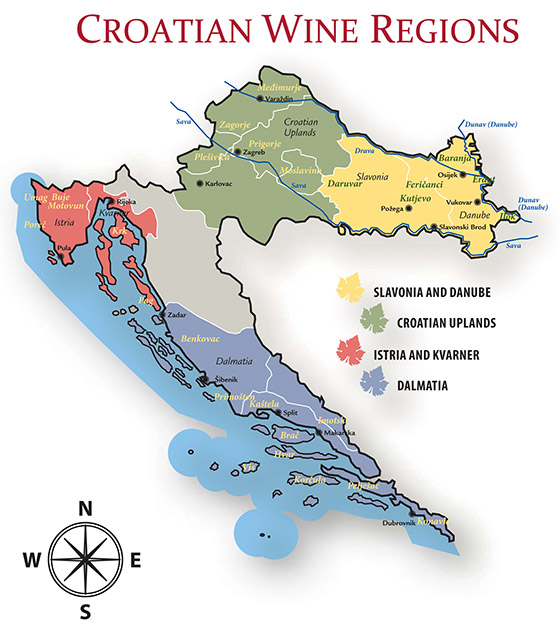 Map: Croatian Fine Wines
Graševina, aka Olaszrizling, Welschriesling, Laški Rizling and I could list even more names of this typically Central European variety, which is most widely spread in the areas along the Danube. This variety makes up one quarter of Croatia's vineyards; basically, when the Croatians talk about white wine, without too much exaggeration, they are talking about Graševina.
The main production area is Slavonija i Podunavlje, where about half the vineyards are planted to Graševina. This region is actually home to around a third of the entire vineyards in Croatia. Slavonia is divided into six subregions (Daruvar, Đakovo, Feričanci, Kutjevo, Orahovica and Slavonski Brod), while Danube has three (Srijem, Erdut and Baranja).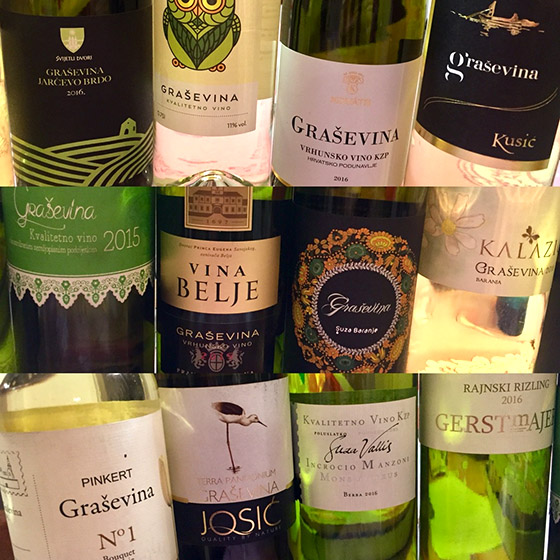 Grasevinas from Baranja by Daniel Ercsey
The region mainly produces white wines in line with the characteristics of its terroir, although the quality of the red wines has also improved recently, and some great reds are now ending up on the table. Three of Slavonia's subregions, Kutjevo, Orahovica and Feričanci, stretch towards the Papuk, Krndija, Psunj and Dilj Mountains (their highest point is almost 1,000m), while Daruvar is also connected to this mountainous region from the west along with Đakovo from the east.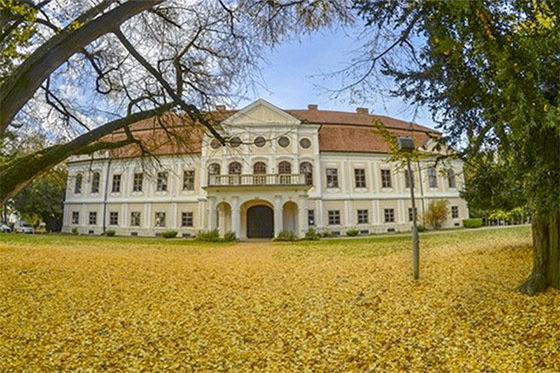 Photo: VisitDaruvar
These border mountains slope gently inwards in the north whereas in the south they descend steeply down into the wooded hillsides. The Papuk and Psunj Mountains are made up of gneiss and granite rocks, which even contain traces of gold as well as frequent crystal fragments belonging to some of the oldest layers of the earth. Alluvial layers can be found at the foot of the mountains while the hills are made up of other materials, principally tertiary fossils including crystalline slate and granite-like rocks. This is mostly covered with loess with a relatively low humus content.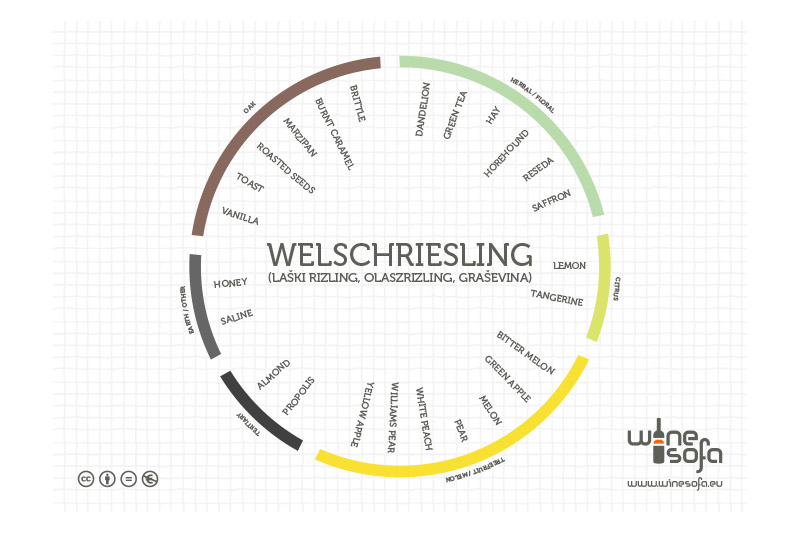 Graševina flavor profile by Tamás Doma
Graševina is very much at home in this area, along with other characteristic white varieties, such as Chardonnay, Pinot Blanc, Sauvignon Blanc, Traminer, Riesling and Grüner Veltliner. The reds include Frankovka (Blaufränkisch), Merlot, Pinot Noir, Cabernet Sauvignon, Zweigelt and Portugieser.
The most emblematic wine region is Kutjevo where legends such as Ivan Enjingi or Vlado Krauthaker make their wines. The former is the doyenne of winemakers who believes in aged wines, late harvests and organic farming, whereas the later started in 1992 with only one hectare and now harvests from around a hundred hectares and, moreover, is perhaps the most decisive family winery in the whole of Croatia. Vineyards such as Venje or Mitrovac brought them renown. The latter is considered by many to be the best production area for Graševina. The former abbey played a defining role in Kutjevo, then it was succeeded by the kobinat, Kutjevo DD, where they no longer only produce quantity but are also developing their capability for quality. It's worth keeping an eye on family producers like the Mihalj, Adžić and Perak wineries, but you should also visit the Galić winery's new winemaking complex, built in 2018 and nicknamed 'the space station'.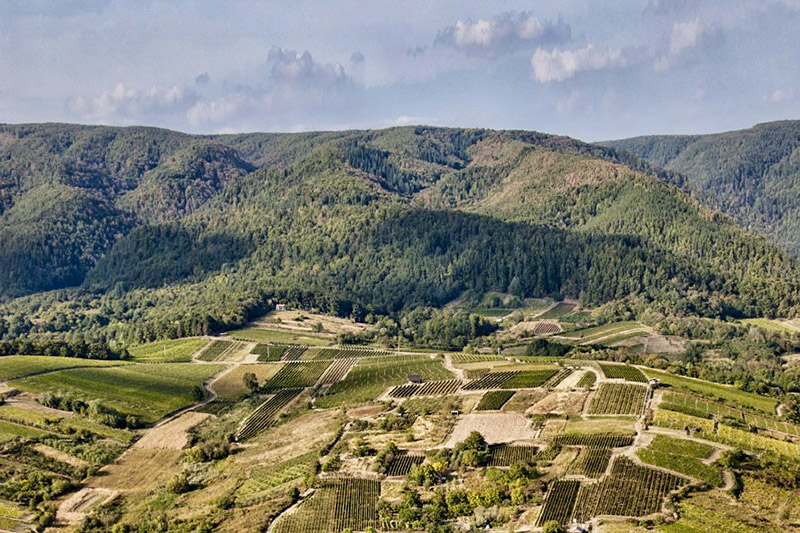 Kutjevo vineyards by Krauthaker Winery
Their neighbours within the two wine regions, the successors of the large, formerly state-owned companies, also play a decisive role on supply, PP Orahovica has embraced Silvaner as well as Graševina, while Feravino Feričanci has pledged its future to Frankovka, alongside Graševina of course.
The winds blow a little differently next to the Danube, so the Danube breezes influence the diversity of Graševina at least as much as the different soil types. While Baranja is characterised by deep loess, in Erdut, there is a mixture of loess, clay and sand, whereas Ilok has loess, clay, brown forest soil and alluvial soils.
Principovac Castle, Ilok by Piroska Koltai - Wine a'More Travel
The one large winery plus dozens of small family farms model is characteristic of each wine region. In Baranja, Vina Belje's 650 hectares make up two-thirds of the wine region, with an impressive 70% of Graševina among that. This is supplemented by Chardonnay for the whites, while for the reds, the quartet of Cabernet Sauvignon, Merlot, Frankovka and Pinot Noir are the subject of experimentation.
In Erdut, besides Graševina, Chardonnay and Silvaner are giving good results, but Frankovka and Zweigelt are performing convincingly too. Ilok is famous for its Traminac (Traminer) and the British royal family serves both its sweet and dry wines on special occasions. However, Graševina and Chardonnay can be just as lovely here too, while Frankovka is the dominant red.
Graševinaland is also making great progress in terms of winemaking, creating a global reputation for the variety and achieving beautiful results regarding both quality and quality. Moreover, they are also gaining ground in wine tourism, with more and more accommodation being built and increasingly good restaurants springing up, thus ensuring the arrival of wine tourists.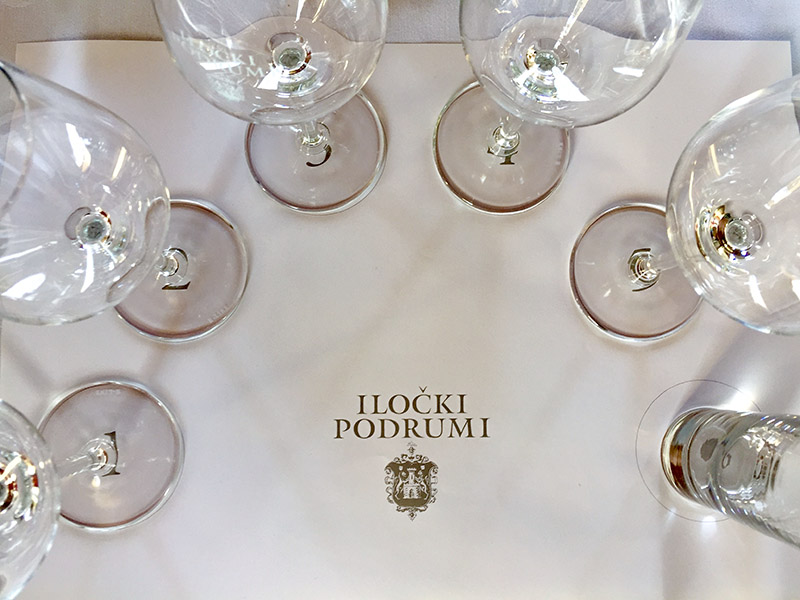 Photo: Daniel Ercsey
Some wines
Galić, Graševina 2017 (Kutjevo) I 88 points
Intense nose of citrus with a touch of elderflower and green meadow. Fresh, light and lively on the palate with good acidity, grace and a long finish. Modern, consumer-friendly Graševina.
Kutjevo DD, Graševina Turković 2017 (Kutjevo) I 89 points
Lovely floral and citrus nose opening out to some peach. Silky with fresh acidity and flavours of mango and pineapple. Good body with a little creaminess, attractive fruit and plenty of length.
Antunović, Greševina Premium 2015 (Erdut) I 90 points
A really profound, intense nose. Luscious, sweet, juicy fruit. Appealing and playful with hints of layered salinity and ripe fruit on the palate. Long and rich. A great wine.
Iločki Podrumi, Traminac Vrhunski 2017 (Ilok) I 88 points
Characterised by a rose nose, yet not soapy, loaded with jasmine, orange and vine blossom perfume. Fresh acidity, long, lively wine, although perhaps a little tired on the finish.
Feravino, Frankovka Miraz 2015 (Feričanci) I 87 points
Attractive nose with plenty of toast and ripe berry fruit, such as sour cherry, raspberry and plum. The creamy fruit comes across on the palate too, with a touch too much tannin and alcohol, although it's held together by serious structure.