Many people forget that there are other sides to Villány than just its big powerful reds, generally Bordeaux varieties or blends of these. This is what most people think of when you mention the region of Villány. Of course, one of Villány's trademarks is now Villány Franc, the region's take on Cabernet Franc, which also belongs in this stable. The region is now also showing its lighter side with the new community blend RedY, based on another typical Villány grape, Portugieser, which was the reason I was now down in Villány – to judge at the Portugieser du Monde competition. However, this is not what this story is all about either.
It is often forgotten that the region is officially called Villány-Siklós, with the Siklós part generally ignored, and that Siklós has a slightly cooler climate than the baking hot 'devil's punchbowl' of Villány, thus making it more suitable for the production of white wines, as well as more elegant reds, of course. Following the morning's judging of Portugieser at the Villány Bock winery, we judges visited a cellar in the Akasztófa (Gallows Tree) vineyard with a fantastic view over the vineyards to the Siklós castle. As we arrive, my colleague Dániel Ercsey whispered to me, this guy makes one of the best Olaszrizlings in the region. Now Olaszrizling is not a variety, although planted pretty much throughout Hungary, that most people would readily associate with the region, so I was curious.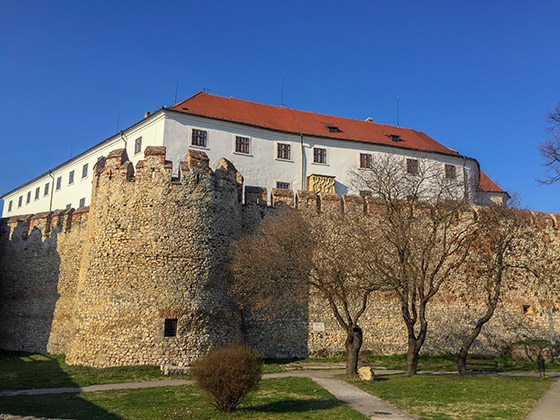 The Siklós castle from the entrance (photo: Daniel Ercsey)
The cellar we were visiting was that of Tamás Joó, a young economist turned winemaker, whose Swabian grandparents had already been making Portugieser in the region in the fifties, followed by his parents, who purchased the current cellar in the eighties and made mostly white wine, which they sold to the locals. The cellar is now managed by Tamás, who is also the winemaker, aided by his wife Diána and mum Marica, who oversees work in the vines and serves up delicious homemade rétes, or strudel, to guests. Despite being completely stuffed from lunch, we managed to at least taste a slice of this. Last year, Tamás also bought another piece of land, where he's building a winery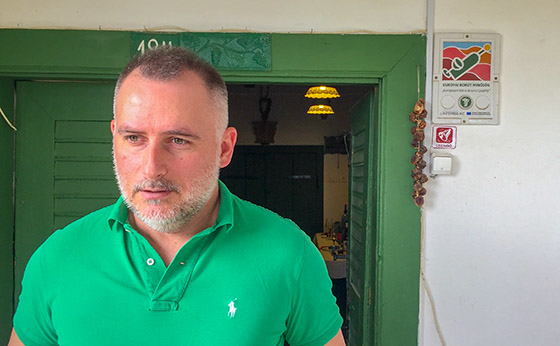 Tamás Joó (photo: Daniel Ercsey)
A small family winery now producing 25-30,000 bottles a year, they've been moving towards organic production since 2014. Their attention to detail is everywhere – from the delicious strudel, the lovely homely furnishings of the tasting room and, of course, the wines themselves. They aim to produce fresh, youthful, light wines that are a pleasure to drink, but of course, being in Villány, they also have some big reds resting in oak down in the cellar, which we taste from the barrel. Our Danish colleague declares them wonderful now and suggests they should be bottled immediately. Tamás, however, intends to keep them in oak some months longer.
The range was revamped in 2016 and the wines now bear names that play on the family name Joó – jó means 'good' in Hungarian, so what's an extra o here or there. The Olaszrizling is Joóreménység (good hope), the Kékfrankos Rosé is Joókedv (good mood), the Bíborkadarka Joószívvel (with good heart) and the Portugieser is Joóbarát (good friend or good brother). There is also a fresh, aromatic Irsai Olivér added later – maybe they ran out of goods then, as it is simply called Irsai Olivér! The labels also reflect a bright appealing, youthful image with the Irsai sporting a large pair of green lips, the Bíborkadarka a red heart, the Kékfrankos Rosé a deep pink jester's hat, the Olaszrizling an anchor on a yellow background and the Portugieser a monk, or brother, adorned in a purple cowl.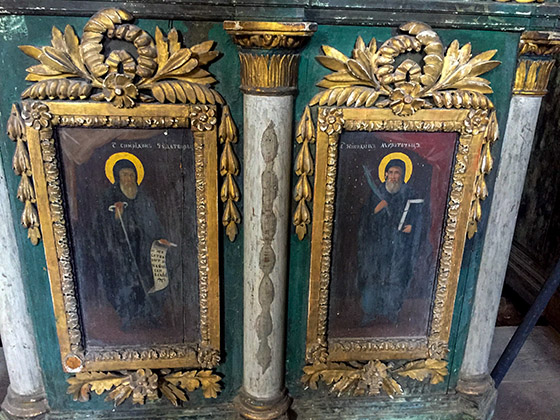 Serbian Orthodox Church in Siklós interior by Daniel Ercsey
An Olaszrizling naysayer, even I enjoyed his 2018 vintage with its attractive almondy nose with lively acidity and fresh bright apple and lemon fruit flavours. It could even entice me to start drinking more Rizling. Tamás produces around 9-10,000 bottles of this fresh reductive wine each year. The Irsai was bright, fresh and aromatic with plenty of grape, lime and floral notes. Just what you expect from the variety. The Rosé, whose Kékfrankos grapes had been harvested when fully ripe, was a delightful cherry colour, more like a siller. More mouthfilling and complex than your average rosé, it boasted ripe cherry and raspberry fruit with plenty of spice. Despite its deep colour, Tamás said that it had not been macerated, but produced from the direct, free-run juice.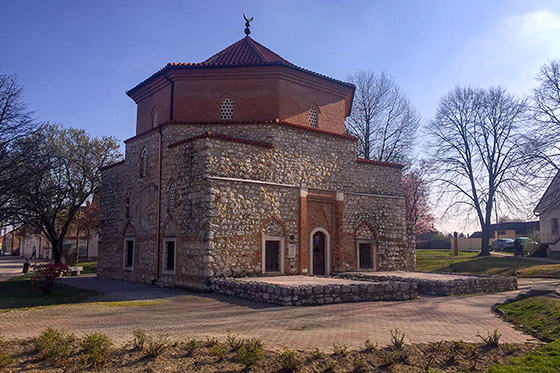 The Mosque of Malkoc Bey in Siklós (Photo: Daniel Ercsey)
An oddity came next, pure Bíborkadarka, a rarely cultivated variety which is a 1948 cross of Kadarka and Muscat Bouschet that was authorised in 1974. It's a teinturier variety, meaning it has dark flesh as well as dark skin and produces a deeply coloured wine. As this was the first time I'd tasted a varietal wine from this variety, I had no preconceptions. Intense purple in colour, it boasted plenty of youthful, dark berry fruit with a slightly meaty, smoky note along with lively acidity but slightly drying tannins. Despite being a rare variety, it is proving to be in high demand, so Tamás replanted a further half hectare with it and now produces around 2,000 bottles per year.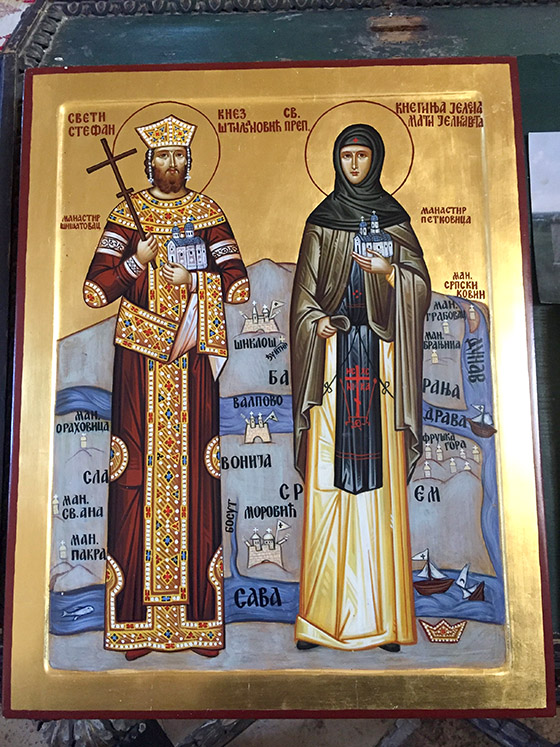 The orthodox St. Stephan of Siklós in the church (Photo: Daniel Ercsey)
I'm ashamed to say that none of us could face tasting any more Portugieser after the morning's marathon, but if his other wines were anything to go by, I would expect a bright, fresh, fruity wine that we could easily have enjoyed slightly chilled on that warm sunny day, had we not been overwhelmed by the morning's surfeit of the variety.
I look forward to tasting his Kékfrankos, Merlot and Cabernet Franc wines when they are released, but what we tasted down in the cellar bodes extremely well. Because, well, you can't be in Villány and only produce youthful, fruity wines, now can you? Or can you? But I certainly can't wait for his elegant, fruity Cabernet Franc to take its place alongside the other Villány Franc wines.