The International Franc&Franc conference was held in Villány on 18 and 19 November. Elizabeth Gabay MW was one of the international experts who participated in this event. We asked her what she made of Villány and Cabernet Franc.
During the conference, you said that "Villány can't bear the marketing burden for the entirety of Hungarian wine". What did you mean by that?
By calling the wine Villány Franc, they have taken away the chance to use the variety's name, 'Cabernet Franc', to market the wine. Nobody actually knows where Villány is and it's already hard enough to market wines from Hungary. So, if they are going to market their wine as Villány Franc, they would need to first work on promoting Hungary, and then Villány. It would help if there was an organisation already promoting Hungary. Why should Villány have to market Hungary too?
You and Caroline Gilby MW also mentioned some issues with the way English speakers pronounce Villány. (I think the word you said was 'villainy'.) Could you explain it?
The English pronounce the 'y' at the end of the word differently. So yes, the town is said like villainy. Without even mentioning the extra 'l' – Villányi.
Let's just consider the variety for a moment; most people in Hungary think that Cabernet Franc is not just an international variety, but because it's from Bordeaux it's very famous too. They've never actually heard of the Loire! But what is the reality about this grape variety? Is it famous really? Does everybody know what Cabernet Franc is?
I also thought Cabernet Franc was very well known. It was only when I started to research this presentation that I realised that wine merchants around the world were struggling to promote the variety. It is a variety well known to wine geeks, but most people are more familiar with Cabernet Sauvignon.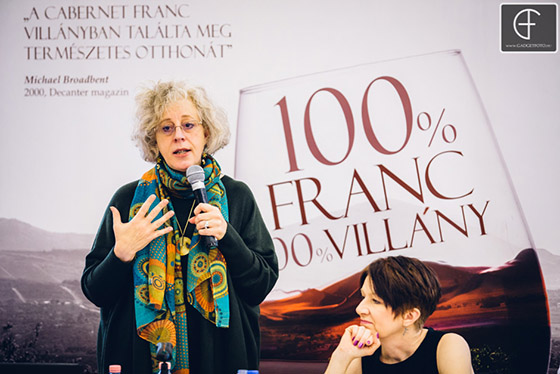 We tasted some Cabernet Franc from Italy and those wines seemed much more consistent than the wines from Villány. I had the same impression last year when we tasted the Loire Cabernet Francs. Do you think there is a local, i.e. Villány, style?
It's difficult to taste a sense of terroir behind the winemaking. Cabernet Franc can have power, fragrance, elegance and a sense of terroir. Right now, the local Villány style seems to be largely high alcohol and overloaded with oak. I agree that there are a number of wines which are more elegant, and a few of the more oaked types are beginning to reduce the amount of oak, but still, right now the warm ripe fruit is largely very dominated by alcohol and oak. The wines from Siklós generally seemed to show more elegance. Due to the cooler climate, perhaps?
While we're on the question of style, most foreign experts said that the Villányi Franc is high in alcohol, extract and sometimes tannin. Do you think that's a real problem, or is it rather that the winemakers in Villány don't know where they want to sell their wines?
No, it's not a real problem in that the wines are good. We're talking about style. The current international market is looking for a fresher style. I think it was a shame that no classicus wines were presented to show the fresher Cabernet Franc wines of Villány. Given the rule that premium wines have to be aged in oak means that producers maybe have to use the classicus level to reach the international market. For me, Cab Franc excels when elegant, not big.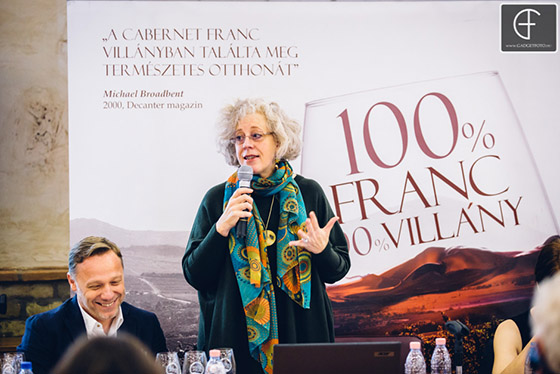 You live in France, so when you say terroir you're thinking of a totally different thing than the Hungarians. For us, the terroir is usually the climate, the geology and sometimes the land. However, only a tiny proportion of winemakers consider themselves to be part of this too. It's a bit philosophical, but how can we speak about terroir without the winemaker? Does the terroir of Villány mean 14.5-15.5% alcohol and new oak because most of the winemakers take this path?
So, what is the terroir here? A hot climate giving a big ripe, heavily oaked alcoholic wine. I can understand the claim that the use of oak is felt to be the character of Villány Franc. With careful viticulture, I think the grapes could be fresher or a little less big which would allow more taste of place and would maybe handle the oak differently.
I noticed that in tastings of Kékfrankos, there was generally a stronger sense of location in the wine – more fruit, greater minerality etc - which I did not taste in the Cab Francs. I think otherwise the unique sense of terroir is difficult to find.
There is a quality classification in Villány. The Cabernet Franc can be classicus, premium and super premium. The latter can only contain Cabernet Franc. I found this in the official product description: 'Wild strawberry, plum, sloe, dried fruit and jam on the palate. Full-bodied wine with barrel spices on the nose and on the palate too. Elegant.' I feel there's some contradiction. What do you think?
I totally agree. The elegance is not always there. Power, however, yes.
The classicus Cabernet Franc is perhaps the most comparable with the Loire style, but it seems that the winemakers didn't want to show this kind of wines in the conference. Do you feel these wines are missing too?
I didn't even know about the classicus, premium or super premium categories, neither did Caroline. This was badly communicated. Andras Horkay was only informed the night before that only the oaked styles would be shown. It would have been much better if some of the wines had been classicus. Yes, I really felt that some power didn't want anyone to taste the unoaked Cab Franc, which was a real shame. Apparently, the classicus wines were not shown even on the Saturday. While doing some visits on my own, I got the feeling that a number of producers also liked making Portugeiser and Kékfrankos, and felt that the emphasis on oaked Cab Franc would make this more difficult.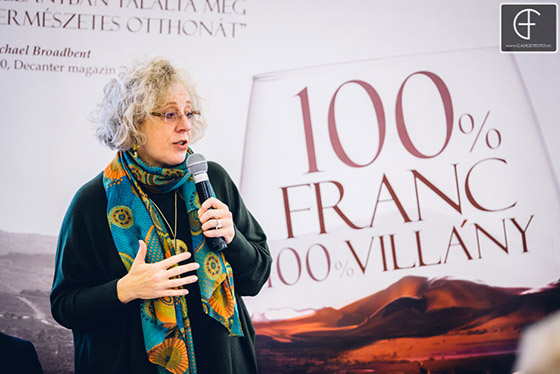 Looking at the statistics, the Villány winemakers sell at least 80% of their wines in Hungary. Do they really need to sell their wines abroad? Sometimes I feel that it's just exhibitionism, and that they should concentrate on the Hungarian market.
Selling everything on the home market is good, but every producer wants to be able to make a wine good enough to sell elsewhere in international competition. Also, relying on one single market is always risky.
Can you name any international red wine brand which has high alcohol and tannin and is comparable with Villány Franc? If so, why is it a successful brand?
No. Not currently. It was a style I used to come across in the late 80s and early 90s.
We have talked a lot about communication. However, before communicating, the Villány winemakers should know what they want to communicate and to whom, shouldn't they?
Definitely. That's why I said they need a mission statement. The conference is a good start; it shows they are open to discussion and to talking with people around the world. Yes, they do need to focus on what it is they want to say. And yes, they need to think about where they want to sell their wines; they need to talk with people from different places. I researched the UK and US markets when doing my talk. I know they were also interested in asking Jim Budd, a Loire specialist. But the Loire is such a different style and thus not their market, so I'm not sure that's what's needed.
Finally, what's your overall opinion about this Franc&Franc event? Did you think it was well organised? Was it successful? Did you feel that the winemakers listened to you?
Yes, it seemed a very good and well-organised event, although I can't comment on the Saturday events. I do wonder though whether having just two speakers was enough to create a big enough range of thoughts. Maybe several smaller round table discussions would have been good? Yes, I felt the growers did listen and did discuss with me on visits, which was very positive.