Some vineyards, like Lafite, Latour, Biondi Santi, Margaux, Romanée Conti, Vega Sicilia, Gaja and Moet&Chandon need no introduction. Even those who have never tasted their wines have heard of them, and we have to admit that there are an increasing number of similar wine lovers all over the world. The only similar example from Hungary, interestingly enough, does not come from Tokaj but from the south of the country, close to the Croatian border in the Villány wine region.
There are two main reasons for this: one is that after the fall of communism, the Villány winemakers (including Attila Gere) were among the first to react to the new market environment and consumer demand, thus gaining an almost ten-year (!) head start in the Hungarian market compared to other wine regions. In the 1990s, Hungarian consumers unequivocally regarded Villány as the wine region which produced the most drinkable and, what's more, perfect Hungarian wine, which in line with global trends, could only be red.
As for the second reason, it was the winemakers in Villány who realised that they could achieve more together. They might have had their differences in the background, but these were never revealed to the public. They appeared together at professional exhibitions and fairs, travelled to well-known European wine regions together and paid for marketing from a common budget.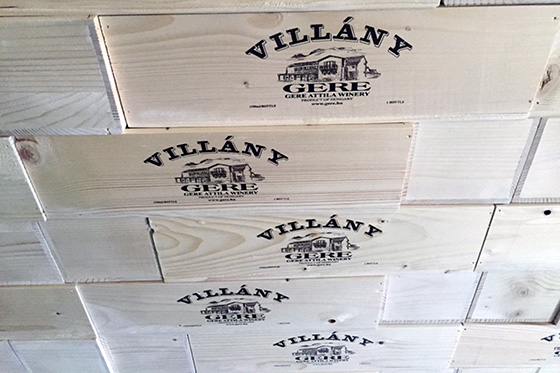 As a result, Villány wines are still the most expensive in the Hungarian market, at least when speaking about premium red wines.
Development, of course, has led to the appearance of second and third lines and some of the big names have lost a bit of their initial sparkle or have grown dramatically thanks to considerable improvements and investments. This has often caused problems, namely that the quality of their basic volume wines has become poorer (due to bought-in grapes). Nowadays, Villány is beginning to lose its leading role in the eyes of Hungarian red wine drinkers.
Attila Gere's winery is a striking exception. They realised relatively soon that basic wines should be outsourced under another brand name. In this case, the Gere&Schubert winery, established in 2010, where only bought-in grapes are used to produce the wines (mostly white and rosé with a few reds) reductively. The winery is responsible for its own marketing; their annual capacity is 3,600 hl which could be expanded up to as much as 5,500 hl. In 2015 they started to make white and rosé sparkling wine as well, which complements the backbone of their range composed of a light Chardonnay, Sauvignon Blanc, Cserszegi Fűszeres and Irsai Olivér.
Gere&Schubert, Frici 2015 (white, sparkling) I 80-82 points
Light and fresh, rounded acidity, a little icing sugar, soap, apple and white flowers.
Gere&Schubert, Frici rosé 2015 (rosé, sparkling) I 80-81 points
Restrained nose with a bit or raspberry. Plenty of fruit, medium acidity, but somewhat one-dimensional.
Gere&Schubert, Sauvignon Blanc 2015 I 81-82 points
Some nettle on the nose. On the palate, medium bodied with slightly flabby acidity, citrus fruit, apple and gooseberry.
Gere&Schubert, Cserszegi Fűszeres 2015 I 80-82 points
Green aromas of gooseberry and green apple. Lively acidity with flavours of chalk and citrus fruits. Light, fresh wine.
Gere&Schubert, Irsai Olivér 2015 I 76-78 points
Restrained nose, thin body, attractive acidity, but unfortunately the palate was already rather dilute. Somewhat empty on the mid-palate, bitterness and citrus fruit on the finish.
Gere&Schubert, Chardonnay 2015 I 77-79 points
Aromas of almond, chalk and gooseberry. Medium, flabby acidity, light structure, citrus fruits and a short finish.
The wines distributed under their own brand name, Gere, have been retained as the "red playground". The 70-hectare estate was established in 1990 by Attila Gere. The vines, mostly planted in lime-rich loess soil, produce excellent grapes for the premium red wines in a climate that is often Mediterranean. Three wines (Kopar, Solus and Attila) stand head and shoulders above the basic and estate wines; indeed, two of these are indisputably among the ten most famous wines in the country. Kopar is undoubtedly the most well-known Hungarian wine. Fortunately, when we were there, we had the chance not only to try Kopar, so before we get to the point and deal with the main subject, let me share my tasting notes of some other wines (including the very best Hungarian red I have ever tried):
Originally Kopar was called Kopár which is the name of a well-known Villány parcel, but later the name was modified a little by the winery as not all grapes actually originate from this single parcel. This wine is a Bordeaux blend, the idea materialising during a trip to Bordeaux in the mid-1990s. (Although it was not mentioned, it is not inconceivable that the idea of Solus from 100% Merlot also emerged at that time.) The first vintage was made in 1997 followed by other so-called "Kopar years" in 1999, 2000, 2002, 2003, 2004, 2006, 2007, 2008, 2009, 2011 and 2012 as, needless to say, the winery doesn't make its premium wines in a poor year. It is no coincidence that Kopar was the first Hungarian wine (though many others have tried, but only Kopar can be considered a success) which could be purchased with advance subscription. Consequently, in the 2000s Hungarian wine snobs did more or less what Chinese millionaires did with the wine of great Bordeaux estates, namely, they did not simply drink red wine or Villány wine, and not even Gere, but only and exclusively Kopar. The initial amount of 19,500 bottles reached 60,000 a decade ago and most of these bottles are still reserved and sold in advance. The main reason of our visit was a vertical Kopar tasting from the magnum bottles that the winery has kept for itself. Let's take a look at the tasting notes for Hungary's iconic red wine brand: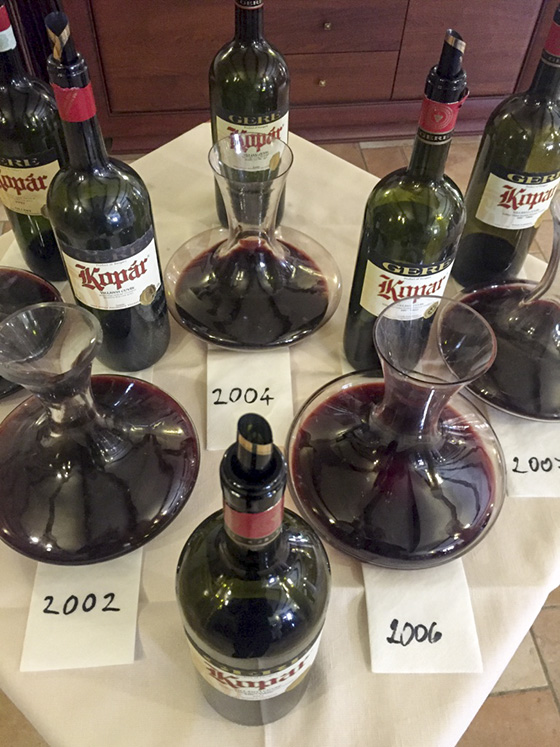 Gere, Kopar Cuvée Magnum 1997 (40%CS 40%M 20%CF, alc: 13%, acidity: 5.3) I 86-88 points
Some nuances of garnet in the colour. Lovely maturity and a Tuscan feel on the nose, with plum, sour cherry jam, nutmeg, eucalyptus, star anise, liquorice, cocoa, plain chocolate and freshly roasted coffee. On the palate, medium bodied, lovely acidity and serious, muscular tannins. Sour cherry due to the acidity, with tertiary characteristics of earth, coffee bean and spices in the background. Medium finish with slightly warming alcohol at the end.
Gere, Kopar Cuvée Magnum 2002 (40%CS 40%M 20%CF, alc: 14%, acidity: 5.0) I 93-95 points
Extremely complex nose, with Mediterranean bouquet garni, toasted pumpkin seeds, plum-filled ravioli with icing sugar, sour cherry, plum, clove and a touch of farmyard, Medium bodied, the tannins hold it all together, but are nicely integrated, and the acidity is elegant. Flavours of red and black berry fruit, with no trace of jamminess. Well balanced, with a very long finish. Super!
Gere, Kopar Cuvée Magnum 2004 (40%CS 40%M 20%CF, alc: 14%, acidity: 5.6) I 89-91 points
Concentrated nose with a lot of fruit, plum and some pumpkin seeds. Medium to full bodied, with a firm structure, plenty of fruit and even more spice (much spicier than the 2002), a little wet stone and cedar on the palate. The finish is longer than average. Still not at its peak.
Gere, Kopar Cuvée Magnum 2006 (2%CS 46%M 52%CF, alc: 14.5%, acidity: 5.6) I 92-94 points
Due to the decidedly different assemblage of varieties, a very different nose to the previous wines, with considerably more development than the previous vintages. Ripe and sweet, but not jammy, fruitiness, coffee, cocoa and cedar on the nose. Full body, with a tight, elegant structure, wonderful acidity and attractive tannins. Plenty of fruit and spice on the palate, with a very long finish. Marvellous wine, but perhaps not yet at its peak.
Gere, Kopar Cuvée Magnum 2007 (10%CS 40%M 50%CF, alc: 15%, acidity: 5.8) I 93-95 points
Very pronounced, spherical nose of cappuccino, vanilla, black berry fruit, clove and plum. Full bodied with a fleshy structure, silky tannins and medium acidity. On the palate, plenty of fruit, chocolate, mint, eucalyptus, cocoa and a little tobacco. Very long finish. The wine is still very youthful, so it's worth laying down and only opening in 2021!
Gere, Kopar Cuvée Magnum 2012 (10%CS 40%M 50%CF, alc: 15%, acidity: 5.3) I 90-92 points
Herbal, horehound sweets on the nose with earthy and eucalyptus notes. Full bodied, thickly woven, the tannins are still a little grippy, but sweet, very intense fruit flavours, with some black pepper on the long finish. Complex, big wine, but I'd wait a good few years before opening it.
If, after reading the above, you feel an irresistible urge to visit Villány, I would not be surprised. What's more, I have good news for you. The wine region is easily accessible by car from Budapest (the motorway takes you almost the whole way there) or by train with one change in Pécs. (By the way, if you come by train, make sure you also spend a few days in Pécs.) No need to worry about accommodation, either: the four-star Crocus Gere Wine Hotel & Resort awaits wine tourists with rooms satisfying everyone's needs, with a restaurant, a spa, pools, massage and lots of wine-related programmes. It is also worth being open concerning wines and tasting not only the Bordeaux blends but also the region's 100% Cabernet Franc wines distributed under the name Villányi Franc, and don't forget to try the Portugieser , a variety indigenous to this area for hundreds of years, mostly used for lighter, easy-drinking red wines.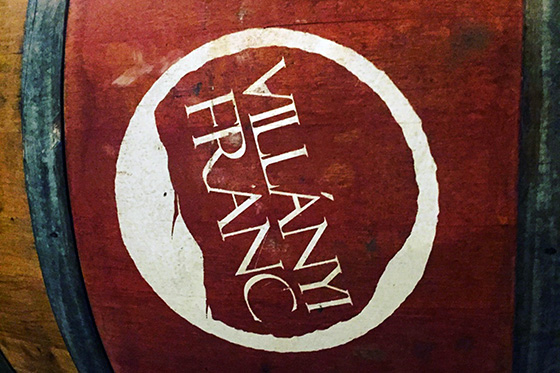 Gere, Portugieser 2015 I 85-86 points
Restrained nose of blackberry and purple flowers with a little raspberry. On the palate, light, lively acidity, flowers and fruit and a medium finish. Very drinkable.
Gere, Portugieser válogatás (selection) 2005 I 87-89 points
Soup vegetables on the nose, with a little forest floor and lovely fruit. Medium bodied on the palate, with attractive, lively acidity and plenty of fruit, including date and fig. Easy-drinking, rounded wine with a long finish.
Weninger&Gere, Cabernet Franc 2003 I 89-91 points
Attractively mature on the nose, with cocoa, jamminess, black berry fruit, star anise and a touch of vanilla. Full body, attractive acidity, but a slight sting in the tannins. The palate mirrors the nose. Elegant and long.
Weninger&Gere, Villányi Franc 2012 (100% CF) I 88-90 points
Exciting nose with plenty of black berry fruit. It has developed since I last tasted it, and there is now also some cedar on the palate. Elegant wine.
Gere Attila, Cuvée 2002 I 95-97 points
Very complex nose with lots of dark berry fruit, cocoa, premium plain chocolate, cedar and a little vanilla. Rich and silky texture, well balanced, with plenty of fruit and spice and an endless finish. An elegant and timeless wine, but still giving the impression of youthfulness.
Gere Attila, Cuvée 2009 I 93-95 points
Classic Bordeaux on the nose, with a noticeable dominance of Cabernet Franc. The Cabernet Sauvignon contributes spiciness, the Merlot fruitiness, whereas the Franc adds elegance in the guise of some amarone cherry. Full bodied and firm on the palate, with an elegant structure and attractive acidity. The palate is also fruity, with a long finish. Still very young, but with huge potential. You will certainly still be able to enjoy it until 2035!