When many people think of Hungary and its wines, they think solely in terms of the unique sweet wine of Tokaj, aszú. Little do they realise there is plenty more to explore in this historic wine-making country with 22 wine regions. We made a whirlwind tour of just four of them, beginning with Eger, the home of the full-bodied red 'Bull's Blood' or Bikavér, as it's called in Hungary - the only other wine from the country that many people may recognise.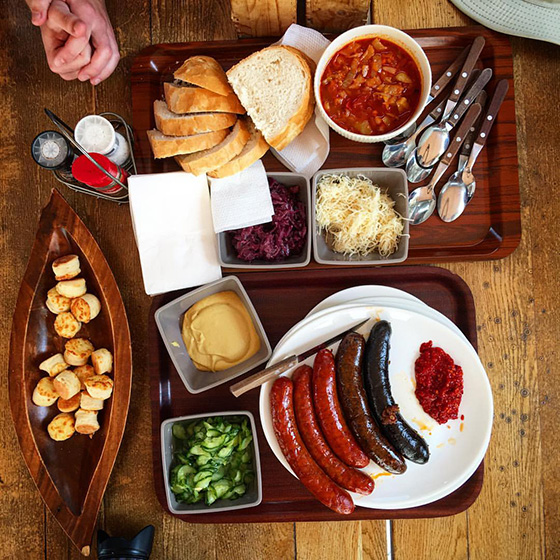 Eger is known for its blends, primarily 'Bikavér', a blend of Carpathian varieties, e.g. Kékfrankos and Kadarka and a whole host of other black grapes. Until recently, they had no clear white 'brand', so five years ago they came together as a region to create 'Egri Csillag', the star of Eger as a pair to the red Bikavér. This is also based on Hungarian varieties; it must contain a minimum of four varieties, 50% of the blend must be made up of indigenous varieties such as Király Leanyka and no more than 30% can be aromatic varieties. The Eger wine region has 23 approved red varieties and 42 black varieties, but no real driving varietals. Olaszrizling is perhaps the most planted variety, but this still only makes up 10% of white wine-making. Hence, the decision to create the Egri Csillag brand.
In Eger, we were first welcomed by the the Gróf Butler Winery who also hosted the St Andrea, Juhász Testvérek and Kóvács Nimrod wineries. In their panoramic tasting room, we tasted a range of wines from each winery, predominantly the abovementioned Egri Csillag and Bikavér from each winery as well as an unusual dry Hárslevelű from Juhász Testvérek made from a blend of healthy and botrytised grapes, with wonderful flavours of honey, peach and honeysuckle.
We then paid a visit to Tibor Gál for lunch and a tasting at his atmospheric cellar, Fúzió wine bar and Egri Bikavér museum in the centre of Eger. Tibor tells us that when he took over the property, it had previously been a stable and then a tyre-change centre. When they moved in, they had to dispose of over 1000 tyres from inside the cellar. As well as the two main blends of the wine region in both Classic and Superior versions, Tibor produces an attractive Pinot Noir as well as various other varietal wines, including Kadarka, which are only available from his Eger wine bar and shop.
The inclement weather prevented us from making a tour of the historic centre of Eger, so we set off to Tokaj to visit the Disznókő winery and vineyard, learn about how Tokaji aszú is made, taste wines from the Tokaj Renaissance Association and enjoy a delicious dinner at their Sárga Borház restaurant.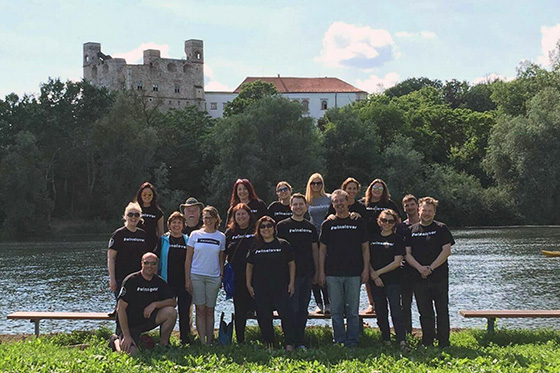 The following day, we paid a visit to the organic Barta Pince in Mád and saw the beautifully restored historic townhouse and cellars, before climbing up to the Király vineyard to enjoy both the view and Károly Barta's delicious szamorodni - wonderful sweet wines with fresh flavours of grapefruit and apricot and lovely crisp acidity. Lunch at the Oroszlános Borhotel was accompanied by a tasting of wines from the Tállya winemakers, showing us that there is more to Tokaj than Tokaj itself and the increasingly trendy Mád.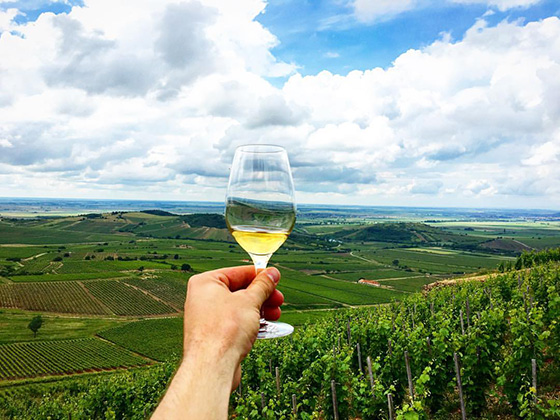 We whiled away the afternoon visiting the Royal Tokaj Winery, started in 1999 by a group of 55 growers with the help of foreign investment, including the involvement of the British Hugh Johnson. Each grower brought one hectare into the venture, with the aim of producing only high quality aszú, mostly for the international market. Nowadays, 30% of sales comes from the domestic market too. They produced their first dry single varietal wine in 2003, but their eponymous blue label 5 puttonyos aszú still accounts for 50% of their income. Naturally, we didn't miss tasting their wines either. A wonderful flight of both dry and sweet wines culminating in Essencia 2008 – a luscious nectar of apricot jam and honey with an infinite finish. Its hefty sugar content of 580g/l residual sugar and extremely low alcohol balanced by zippy acidity.
We then took a stroll through Mád to reach the Aszúház where we enjoyed dinner and a tasting of wines from some of the members of the Mádi Kör (Mád Circle) Association, such as the likes of Szepsy, Holdvölgy, Szent Tamás and Demetervin. The Mádi Kör was established ten years ago, comprising 14 wineries, with István Szepsy as its president. Its declared aim is to build a 'face' for Mád and its members have to comply with stricter regulations than those enshrined in Hungarian law.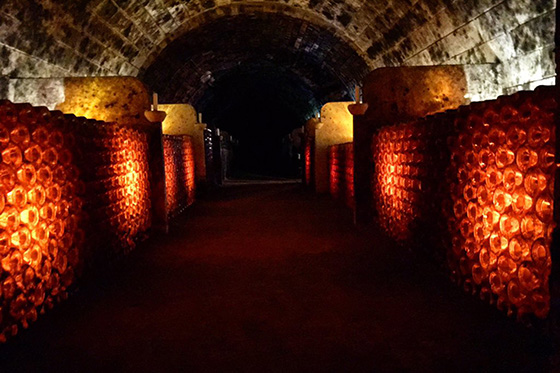 The Tokaji odyssey continued on day 3 with visits to Oremus, owned by Vega Sicilia, in Tolcsva. We visited their historic cellars, cut into the tufa along the side of the village. Originally, ten separate cellars, they are now connected together. There are an estimated 50km of such cellars in the village. After a visit to the modern winery, we taste four of their wines in the elegant salon of the beautifully restored chateau. They basically only make three types of wine – dry Furmint (Mandulás), late harvest and aszú. Here we were lucky enough to taste their first vintage of 6 puttonyos aszú from 1999 – a wonderfully complex concoction of honey, tea, tobacco, dried fruits, mushroom and caramel.
A bumpy cross-country ride brought us to Erdőbénye, a village with a long history of cooperage. Interestingly, in the past, this village was a market town and the majority of its inhabitants were employed either as coopers or stone masons. Oak grows slowly here in the volcanic soils of the Zemplén, resulting in a wood with dense, thick texture – perfect for barrels! We got to see a lady cooper in action. Zita Hotyek demonstrated how to make a barrel, bending the staves over a fire and showing how the heads are inserted into the finished barrel. A job of some considerable skill. We were then invited to try her wine and pálinka too.
Our final call in Tokaj was at the Erzsébet Pince in the centre of Tokaj where Miki and Hajni showed us their cellars and brought some wines for us to taste on their terrace, accompanied by the music emanating from the festival taking place along Tokaj's main street. Amongst the wines were a couple of curiosities – a varietal wine made 100% from Kabar and a late harvest Kövérszőlő. These are two of the permitted varieties in Tokaj, but are rarely seen on their own. 2014 was such a bad year that the Kabar from the Betsek vineyard was pretty much all they were able to rescue, so they made a single varietal wine from it. An attractive wine with flavours of pear, peach, quince and honey, with crisp acidity and a salty mineral touch on the finish. The Köverszőlő late harvest 2011 came from a dry vintage with no botrytis and was a fresh, fruity reductive wine with grapefruit, pear, quince and honey. It maintained good acidity as it was picked early due to the heat.
This visit brought the northern leg to an end.
You can read more about #winelover Hungary trip in the second part of this article.
Many thanks to Fabien Lainé for the photos.