You are new here? For the 1st part of this article click here.
After a night's stopover in Budapest, the group headed down to Somló, an idyllic volcanic hill to the north-west of the Balaton. Our first visit was to a tiny cellar set into the hillside, that of Tamás Kiss – Somlói Vándor. The name, which means wanderer, refers to the time when Tamás, then working at the St Andrea Winery in Egerszalok, used to commute between his job and the small vineyard he had bought in Somló. Tamás thinks that organic and biodynamic wines are more sophisticated and harmonic, and says that here up on the hill, due to the wind, it's not difficult to protect the vines, so this is now his third vintage as organic. One of the wines we try is an orange wine made from Olaszrizling, fermented for three weeks on the skins in open tanks before destemming and fermenting. Complex flavours of orange peel, apricot, orange blossom and butterscotch. Creamy perfumed with a bit of tannic grip and some mineral on the finish.
We then walked down the hill through the vineyards to visit István Stephan Spiegelberg. István grew up in Germany, but, as a child, used to stay with his granny on the slopes of the Somló hill in the summer. Falling in love with the place, he bought a summer house and started making wine in 1993, seriously since 2004, moved here permanently in 2007 and won the Wines&Spirits Winery of the Year in 2014. He has two hectares in total, one of which is planted. István had roasted a whole piglet for lunch, which we sit down to, along with a few of his wines of course, in his candlelit historic cellar. Juhfark is one of the typical wines of Somló, grown almost exclusively there, and it's called the 'wedding night wine' as it is said that if you consume this on your wedding night, any child you produce will be a boy. István has named one of his wines, containing some Juhfark of course, 'Naszéjszakák' for this reason. We try the 2011, a creamy, full-bodied spicy mix of honey, peach and apricot, underpinned by the Somló minerality. After lunch, István takes his to have a look at his barrel cellar, also lit only with candlelight and, with some Gregorian chants playing in the background, very atmospheric indeed.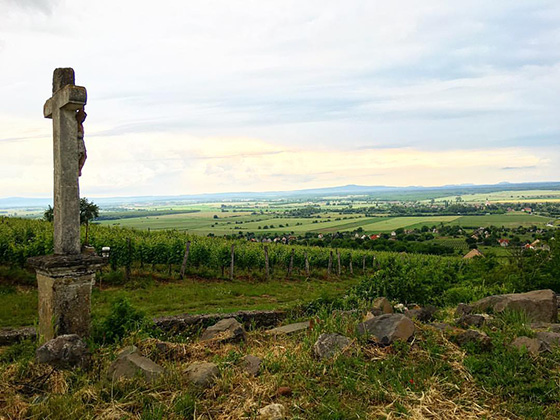 Our last port of call for the day was the Somló wine shop a little further up the mountain, where the table outside overlooking the surrounding countryside had to be abandoned when the heavens opened. We hastily moved inside to sample the 'pörkölt' (a spicy beef stew) along with a range of Juhfark (this means sheep's tail in Hungarian), the Somló speciality, from different producers on the hill. The shop carries the wines of most of the hill's wineries.
On the last day, a reduced number of us headed down to Villány to try some reds after all the white wines of Tokaj and Somló. Here we visited three very different wineries, none of which were actually in Villány itself. Jackfall is located in Kisjakabfalva, formerly a German village, which was called Jackfall at that time, hence the name of the winery. The winery building is located in an old German-style village house, renovated and furnished in the manner of days gone by. Villány used to be quite famous for Portugieser. It was made in large quantities under the communists as it was well suited to producing large quantities, it was generally chaptalised and sent in bulk to Russia. Portugieser usually makes a rather thin, uninteresting wine, but at Jackfall, they decided to make it in the style of a more serious wine, yielding a richer, riper wine than most Portugieser, with flavours of cherry, raspberry, plum, chocolate, toast and some forest floor – we tried the 2013.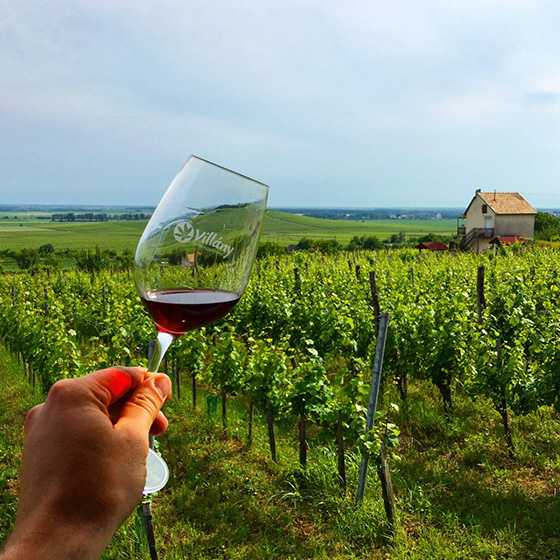 We then headed over to Siklos to visit Erhard Heumann, a Swiss banker from Bavaria turned vineyard owner. His is a true 'garage' winery, located on an industrial estate on the outskirts of town. 'At first it was too big', said Erhard, 'now we need to expand'. Their flagship varieties are Cabernet Franc and Kéfrankos. They have ten hectares of their own and rented ten more last year, gaining some Kadarka in the process. 'What should we do with it', asked Erhard. 'We had our first attempt at vinifying it last year.' I tasted it earlier in the year and it seems to have turned out rather well in fact. Unusually for the south of Hungary, he also has some Rhine Riesling and Gewürztraminer, which are blended with Olaszrizling and Chardonnay to produce his 'Eric's dream'. Down in the cellar, he points out a barrel and says this is an attempt to make a fortified wine like port. It's made from Cabernet Sauvignon, Kékfrankos and Merlot. He has a friend who makes spirits, so he took along some old white wine and had it distilled. The wine was fortified to 20% with this. 'Obviously, it can't be an official wine from the region', he says. Afterwards, Erhard and his Swiss wife Evelyn welcomed us to their home and treated us to a wonderful barbecue and some of their wines, topped off with an amazing chocolate cake and a sweet late harvest wine made from Gewürztraminer. A luscious, spicy, perfumed wine with dried fruit, citrus peel and lychee. 'It is kind of like a Gewürztraminer aszú', says Erhard. Dried, shrivelled Gewürztraminer berries were soaked in a base wine of Rhine Riesling before pressing and fermenting.
The final visit of the #winelover Hungary trip was to another German couple at the Wassmann Winery in Pécsdevecser. Susan Hanuer welcomed us with their Brut Nature Portugieser, Morizz 2014. A fresh crisp wine with spicy cherry and strawberry and a slightly oxidised note. Susan said that this had only come into being because 2014 had been such a bad year that the grapes were only fit for rosé or sparkling. Susan and her husband Ralf Wassmann originate from near Stuttgart. Ralf had made wine from everything as a kid, she told us. He then studied at Geisenheim and wanted to learn and work with wine. Apparently, he had read something by Hugh Johnson and learnt that the best Portugieser comes from Villány, so he set off to find out. Three days after arriving, he had bought a winery and ended up settling down there. They also produce a more serious Portugieser, weather permitting, from 40-year-old vines. A relatively light, fruity wine with fresh cherry, raspberry and a touch of spice.
The end of the Villány visit meant the end of the Hungary tour, but there are plenty of wine lovers thirsting to come back and sample more of what the country has to offer.
The #winelover Hungary trip was organised by Taste Hungary.