It seems to be human nature to crave the cooler days in the blistering heat of the summer and the bucolic warmth of the summer in the bleak months of winter. As we experience record-breaking temperatures around the world this year and fires once again engulf vast swathes of land in various global hotspots, I think back to February when Hungary – and now also the world with International Furmint Day – celebrates Tokaj's eponymous variety with Furmint February.
Although those who love Hungary's flagship white variety tend to associate it with the historic wine region of Tokaj and those more in the know are also familiar with Furmint from Hungary's smallest wine region, Somló, many do not realise that Furmint was much more widely planted in Hungary until the vicious little phylloxera devastated Hungary's vineyards just like elsewhere and that it's now starting to make a comeback in some of its old stomping grounds.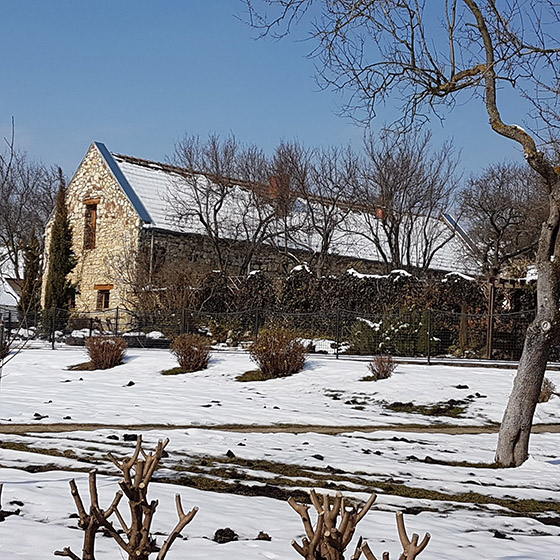 Photo: Sue Tolson
Furmint used to be a key variety along the northern shore of the Balaton where it was known as Szigeti. Indeed, in the eighteenth century, it was Badacsony's main variety and was interplanted with other varieties such as Sárféher and Juhfark (now more closely associated with Somló). It was only around this time that Kéknyelű along with Olaszrizling and Szürkebarát (aka Pinot Gris) started to become established, gaining dominance in the nineteenth century and becoming the varieties are associated today with Badacsony's basalt hills.
In Balatonfüred-Csopak, now synonymous with Olaszrizing, Szigeti was also historically one of the main varieties. Today, winemakers there are also increasingly recognising its value for their wines and up to 15% Furmint may now also be included in Csopak's Codex wines, which previously had to be 100% Olaszrizling.
Along with Tokaj, where Furmint was the leading variety by the early eighteenth century, the other bastion of Furmint is the Somló wine region where Furmint continues to be one of its key varieties along with Hárslevelű, Juhfark and Tramini.
Interestingly, the wine regions where Furmint is planted are predominantly volcanic, with the exception of Balatonfüred-Csopak which is a rainbow of red sandstone and red clay, marl and limestone, allowing this relatively neutral variety to showcase the mineral character and distinctive acidity which characterises wines grown on volcanic soil.
Balaton-felvidék (Balaton Uplands) was part of the Badacsony wine region in the past and this was where I found myself on a cold, snowy day in February to celebrate Furmint from around Hungary and just beyond its borders.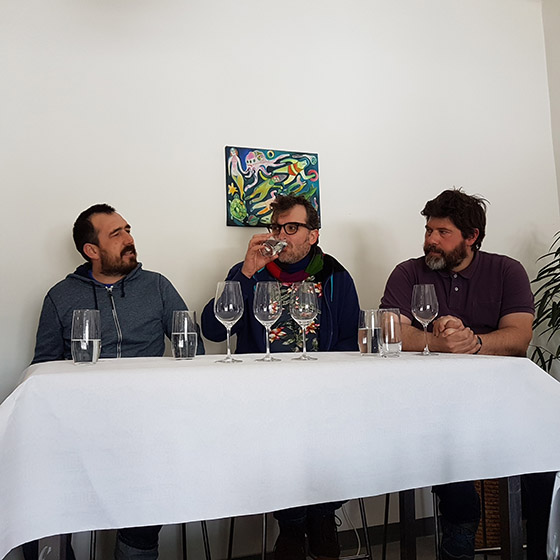 Photo: Sue Tolson
Köveskál Furmint Napok
Köveskál organised its Furmint Napok (Furmint Days) for the first time this year in celebration of Hungary's noblest white variety. One of the event's hosts was Gyula Pálffy of Pálffy Pince, who explained that he had wanted to make wines true to the Káli-medence (Káli Basin) and given that Szigeti, aka Furmint, was one of the varieties historically grown in the region, he decided to try his hand with it on Fekete-hegy (Black Hill), the 6-7-million-year-old volcano and, at 448m, the tallest hill in the Káli Basin. Now, many more winemakers in the region are beginning to cultivate the variety too and three years ago, they decided to bring together everyone who was working with Furmint to share their experiences. Two years ago, they annexed this to Furmint February. He laughs that they don't only want experts at the round tables, but everyone who loves Kőveskál. The previous night, producers had sat down together and tasted, sharing three years of experience. Local producers brought along their favourite Furmints, they tasted blind and then assessed four or five wines, discussing how they were made.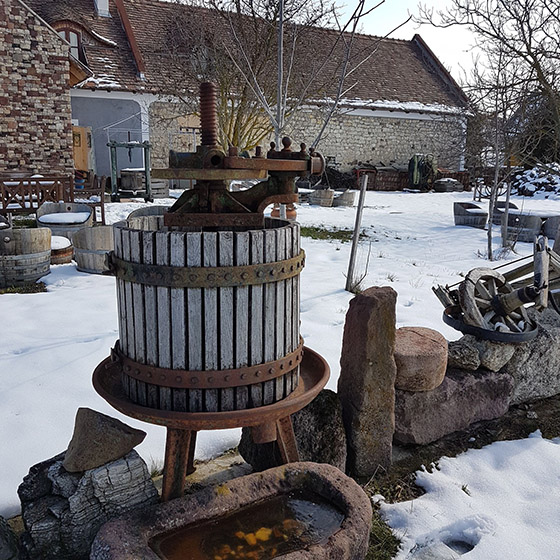 Photo: Sue Tolson
Two dinners were organised over the weekend, as well as various workshops with different Furmint themes. Participants could also watch two short films and visit a photo exhibition in the village hall featuring photos of the area and some of its small producers. Gyula says they hope to organise the event annually but wish to keep it small in the future to ensure that its family atmosphere is not lost.
Furmint in the Balaton-felvidék
One problem for Furmint here is that the variety and Tokaj are so closely associated, especially as Aszú is considered a Hungaricum – they don't boast anything like that here. However, Pálffy admits, if it hadn't been for Aszú, then maybe Furmint would have totally disappeared from Hungary. Nevertheless, Furmint had practically vanished from around the Balaton, so in essence, they are starting from scratch. The aim, as elsewhere, is to use Furmint to showcase their terroir and to take advantage of Furmint being a variety good at retaining its acidity even in hot years. Another hurdle is that Furmint is not necessarily at its best when very young, the wines need time to refine their character, but as the market pushes for fresh wines, they cannot wait and show them at their best. This also brings us to other consideration: when is Furmint at its peak? Should the style be light and quaffable or designed for laying down? The general consensus seeems to be that crafting wines with ageing potential should be the goal.
Pálffy planted half a hectare in 2006, followed by 3,000m2, then a further half hectare and finally another hectare on Fekete-hegy last year – deemed to be the best place.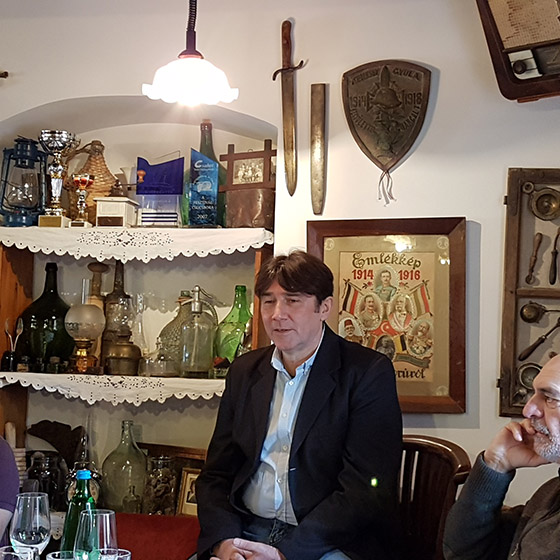 Photo: Sue Tolson
We taste his 2017 Káli Királyi Riválisok (50:50 Olaszrizling and Furmint), named for the fact that the varieties are rivals for their share of the vineyards - a creamy cornucopia of almonds, yellow apple and quince with fresh lemony acidity. He talks about how they are coping with climate change by choosing the harvest time carefully, admitting it was difficult to work with Furmint in the beginning as they ended up with massive sugar levels, although he still considered the wine to be very good. Interestingly, the Balaton is hotter than Tokaj, yet the previous night's tasting had shown some Tokaj wines to be flabbier than theirs!
Káli Kövek, the other key winery located in the village, also has 0.7 hectares of Furmint and is experimenting with it in blends, and Tamás Trombitás of Trombitás Borház in Szentbékkálla has started to work with 2.5 hectares up on Fekete-hegy, but has yet to bottle any wine.
Furmint at the Balaton
This masterclass was hosted by Gyula Szabó of Káli Kövek. We tasted wines from three producers – Káli Kövek, Jásdi and Attila Homonna – as well as having a round table discussion with the three winemakers. All mention the learning curve necessary to produce Furmint around the Balaton. The Jásdis started replanting Furmint in the early 2000s, so perhaps have the oldest vines at the Balaton. Homonna has some experience from Tokaj but is having to deal with the different terroir, so feels as if he's starting from scratch. Gyula Szabó has rented some 15-year-old vines on Fekete-hegy, which he has now had for three years. We taste his Monostoropáti 2016 Furmint, a fresh, crisp, elegant wine with bright fruit and mineral notes, although quite short. The guys admit they've generally only made blends thus far, pointing out that if blended with Olaszrizling, it extends the ageing potential. Gyula thinks this is the way for him to go – selling the plus dimension of the volcanic soil on Fekete-hegy. Historically, wine here was much more about blends and terroir than variety, wines were Somlói, Csapaki, Badacsonyi, so this would be in keeping with the past.
What is clear is that they're not really quite sure what to do with it, everyone is trying to find their style. Attila Jásdi even says that their 2010 Furmint was awful and they had kept it at the cellar as they really didn't like it at all. Naturally, we didn't taste that, rather their 2013 Furmint, a creamy wine with buttery and honeyed dried fruit and a long stony, salty finish. Attila points out they don't like to release things that are half ready, so this is the current vintage. An easier to understand wine, Attila feels, is their Fanolder Fehér blend, which is a combination of 60% Furmint and 40% Olaszrizling.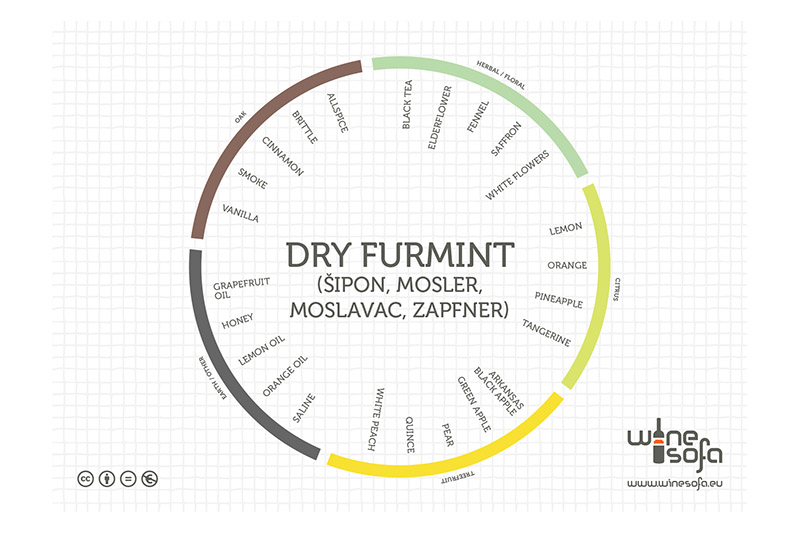 Atilla Homonna is doing a lot of research in the vineyard and into clones to work out what makes good wine. So far, he's concluded that you need low yields and about three times as much canopy management to make something drinkable. The vines need to be at least 15 years old and then you start to see good wines. Only then can you really try to start to compete with the likes of Burgundy and Riesling, he says. This also answers the question why Furmint is comparatively more expensive – the amount of work involved, far more than Olaszrizling. His 2016 Furmint is full bodied and rich with juicy peach, quince and pear underlaid by salty minerality. Homonna's Tokaj experience has also led him to make a Furmint-Hárslevelű blend (50/50), with the Hárslevelű adding orange notes and a perfumed nose.
They realise that cooperation is crucial and that they can all learn from each others' mistakes – and successes of course. They are even considering the idea of a coop so that small producers can club together to commercialise their wines. The winemakers' experiences with Olaszrizling showed them that it took at least eight years before they had something even approaching a Balaton style. He feels that they really need to put the brakes on a bit – there's a real buzz about Furmint, but nobody has any real idea about clones and yields etc. They are now just starting along this long path with Furmint, and from their own pockets, so they have a long way ahead of them.
Gasztrofalu
The host village, Köveskál, has been christened Gasztrofalu (Gastro Village). Along with many other towns and villages around the Balaton and nearby, they are working on ways to extend the 'season' and attract visitors to the village all year round. Five outstanding wineries, restaurants and a hotel are cooperating to achieve this goal. These five businesses hosted events during Furmint Napok. As well as the two wineries, two restaurants – Kővirág and Mi a Kő – and one hotel, Káli Art Hotel demonstrate their commitment to the local community and its small businesses. No beer is served in the Mi a Kő restaurant, only wine or fröccs (wine spritzer). Tamás, the owner, laughs that people are starting to get used to it and they've only had one or two complaints. Visitors are now beginning to look for Olaszrizling and local rosé in the restaurants and Badacsony's speciality, Kéknyelű, is increasingly being sought after too. It seems people are now starting to get their heads around the concept of 'local' and appreciate the cheese, meat, vegetables and wine sourced from local, small producers and the seasonal menus produced from them. Pálffy even make some charcuterie and pickles themselves too.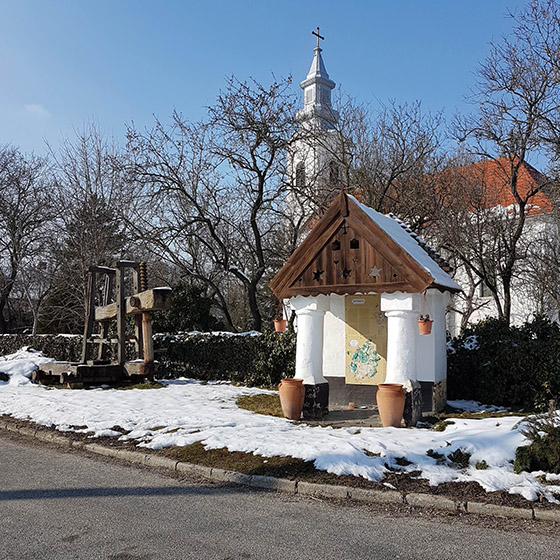 Photo: Sue Tolson
For those wishing to stay in Köveskál, the Káli Art Inn, developed from two old merchant houses constructed at the end of the nineteenth century by an Italian builder, offers boutique hotel rooms in the old building as well as some new standard rooms in an annex in the grounds. Opened in 1999, it began life in the guise of an artists' colony, before finding its positioning after it was listed in the top 100 boutique hotels in the world. The pictures in the rooms are originals from that time and, as the name implies, art is still important in the life of the hotel. The hotel boasts two pools - one an outdoor bio pool fed by spring water and filtered using sand. Beyond the grounds is an almond orchard, so visitors in the spring can feast their eyes on almond blossom. The Mediterranean climate meant that this area was Hungary's biggest almond orchard as well as being a prosperous wine region prior to phylloxera – many old cellars have been discovered in the undergrowth of the local woods.
As well as wine, there's plenty to explore in the surroundings and the village makes a great base for exploring the Káli-medence and the Balaton-felvidék national park. Summer visitors can appreciate Salföld with its beautifully restored traditional homes and manor, the ruins of the Romanesque-Pauline monastery hidden near the village, Kékkút, where the fresh, slightly effervescent mineral water familiar all around Hungary is bottled and the attractive village of Szentbékkálla. Nature lovers can marvel at the basalt columns formed by lava inside the ancient basalt volcano of Fekete-hegy, explore the 'rock sea between Kővágóőrs and Köveskál or wander the plateau at the top of the hill with its lakes and admire the panorama from the Eötvös lookout.
And, finally, relax with a glass of Balaton Furmint!