I owe you an explanation for the above lead. Karádi-Berger has, for almost twenty years now, been a recognised and respected part of the Tokaj wine region. It's simply about the fact that until now, when wine writers wrote a top ten list for the region, they somehow never ended up on it. Perhaps they were always number eleven. This has now come to an end.
Why have I brought this up?
I know quite a few wineries where they produce one outstanding wine every year, or at least in the best years. However, this is not enough for beatitude. For somebody to be there at the forefront, they need to produce outstanding wines every year, moreover, they must be of a befitting elegant, dry wine style too. Well, Karádi-Berger from Erdőbénye have managed this.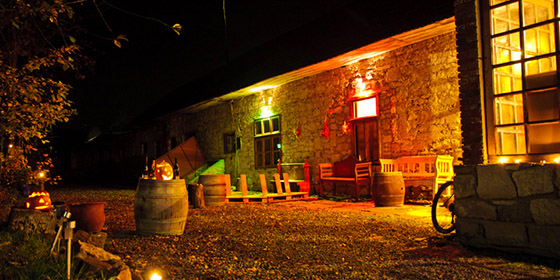 Furmint&Hárs 2013 I 86-88 points
(100% stainless steel, 1/3 Hárs, 2/3 Furmint)
Fresh nose of citrus fruit, with white flowers, a little almond, ripe pear and apple. Medium body, with taut structure, vibrant acidity and flavours of citrus fruit, intense stony character and white-fleshed fruit. Some floral notes and creaminess on the finish. Lovely.
Furmint&Hárs 2015 I 85-86 points
(stainless steel, on- third, two-thirds)
Still a bit messy, but already nice floral notes and a touch of citrus fruit in the background. Tightly structured with beautiful acidity and nice fruity flavours of pear and apple, white flowers and a little almond. Very drinkable.
There's anyway some kind of strange charm that everybody in Erdőbénye's life is different; they've usually come to winemaking from the humanist, cultural sphere. (We've already written about this, you can read it here.) From the Szilvia Karádi and Zsolt Berger couple, Zsolt was a journalist before he set about building up the estate. He's also capable of self-reflection, is open to the world, still has a question-posing attitude and provides a welcome dash of colour to the winemaker's palate.
Summer Wine 2011 I 82-83 points
(50g sugar, shrivelled grapes)
Easy-drinking, a bit flabby, sweet brew, great with food!
Selectio 2013 (75g sugar) I 87-88 points
Restrained on the nose. Medium body and acidity and beautiful maturity with flavours of citrus fruit, orange, mandarin, pineapple and apricot.
Selectio 2009 (75g sugar) I 85-86 points
Herbs, pesto, honey, pear and peach on the nose, followed by increasingly intense apricot notes reminiscent of an Aszú. Full-bodied on the palate, the bitterness of overripe peach, apricot and botrytis. Smooth acidity but slightly high alcohol.
Apparently, looking at the last ten years' trends, almost everyone in Erdőbénye, hence the Karádi-Berger couple too, have chosen the bumpy path of slow construction without any significant project funding. This means that the renovation of the former fantastic mansion cum merchant house has only just been completed, but is now ready to receive guests too, with two apartments in the estate centre.
As for the wines, the now fashionable 'let's buy some new land every year, preferably each in a new vineyard plot, so that we have something to talk about' is not the case with them. They work with two vineyard plots, four hectares in total, that they've had since the beginning as well as two vineyard plots from which they produce perhaps the only bottled, vineyard-selected wines on the market.

The Narancsi and the Palandor vineyards belong administratively to Olaszliszka (we touched on them too in our horse-drawn carriage trip), but the estate centre is in Erdőbénye. Narancsi lies at higher altitude, and has a cooler micro-climate and stonier soil too. The grapes ripen up to three weeks later here than in Palandor! Wines made from here are typically citrus in character, but they are often the basis of the sweet wines too. Palandor lies closer to the river Bodrog and is indicated as premier cru in Alkonyi's highly controversial vineyard classification map. Its wines are rather characterised by quince and pear notes. An interesting aside is that the Palandor vineyard certainly takes its name from a former landowner. Andor Pál (Pál Andor in Hungarian) owned land here in the 1400s, while the current name also crops up again in a contemporary Hungarian novel (László Szilasi: The Harp of Saints). Narancsi is a little more complicated, since the Hungarian name may refer to the orange colour of the stones and the climate too, where "even oranges ripen". Nonetheless, it appears that this also refers to the name of a former owner. In the Middle Ages, a Basque nobleman, Sir Arantxa's estates might have been located here, at least as some archival searching would suggest. (As soon as we have any substantive information, we'll write about it!)
Palandor 2013 I 90-91 points
Unctuous aroma of juicy white-fleshed fruit, lovely maturity with some plasticine. Medium body, rounded acidity, elegant structure and spheroid with flavours of white-fleshed fruit, pear, quince and citrus fruit. Very elegant, very drinkable wine with a long, stony finish.
Palandor 2012 I 86-87 points
Rich nose with a touch of flint character, attractive spiciness and stone fruits. Full-bodied with smooth acidity, which came across as a little flabby, and high alcohol, with flavours of barrel spice, as well as overripe apple and peach, almond and white pepper. The tannins can be felt a little on the finish. A big guy.
We harvested late, meaning not at the end of August, but on 6 September, which is quite bold, given that in Tokaj ten years ago, nobody dared to harvest before 26 October. We were already a little late here.
Palandor 2011 I 86-88 points
Attractive plasticine, pear and herbal nose, restrained yet elegant. Medium-bodied with smooth but vibrant acidity and an elegant structure. On the palate, lovely spice, a little pear, apple and peach. Medium to long finish, an elegant composition.
Narancsi 2015 I 89-91 points
Pear, some flint, a hint of candyfloss, anise and mint on the nose. Leaner on the palate than the previous wines, more masculine acidity with citrus notes, rather mandarin than orange, a pinch of cloves and a long finish. Elegant wine.
Besides the vineyard-selected dry wines and the sweet ones, there's something else we need to talk about when it comes to the Karádi-Berger winery, and that's dry Szamorodni. This type of Tokaj wine is slowly dying out, with only very few being made nowadays, amongst them new Pope of dry Szamorodni, Samuel Tinon. So, if we have to draw your attention to one more wine, it has to be the Karádi-Berger 2010 dry Szamorodni! It's certainly no coincidence that Decanter also awarded it 92 points.
Dry szamorodni 2010 I 92-94 points
Incredibly complex nose of orange oil, mandarin, hazelnut, a touch of walnut, vanilla, a pinch of nutmeg and a little anise. Medium-bodied with a firm yet creamy structure, amazing elegance and wonderful acidity. The flavours mirror the aromas, quite simply beautiful and very long with some dried fruit and some tannins even appearing on the finish.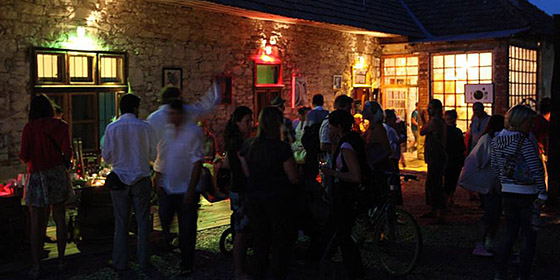 This year WineSofa also took part in the Erdőbénye festival, Wine, Shine... Bénye, one of whose main organisers and its engine is Zsolt Berger. The remaining eleven months of the year he is also trying to attract people to Erdőbénye, with bike tours, an advent market and sometimes 'just' a simple wine-tasting, which in a Budapest-centred country is itself a missionary activity. A winery not to be missed if you visit the Tokaj wine region!