The first Furmint produced by Ernő Sagmeister was poured into my glass by László Alkonyi. This becomes even more interesting if you know that László Alkonyi was Tokaj's best-known wine writer and, since his retirement, has been working as a winemaker in Tokaj too, whereas Ernő Sagmeister is a Hungarian-born architect in Serbia, who was attracted by Fruska Gora, or Tarcal, as the Hungarians have called the mountain range for 600 years, and so is now also a winemaker at the same time. And let's quickly add, thank God!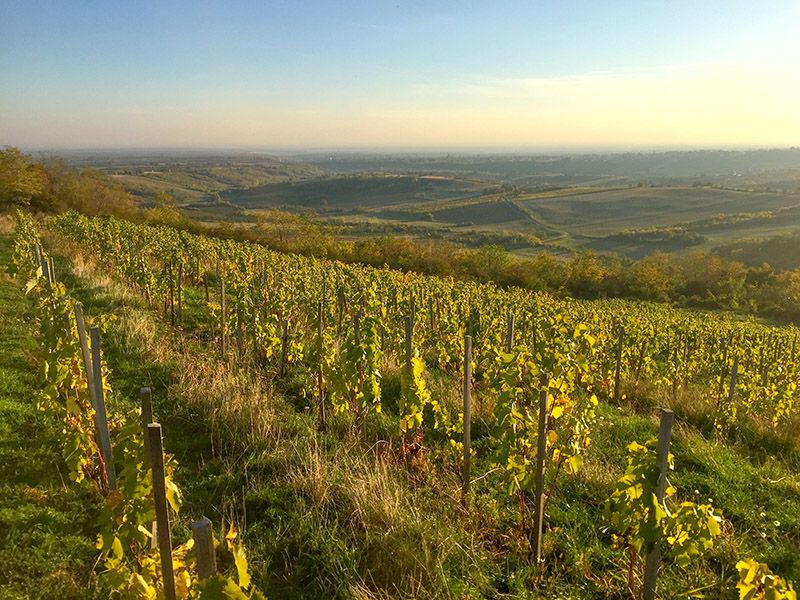 Photo: Daniel Ercsey
I'm going to write more about Tokaj and Srem/Srijem; let's just say for now that Ernő Sagmeister rejects this comparison. Well, not for historical reasons, not for lack of sources. Much rather due to the character of the wines born here. "In my eyes, the white wines here show a greater affinity with those from Somló than those from Tokaj", he said. Interesting point, but probably I'd need to taste a lot more white wine from Fruska Gora to decide whether I agree or not; however, this comparison had certainly already occurred to me too.
Let's pay our respect to the wine region!
Ernő began making wine full time ten years ago; previously he had only made wine for himself and his friends. Originally with a dancer friend of his from Kanijiža (or Magyarkanizsa in Hungarian), from whom the reins were then taken over by doctor and businessman Krisztián Dukay. This, however, is a minor detail in terms of the wines, albeit not commercially. These are Ernő's wines, wines of Fruska Gora. These wines convey the ancient past of the wine region, showing it to everyone who approaches it with openness.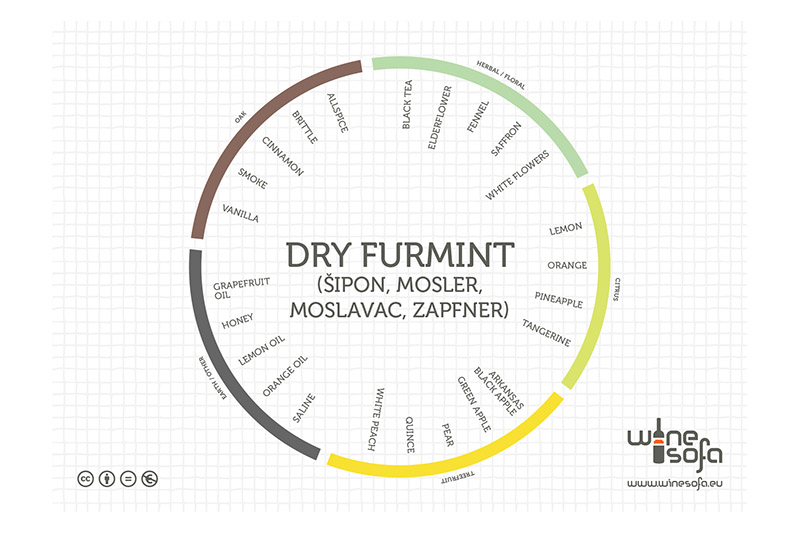 His initial two hectares have now grown to thirteen hectares, of which five and a half are producing grapes and another two have already been planted. The land is located at the border of Irig (old Hungarian name of Ürög) and Neradin (Szerémnyárád in Hungarian). Although putting the name of the vineyard is not in fashion in the wine region and perhaps not in Serbia either (except for the fantastic Cabernet Sauvignon from the Matalj winery), Ernő sought out the right vineyard parcels for his later plantings. For him, the vineyard, the terroir is not a marketing tool to sell wines, rather a message from God, and, if we heed this, we can plant the most suitable grape variety and thus make wine best glorifying the Lord. Superseding my previous remarks, I'd like to pay tribute to the Tarcal mountain range, Fruska Gora. These wines are not like those of either Tokaj or Somló. These wines are like themselves!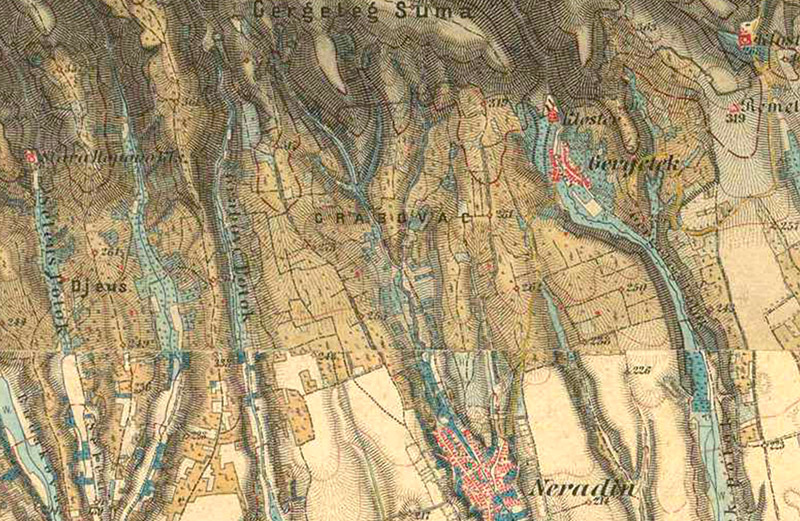 Ernő's vineyards in a map from 1870
Only from Bačka does Srem become comprehensible
To see the elevation of Fruska Gora from the surrounding countryside and to understand its relationship with the Danube, you need to approach it from the north. And if possible, slowly. Not on the motorway, but on minor roads, so that you have time to take in what's before your eyes. Then, cross the river at Novi Sad, climb up the steep north side of the ridge and look down on God's fairy garden on the other side. On the land of plenty, where there's always grain for the animals, where the fruit always ripens and where such wine is produced that flows from the fountains of the Hungarian king's court (this is no joke, it did happen). The extensive oak and beech forests conceal wildlife, springs burst from the hillside and Orthodox monasteries are nestled in the valleys. It simply looks, or if you'd prefer feels, like God has not left this countryside to its own devices, you just need your ears and eyes to notice this.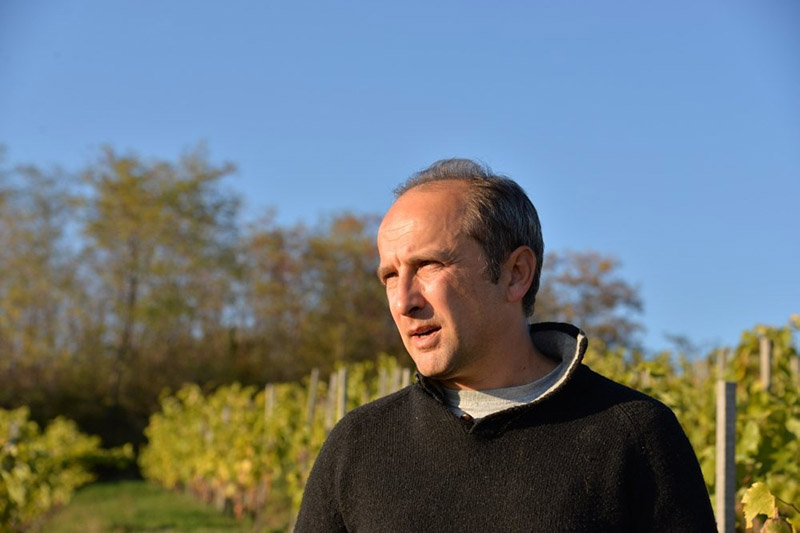 Ernő Sagmeister, Photo: Piroska Koltai - Wine a'More Travel
This is how Pinot Noir, Kadarka and Furmint ended up in the Kew (kő in Hungarian, meaning stone or stony in English), Devas (Dévás in Hungarian, meaning question in English, but it may be related to the Slavic word for girl) and Kanias (Kányás in Hungarian, meaning somewhere there are a lot of kites). Unfortunately, in this part of the world, it is not obvious that such visits should start in the vineyards, but on the one hand there is no question of this for Ernő, on the other, it cannot be any different, as the winery is not located here but in Kanijiža. Meanwhile, I can only suggest that you devote plenty of time to here and start your winery tour in the vineyards within sight of the Grgeteg Orthodox monastery, bend down over the gleaming serpentine (which is the volcanic metamorphic mineral characteristic of the mountain range with scale-like formations reminiscent of a snake's skin), smell the earth and the grapes, and listen openly to Ernő Sagmeister, who will tell you about the flow of energy, the vineyards and the voice of God, about Furmint and Kadarka, like someone whose soul and body are not only not the same age, but demonstrate a great deal of difference in favour of the former.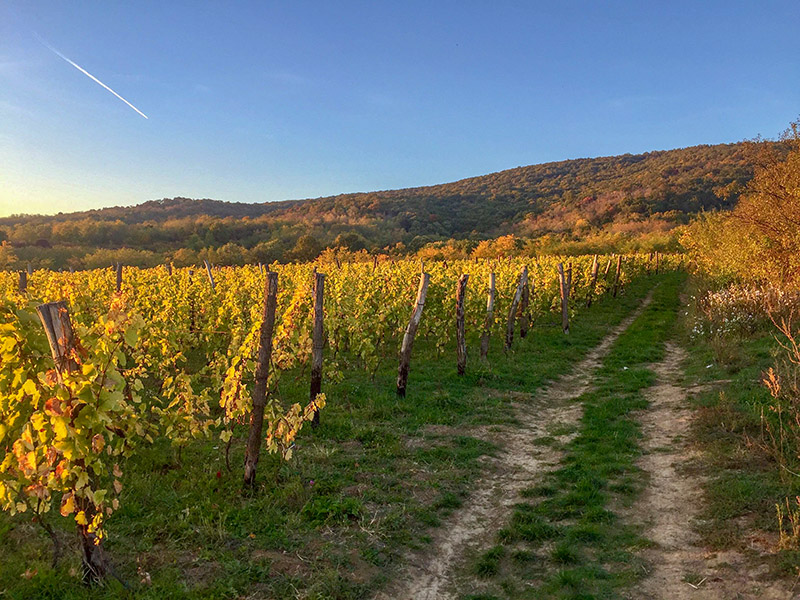 Photo: Daniel Ercsey
Astounding and crushing
"It's interesting that people don't eat earth"
said Ernő in Kanijiža, while his wife Laura, a painter, was serving dinner. This is just one of the astounding things I heard during the evening. Laura and Ernő are not only more knowledgeable and educated than most couples, but also more open than average, people who make their thoughts known. Thus, it was that, as well as Kadarka's depth maturity (which, according to Ernő, never was and never will be either), we also discussed the Kurosawa Hidden Fortress, the role of catharsis as a concept in painting, theatre and poetry, then Kadarka's past (Ernő thinks that the Bulgarian Gamza was the real past and that the variety arrived in Fruska Gora under the first Bulgarian Empire) and the etymology of its name, which makes Ernő's face dimple in smile (because of the old Bulgarian-Turkish word Gamza means smiling dimple) on the southern slopes, and finally the evening ended up as an amazing contest of erudition, as if, in our brief acquaintance, we wanted to share all thoughts and knowledge, feelings and beliefs with each other. These were wonderful and exaggerated hours, it was incredibly difficult to say farewell at the end of the evening and head for home. Then, at that moment, Ernő was again astounded:
It has turned out that we can talk to each other. Next time, we'll find out whether we can also listen together.
Many people might be offended by this, or perhaps it would be incomprehensible to them. I was thinking about this until I reached home (whilst reciting my favourite poems from my childhood out loud in the car – thanks to Laura), but only now, a few months later, have my thoughts matured. As I write this article and the silence thickens around me until it becomes palpable, I just want Ernő to hear this too. Dear Ernő, here is my message, I'll be coming to visit you again too, I understood what you said, and I think listening together will work too.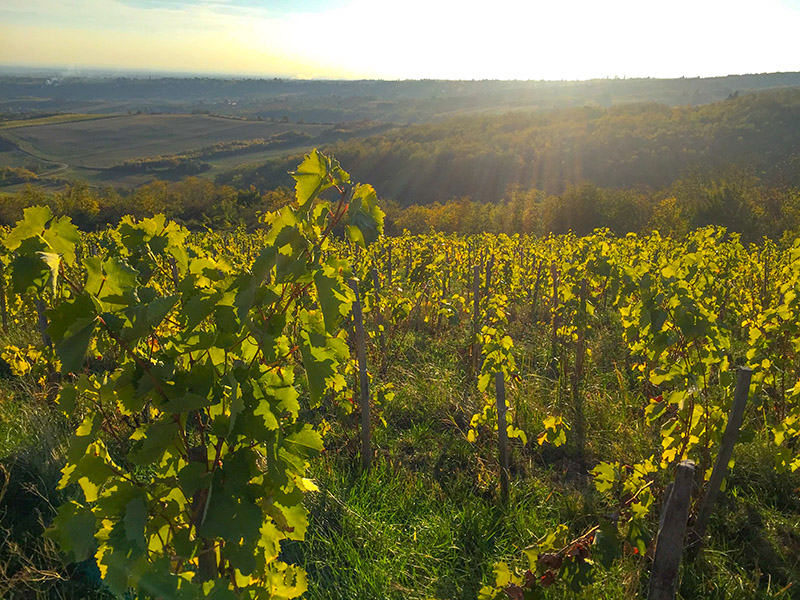 Photo: Daniel Ercsey
Furmint 2015 I 84-85 points
Intense aromas of apricot, pear, Plasticine and herbs. Medium body with herbs, apple, pear and zippy acidity on the palate. Medium finish.
Furmintis 2015 I 87-89 points
Appealing nose of grapefruit, pineapple and botrytis. Smooth acidity, medium to full-bodied, lovely tannin structure with flavours of herbs, apricot, apple and flowers. Long.
Furmint Devas/Dévás 2016 I 90 points
Stony, mineral, masculine yet fruity nose. Tight structure and lively acidity, with notes of flint and citrus. Rugged, masculine wine, only for judicious palates.
Furmint Kew/Kő 2016 I 87-88 points
Aromas of mandarin, marl, orange and a warm Mediterranean character. Full-bodied, broad and flowing with salty minerality, citrus fruit and flint on the palate. Almost infinite.
Furmint Kanias/Kányás 2016 I 85-87 points
Nose of blood orange, Plasticine and herbs. Elegant acidity and full body with straw, pear, citrus fruit and white flowers on the palate. Orange and grapefruit on the finish.
Furmint Kew/Kő 2015 I 82-83 points
Aromas of mint and peach. A little flabby and broad on the palate with flavours of nectarine, green apple and grapefruit.
Furmint botrytis 2013 I 91 points
Dried apple, dried peach and medlar on the nose. Mouth-filling and smooth with propolis, minerality and ripe apple. It reminds me of a good Somló wine. Lean minerality on the finish.
Furmint 2012 I 84-85 points
Sweetcorn, honeyed apple and flowers on the nose. Medium to large body and smooth, silky maturity with white-fleshed fruit, apple, Plasticine and flowers.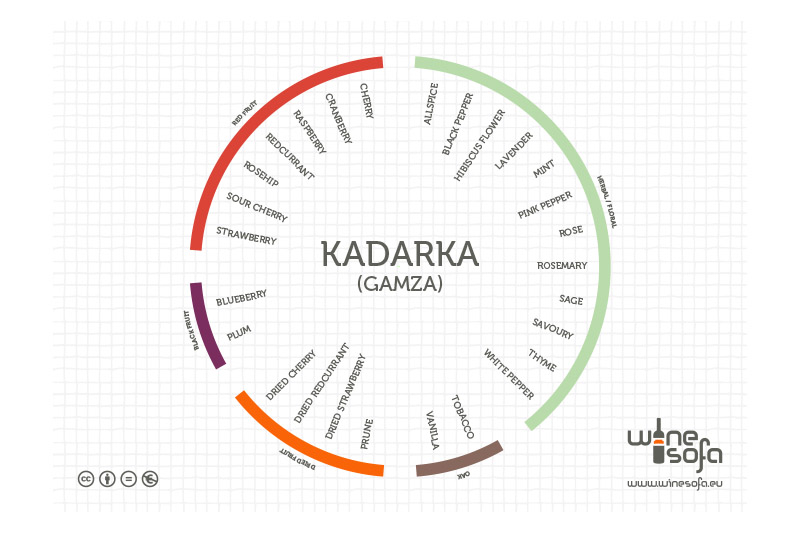 Kadarka 2014 I 85-86 points
Vegetal notes on the nose with sunflower seed, a little punch, clove, Plasticine and red berry fruit. Light with good acidity. Overripe yet under-ripe at the same time, shrivelled and herbal. Intriguing!
Kadarka 2015 I 89-90 points
Tons of red berry fruit, sour cherry, cherry, a little plum and appealing spices on the nose. Tight structure and good acidity with the palate reflecting the nose. Gloriously good, smiley wine!
Kadarka 2013 I 90 points
Complex and profound scent with plenty of red berry fruit and an alluring note of sweet pastry and brioche. Loads of fruit and grape skin yet mineral, vibrant and long on the palate. Wow!
Kadarka Főbor 2013 I 93-94 points (botrytised aszú-like natural sweet wine)
Plum and sour cherry jam, autumnal forest floor, clove, chocolate, marzipan and violets on the nose. Full-bodied and totally mouth-filling with lively acidity. Flavours of raspberry, sour cherry, strawberry and everything else there was on the nose. Vibrant, infinite. Proof there is a God!