Croatia is one of Central Europe's most interesting wine destinations: its continental and Mediterranean climate, the Alps and the hills and rivers that break up the plain enable it to offer something quite diverse and unique. It boasts over 100 known autochthonous varieties while more than 200 varieties are cultivated on just over 20,000 hectares. So, it's time to find out more about what to do if you're in Croatia, whether it be a holiday or a business trip, or even a specialised wine tour!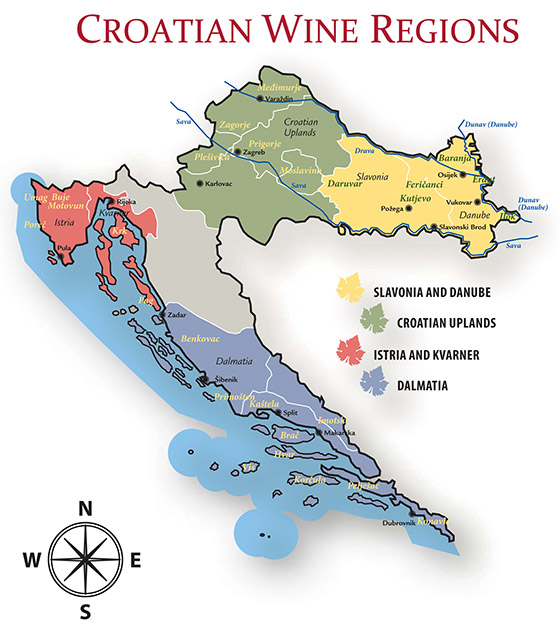 Map: Croatian Fine Wines
The latest wine law divides Croatia into four regions. These are Istria and Kvarner, Dalmatia (Dalmacija), Slavonia and Danube (Slavonija i Hrvatsko Podunavlje) and the Croatian Uplands (Bregovita Hrvatska). In the first exciting part of our series, we'll focus on the latter, the most heterogeneous, but perhaps because of this, also the least well known.
Twenty-two percent of the country's officially registered 21,000 hectares (with the real figure estimated to be more than 30,000 hectares) can be found in this region, which is divided into five sub-regions (Moslavina, Pokuplje, Plešivica, Zagorje i Međimurje, Prigorje i Bilogora) and then a further 22 appellations.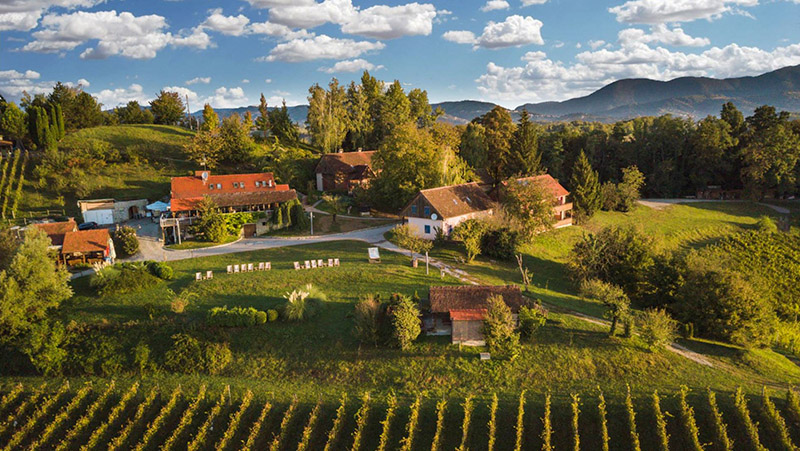 Photo: Vuglec Breg (Facebook)
The Bregovita Hrvatska region is a typical continental wine-growing area, which, accordingly, produces primarily white wines which are characterised by their freshness and fruitiness. Vines are also planted up to 400 metres in altitude with high quality grapes being harvested from the south-facing sides of the hills and mountains. There are also quite steeply sloping vineyards, but the majority are characterised by the typical undulating hills of the area. Similar to the surrounding areas, the most popular varieties arrived here around a hundred years ago. The mostly widely cultivated variety is Graševina, but there's also a lot of Chardonnay, Riesling, Sauvignon Blanc, and the members of the popular Pinot family, whether Noir, Blanc or Gris. There are numerous local varieties here. As well as Škrlet and Moslavac (Furmint), there's dozens of members of the Belina group, Ranina, Kraljevina, Mirkovača, Kleščec, Volovina and others.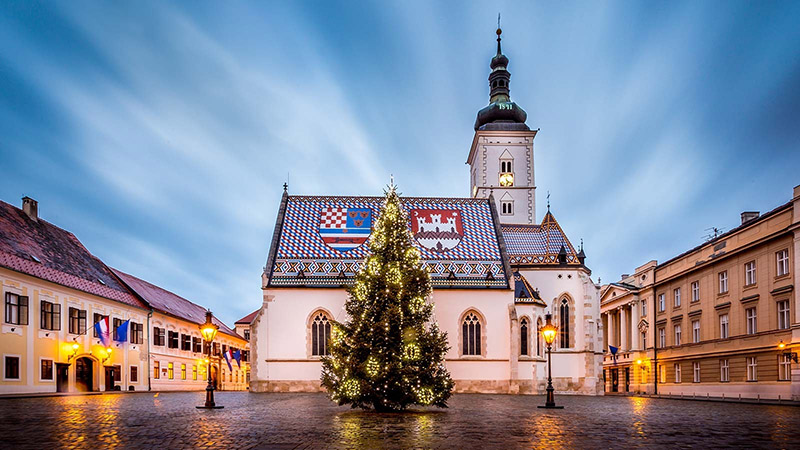 Photo: Croatia.hr
Zagreb, the country's capital is situated at the heart of the region; so, let's start from here. To the northeast, you can find one of the most significant sub-regions, Zagorje i Medimurje, home to many varieties, although it is only during the last few years that they have begun to appreciate the value of this heritage. Fortunately, plenty of research into varieties and clones is now underway and the Sokol variety imported from Italy in the 17th century by the Erdődy family now appears to be undergoing a revival too. Zagorje is a small patchwork of varieties, every appellation has some kind of unique variety. We'd just like to point out a few wineries and wines from here: the white wines from the organic winery Bolfan, the Petrač winery's reds, Vuglec Breg's traditional method sparkling wines or Bodren's ice wines.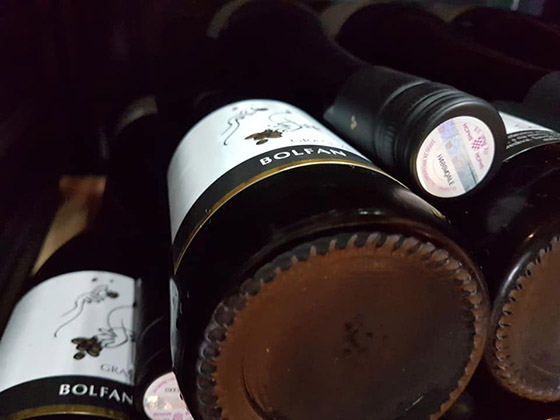 Photo: Bolfan (Facebook)
Medimurje is closest to Hungary both geographically and in its choice of varieties; its flagship variety is called Pušipel, which is actually the local name for Furmint. The variety known as Moslavac in the rest of the Croatian regions has a special status here: its own bottle has been developed and Petar Zrinski's portrait can be found on every bottle of the classic version (Dvanajščak-Kozol, Štampar, Kocijan, Jakopić or Tomšić). Moreover, characterful, fresh, light whites are made from other varieties too.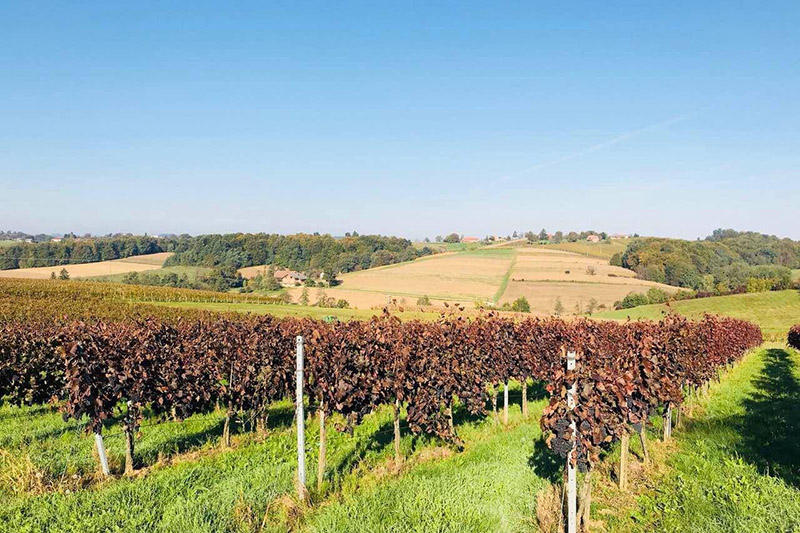 Photo: Štampar (Facebook)
To the north is Prigorje i Bilogra, where we should mention the Kraljevina variety (Puhelek-Purek winery), but overall, it's perhaps less important than in Moslavina, the region which many believe to be one of the possible birthplaces of Moslavac, aka Furmint. Unfortunately, fewer and fewer people work with the variety here, their strength is rather in Škrlet, which records show has been cultivated in the wine region since 1856. In recent years, some producers have commercialised really high quality Škrlet (Kosovec, Florijanović, Miklaužić, Mikša or Trdenić).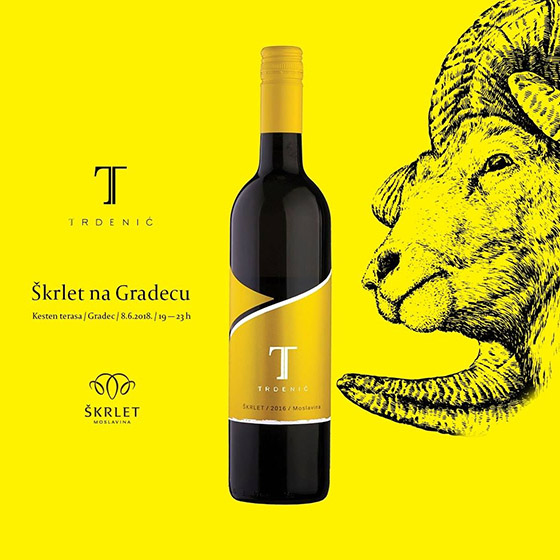 Photo: Trdenić (Facebook)
To the south is Pokuplje, but experience dictates here that you should rather head southwest, to Plešivica. You can feel the dynamism most here, just like in Medimurje. Riesling, Sauvignon Blanc and Chardonnay are cultivated on the majestic hillsides, but Pinot Noir and Portugieser pop up too (the latest Portugieser du Monde's fresh Portugieser and specialities categories were also won by producers from here, the winner of the latter was in fact a rosé sparkling wine). The winemakers here (Tomac, Korak, Šember or Ivančić-Griffin) like experimenting, whether with amphoras, orange wine or even traditional method sparkling wine; however, the best Croatian Rieslings also come from here.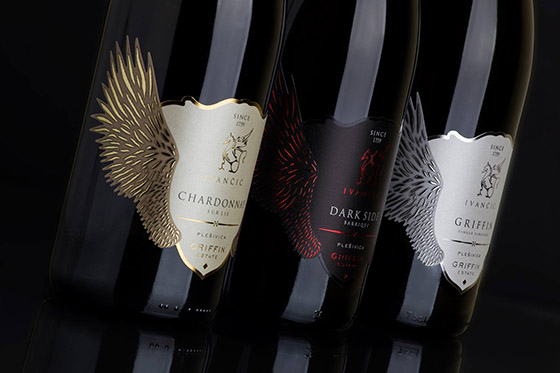 Photo: Ivančić-Griffin (Facebook)
Some wines
DK (Dvanajščak-Kozol), Natura Sauvignon 2016 (Međimurje) I 90 points
A really special, oak-aged Sauvignon Blanc. A natural wine (if I may use this expression) which is intense, rich and captivating with clean aromas and flavours. Fruit, spice, complexity and uniqueness in the bottle.

DK (Dvanajščak-Kozol), Pušipel Prestige 2016 (Međimurje) I 89 points
One of the best Croatian Furmints I've tried recently. Fine use of oak, lovely fruit, mature citrus, tropical fruit, also dried, a touch of honey and very delicate floral notes. Complex, rich wine with a long finish.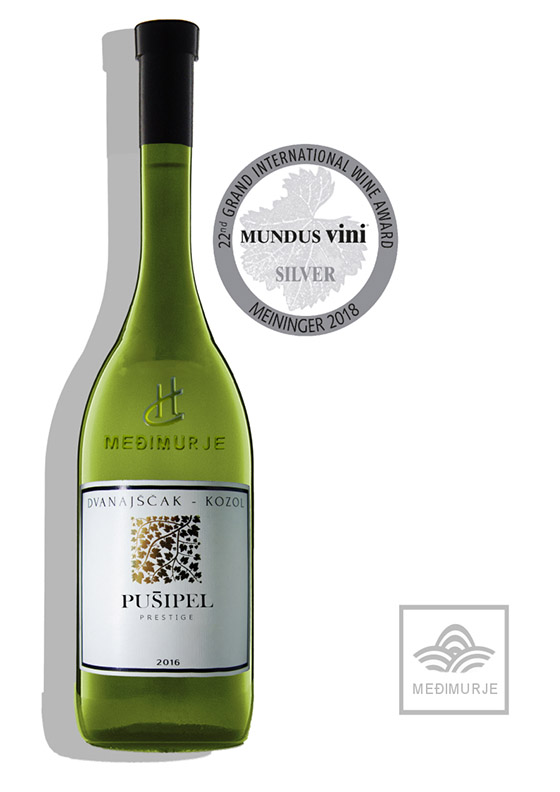 Photo: DK Winery (Facebook)
Petrač, Karizma 2015 (Zagorje) I 87 points
Still very fresh Cabernet Sauvignon (70%) and Merlot (30%) blend. Rich aromatics with barrel spice but also freshness, liveliness and good acidity. The tannins are a little grippy and the plum and berry fruit could be sweeter and riper. Otherwise the wine is very well integrated.
Tomac, Classic Brut Nature 2006 (Plešivica) I 90 points
One of the most appealing, attractive Croatian traditonal method sparkling wines. Porcini, biscuit and ripe citrus fruit on the nose, almond and butter flavours with a touch of honey and a wonderful, creamy mousse followed by fresh acidity. It spent 10 years on its lees. Chardonnay (70%) and Plavec Žuti (30%).