What better way to tour the breezy vineyards of Etyek than pulled along in a trailer. Said trailer was pulled by a tractor and required legs twice as long as mine in order to be able to climb in on each occasion. Arriving at the edge of Alcsútdoboz, en route for the windy slopes of some of Etyeki Kúria's vineyards, we transferred from our minibus to this less glamorous vehicle. Older and shorter members of the group commented that a small step-ladder might have been in order when seeing the heights that our legs would need to stretch to. However, a helping hand from the taller and more agile ensured that everyone made it up onto our transport, and with no muscles being strained.
The tractor pulled our high trailer slowly up a dirt track and through rows of vineyards. Our rustic accommodation did in fact afford us great views of the vineyards and vines we were passing amongst.
At the end of the first leg of our trailer tour, Sára Matolcsy, co-owner, and Sándor Mérész, chief winemaker, welcomed us at the edge of the Nagy-Lató-hegy vines with a glass of their latest addition, the Pláne gyöngyöző (frizzante) wine. A delightful floral, peachy blend of Zenit, Sauvignon Blanc and Királyleanyka, with just the right touch of sweetness to balance the refreshing citrus acidity. (82 points)
The 180-220m-high Nagy-Lató-hegy vineyards, represent their oldest vineyards. Sixteen hectares were planted beginning in 2001 with Pinot Noir, followed by in 2002 by Chardonnay, more Pinot Noir in 2006, followed by more Pinot Noir, Sauvignon Blanc and Szürkebarát (Pinot Grigio). The vines are trained low in Guyot. We wandered up the hill to view the vines from above, where we were also able to sample the 2015 Chardonnay. An attractive, structured with lovely citrus, fresh peach and some toasty vanilla. (86 points)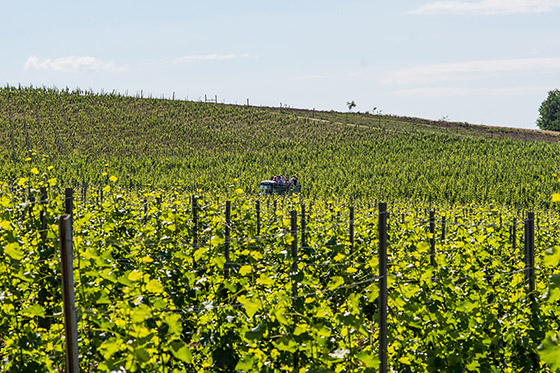 Photo by Zoltan Perenyi
Meanwhile our transport arrives to take us to our next destination – Kis-Lató-hegy. Interestingly, Kis-Lató-hegy is higher than Nagy-Lató-hegy – kis means small in Hungarian and nagy large. They had bought some ten hectares of new land in 2013, the first time they had managed after the last plantings, cut out the old vines, left fallow for a year and then planted with Sauvignon Blanc, Chardonnay and Pinot Noir – 13 different clone variations to give the best quality grapes in any given area planted. They expect a small crop this year, and the first real harvest is planned for next year.
We're looking down on this part of Kis-Lató-hegy from their third phase of development in the forest area above. So that they could cut out five hectares of forest this year to begin to prepare for the new plantings, they had, by law, to plant a new acacia grove, also of five hectares, within the borders the same municipality of Alcsútdoboz. They'll begin planting, probably with the same combination of varieties, in two to three years; however, it's likely there'll also be a surprise, perhaps something red. These new five hectares will take the Kúria's production level up to around 32 hectares.
Another short trip down the hill and we were heading to the Kúria in Etyek itself for a winery tour, tasting and lunch.
Etyeki Kúria is one of the leading vineyards in Etyek, specialising in Pinot Noir, Chardonnay and Sauvignon Blanc. They currently have around 27 hectares under vine as well as another 10 hectares in Sopron in western Hungary.
They are still planning for the future; as Sales Manager Vince Nagy stresses, it's important to do this three years in advance to optimise the management of such large winery. They continually monitor changes in consumer demand and new trends, both domestically and internationally. Balanced, long-term thinking is the key to success, he says.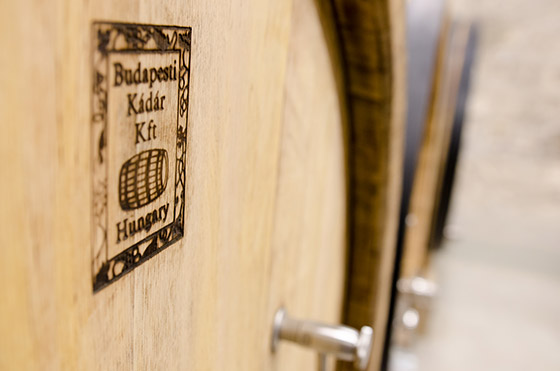 The winery currently has a capacity of 250,000hl and the next development is a red fermentation area and a new bottling facility; they currently bottle for other wineries in both Etyek and Pannonhalma.
Next year, they will make a rosé Pláne, a pair for the white Pláne we had tried earlier; they are working on a super-premium wine, a Pinot Noir selection, perhaps from Sopron; and in the long-term will maybe also make a pezsgő, traditional-method sparkling wine. The Kúria also produces limited addition 'project wine', earlier in the year I had tried the Zöldveltelini, aka Grüner Veltliner, this year, it will be a wild yeast Sauvignon Blanc.
Chardonnay is also of paramount importance in the region as it is good each year. Additionally, they have 50 to 60 autochthonous varieties planted from the Pécs Research and Development institute. In Sopron, they have Kékfrankos, Zweigelt and Merlot from which they produce a delightful fruity blend. They only produce around 1200-1500 bottles of the pure Kékfrankos, so you need be quick as it generally sells out in a couple of weeks. The first production of Merlot from Sopron was in 2015, which we got to try. An attractive full-bodied wine with bright fruit and fresh acidity. They want to show it in November as it needs another six months in barrel, but was already pushing close to being a 90-point wine.
The winery tour was followed up by lunch and tasting of four wines.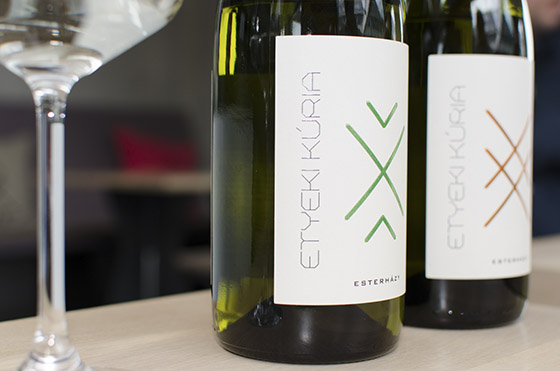 Sauvignon Blanc 2016 I 85 points
A reductive, attractive wine with great varietal character. Plenty of green nettle, gooseberry and elderflower. Grassy and vegetal, relatively restrained, with good acidity and a long finish.
Kúria Red 2015 (Kékfrankos, Merlot, Zweigelt and 5% Pinot Noir) I 86 points
The grapes come from both Etyek and Sopron. Bright, fruity wine with crunchy sour cherry and plum, smooth tannins and fresh acidity. Very quaffable.
Pinot Noir 2015 I 89 points
Fresh red cherry and raspberry fruit with just a touch of coffee. Lovely bright acidity and long finish.
Zweigelt 2015 I 87 points (Sopron)
The winery's first 100% Zwiegelt. Plum fruit and spice on the nose. Flavours of kirsch and blue flowers. Bright and crunchy.