Etyek has long been known as the 'vineyard of Budapest' thanks to its proximity to the capital and long tradition of cultivating wines. The region is believed to possess similar characteristics to a more illustrious region in France, i.e. Champagne, where one of the main grapes used to produce the luxury sparkler is Pinot Noir. Indeed, József Törley, the Hungarian master of 'pezsgő', aka traditional method sparkling wine, was already convinced of its merits in the nineteenth century and sourced his grapes here. So, it is hardly surprising that Pinot Noir should also find its place here in the twenty-first century for the production of still red wine.
Etyeki Kúria was established in Etyek, 30km from Budapest, in 1996, beginning life with only two hectares but soon one of the shining lights of the region. The winery was the first to plant Pinot Noir here, in Alcsútdoboz. Following many trials, 2001 saw their first plantings, with the first vintage taking place in 2003. Pinot Noir has now become the key variety for them and they have continued to plant new vineyards, with new plantings taking place in 2001, 2006, 2007 and 2015. They have now reached 27 hectares in total from their lowly origins of two and have also won many international awards for their Pinot Noir. They now also cooperate and taste with the Austrian Esterházy winery and work together with David Picci of Derencourt Consultants to improve clone selection and winemaking practices.
Incidentally, Pinot Noir was only recognised as an official clone in Hungary in 1993 and the first serious plantings took place at the end of the nineties when Eger's Tibor Gál also brought back Pinot Noir vines from France. At that time, the variety was known as 'Kisburgundi', little Burgundy. Hungary generally used 'Pécsi' clones, which are not necessarily the best, as unfortunately at the time the clones were developed, quantity not quality was the byword in Hungary.
Hungary saw a boom in Pinot Noir plantings in the 2000s – around that time, there was a total of around 100ha in Pannonhalma, Eger, Balaton-felvidék and, of course, Etyek. Sándor Mérész, the winemaker of Etyeki Kúria worked with Tibor Gál for seven years, including some time in Italy and joked that Tibor had once tasted some Pinot Noir from Etyek and said it was perhaps better than that of Eger, but thankfully the winemakers of Etyek don't know that yet! Well, they certainly do now and most wineries in Etyek cultivate Pinot Noir for red and/or rosé.
Etyeki Kúria's grapes are hand-harvested in multiple tries, undergo several selections, whole bunch fermentation similar to in Burgundy and cap management which includes both punch down and pump over. The winery uses about 30% new oak (French, Austrian and Hungarian 300l or 228l); wines from different parcels are vinified and matured separately for one year and then blended together to create the final wine.
In line with its focus on Pinot Noir, Etyeki Kúria has organised a vertical tasting of its Pinots for the last eight years and this year I was lucky enough to have the chance to participate. Some loyal fans of course have been attending from the year dot!
First, we blind taste some barrel samples from the 2016 vintage, with those from the French and Stockinger barrels garnering more support from participants. 2016 was not an easy year in Etyek with vines suffering from spring frosts. Sándor points out that they are now trying to give the fruit more focus and thus the wine spends less time in oak. Then we move on to taste the 2015 vintage back to the 2003 (2009 and 2006 are unfortunately missing as stocks of these have now been exhausted).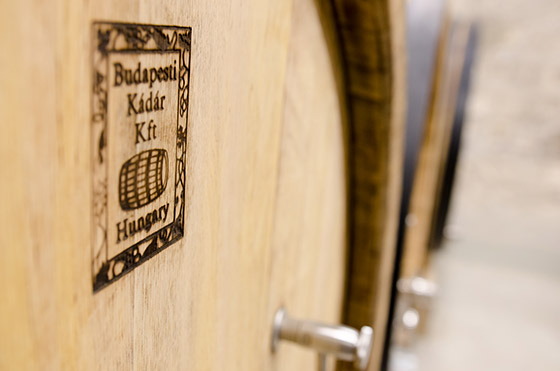 2015 | 88 points
Attractive pale ruby wine. Intense on the nose with plenty of cherry, plum, toast and coffee. Smooth on the palate with lively acidity and flavours of blood orange, raspberry and a touch of forest floor. A fresh, elegant wine with good ageing potential.
2014 | 87 points
Pale ruby with smoky red fruit, cherry, tomato, coffee and a slightly herbal note. Smooth on the palate, but with rather youthful, grippy tannins and fresh acidity. Spicy with some undergrowth and slightly more oaky than the previous wine. Long finish.
2013 | 86 points
Slightly darker in colour and more intense on the nose with bags of cherry, prune, cough syrup and dried leaves. Fresh and vibrant on the palate with grainy tannins and some complexity. Some sweetness on the finish. Very enjoyable.
2012 | 89 points
Medium ruby with an intense, complex nose of smoky ripe fruit, prune, charcoal and forest floor. Concentrated and ripe on the palate with crisp acidity, fine-grained tannins and a long finish to be savoured.
2011 | 89 points
Attractive ruby colour turning to garnet with a complex nose of both primary and tertiary aromas. Smoky plums, dried cherries and prunes, mushroom and forest undergrowth, dried herbs and coffee. Relatively full-bodied, yet elegant and balanced. The palate mirrors the nose, with perhaps a touch of meatiness creeping in.
2010 | 88 points
Paler in colour with garnet hues. Intense nose of tar, liquorice, dried cherry and leather. Elegant and balanced with attractive tertiary notes, some meatiness, developing. Slightly sweet on finish.
2008 | 92 points
Pale garnet. Great intensity and complexity on nose with plenty of rich fruit and tobacco. Elegant and balanced with silky tannins and still crisp acidity with prune, leaf, coffee and smoky fruit on the palate. Delightful.
2007 | 93 points
Pale to medium garnet. Fruit seems slightly fresher than the 2008. Moreover, great complexity and wonderful aromas of fresh and dried fruit. Less tertiary and darker than the later vintage. Rich, ripe, sweet fruit balanced with vibrant acidity and some attractive tertiary characteristics. Still quite youthful.
2005 | 89 points
Light garnet in colour. Quite tertiary in character with plenty of forest floor, mushroom and tobacco, still retaining some attractive dried fruit and good acidity. A slightly chalky feel persists on the finish.
2003 | 89 points
Garnet with some ruby hues remaining. Mostly tertiary character to wine now with plenty of undergrowth, mushroom, coffee and tobacco. Rich, ripe and complex with smooth tannins and crisp acidity. Still very enjoyable.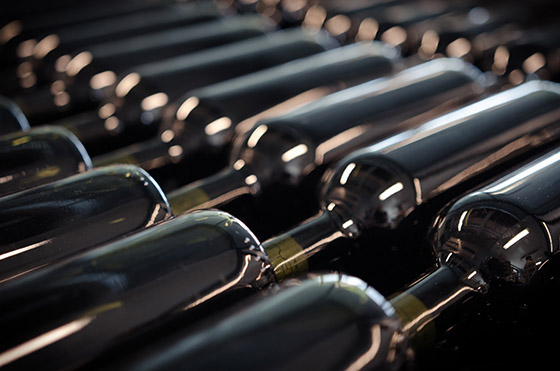 The group's preferences were registered at the end by a quick vote with 2007 coming out on top, followed by 2012 and 2013. Sándor also pointed out that 2007 and 2003 have done well in past tastings too. We hope that stocks of some of the earlier vintages are still sufficient to allow this special vertical to continue for some time yet.