What is the relation of today's Balatonboglár Wine Region to the widely-known BB?
I would say it grew out of it. From János Konyári to my father, each and every currently known and renowned market player used to work for BB.
Consumers only saw that there was a famed winery by Lake Balaton.
BB was the only prosperous and predominant winery on the shore of Balaton. They were the first in Hungary to export goods overseas and they were also extremely innovative in other areas. Of course, this all primarily depended on the human factors. The major breakthrough was achieved and the age of developments was introduced by Győző Mészáros who used his relations to start boxed juice and sparkling wine production.
It was in the eighties, wasn't it? Prior to that was there nothing in Balatonlelle and Balatonboglár?
Győző was indeed appointed Director of the agro-industrial complex Balatonboglári Mezőgazdasági Kombinát in the 80's but even before it hadn't been boring here; it's only that then the professional side had been more active. András Lakatos had begun to gather talented agricultural engineers, including Ottó bácsi (Ottó Légli, Sr – the Editor's note), as early as the 50's. All of them had completed their studies in Villány. There were times when 70 agricultural engineers were employed by the agro-industrial complex. I think that this was the knowledge on which Győző could base his later commercial achievements upon. This, however, required a more relaxed political atmosphere in addition to his relationships.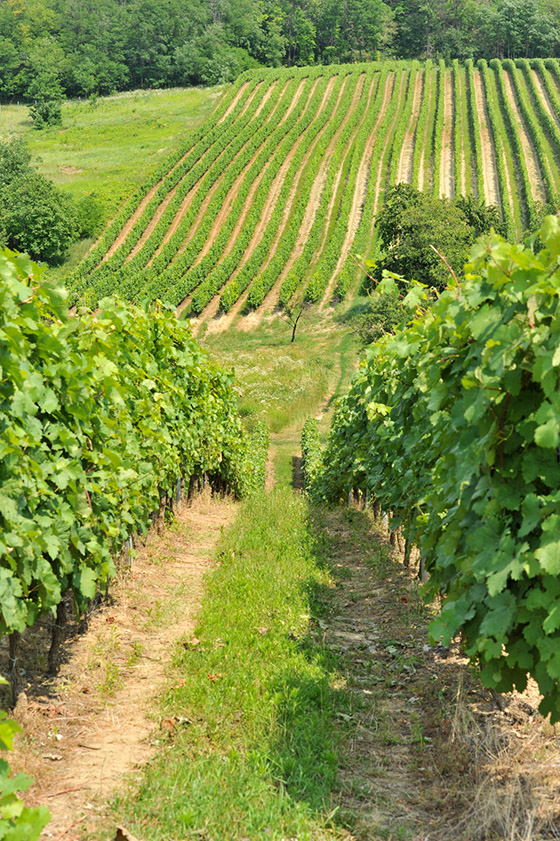 Was it the success of Villány that gave impetus to the local state farm?
Already before World War II, knowledge was so much concentrated in Villány (and luckily they managed to pass it on) that with a small exaggeration we can say that most of the wine regions were affected by this knowledge. First, the former Head Viticulturist of the state farm in Villány, Sándor Pettenkoffer was appointed Director in Balatonboglár. He had been first employed by Archduke Albrecht as his viticulturist, then after the war he was re-employed so he could continue with this work. Later on, in Villány, András Lakatos worked for him. He was actually the first to suggest the opportunity for two harvests a year in certain areas in Brazil.
So far, we've been talking about renowned experts who had the opportunity to study in Western Europe but later on this opportunity was taken away. How was it then possible to improve or at least to keep up with development?
Both András Lakatos and Győző Mészáros learnt a lot abroad and, apparently, they both agreed that experts with love for their profession should do the same. I graduated in 1989 and after the university first I worked in a sparkling wine cellar in Dresden then in Henkell's great cellar in Wiesbaden. Although it was simpler than in the sixties, still in 1989 it wasn't necessarily easy and of course, Győző helped me with everything. He was incredible; he managed to send young experts reporting to him for a harvest in Australia or California already from the beginning of the eighties! One could acquire unbelievable amount of knowledge at the occasion of such foreign practices. It was the first time that I had met winemakers who, in addition to working at large-scale plants, ran their own small wineries and they were doing it as a dynasty, for several generations. I could clearly see the 30-50-year milestones indicating what their grandfathers achieved, what their fathers developed, where they were that time and which direction their children plan to take. I never had the feeling that the new generations would go against their ancestors. They only tried new ways but basically, they all worked for the same purpose.
In relation to BB, you mentioned Henkell as a preferred foreign partner. Am I right to say that there is a relation between those who participated in that training back in those days and the fact that the wine region is now trying to define itself through sparkling wine and frizzante?
Absolutely, but it has long-established traditions here. As far as I know, the state farm had been the first in the country to bottle frizzante already in 1965, before BB was established. We have what it requires, grapevines enjoy our loess subsoil and brown forest soil. During the heydays 12 million bottles of sparkling wine (mostly Charmat Method) were produced in Balatonboglár from local raw materials, Chardonnay and Fetească Regală.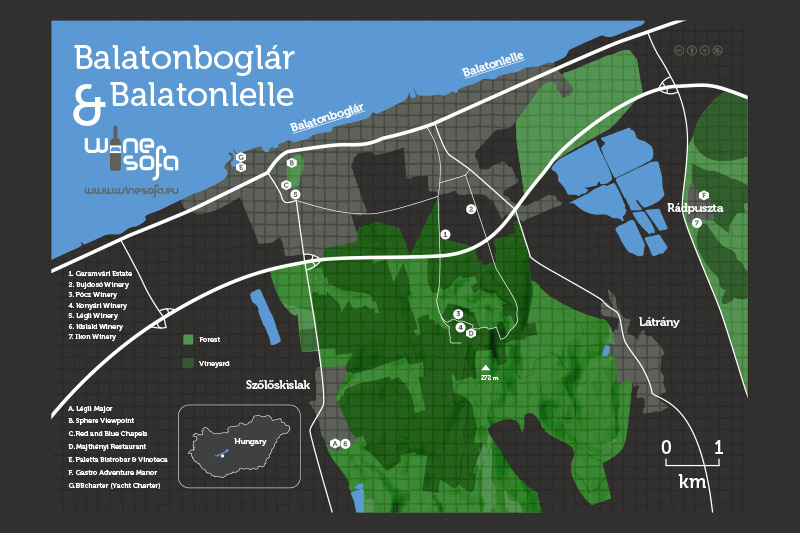 Sunshine and Effervescence, says the South Balaton Wine Road, though this may be a bit too vague. What do you mean; frizzante or Classic Methode sparkling wine?
The top of it all is the méthode traditionelle, which is the bottle-aged sparkling wine; I don't think anybody doubts that. This is a niche market and I don't see how we could have a leading role in this segment ever. As for Charmat Methode and Frizzante, however, I'd say we still have a lot to offer. These could be turned into some kind of a reference point in the southern shores of Balaton. It's true that not all producers in this wine region offer this kind of product so Classic Methode could be the common denominator, the product that every winery sells.
Would there be sufficient raw material for this in the wine region?
Currently, 25 per cent of all local raw materials are processed by the winemakers of this wine region while the rest is sold to other regions, so my answer is a definitive 'yes'.
There is active cooperation among the winemakers working around the lake under the product name of BalatonBor (BalatonWine). Doesn't this pose a threat to Balatonboglár Wine Region, a less known region intending to build its individual image that may be lost as the result of such an initiative?
Unfortunately, the name of the wine region is not too catchy in the first place. Originally, we wanted the name South Balaton (Délbalatoni) Wine Region but after the change of the regime the Balatonboglár name was selected in the end. Later on we managed to change this but thanks to some interest groups today we are called again Balatonboglár Wine Region. All this has happened while the name of the winemakers' association is called Délbalatoni Borút Egyesület (South Balaton Wine Road Association) so we still intend to keep this name. When I took over the Wine Region President's position in 2013, the first item on the agenda was the question how to enhance the visibility of the wine region. We agreed to start communication at events including the Great Balaton Sparkling Wine and Frizzante Tasting but this year the wine region will introduce itself in Budapest, as well where the Somogy tastes, cheeses and hams will be presented. This event in Pest will serve as the entrée of a bigger event in Kaposvár because finally, the county has also realized it is worth dealing with Somogy wines in Somogy County.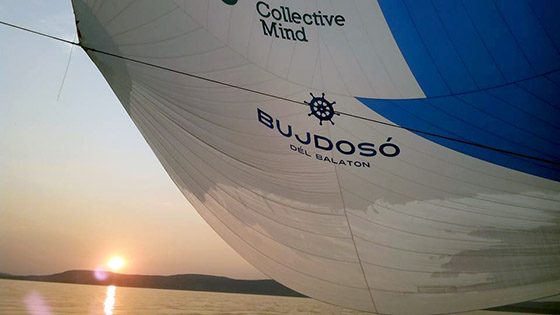 Seems to be coming a bit late.
Might be so but I always say to look forward not back. This is a wine region where three Winemakers of the Year work: Vencel Garamvári, János Konyári and Ottó Légli. This fundamental, vital and significant message has not been passed on anywhere, and we certainly haven't discussed it enough. Anywhere else this is an essential communication component, so this must certainly be changed and now I'm taking the first step. I'm proud that I can work with such experts in an area where recognitions haven't been obtained for one single wine style as all the three professionals above have become well-known among consumers for something different.
This is indeed an important message but how much is it worth if there are no Boglár wines on supermarket shelves in Boglár or Lelle wines in Lelle?
I'd rather start with the hotels as they are the most difficult to agree with. Believe me, I speak from experience. They mostly work with wholesalers, the three ones who matter in Hungary. As long as these wholesalers don't put together a Balaton assortment, there won't be any Balaton wines in the hotels situated alongside Balaton since the traders receive their premium for selling other wine regions' wines. This will definitely not change from one minute to the next. And even though it happened and beside the Balaton local wines would take the leading role, this would require loads of additional work and education for all actors in tourism since this would mean that waiters would have to b able to deal with customers' complaints who would still be looking for other wine regions' wines and well-known producers on the wine lists. Well, naturally, we could ask whether in Bordeaux or Burgundy or other, significant Italian and Spanish wine regions are there any wines from other regions. I could tell you that there aren't any. However, we would need a minimum of ten years until consumers realize that the situation has changed. Veritas, for instance, has launched an initiative to place a wine fridge full of Bujdosó wines in every Spar and Interspar supermarket around Balaton. Changes are slow, they take time. This might be evident for us but in restaurants local wines are not the first and obvious choice. There are positive examples but most restaurant owners at Balaton didn't notice that that has been a gastronomic revolution in the past 20 years. It just went by without being seen. They might have heard it, at best.
Last summer I had lunch in Paletta in Boglár and I discovered Bujdosó wines in a huge barrel at a nearby corner. How many such units sell your wines in the area?
Currently, our wines are sold in five such large barrels. We thought that if the lakeside crowd will not come to the mountain, then the mountain must go to the crowd. What is more, in 2015 we took a plunge and stopped selling wine by the glass and sell only bottled wine. The one and half litre bottle is the value pack and the old two-litre plastic barrel version is no longer available. We didn't want the slowly improving Bujdosó brand name to be associated with bulk wines.
This, on the one hand, is a serious decision while it also brings up the possibility of failure.
This decision has cost us millions. It must be said out loud as it may easily seem like an easy decision for an outsider; something that one must simply take and that's it. However, this is far from being so simple. The market can be built back really slowly and we still haven't reached the turnover we had before the decision, and we must have lost many customers. Those who are coming now buy more and more from the 0.75 litre bottles which means that a different even if smaller circle of customers will pay off in mid-term.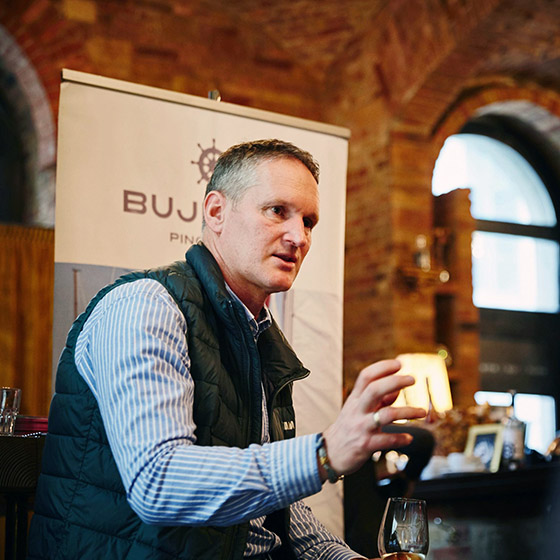 This is only you to be seen on the shore from among the local winemakers.
Four years ago the municipality won a tender and had the opportunity to open and fill up eight lakeside pavilions. Those who wanted in – and the municipality wanted to involve winemakers from the very first moment – had to have the pavement made in front of the pavilions and got the rental right for five years in return. But this meant a cost of 1.5 million forints (4.800 Euro) per place, approximately. And we simply couldn't get eight winemakers together from the region!
Let's leave these turbulent waters for now. You have something to do with sailing, right? Or the labels are just for fun?
I'd rather say that we support many sailing-related events. The regattas of Farkas Litkey, the Dragon boat section, our own section (the Bujdosó family has a 70s Square Metre Yacht previously owned by István Jásdi, a real wine ship, we could say – the Editor's note). Sadly, I have no time or energy to visit all the restaurants in all Balaton ports though this would be a must. Luckily, the Balaton Borgaléria (Wine Gallery) and György Pampetrics are getting on with this job, but there would be still a lot to do.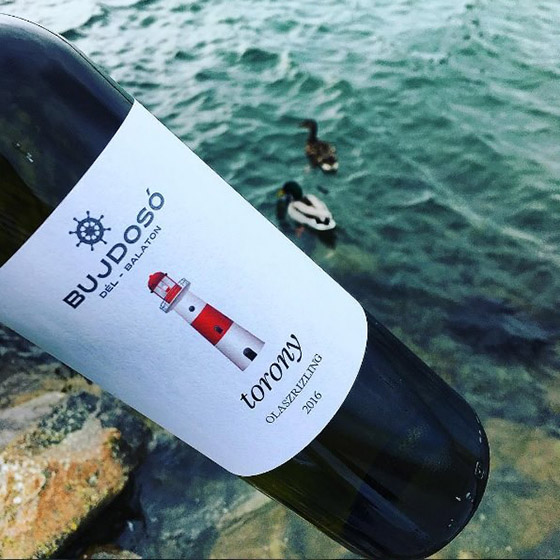 Do you have any data on your lakeside customers, tourists?
In the south they are clearly the families and it is also evident that Boglár has a more upscale and solvent clientele (maybe because of the kind of programmes offered) than Lelle. It is also interesting that the majority of buyers are Hungarians while foreigners have almost completely disappeared. It is a huge mistake that we don't advertise Balaton in Poland because during World War II a Polish high school operated in Balatonboglár, lots of Polish refugees were living here and for the descendants of many Balaton is still a place they keep in mind. We are now working with Gábor Kardos to get this year's Parti Pezsgés (Sparkling on the Shore) together with the Embassy of Poland.
Most of the famous Hungarian wineries have an estate centre, a place where thirsty people can take a seat, taste and shop. What about you?
We are special in this respect, as well, since we have as many as three centres (laughs): Szemes, Rád and Lelle. Obviously, in the long run nothing justifies this; it is just how it is. Szemes was love at first sight. My father's professionally related to Rád while Lelle is the production centre. We try to keep catering to the minimum. We were doing it for 20 years but have already closed our own restaurant. I'm 50 now and don't want to start anything big any more because I see the older generation who work – with a slight exaggeration – until they drop dead. I want to do it differently. Attila Gere told me in Villány 15 years ago when it was partly our fault that he couldn't attend his son's football match that it must be done differently so that it would work without us, as well.
Most people have probably never heard of the building at Rádpuszta…
It is a beautiful old building located among equestrian facilities. Thanks to the location, it is a split-level mansion with one floor on one side and two floors on the other. This building used to function as the stable where Counts and Princes Festetics could spend the night here or change their horses before the coach on their way between Keszthely and Dég (where the two most important castles and estates of the family were situated – the Editor's note). At one point we wanted to sell the building but now we're hoping to find a way and funds to restore it somehow because this wonder of a building would deserve to shine in its original grandeur.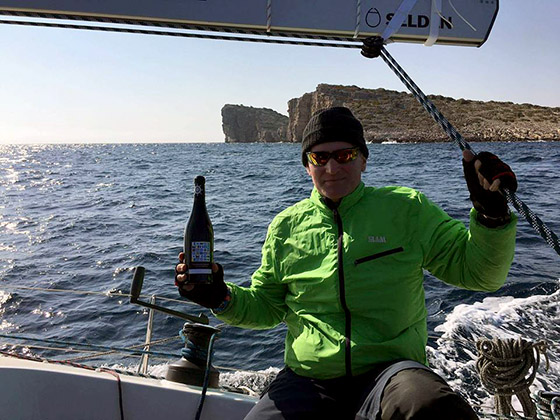 Last year you said you had reached the final estate size. Is there only some fine-tuning left to do?
This is the plan but of course, something always comes up. Originally we started with one acre in 1970 which had expanded up to three hectares of vineyard in production by the change of the regime in 1989 and that time an additional 3 hectares were about to be planted. As my father had enjoyed the 'hospitality' of occupying Soviet troops as a prisoner of war, 13 more hectares were later given to us as compensation. Afterwards the lands of the state-run complex were shared among the workers who came to my father one by one saying that they rather wanted a colour TV or a new car and they would sell us their land. This is how the estate became 60 hectares in size and we said it was enough, we wanted no more. Then last year we realized we're actually cultivating 85 hectares and I got so scared that I said again that we need no more. Now, we have 88 hectares. I haven't even noticed that my father bought another 3 hectares. Naturally, further purchases would be increasingly difficult as property and land prices have significantly gone up. It's certain that with the current technology we're able to cultivate 100 hectares without any problems.
What's next?
We are planning to take smaller steps, as part of a longer process. There was a complete image change in 2011 when we came up with the labels with the sailing ship design together with Géza Ipacs. This was a huge success, luckily. In 2015 we introduced machine harvesting, the only economical solution for this estate size and although until 2015 we has used Kalina barrels exclusively, we have been also using Trust barrels since. Now there are tastings and experiments to decide which variety from which area should be put in which barrel. Others might have done this sooner, just like János Konyári. He is a good example with a red wine I consider an etalon and which is produced in a land adjacent to one of ours. The grape variety is the same, the cultivation method is the same, the harvest time is the same, but his wine scores 100 while ours doesn't. So if everything is the same on the grape side, we thought it'd be worth to check the technology.
You are a Balaton man visibly in love with this land, the water, the wind and the grapes. Where do you go to have some time off?
It is easier in winter because then I go skiing but that's only four days. I simply can't be away for a whole week. The same happens in summer; we never have a full week off. Nowadays I go to various wine regions with my sailor friends – this year to Portugal, next year to Bordeaux.
You have surprised me; I thought you go sailing in the summer.
Sailing isn't a hobby. I go when there's a competition. Sailing, for me, is a sport. Moreover, because of my sensitive skin I'm banned from sunbathing on the deck, which I don't find attractive anyway. Even when I holiday, I remain close to wine. I'd say this is the world I belong to.