There are wineries where wonderful wines that can keep going for decades are born. There are also those where the winery building and the dynamic of the place hold you spellbound. Those, however, where, besides fantastic wines that you can maybe even keep for a century, the spirit of the place is as strong as the hundreds-of-years-old mansion belonging to the winery are certainly few and far between on this Earth. The Hungarian Barta Winery in the Tokaj wine region is one of these.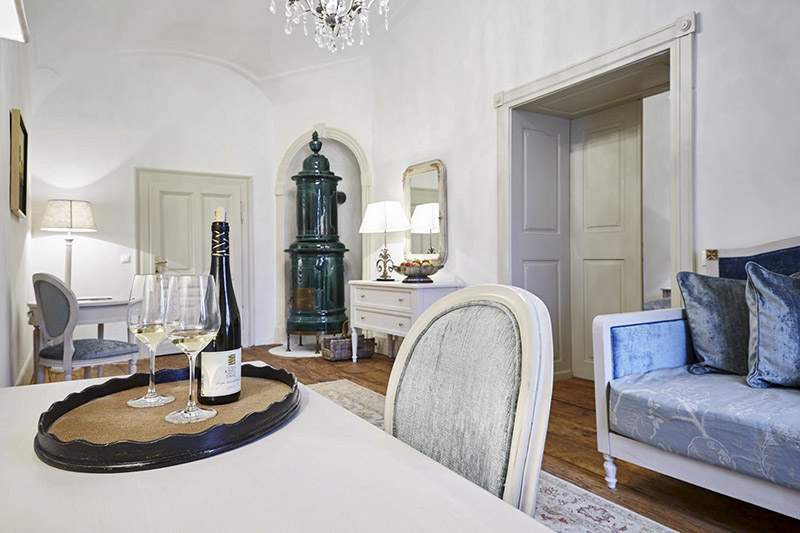 Photo: Ferenc Dancsecs (from the website of the estate)
I originally started writing this article because in December a social media campaign started in Hungary with the hashtag #koccintsaszuval or Let's toast with Aszú. It was the same last year, but then a Béres Aszú was the wine in question, now however, five Aszús from the Barta Winery. And this is not a typo…
Just to whet your appetite
Have you ever been to the Tokaj wine region? I don't really wish to pick out just one settlement from the twenty-two, but I'm not actually selling a lucky-dip. The spiritual and economic centre of today's Tokaj wine region is Mád. It is already preordained that 1000ha of vines will be planted around the village, and also that the members of the Mádi Kör (Mád Circle) Protection of Origin Association make their wines in line with very strict rules and philosophy. This is where István Szepsy, Géza Lenkey and Royal Tokaji are based, where DemeterVin's wonderful Aszús are born and where Károly Barta bought his estate in 2003.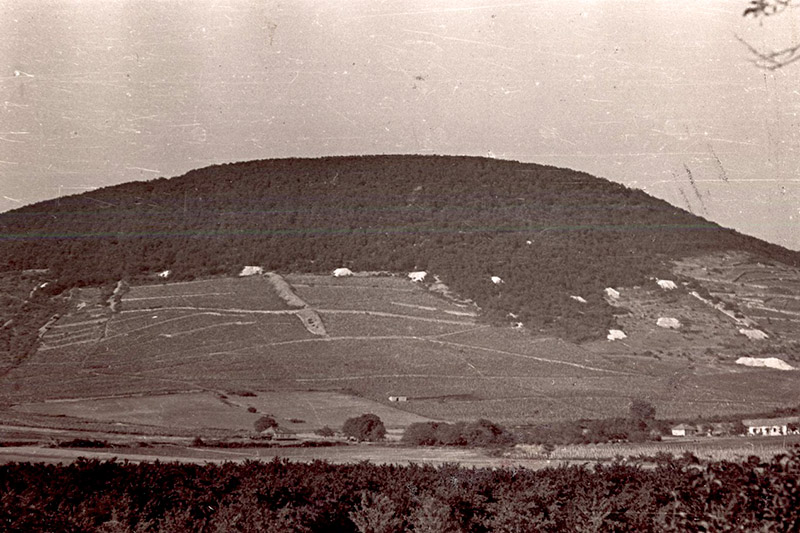 The King Hill with the Old King Vineyard on the right, just before the kaolin mine opening in 1959 (archive, from the website of the estate)
At that time, the Öreg Király (Old King) vineyard was still lying fallow. One of the biggest blunders of communism was the grubbing up of vines on Mád's Király Hill in 1959, with a kaolin mine being opened in their place. In such a historic vineyard that was already mentioned as a royal estate in 1285! Staggering, isn't it?! The top, steep, terraced part of this broad vineyard was referred to as Öreg Király as early as 1664 and this is the area, overgrown with forest and bushes, where hundreds-of-years-old stone terraces still stood beneath the undergrowth, which was bought by Károly Barta. He said that he had fallen in love with it immediately.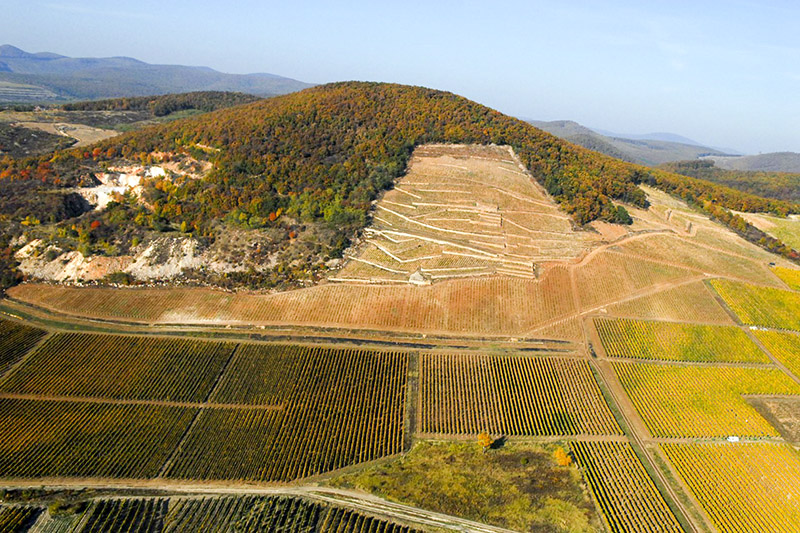 The abandoned kaolin mine on the left and the rehabilitated Old King Vineyard on the right (from the website of the estate)
Károly, it seems, is very good at seeing even the biggest misfortunes in a positive light and drawing power from them.
Phylloxera was a huge blow to Tokaj at the end of the nineteenth century. Yet it gave us a historic opportunity that was unprecedented and remains so. Unique and unrepeatable. Because of phylloxera, there are now three main grape varieties for Tokaj. Without this, we could still be reeling under the 61 permitted grape varieties, not even knowing where to begin! As for me personally, the mine opened during communism, which destroyed 65% of the Király vineyard's best land and the eradication of the vines on the remaining 35% has actually handed me an enormous opportunity. This area, this land and soil, has been resting since 1959. Since then, no manure, fertilisers or sprays have been used on it. It was obvious that it should remain like this too after being replanted. This chemical-free vineyard is God's gift and its extraordinary quirk is that all this was achieved through the destruction of communism. I cannot do anything else but preserve it for time to come.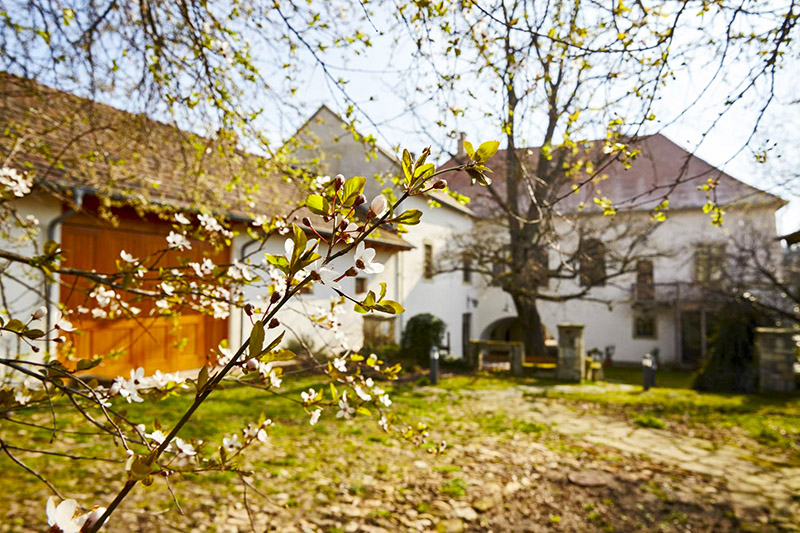 Spring, 2016 by Ferenc Dancsecs (from the website of the estate)
After they had cleared, rebuilt and replanted the Király vineyard (good grief, what a lot of work!), the Barta family began to look for a suitable estate centre. After a long search, their eyes came to rest on the once noble mansion belonging to their vines in the middle of the village of Mád. The owner of the former Rákóczi mansion was the same Rákóczi family one of whose members had given the Király vineyard its name!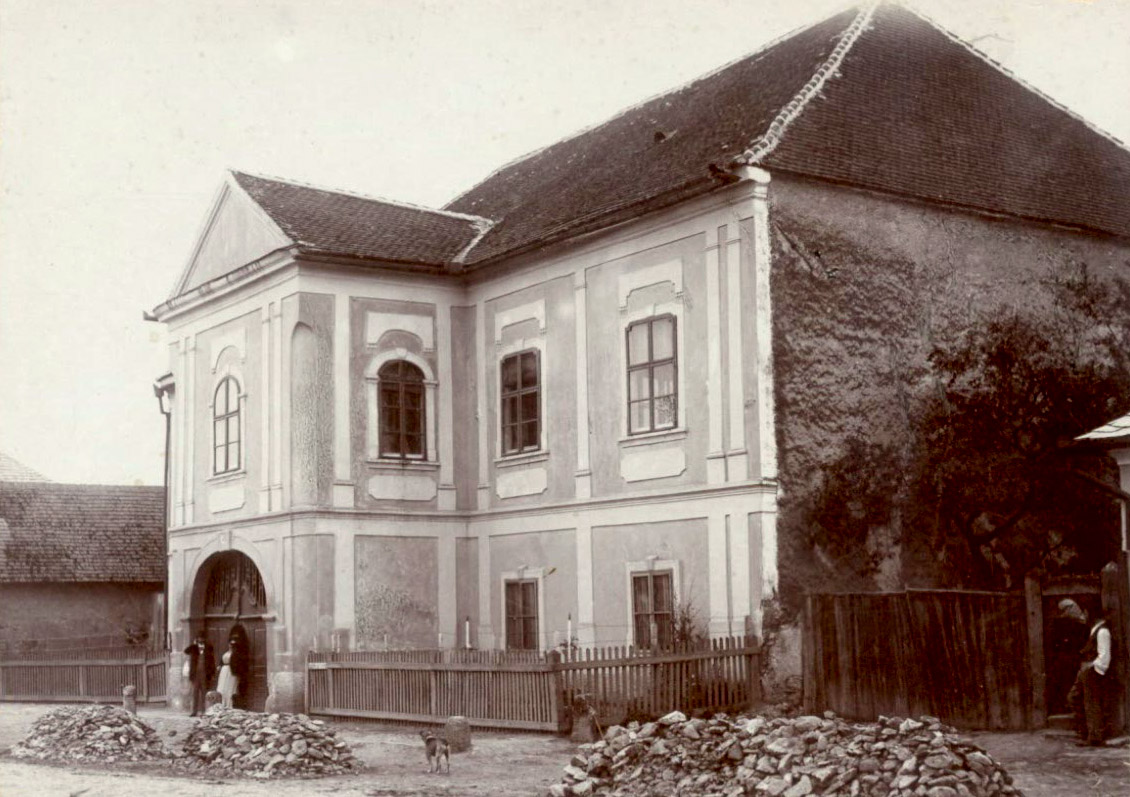 Photo: archive, from the website of the estate
The marvellous building in a pitifully ruined state was awaiting its saviour. The owner, an eccentric Austrian, had wished to study the "aesthetics of decay" or, put more simply, was waiting for the building to collapse. He relinquished his strange perversion after three years of intensive persuasion. After he sold the building to Károly Barta, architects and art historians, antiquarians and conservationists could finally come and assess the damage.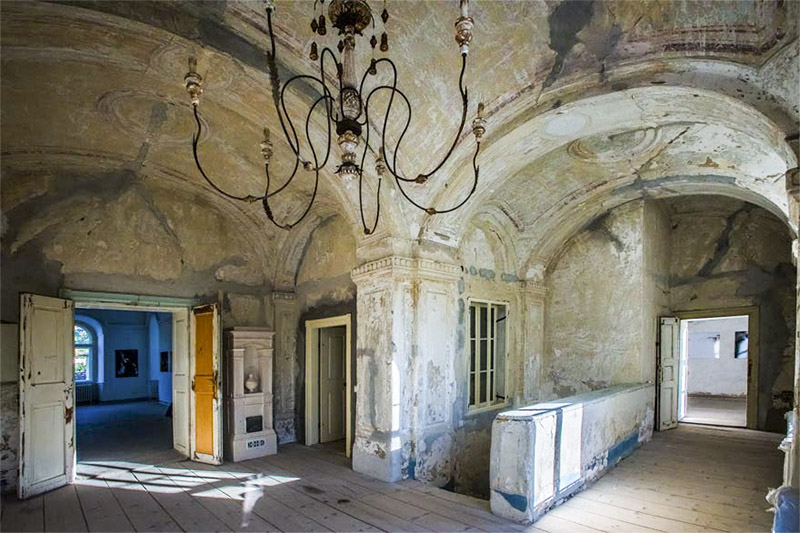 Photo: Attila Lóránt (from the website of the estate)
This is when it was discovered that the lower level of the small manor-house mentioned in 1755 had already been standing in the fifteenth century. Nowadays – after being beautifully restored – there are some offices, tasting rooms, a wine shop, dining room and kitchen on the ground floor as well as the winery, located in the rear tract, whilst upstairs, completed in 2015, there are three luxury suites meeting every need for those who would like to walk into the bathroom on the parquet floor that Ferenc Rákóczi II also wandered.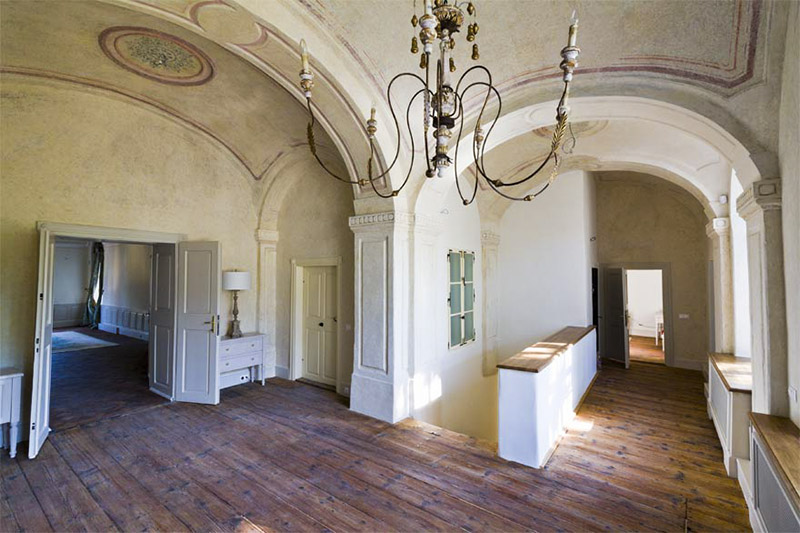 Photo: Zsolt Szentirmai (from the website of the estate)
Back to the wines
I gave the Barta Winery's 2011 dry Furmint 91 points in a blind test in 2012, 91-94 points at a tasting and as I still had a single bottle of it at home (not available since 2014), I sacrificed it for this article. Moreover, I didn't crack open the wines at home, but took them with me to Kosice where the second Furmint Forum was being held on 1 December.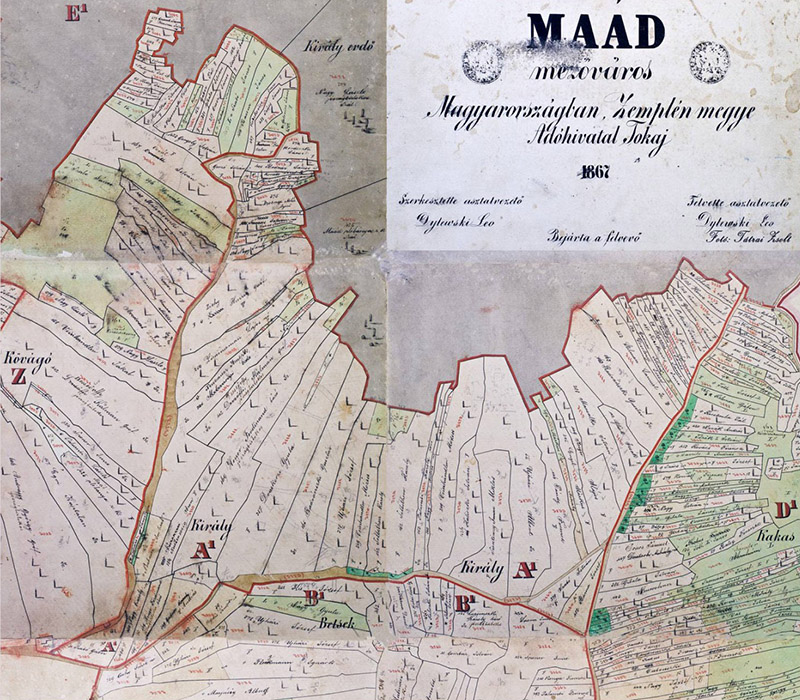 Old map (from 1867) about the Király-hegy (King Hill)
I invited my friends to the tasting too, held in the city's best wine shop and bar, Villa Cassa. So, I ended up being able to welcome to the table Tibor Vittek, editor-in-chief of the Slovak Vinoteka magazine and driver of vinko.sk, Gabriel Kover, head sommelier at the Prague Grand Cru wine bar and restaurant, Peter Drotár, editor-in-chief of tokaj.guru and creator of Furmint Forum, American Matthew Horkey and Singaporean Charine Tan from Exotic Wine Travel, Polish NieWinne Podróze writer Michal Kiss, Slovak wine social media daredevil and otherwise winemaker Peter Handzus, Piroska Koltai, one of the owners of Wine'aMore wine travel agency, the Czech wine blogger Jan Cerovsky, the author of Jizni Svah, and Andrzej Wojciechowski Polish winelover and Tokaj enamour.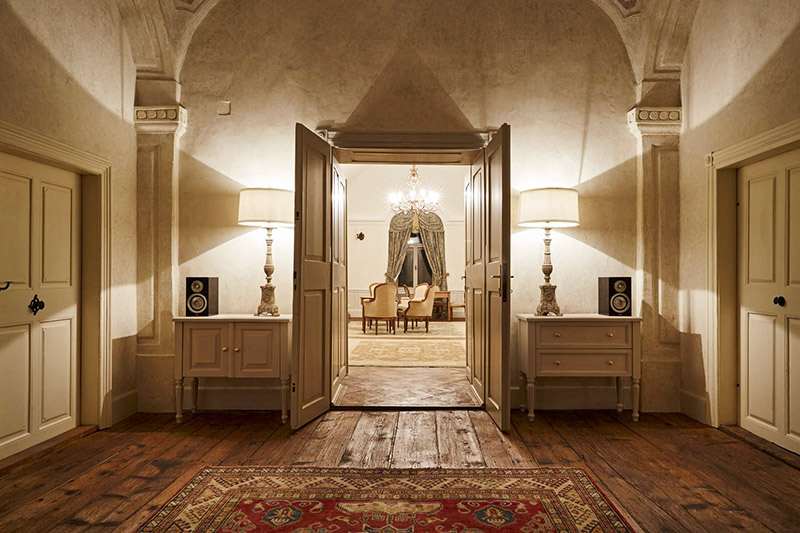 Photo: Ferenc Dancsecs (from the website of the estate)
We tasted the six wines blind, thanks to Vladimir Cuchran, owner of Villa Cassa.
Barta Pince - Öreg Király Furmint 2011 I 92 points
Restrained nose, beautifully fruity with a whiff of petrol in the background. Medium-bodied, with incredibly elegant acidity, ripe apple, salty minerality, pear and a touch of petrol on the palate. Amazingly there are still citrus notes, mainly on the finish. Elegant, tight, long. (I re-tasted after the Aszú and it still held its own!)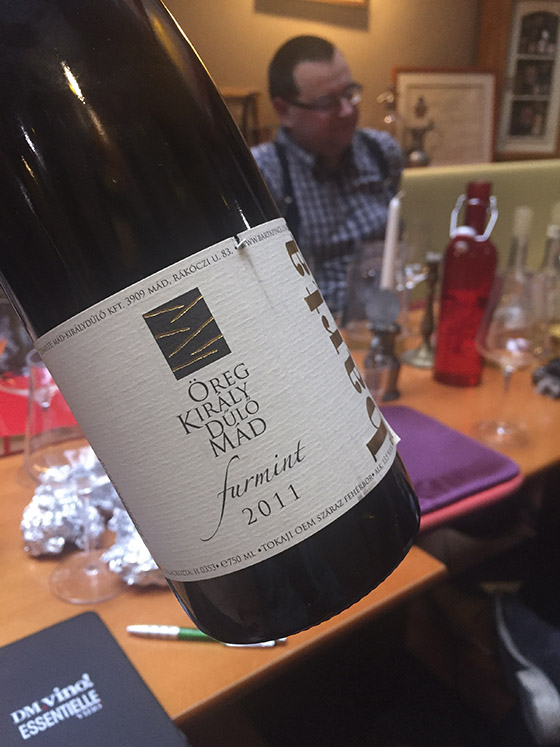 Photo: Daniel Ercsey
Barta Pince - Öreg Király 4p Aszú 2008 I 88 points
Ripe apple, apricot, dried fruit and a touch of flint on the nose. Medium-bodied, fresh acidity, very slight oxidative note also emerges in addition to intense oakiness. At first, it may be unusual that there is so much tannin in such a wine, but remember that Tokaj Aszú is a tannin-rich wine, which, as well as the acidity and sugar, is essential for such long maturation. The finish is almost dry!
Barta Pince - Öreg Király 6p Aszú 2013 I 89 points
Dried peach, citrus fruit and sugar on the nose. Relatively full-bodied, the acidity could perhaps be a little livelier, as the high sugar content makes the wine seem a little flabby. Flavours of dried fruit and slight overripeness. A lush wine with a long finish. My foreign colleagues thought it was more like a great late-harvest wine.
Barta Pince - Öreg Király 6p Aszú válogatás 2013 I 90 points
The brother of the first Aszú, from specially selected barrels in the cellar. It is not really any different to the plain 2013 6p Aszú unless it's in the sophistication of the acidity. If I tried to sum this up in one word, I'd say this wine is a little more elegant.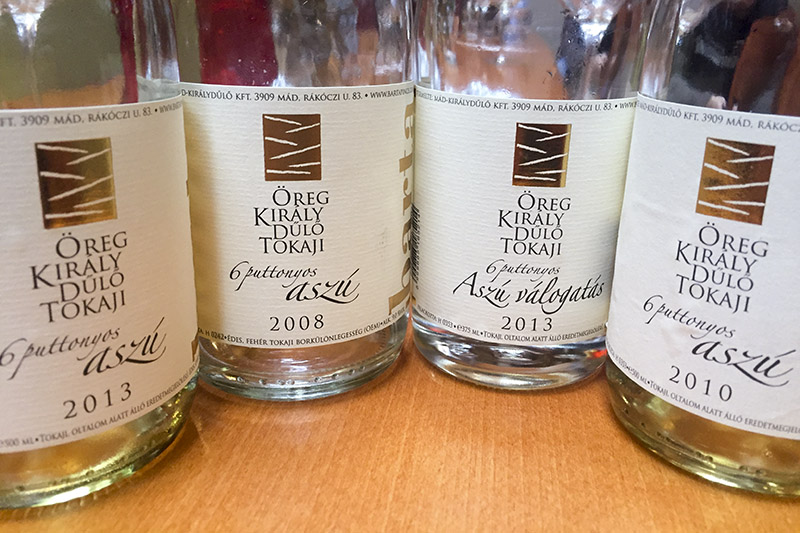 Photo: Daniel Ercsey
Barta Pince - Öreg Király 6p Aszú 2010 I 92 points
An Aszú from a difficult year. There was a lot of rain in 2010 and the year was cooler, so you can often recognise the vintage's wines by their acidity. Only the most determined winemakers managed to make Aszú. You can't feel this at all in this wine; that is, the desperation due to the bad vintage. The acidity is, of course, explosive (13.5g/l!), but the sugar (231.5g/l) can handle it. Aromas of citrus fruits, herbs and dried fruit, it almost explodes on the palate, with the acidity blitzing the residual sugar. Incredibly intense Aszú with an endless finish. Not surprisingly, it was the favourite of many at the tasting. My fave so far! – said Charine Tan.
Barta Pince - Öreg Király 6p Aszú 2008 I 96 points
In 2012, I gave it 95-98 points, so it is reassuring that my current verdict means I wasn't mistaken. A nose of minerality with pineapple, brittle, dried fruit, oriental spice, and a touch of chocolate and earl grey tea. Full-bodied on the palate with vibrant acidity and the characteristics of the nose reflected along with a little rosehip. Candied orange, custard and sandalwood on the finish. Endless, almost perfect. The sugar is perfectly integrated, oh wow! – said Michal Kiss.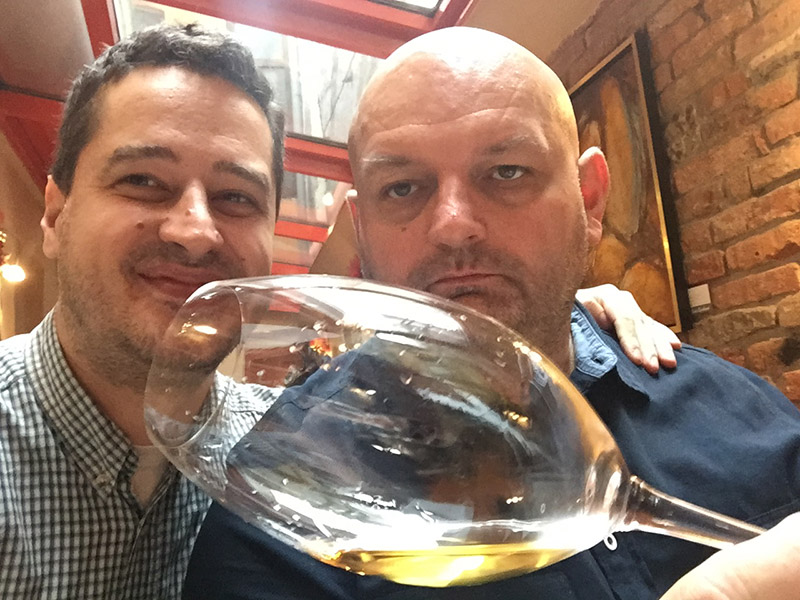 Daniel Ercsey and Tibor Vittek with a glass of aszú
So, this is what a mind-blowing vineyard-selected Aszú vertical is like. Don't forget that drinking Aszú is a great thing. Don't wait for Christmas, open a bottle today!