We visited Kosice in Slovakia on the invitation of a friend to take part in a wine tasting where five winemakers introduced Tokaj's Slovak side to participants. We have already visited this region, thus know the majority of winemakers, but this also dished up some surprises for us.
Nowadays Kosice is Slovakia's second largest city; it was once an important Hungarian-German-Slovak-Jewish trading city, known as one of the cradle's of Hungarian culture, in short a city with a truly cosmopolitan past, which also accordingly produced its own genius in the person of Sándor Márai.
Márai, whose entire oeuvre is pervaded with the spirit of Kosice, was a writer known and respected worldwide; his works are even now constantly being translated into various languages. He was born into a legal bourgeois family with German roots, which fundamentally determined his entire world view and he later rejected equally national socialist and communist ideas too. He was thus harassed during WWII and then with the communist takeover in sight, he moved to Italy, later settling in the USA. Why is all this important? His works do not only radiate amazing erudition, erudition as the most important European value, but also humanity, which stems from education and morality. Márai did not believe in any of the 20th century's crazy ideas, not because he didn't want to (obviously he truly didn't want to), but because he couldn't! This is almost entirely due to his family and to Kosice! (The extent of his writings means that nowadays he is referred to in the same breath as Thomas Mann or Robert Musil.)
Kosice was therefore a city where it did not matter who was Jewish and who not, who spoke Slovakian and who Hungarian, that was obvious, as every gentleman read and wrote Latin, German and perhaps even ancient Greek too. So if you visit Kosice nowadays, we can only recommend that, as well as visiting the monuments (and there are plenty of these too – the cathedral, synagogues and the houses on the main square), you seek out this spirit, this atmosphere in the city. If you can't find it however, then feel free to ask about it! The spirit of place is so strong in this city that it is still not taken in by any kind of ideology, just as it has not been until now.
The best example of this is Gabriel Ruiner and the Villa Cassa wine shop where we were seduced by a quick tasting and conversation even before we continued on to the Tokaj tasting. Gabi, a tall, tattooed young man does not only love his profession, but keeps a perfect distance from the Central Eastern European, unfortunately sometimes too characteristic, nationalistic outlook on life. An open spirit, true citizen of the world, who also speaks English extremely well. If you want to find a place and a person which shows Kosice's strength, the spirit of the place and the legacy of Márai, then you need to seek out Gabriel and Villa Cassa. The range of wine is also excellent!
Finally, before the tasting notes, some thoughts on the tasting. It's a pleasure to see that such a tasting in Kosice interests more and more people. The venue was good (Citadela Wine&Art Gallery), the organisation was good, although the mature cheeses and the two-man band in the tasting room was somewhat disturbing to a professional tasting. One final thought, 'honey to the bread and butter!' We're not going to argue about this.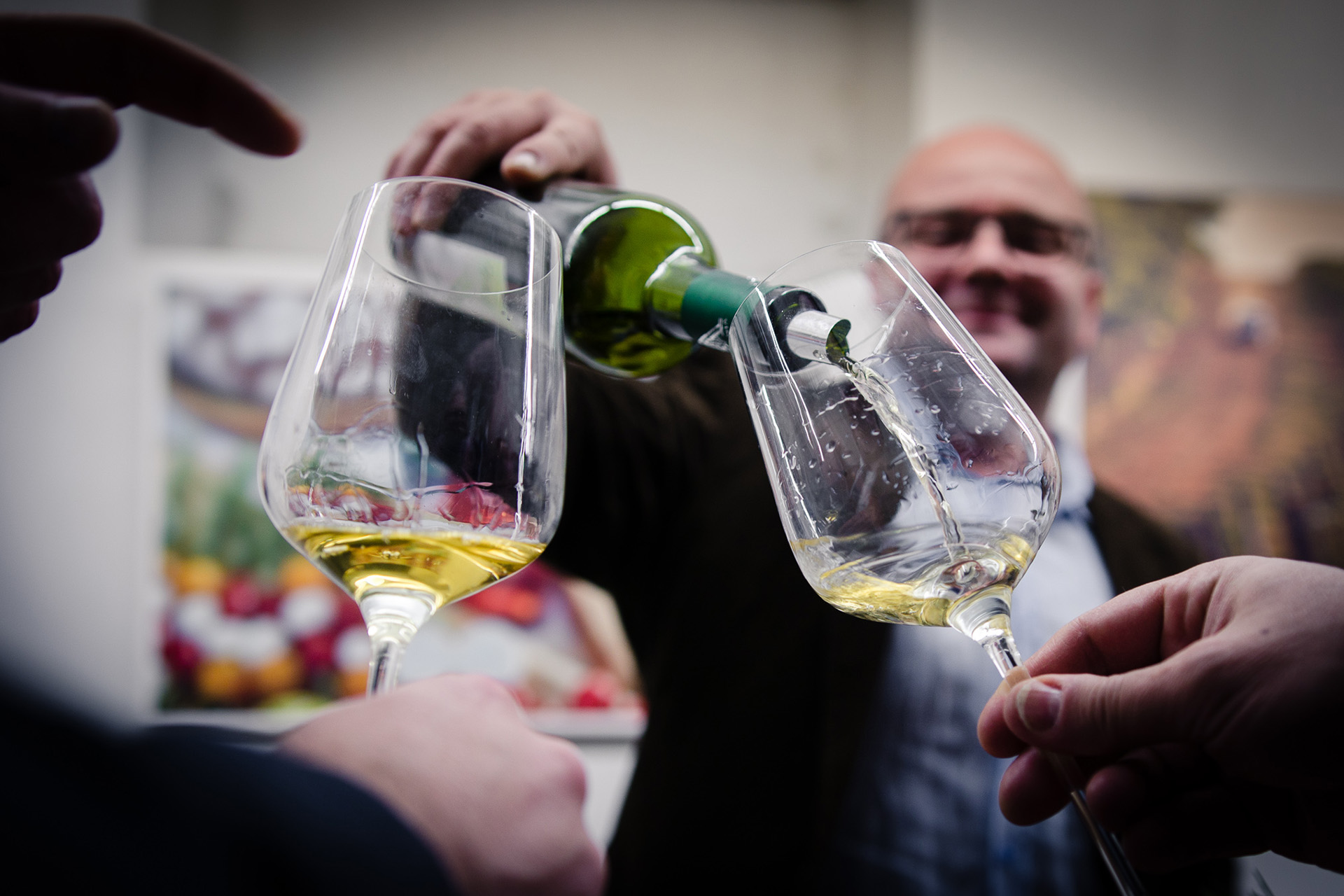 Tibor Csonka - Straw wine 2012 I 87-88 points
Aromas of forest flowers, plum jam and sandalwood. Very mouth-filling on the palate, with medium acidity, with the balance perhaps being tipped in favour of sugar. The palate is also dominated by plums, brittle and candy floss. Long finish.
Matus Vdovjak - Miriel 2014 I 87-89 points
Restrained nose, although explosive on the palate. Full body with lively acidity and flavours of honey, dried apricots, a little tannin and citrus fruit with a herbal finish. Super!
Marian Takac - Hrozienkac 2014 I 85-86 points
On the nose, a clear botrytis character with apricot jam and herbs. Medium bodied on the palate, with lively acidity, dried fruit, apricot and citrus fruit. The acidity betrays the vintage, but otherwise super.
Zlaty Strapec - dry Szamorodni 1997 I 83-84 points
Aromas of a little citrus fruit and petrol. Medium body with lively acidity and flavours of citrus fruit, walnut and hazelnut. Medium finish dominated by acidity. A real treat to try a szamorodni of this age.
Mikulas Vass - Muskat Zlty 2013 I 84-85 points
Classic varietal aroma of flowers, grape and a little perfume. Good acidity, firm and fresh. The palate is also light and citrusy. Very drinkable!
We decided to present just one wine from each winemaker. This was, in part, for prosaic reasons. Some of the above winemakers are making wine as a hobby while pursuing another civilian occupation. So, it would not be fair if we picked less successful wines to pieces on this page. What we have however highlighted is that the wine is really good and we hope that these encouraging words will act as an incentive. We also beg the forgiveness of the professional winemakers, but that would not be fair either, if we were to present all their wines on the other hand. So that's it, indulge us, please.