Géza Nagy is one of those few winemakers who has become a legendary figure already in his life when he was only middle-aged – twenty, or even more, thirty years ago.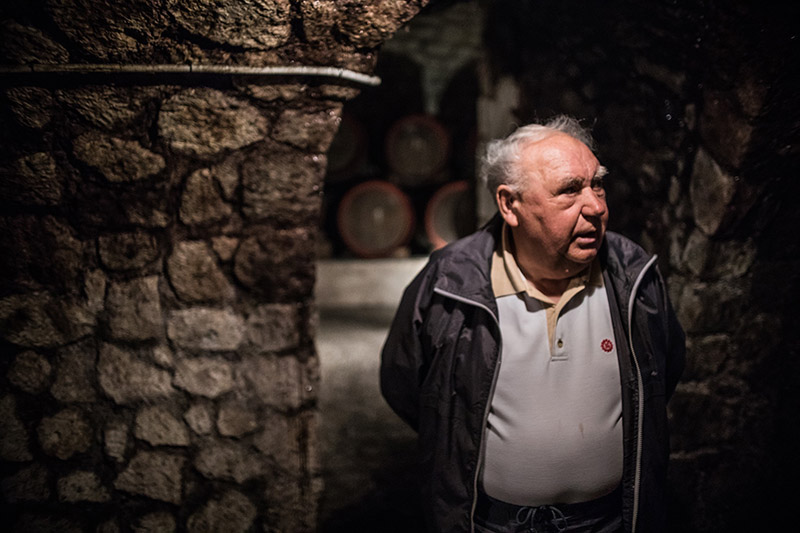 Géza Nagy in his cellar by @PixelTaster
You might not know but he was the first private cellar owner in whole Slovakia. He established his company later, in 1992 but he had been travelling across the country together with his wife selling Tokaji wine produced in Viničky. Then the business took off and paid for everything we can see today: the winery, the cellar, and the guesthouse.
We were almost like a show, selling Tokaj wine specialities from barrels using a sampler in Levoča, Bardejov or Prešov.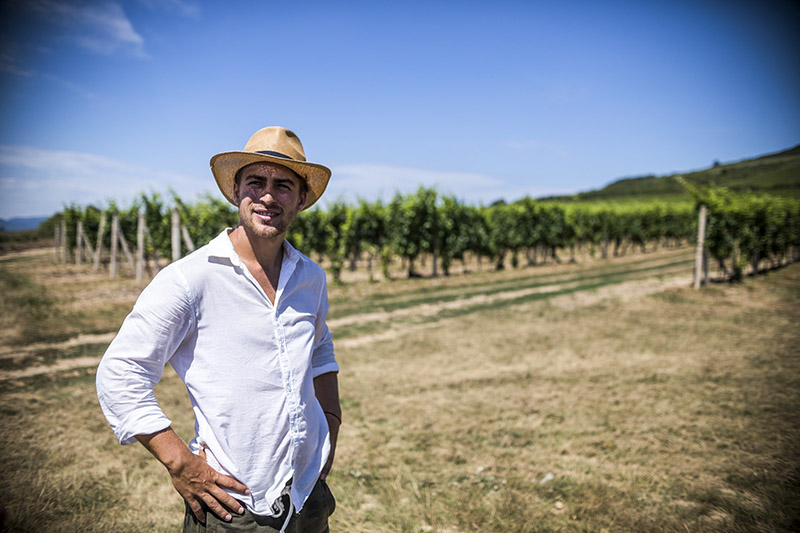 Patrik Čizmadia, Uncle Géza's grandchildren in the vineyard on the Piliš Hill by @PixelTaster
First, we saw the vineyards accompanied by one of Uncle Géza's grandchildren. A total of 10 hectares are cultivated; three in Viničky and the rest above Bara on the Piliš Hill. The map from 1857 said that we were either in the Pósa or Julianna single vineyard (now officially called Posa vineyard) where the view over the Bodrog backwater is simply fantastic.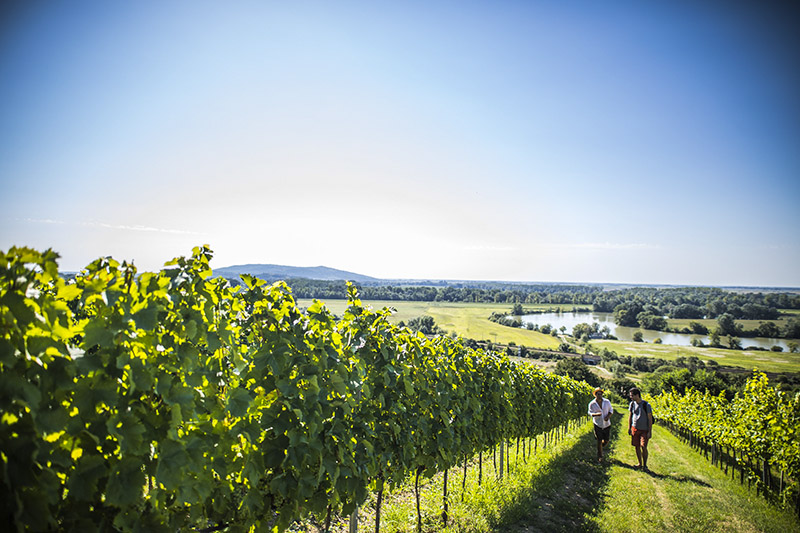 Interview in the Posa vineyard. The view is really fantastic. By @PixelTaster
The other vineyard is located in Vinicky above the winery. It used to be called Pipó, Csáki, Domik and Dióska vineyards but now the whole area is named Pipo. Count Gyula Andrássy (who was also Prime Minister of the Kingdom of Hungary) had the cellar below the winery built in 1890 though he did not live to enjoy it as he had died in February of the same year.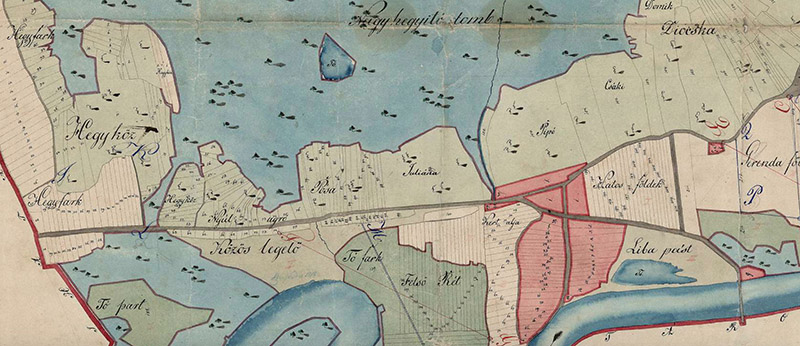 Viničky and the single vineyards in 1857
"My father was a blacksmith in Zemplín and had eight children…" – Uncle Géza started telling about his life. He was teaching in the nearby oenology school for 30 years. He himself had attended an agricultural secondary school and afterwards done his compulsory two-year military service. They moved to Viničky in the 1960s and founded Zlatý Strapec winery with his wife, Anna in 1992. In 2002 the tasting room was built in the cellar and the Zlatá Putňa Guesthouse was constructed between 2007 and 2013.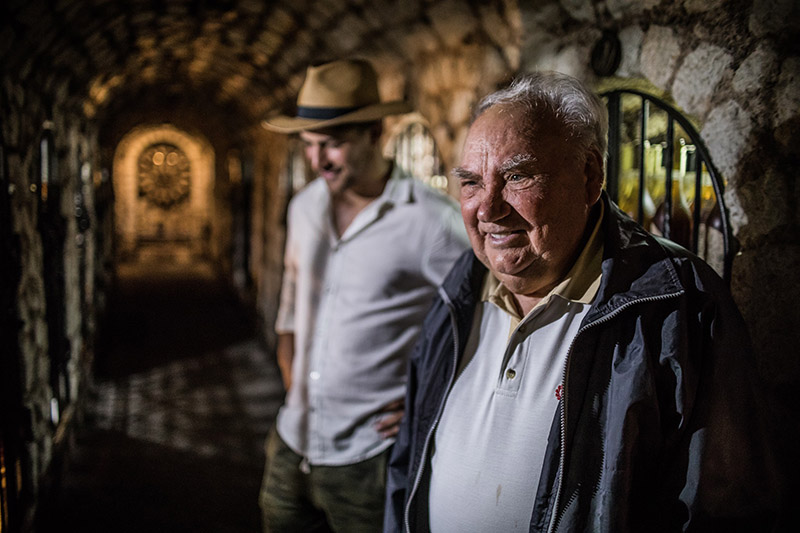 Uncle Géza and his grandchildren in the cellar by @PixelTaster
When I asked Uncle Géza about his opinion on the other Slovak Tokaji winemakers, he answered with a laugh:
"Competition is good. I would win the marathon if I was the only runner."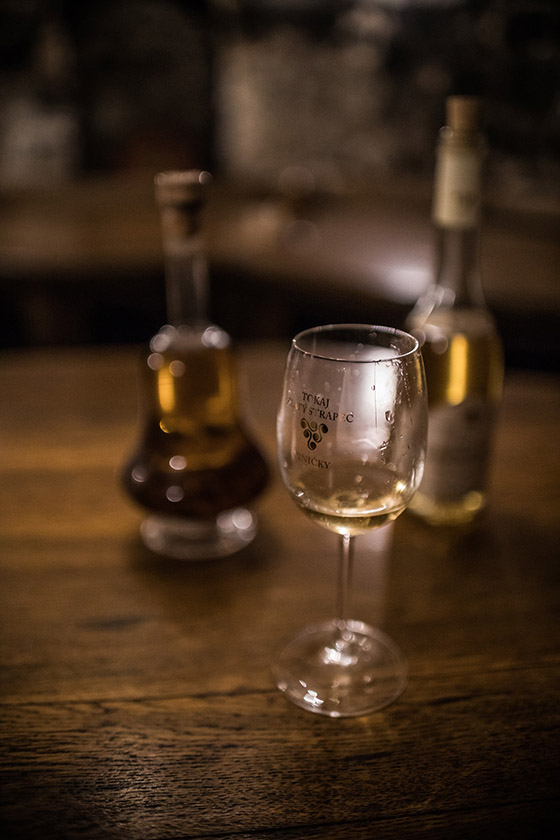 Photo: @PixelTaster
Even if Uncle Géza is still active, he can undertake less and less. However, he must be a happy man because the future of the winery is in good hands: his children and grandchildren also work in the family business. What more could a person want than to see that his life's dream will continue to live?
If you are interested in our tasting notes, click here.