I started to look into Slovak Tokaj thanks to Jaro Macik. I visited him for the first time five and a half years ago on a sunny afternoon in May. He hasn't changed a bit since; he was smiling incessantly, telling jokes while holding an incredibly professional tasting session, but most importantly, the wines were good. Very good indeed. It was the first time in my life when I had been enchanted by Tokaj's Slovakian side.
Since then I've been lucky enough to meet Jaro several times a year, and not only him but sometimes his parents, his sister and his sons, so his whole family. I've grown really fond of them and this is not only because of their good wines, needless to say.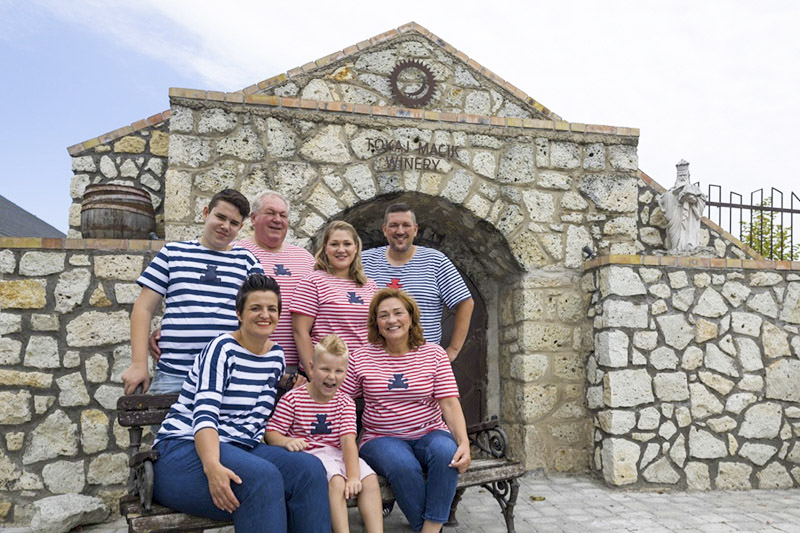 The Macik Family by @PixelTaster
Until 1998, Jaroslav Macik Sr, Jaro's father, was the director of the huge winemaking facility that had previously been the state winery. Jaro, in the meantime, had been studying at an American high school and came home in 1996 to simultaneously start university and work for the family business. They had a restaurant and a wine shop in Trebisov which later grew into a chain (with 20 stores), and had already purchased their first cellar in Malá Tŕňa in 1995. Things started to speed up that time as Jaro's wife, Erika, also began working with the family from 1997 and preparations for their own winery had already commenced.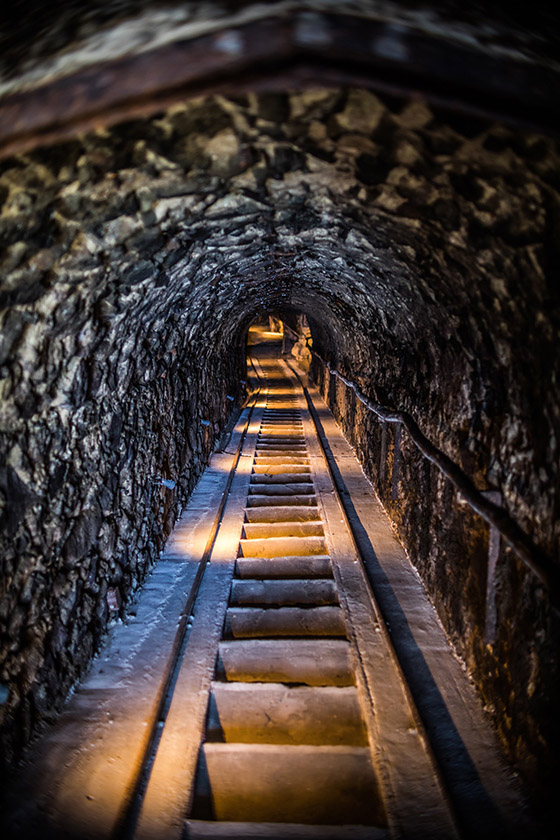 Underground heaven by @PixelTaster
They first made their wines in a medieval wine cellar, but this was not big enough, so they then rented part of a winery, and some vineyards of course, in Kráľovský Chlmec where they made bulk wine to sell in their wine shops. They started purchasing land in the Tokaj area in 1999, so that in future they would be able to make more wines from their own vineyards, but the process was unbelievably slow due to how extremely fragmented the estate was. Let me give you an example: the estate's most significant 25-hectare piece of land took 12 years to buy from a total of 100 owners, and an additional five years were spent clearing the area of forest and bushes.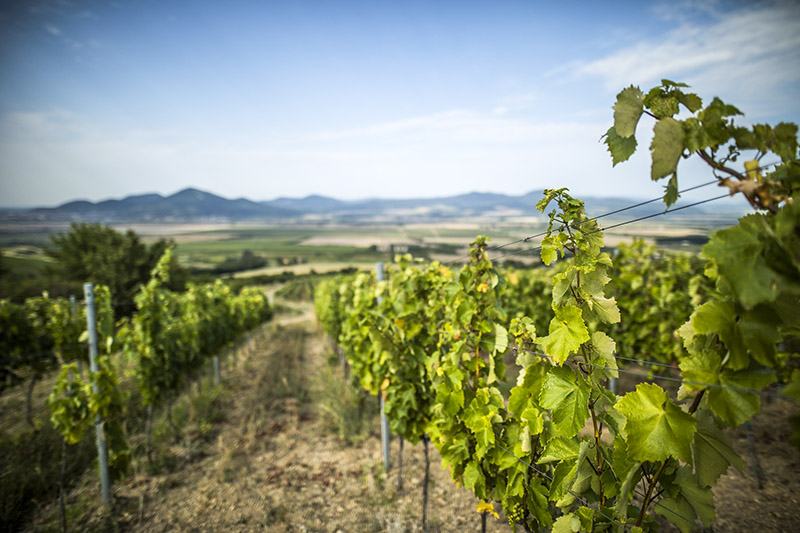 On the top of the hill by @PixelTaster
Jaro's mother, Mária, was the first main winemaker, indeed it was she who started the whole family wine business; Jaro took over as winemaker in 2005 and began to make new, modern wines. Jaro, however, also continues to make traditional oxidative Tokaj wines under the supervision of his mother. This was when the winery made its first wines using only their own grapes (from six hectares), so the work and quality could be monitored from start to finish. Even though Jaro has never told me this, I imagine that this was the moment when they decided that they would give up buying grapes for good and focus only on their own land. The state-of-the-art winery was also completed by 2005, and a year later, in 2006, the Tokaj Grand wine family made its debut in the HoReCa sector. This same year, Jaro's good friend, the graphic designer Rollo's work started to appear on the bottles (2006-Label of the Year, 2008-Mono bottle plan).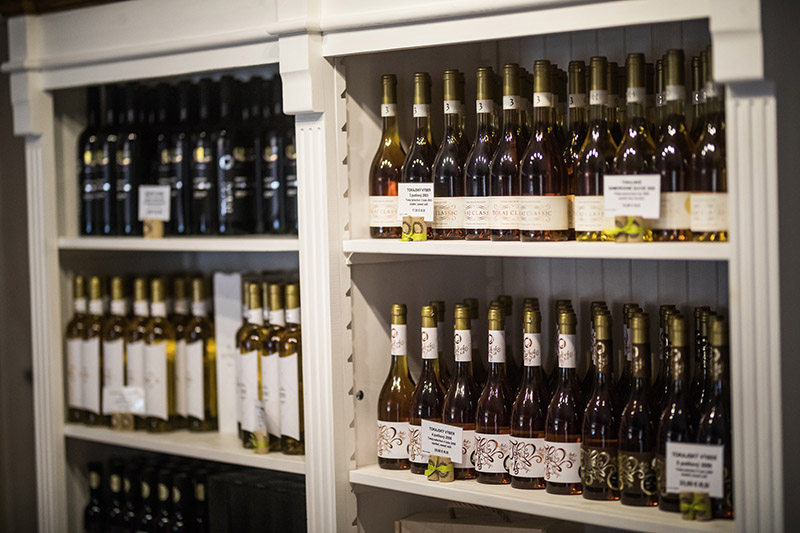 Wine shop in the estate by @PixelTaster
It is no accident that since 1996, when Jaro began to be active in the winery's life, their international presence has grown tremendously. They were the only Slovak winery at ProWein for a whole decade and had such a high-quality stand that I know of one Hungarian Tokaj winemaker who went to the Macik stand to conduct negotiations saying that their Tokaj image was cleaner-cut and more elegant. Today, they harvest from 43 hectares of their own vineyards located around Malá Tŕňa, Čerhov and Bara.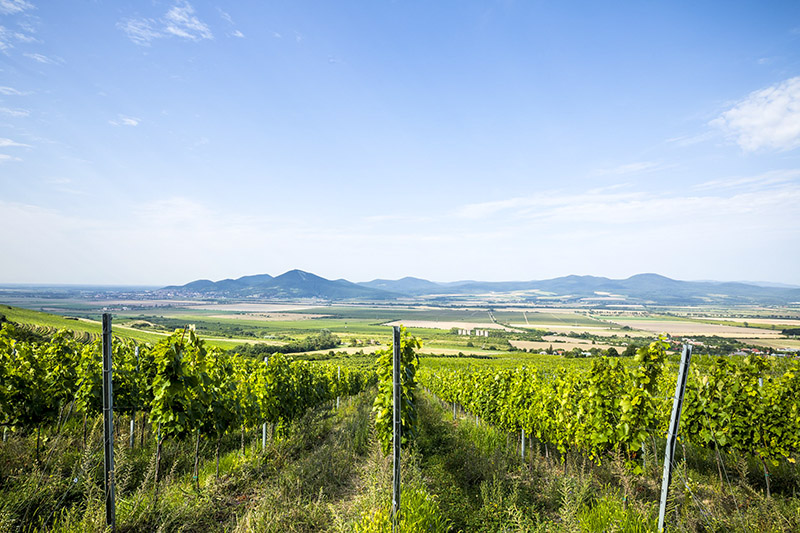 View from Šimonov vrch (St Simon Hill) which is the most famous area in this part of Tokaj region since 1221! Photo: @PixelTaster
Wine tourism has not been neglected either. Jaro's sister, Michaela deals with this as well as with touristic developments in the wine region. Moreover, she was manager for the 'Tokaj is only one' project (www.tokajregion.sk), whose aim is to make connections between Slovakia and Hungary through wine tourism. The winery not only offers accommodation and bike rental, but their cuisine, created by Jaro's wife, Erika, is simply fantastic – probably the best in the whole of the wine region, as is Erika's charismatic approach with the customers. But, believe me, this is not the only reason for the constant crowds at the Macik Winery. This is not why the vans and Harley Davidsons fill the parking places and not why the kids are running around on the lawn and why twenty-something girls arrive on package tours by the dozen. The reason behind all this is the directness and the friendly atmosphere that surrounds the whole building thanks to the Macik family.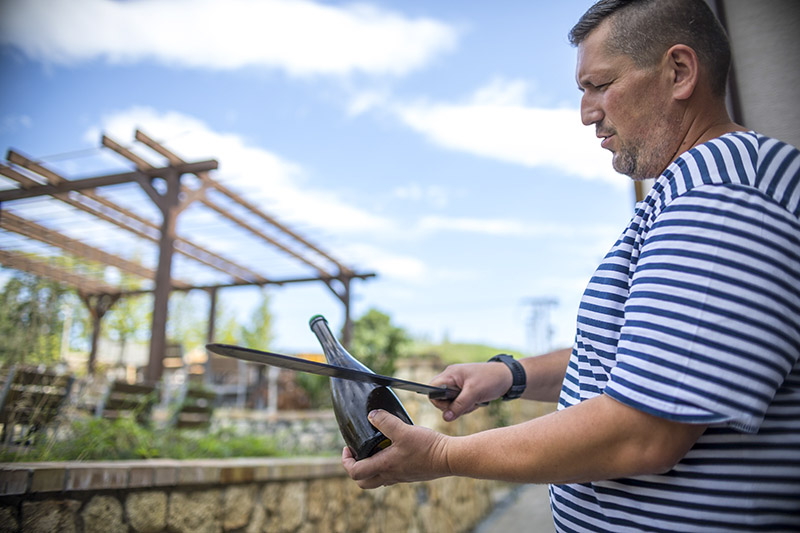 Just before sabrage by @PixelTaster
This spirit of family is also integral to the wines. The Macik family is now planning to make their first traditional method sparkling wines directly in the winery, which will be named after the kids – Simoni, after Jaro's youngest son, Simon, Erich after his older son and Juli after Michaela's daughter, Julia.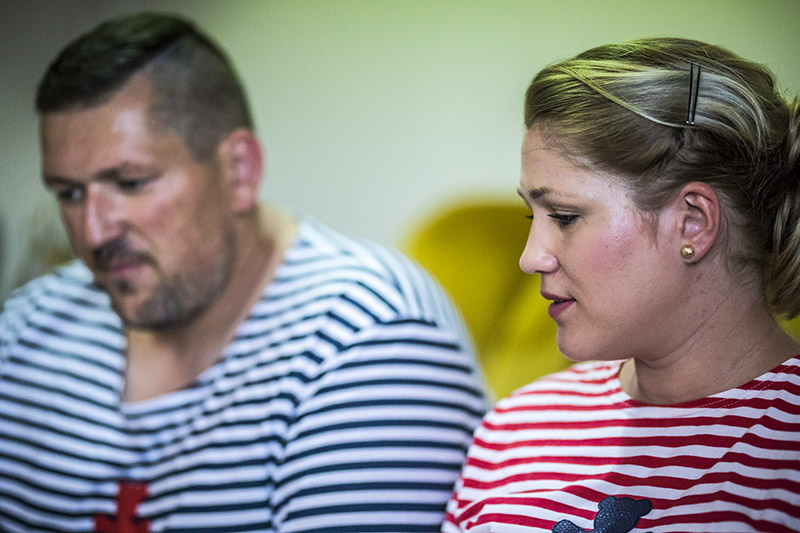 Brother and sister by @PixelTaster
Jaro once told me that he is Tokaj first and foremost, and his Slovak nationality only comes second. This approach, the significance of regionality and his localism, is also reflected by the fact that he has named his younger son Simon after the ancient vineyard and patriot saint of Malá Tŕňa. I wish them all the best and sincerely hope that the Macik family's youngest generation will be as successful as their ancestors.
If you are interested in our tasting notes, click here.