It is not at all surprising that rosé has started, similarly to other parts of the world, to conquer Central and Eastern Europe. Fifteen years ago if you ordered rosé in a winebar or restaurant, you also received strange looks but today you may be frowned upon if you order something else on a hot summer days. Moreover, in this part of the world people prefer drinking their white and now rosé wines, too mixed with carbonated water. Long live local habits! This drink, a kind of specialty of the Austro-Hungarian Empire is called fröccs in Hungarian, spritzer in German and has over a hundred year-old traditions. It is awesome to see how fröccs still draws the almost perfect borders of the no longer existing Austria-Hungary. Inside these borders this drink is known to everyone everywhere, while outside it is virtually unknown.
So, once you are around, do not hesitate to try spritzer or fröccs but be careful because the drink comes in several different varieties which Tamás Doma summarizes aptly here.
No matter if drunk with or without carbonated water, the first question to answer is: what rosé shall we choose? In Hungary, Austria, Slovakia, the Czech Republic and Slovenia, the northern types of rosé wines are popular while in Croatia, Serbia, Montenegro, Macedonia and Romania its southern style may also be tasted. What is it all about?
Anywhere in the world, well almost anywhere to be precise, when I say 'rosé', the reaction is 'Provence'. Rosé wines from this Southern French region are the etalon, they are the most expensive and well-known ones. They are usually elegant with a beautiful acid structure and their tastes often reveal interesting, spicy or even mineral traces besides the fruity character. These wines are not meant to be consumed fresh (that is within one year) because aging, often performed in barrels, for as long as 2 or even 4 years, improves their quality. However, the northern style (and this applies to German rosé wines, as well) is a much more crispy drink with fresh acids often producing almost citric traces besides the intensive fruitiness. These wines are generally consumed within a year and some residual sugar is often left inside the wine to improve its consumability. This sugar is masked by the acids anyway.
It must be noted that consumers, and primarily expert writers, make a distinction between two additional rosé types. This is an unofficial differentiation that winemakers dislike talking about but attention is worth to be paid. First, let us see the reasons to explain the background: rosé is currently the perfect cash-flow wine. No matter what you deal with, how great a red wine you make, you will need rosé to make a living. In Hungary one simply cannot produce enough to sell in the high season. This is why everybody (well, not everybody, to be precise, only those who work in wine regions with blue grapes) try to produce rosé wine in one or both of the variations mentioned above. The first type include wines originally meant to be rosé, i.e. the ones the winemaker destined to be rosé. It means that from the previous harvest, all preparations have been made, the vines have been pruned, the yield limitation has been arranged and the harvest date has been set accordingly. Even after all these it is easy to fail. However, there is the second type when red wine was originally planned and harvested, but some of the juice is removed before all the colour soaks off. Due to the late harvest and other loads, rosé wines made with this method are often slower and rounder with more gentle acids, and they lack the freshness we generally expect rosé to deliver.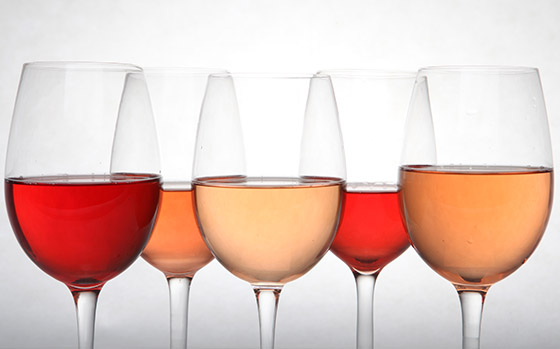 When studying rosé grape varieties in Central and Eastern Europe, we can find ourselves in a huge chaos with only one grape variety distinctive among the haze: Blaufränkisch. Southern type of rosé wines are made from almost everything: from plavac mali to cabernet sauvignon and even pinot noir, while concerning the northern types – though the situation is almost the same – there is a kind of consensus among winemakers so the majority of rosé wines is made from Blaufränkisch. This variety seems to be fit for making rosé wine in addition to the complex red wines without excessive marks of terroir. Take our following tip: if you want to purchase rosé in Austria, Slovakia or Hungary, look for one of the following names on the label: Blaufränkisch - Frankovka modrá - Kékfrankos.
The prices of cash-flow friendly rosé wines are rather moderate with bottles priced below 3–5 euros while the quality, evidently, is not to complain about. The most serious annual international rosé competition, the Mondial du Rosé awarded the following medals to wines from the CEE region in 2016:
Gold: 1 Austrian, 1 Hungarian
Silver: 10 Slovakian, 2 Romanian, 9 Czech, 2 Macedonia, 7 Hungarian, 1 Austrian, 1 Bulgarian
Scrutinizing Hungary alone, 104 medals – out of which 33 were gold ones – were won between 2005 and 2016 by Hungarian winemakers. And if you want to be on the safe side, look for the wines of Tamás Dúzsi who alone got 18 silver and 13 gold medals from the above-mentioned lot.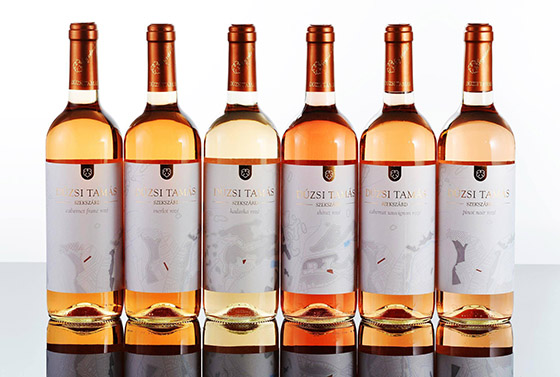 Nevertheless, other Central and Eastern European countries have nothing to be ashamed of with the Czech Republic winning 67 (16 gold) medals, Slovakia 53 (6 gold) medals, Romania 31 (8 gold) medals, Bulgaria 29 (4 gold) medals, Austria 14 (2 gold) medals, Macedonia 7 (3 gold) medals, Moldova 2 (1 gold) medals, and Slovenia 3 silver medals in the period under discussion. The winemakers of Serbia and Croatia have so far seemed to overlook this competition but hopefully, it will change in the future.
Finally, let me mention that in a significant part of the region rosé is also consumed as fröccs or spritzer. When you are around this is something you must definitely try.