PART I: The natural wine renaissance
A journey to the spiritual home of orange wine
The current craze for organic, natural and culturally authentic food products has a mirror in the wine world – natural wine. This trend has fostered increased interest in wines produced without additives and using ancient implements. Georgian clay-pot-aged wines are the simplest way to drink to one's health, while getting to grips with the ancient mysteries of winemaking. In the first part of my two-part series, I will look at how the natural wine movement fits into ongoing larger political, culinary and aesthetic trends. Part I will also examine Georgia's premier wine region, Kakheti, and the vinification processes used for the country's signature orange wine. This background will set the table for us to feast on the white wines of acclaimed Kakhetian winemaker, Kakha Tchotiashvili in Part II. We will study Kakha's wines to understand how each of his orange wine types can serve as a benchmark for the main varieties used in Georgian clay-pot winemaking. Part II will conclude our survey of clay-pot-aged wines by examining other producers and the two most famous red wine grapes of Georgia, Saperavi and Tavkveri, focussing on their unique flavour profiles.
The last three decades have witnessed many interconnected revolutions: globalisation, the internet, the fall of communism, the Arab Spring and most recently, the rise of neo-populist movements. These revolutions have been spurred by, and in turn promoted, the ability of the individual to express himself. Linked to these sometimes-disturbing political upheavals has been the beneficial rise of the empowered, cognisant consumer - ushering in the Golden Age of Wine. This silent revolution's underpinnings have been increased worldwide demand, technological improvements, a movement from bulk to quality and the ability of the consumer to obtain information instantly about thousands of wines with the click of a mouse.
In this everchanging world of iTunes, Tinder and Trump, two countervailing trends are noticeable: hypermodern, technology-influenced developments in food and fashion are simultaneously being opposed by a corresponding obsession with a return to period pieces and authenticity in décor and design. As gourmet restaurants are falling prey to fads of molecular cuisine and every sort of fusion, trends in the wine world are, fortunately, pushing in the other direction.
A natural wine renaissance is underway. Winemakers are returning to older methods of vinification - predicated on fewer interventions and delivering a wider range of tastes. As we enter this new golden age of wine, the wine world's cutting edge is paradoxically also its birthplace; some of the newest tastes available are also the oldest.
As a historian, I've long had a fascination with the food and drink of the Romans and Greeks. Today, the closest we can come to approximating the flavours of these ancient wines is to explore the Qvevri-aged wines of Georgia. Qvevri are a form of clay-pot which originated in the Caucasus more than six thousand years. Qvevri are distinct from amphorae (which were invented much later, and used primarily for the transportation and storage of an already fermented liquid; Qvevri are not designed to be moved and are too large for a single person to do so.) Yet both amphorae and Qvevri share a broadly similar shape, with a tapered tail, moving to a subtle bulge that closes off at the neck opening...
Seeking to discovery the mystery of how Qvevri-ageing affects the flavour of wine was the goal of my trip to Georgia. Having conducted that research, my self-appointed task for this article is to introduce readers to the major Georgian grape varieties for Qvevri -aged still wines: Rkatsiteli, Mtsvane, Khikhvi and Kisi for white, and Saperavi and Tavkveri for red. Part I will set the stage interlacing philosophy and travel, while Part II will delve deeper into tasting notes explaining why various Qvevri wine styles taste the way they do, by focussing on an archetypical producer Tchotkiashvili.
Over the last 18 months, due to connections forged in my 'real career' in journalism and international relations and my 'hobby' as a high-stakes professional backgammon player, I've had the pleasure of being a guest of the Georgian government three times. In between briefings and bus tours, I enjoyed my travels across the Caucasus immensely -- discovering a land of hundreds of languages, snow-covered mountains, perfect sandy beaches, mediaeval monasteries, rusting Soviet factories and radioactive spas.
And yet, my most rewarding explorations and epiphanies were found inside the wine glass. This May, I was fortunate enough to travel with an old colleague of mine from Oxford, James Flewellen, one of the world's few authorities on the discipline of blind wine tasting. I also travelled with my American assistant, a budding North Africa expert, Lydia Jabs. We met many of Georgia's top winemakers, and learned how clay-pot-aged wines are made and why they taste the way they do.
Surprisingly, given Georgia's fame as the likely birthplace of wine, there is very little in the way of popular writing in English surveying its vast array of wine styles or explaining how Qvevri ageing imparts its characteristic notes of nuttiness, restrained florality, honey and lingering chalky tannins. Alice Feiring, a famous advocate of natural wine (i.e. wine produced with as few additives or cellar interventions as possible) explains the health advantages of Georgian Qvevri wine - especially its avoidance of sulphites and other stabilisers - in her books 'For the Love of Wine' and 'Naked Wine'. Yet, she does not seek to explain the difference in flavour between an oaked Saperevi and a Qvevri-aged one or between a Mtsvane and a Kisi.
To most Western wine connoisseurs, Georgia is most famous for its 'orange wines'. These are unfiltered white wines made with lasting skin contact inside Qvevri, and despite being bone dry, they are amber or golden in colour similar to that of a Sauternes or Tokaji. The wine acquires an amber hue as the clear grape juice takes on colour compounds from the grape skins, pips and stems. In addition, the unique shape of the Qvevri creates a different temperature gradient profile in the fermentation vessel compared to that found in stainless steel vats or oak barrels. These features, combined with the partially oxidative winemaking practice, ensure a Qvevri wine ferments with a different trajectory than whites made using the sorts of modern techniques you would typically find in France, California or almost any other winemaking region around the world. Thanks to this process, orange wine is a unique combination of flavours that the Western palate associates with sherry, oxidative white wines such as Savennières or Vin Jaune and even those of tannic ciders.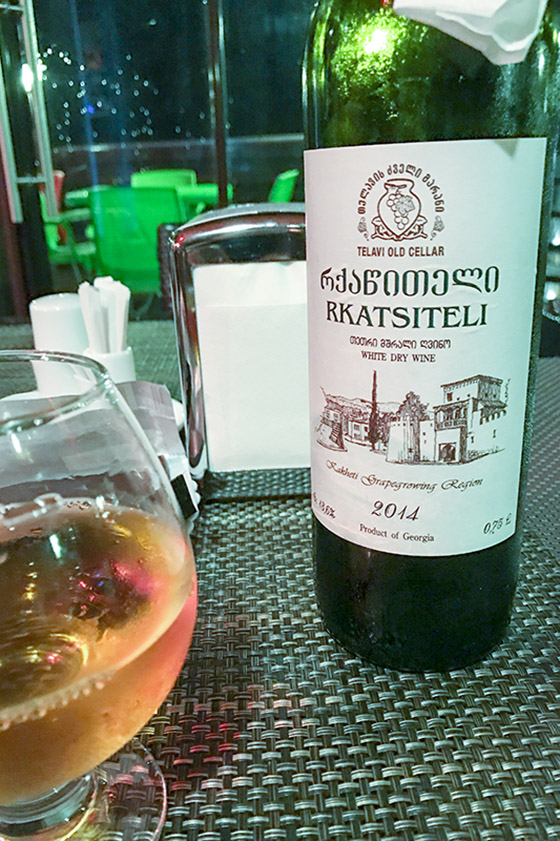 (A bog-standard glass of Kakhetian orange wine, made from Georgia's most widely planted white grape)
These orange wines are typically the only Georgian wines that grace the pages of high-end wine lists in London, NYC and Continental capitals. On even rarer occasions, Qvevri-aged reds appear on Western wine lists. Conversely, in Russia and Eastern Europe, the most popular Georgian wine types are semi-sweet non-Qvevri-aged reds. And yet in Georgia itself, full-bodied, dry, non-Qvevri-aged reds probably account for the majority of domestic consumption. So Georgian wine is many things to many people. But the best boutique Georgian wine seeks to be produced 'authentically' - deriving from methods of winemaking that are millennia-old, like Qvevri ageing, rather than merely centuries old, like oak ageing.
These ancient wine styles were largely eradicated by the Soviet preference for factory production and quantity over quality. Fortunately, due to the sophisticated demands of the knowledgeable, globalised consumer, who rules the roost concerning the trends of the 'Golden Age of Wine', they are making a comeback. Hence, in part II, we will only be discussing the Qvevri-aged types most prized by an adventurous Western palate.
The country's most prestigious, wine region is undoubtedly Kakheti – located to the east of the capital, Tblisi. It is a long, narrow strip of land through which the Alazani river passes, creating a valley floor littered with many small streams and nestled between the Greater Caucasus mountains to the north and smaller foothills to the south.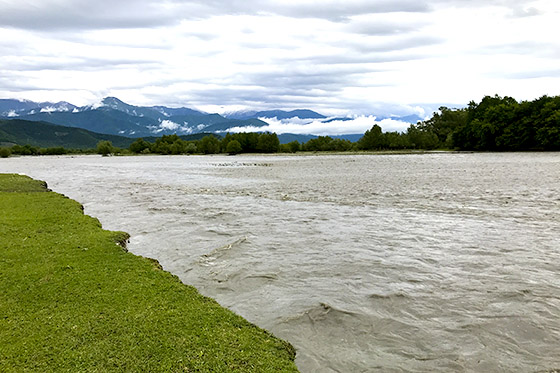 (View of the Greater Caucasus as seen across a stream in the Kakheti valley)
Kakhetian wine exhibits a great variety of production styles, but the region is arguably the spiritual birthplace of orange wine.
When it comes to orange wine, Tchotkiashvili (the producer we will highlight in Part II) produces three of the four most widespread white varietals: Khikhvi, Kisi and Mtsvane.
Georgia's most widely planted white grape, Rkatsitili, tends to exhibit the winemaking technique rather than its varietal characteristics – think of it as the Chardonnay of Georgia. It is more of a neutral workhorse grape with thick skins and a touch of varietal bitterness. On the other hand, Khikhvi, Kisi and Mtsvane are more challenging to grow, have lower yields, greater elegance/florality and more prominent varietal characteristics.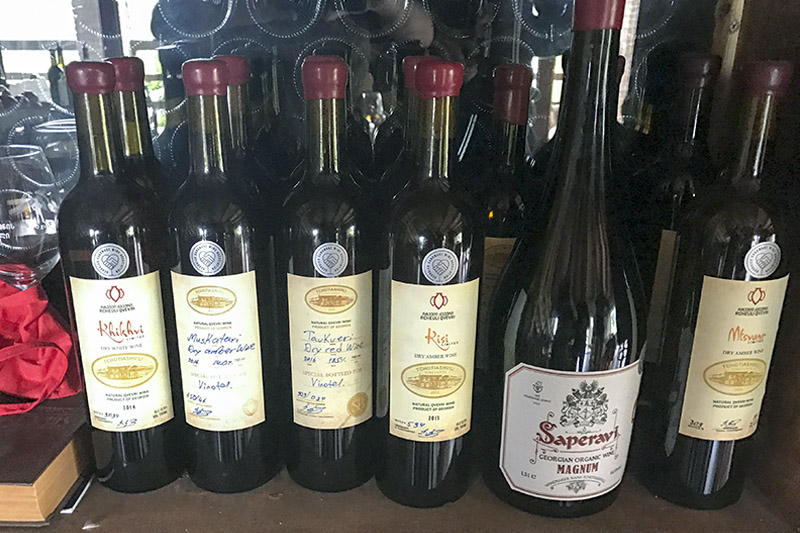 (An assortment of the main varietal wines produced by Tchotiashvili winery)
Because orange wine comes from white grapes aged on their skins, it has a tannic, drying quality just like red wines derive from their skin contact. In its finer examples, the tannins are mouth-filling and firm. More chalky than chunky, they provide structure to each sip, coming together as part of the finish and lingering on the sides of the mouth. Fans of high-end boutique still cider, particularly those from southern England, will recognise and appreciate this interplay of taste and mouthfeel. These wines tend not to be too acidic or citrusy and the mouthfeel is unlike any other white wines on earth. Come explore them with us in Part II.