PART II: Serendipity strikes
An exploration of Georgian Qvevri wines using Tchotiashvili as the benchmark
You are new here? For the 1st part of this article click here.

On my first trip to Georgia, I ate repeatedly at the country's then top-rated restaurant on Trip Advisor, GVino. GVino has an unassuming café-like ambiance at the end of Tblisi's most famous shopping street, the Kote Afkhazi. GVino is easily missed on the pedestrian side street, King Erekle II, dwarfed by myriad tourist traps proudly displaying their menus with pictures of Georgian staples such as Kachipuri – a delectable cheese bread with various toppings. These places usually have young female crowd gatherers, who attempt to herd passing tourists into their outdoor patios. GVino has no such crowd gatherers or gaudy pictures of Georgian dumplings (Khinkali); it doubles as a wine shop and stocks only boutique natural wines. It was here that I first discovered the wines of Tchotiashvili, as they were recommended to me by their excellent sommelier, Guram Maisuradze.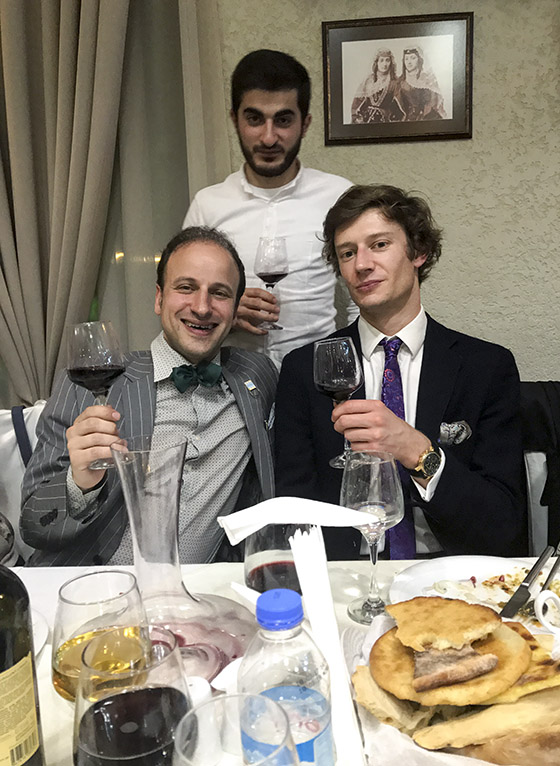 (Guram Maisuradze standing with the author and James Flewellen, seated in front of a Georgian banquet called a supra)
In Part I, we examined why natural wine is making a comeback and why Georgian clay-pot (Qvevri) aged wines are not only natural, but are also the closest approximation the modern world has to the ancient wine-making techniques of the Greeks and Romans.
Tchotiashvili is a small, boutique winery, producing stellar and archetypical orange wine. Kakha Tchotiashvili has recently taken over from his father and his efforts over the last decade have made his family's (quite unpronounceable) name synonymous with quality and elegance. Production is less than a thousand cases a year, and Kakha hand labels, numbers and signs each bottle.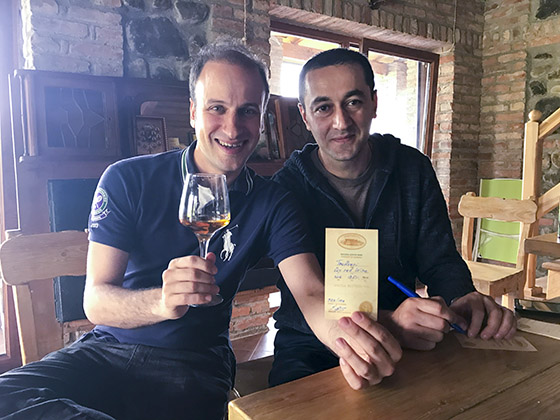 (Kakha Tchotiashvili sitting with the author, who holds a handwritten label prior to its being affixed to a recently purchased bottle)
In 2016, I brought home four bottles of Tchotiashvili's Kisi, thinking it the best Georgian wine I had ever tasted. And yet in May of 2017, Tchotiashvili was not one of the vineyard visits I had scheduled with James and Lydia. My logic was I had already tasted its wines and needed to explore new outlets. And yet on our first day driving from Telavi (the main urban gateway into the Kakheti region), while passing by some derelict villages and dirt roads on our way to the rather touristy Twins winery, we happened to see a small brown sign with the word Tchotiashvili and a picture of grapes and Qvevris. I yelled at our driver to stop. Inside the gate, there was a traditional farmhouse sitting near the road on a small piece of flat land. Was this unassuming place really where such ethereal nectar was produced?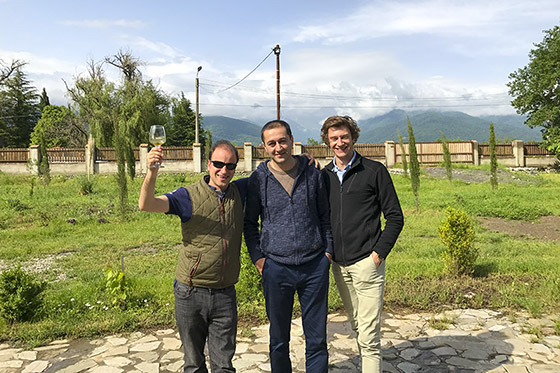 (James, Kakha and Jason in front of the Tchotiashvili tasting room with the Caucasian foothills in the background)
Even though we had no appointment, the winemaker himself came out to greet us and took us into the winery where we saw buried Qvevris, tasted what is usually termed a barrel sample, or in this case was a clay-pot sample (i.e. wine still in the process of maturing inside the Qvevri), and then were ushered into the wood-panelled tasting room where a feast of persimmons, squishy cheeses, fresh bread and classic Georgian salad of tomatoes, walnuts and cucumbers awaited us.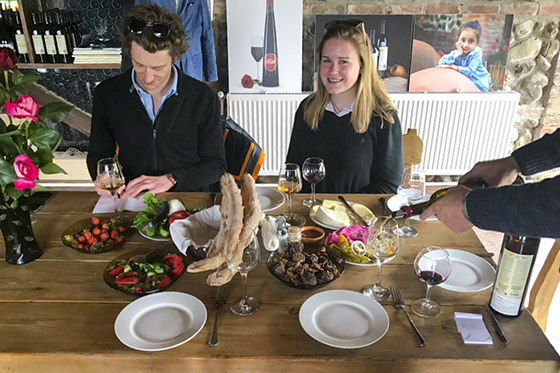 (Lydia, James and the freshest vegetables, fruit and cheeses we tasted in all Georgia)
How did they know we might be coming? And how did they know to roll out the red carpet for us? These are unanswerable mysteries that belie some of the mysticism of Georgian hospitality.
Serendipity is a word not usually applied as a tasting note, but it suits the 2014 Tchotkiashvili Khikhvi. It was what Kakha started us off with. Khikhvi can achieve great concentration and power like a fine dessert wine. This bottle contained an elegant, slightly floral wine, combining savoury notes with aromas of jasmine tea, nuttiness and a delicate mouthfeel. Based on my studies, I suspect that this is probably what the best 'ancient' wines tasted like – combinations of the florality of young ripe grapes with the savoury nuttiness and the robustness that comes from oxidative Qvevri ageing.
The note of over-steeped 'herbal tea' was present in all Kakha's orange wines. The 2015 Mitsvane was more floral, lighter, more summery and lacking the savoury complexities of the Khikhvi - this is characteristic of the grape. We then moved onto the 2015 Kisi, of which I had so fallen in love with the 2014 vintage. The 2015 was marvellously rich and yet quite floral as well. (Conversely, I found Kisi without clay-pot ageing, such as at Danieli, very green, tropical, herbaceous and acidic.) To my mind, Qvevri ageing balances the innate florality of the grape - coaxing out its potential richness.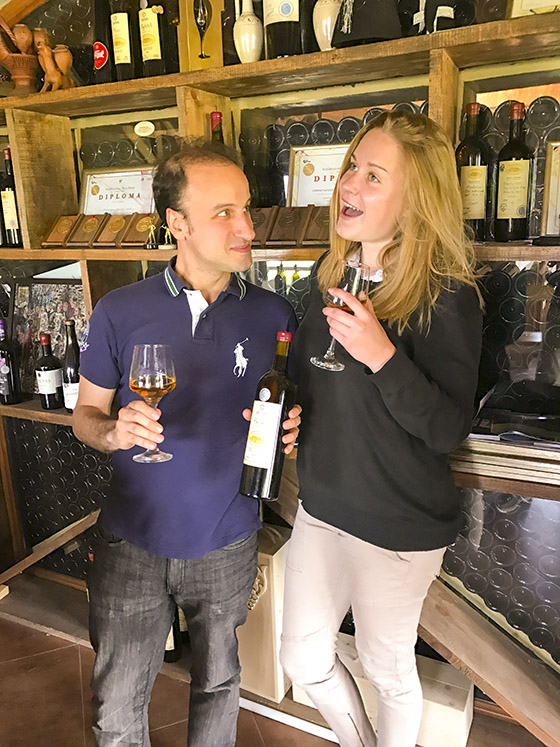 (Jason, Lydia and a bottle of Khikhvi, each with quite a bit of personality)
Despite being bone dry, the 2015 Tchotkiashvili Kisi was as full-bodied and unctuous as a Sauternes (and with a surprisingly similar flavour and colour profile). Aromas of poached pear, white flowers and honey on the nose, mixed with a waxy fattiness on the palate. And yet just as Sauternes finds an exquisite balance between sweetness and an acidic backbone, the richness of the Kisi was offset beautifully by the tannic mouth-filling finish.
As I have explored other orange wines, I have always returned to my tasting notes from Tchotkiashvili as benchmarks for each varietal. Kakha's wine making technique allows the grape and the classically Georgian/Qvevri flavours to emerge. Another excellent and roughly comparable Kisi is that made by Mr Dakishvili of Vinea Vitea, the 2015 exhibiting notes of white flowers, Jasmine tea and honey – all classically Georgian notes.
Yet, if Tchotiashvili's whites were a good benchmark against which to judge all other Georgian wines, I feel this less so about his reds. They were delightful, but less paradigmatic – varietal characteristics were partially masked by winemaking techniques. The Qvevri-aged 2014 Saperavi had less fruit and less harsh tannins on the palate when compared with the clay-pot sample of the 2016 vintage, but maintained a sour blackberry/cherry taste coupled with a syrupy heaviness, which to my palate characterises Saperavi. A delectable example of a non-Qvevri Saperavi was the Naperuli 2014 from Danieli. It had seen six months of oak staves - the wine tasted of sour red fruit, balanced by meatiness and undergrowth. Saperavi can be too heavy and laced with an overly tart fruitiness. When handled by less skilled winemakers or in overly hot years, the wine presents as stewed, baked, overly fruity and too alcoholic, similar to the weaknesses of various Latin American and Southern European wines when produced cheaply or in overly hot years. Conversely, the best examples balance the sour fruit notes with tannins, savoury or saline notes. Qvevri ageing and a cooler fermentation temperature is just what Saperavi needs to achieve greatness.
More time in the Qvevri has similar effect on reds as it does on whites: adding those savoury notes, bestowing a unique 'fine yet chalky' structure to the tannins and imparting what I term a 'bricking' taste. These were all in evidence in a 2013 Saperavi which had been aged in both barrique (small French oak barrels) and in Qvevri. This wine was exceedingly elegant and layered – more European in taste - and hence not archetypically Georgian to my palate. Oak ageing smooths the tannins making them seem more velvety and adding to the roundness of the wine, whereas Qvevri ageing seems to integrate the tannins differently, making them more gripping and prominent on the finish.
I believe Sapervi is at its most interesting when made in the natural Qvevri method. A useful benchmark is perhaps the 2015 Vita Vinea Saperavi, which combined the classic sour blackberry/cherry taste with notes of cocoa powder and black olives. This wine was classic Sapervi in that it was full-bodied with a long finish; notes of stewed red fruit mingled with the delicate tannins in a harmonious way. The long zingy aftertaste of one sip entices you to take the next.
The best clay-pot-aged Saperavi I've ever had was the 2014 'Qvevris' Saperavi produced by TbliVino. It combined the black olive character present in the Vita Vinea with a unique savoury meatiness and tremendous concentration. It was reminiscent of an excellent Bandol.
(The author with a precious bottle of Tblivino at the Cave of Metra Restaurant)
Of tremendous intellectual interest was the 2016 Tavkveri. This is a classic Georgian wine type, which is rarely exported. Unlike the other varieties previously discussed, Tavkveri originates from Kartli (central Georgia). It is brighter in fruit and much lighter in colour and body than Saperavi. Tchotkiashvili's Tavkveri was low in alcohol and had notes of strawberry and bubble gum on the nose, akin to those of a Beaujolais or Chinon. Yet, in contrast to those wine styles, Tchotiashvili's Tavkveri had not undergone carbonic maceration, its strawberry/bubble gum notes were from the variety itself, not the winemaking process. However, Tchotiashvili 2016 Tavkveri, thanks to its Qvevri aging, had firm, but extremely delicate, tannins and far more savoury notes than any Beaujolais. Back at GVino a few days later, Guram served me blind a 2015 Alapiani Marani unfiltered Qvevri-aged Tavkveri. It had the same bright red fruit, fine tannins, but this time a nose of cocoa powder and hazelnut - absolutely divine.
Tavkveri, then, is Georgia's answer to the quest for an elegant summer red that can be served lightly chilled. And where some might find even pricey Beaujolais or Loire Valley Cab Francs 'too fruity' or 'mono-dimensional', the Qvevri ageing and complexity of the Tavkveri grape forges a truly balanced and complex wine. Its tannins are the most delicate and fine of any Georgian Qvevri-aged wine (white or red) I have ever experienced. Its flavour profile combines seeming opposites harmoniously.
Much Georgian wine is flavourful, balanced and yet relative inexpensive. The Qvevri method is extremely labour intensive, and yet it produces distinctive wines that score well on the value proposition and invigorate the palate. At its best, Georgian wine offers a unique blend of tannins, fruitiness, oxidative-nuttiness, body and typicity. Every time I open a bottle from this Easternmost outpost of Europe, I feel I am tasting our shared Western heritage.