There are places on Earth which people fall irremediably in love with, often without any rational reason, you don't even know why. Sometimes a deeply felt moment or a beautiful natural formation is enough; a nice example of the latter is when I saw American tourists sobbing in the Sahara at sunrise. At other times, our attention is held by constructed heritage, or the ambience of life, cafés, a bazaar, hookahs or Spanish ladies still dressing elegantly in their eighties. There is also a special case when people fall in love with people, with their behaviour, open-mindedness, kindness, and how they turn to them, opening their hearts as wide as no one else on this planet can. Georgia is a place where all the above things can happen to the traveller at the same time, where the local people are so hospitable, most probably because of the travellers who leave a small piece of their souls there and make this wonderful country even richer.
The Turkish Airlines aircraft landed at dawn in Tbilisi, whose ancient name was Tiflis. Taxi drivers fight each other over passengers, while the road leading to the city is lined with unlit petrol stations. Finally, where the main road winds sharply back and begins to dive in order to go under the railway line, we find ourselves on George W. Bush Road, crossing across the real border of the city. For those who have been in the Middle East or North Africa, the atmosphere of the roads is still rather surprising, even at dawn. Buildings are rather European, while pavements are rather Eastern. Our taxi climbs down next to the river Mtkvari, with the Narikala fortress and the modern, whale-like Peace Bridge (planned for pedestrians by an Italian architect) beginning to appear on the left. On the far bank of the river, we can see the old town still sleeping. There is nothing that reminds us of the Eastern way of life at dawn and there are no donkeys wandering in the street either, unlike the centre of Cairo or the alleys of Damascus. Driving down the wide avenue of Shota Rustaveli, we pass the old building of the Parliament, the National Museum and then arrive at one of the city's most elegant hotels, the former Majestic, now the Marriott, where John Steinbeck also stayed while travelling there with his friend, Robert Capa. Of course, the famous photographer is not the only Hungarian with a relationship to the city, as they also honour Mihály Zichy as their national painter, given that he was the illustrator of The Knight in the Panther's Skin, an epic poem written by the famous poet, Rustaveli.
Amazing polyphony
A smiling giant dressed like a Georgian noble from the 19th century is waiting for us in front of the Azarphesha restaurant. Luarsab Togonidze is not just the owner but also the biggest ethnographic collector in the country, the otherwise modern restaurant could be a museum. There are mediaeval silver chalices in the cabinets, hundred-year-old photos hanging on the wall, and on the tables, there is top notch local cuisine, sweet steamed cauliflower with cashews and pomegranate, boiled beetroot with coriander, beef tongue with mayonnaise and mustard dressing, various kinds of bread, sauces, fried aubergine rolls stuffed with ground cashews, and of course, the inevitable wines and filled pastries. While we are talking and getting to know each other, a man suddenly stands up and toasts first of all the country and then peace, which is probably the most important. The glasses clink, the murmurs continue, new dishes arrive. Soon this man stands up again, with a new toast, now to the guests whom God sent them according to their faith. Another clinking of glasses. Finally, we spend the whole evening making toasts, we clink glasses from time to time, to love, wines, the Earth, the dead, a silver studded ox horn passes among the tables, so we drink from that, but before passing it on, everyone has to refill it so that it never gets empty. For the welcoming spirit of the Georgians, toasts are very important, so much so that the person proposing toasts has a specific name, Tamada. This all reminds me of the Fiddler on the Roof, specifically the scene where the young tailor, Motel, buys his first sewing machine and immediately rushes to the rabbi and asks, 'Rabbi, rabbi! Is there a blessing on the sewing machine?' The rabbi answers, 'There is a blessing, my son, on everything!' So the Tamada is such a person, toasts can be proposed to everything, which is why the Georgians think they can thank their country for this.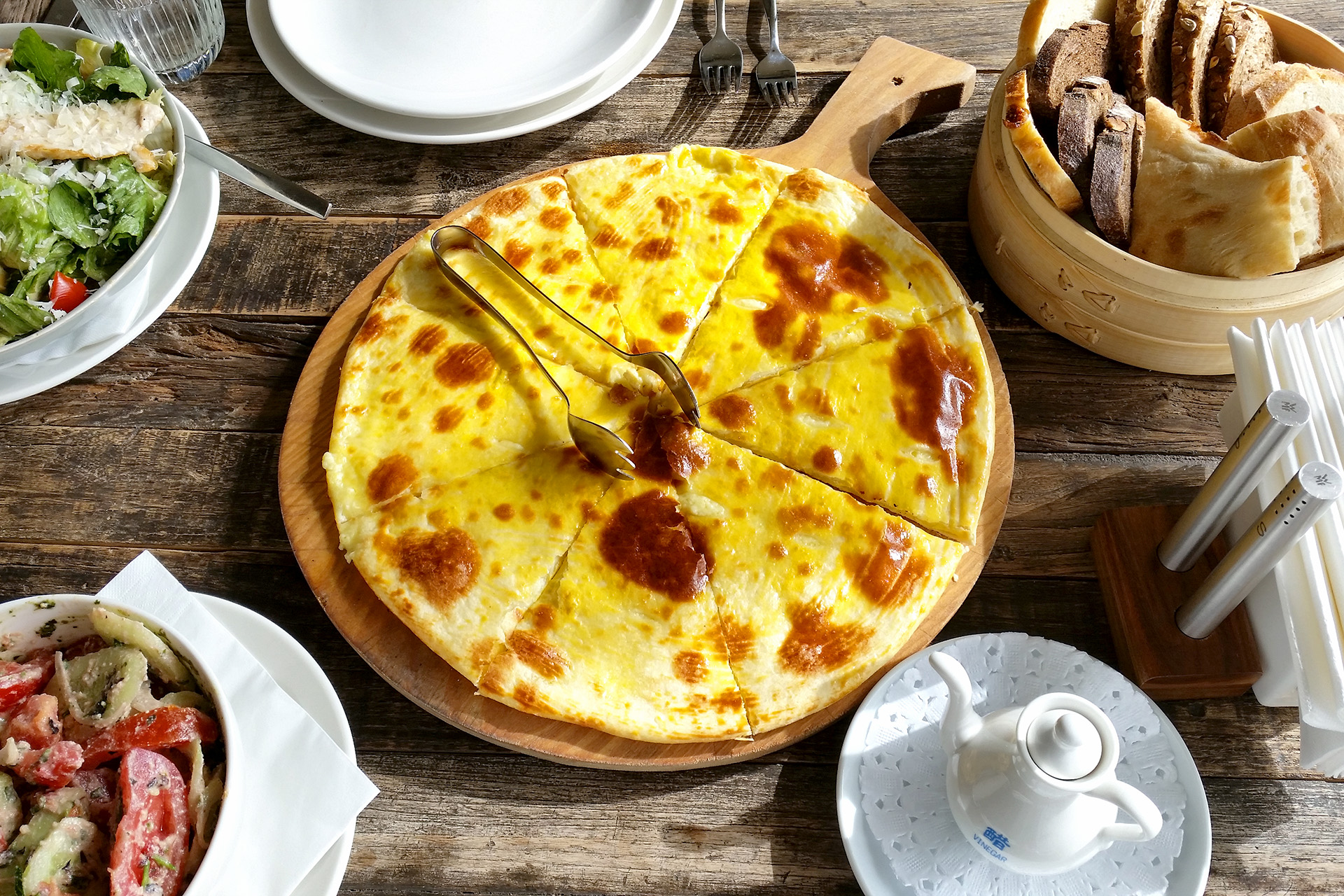 It so happened that the Creator had already created the Earth and the peoples, and summoned them to offer guidance accordingly. However, the Georgians, after getting up, began toasting the glory of God. That's why there were late for the meeting, what's more they arrived there totally drunk. God grew terribly angry with them, so the Georgians told him why they were late. Of course, God relented, but he had already shared out all the land and there was nothing left for the Georgians. So he gave them the place that he had reserved for himself, where all the microclimates and terrain he had created can be found, where there is sea and desert, mountains and rivers, fertile plains and mountain passes eternally shrouded in snow. Suddenly, during dinner, a deep hum gaining in volume can be heard from one of the tables. At first, it seems to be some kind of noise, but later we could definitely hear multiple voices. Men are singing. A chill runs through all those present, it is so beautiful that everyone shivers. There is no subordination among the voices, everyone simply adds their own. The song is deep and powerful, it is like it has taken root and then spread through the premises becoming stronger and finally flowing down the walls. It sounds like a cross between a Gregorian chant and a Persian or Arabic folk song. Sometimes it is sad, sometimes delightful, and according to my Turkish table-mate, it makes us feel as if God has sat down at our table.
A German intermezzo
Next day, I walk through the streets of the capital city, in filtered sunlight. At the foot of one of the bridges, I come across a giant flea market. The vendors are sell mostly defective family ceramics, old paintings and 'churchkhela', a famous Georgian confectionary, a string of dried nuts with toffee made from pomegranate or grape syrup. You can even come across some wonders here. I picked up a beautifully patterned Caucasian carpet with Stalin's portrait woven in the middle (who knows why), some wonderful old books and an issue of the 'Kaukasische Post' from 1909. The editor was Arthur Leist. But why was there a need for an independent German newsletter in Tiflis at that time? We have to look back in time to 1818 to find the origin of Caucasian Germans, when the Russian tsar, Alexander I invited German settlers to the country, mostly from Wüttemberg. The successful community had swollen to 25,000 people by the time of the Second World War, when the most famous Georgian of all deported 19,186 of them to the Gulags. Almost none of them came back. However, their stone house still preserve their memories; there are such streets and small neighbourhoods in Tbilisi where Hungarian eyes used to a Kaposvár street view or a village in Baranya can rest their eyes on the decoration of the facades and feel at home for a brief moment.
Eight thousand vintages
The weather is cloudy and cold, but our group heads towards the north-eastern part of the country, to the Kakheti region, to spend the next three days there. It gets dark quickly in the hills and we have to make a long detour due to a road closure, finally arriving in a blizzard. The next morning dawns to bright sunshine, so we are only reminded of yesterday's weather by the snow-covered hilltops and the biting cold. Father Gerasim, who is also the head winemaker of the thousand-year-old church, guides us through the Alaverdi monastery. Taking photos inside is forbidden, whether it be in the church or in the secular winery, but even he cannot stand up to twenty five journalists, so he finally relents, smiling, and lets everyone take two photographs inside. Perhaps it was the spirit of the place, but even our extremely active Slovenian photographer colleague didn't break this rule. They have been making wine in Georgia for about 8000 years, but the method hasn't changed since then. Fermentation and maturation taken place in burned clay pots of different sizes, but similar shapes, called qvevri, which are dug down into the ground and after being filled, their lids are closed and they are covered with soil. A description of this method already existed at the time of the oldest ancient civilisations, and the technology and most likely the crossing of grape varieties was also being experimented with at that time, 3500 years before the construction of the Pyramid of Kheops in Gizeh. They put the pressed juice into the qvevri together with the grape skins and often even ferment the white grapes on their skins for 6-8 months. Then they drain off the juice and, if they think it necessary, they decant it into another qvevri for further ageing. These so-called orange wines have a unique aroma, lively acidity and serious tannins, and additionally have no chemicals, not even sulphur, added during their production. Georgian oenologists' path has been marked out since ancient times and its continuity has never been interrupted, so it is no coincidence that their advertising slogan is: Georgia – 8000 vintages!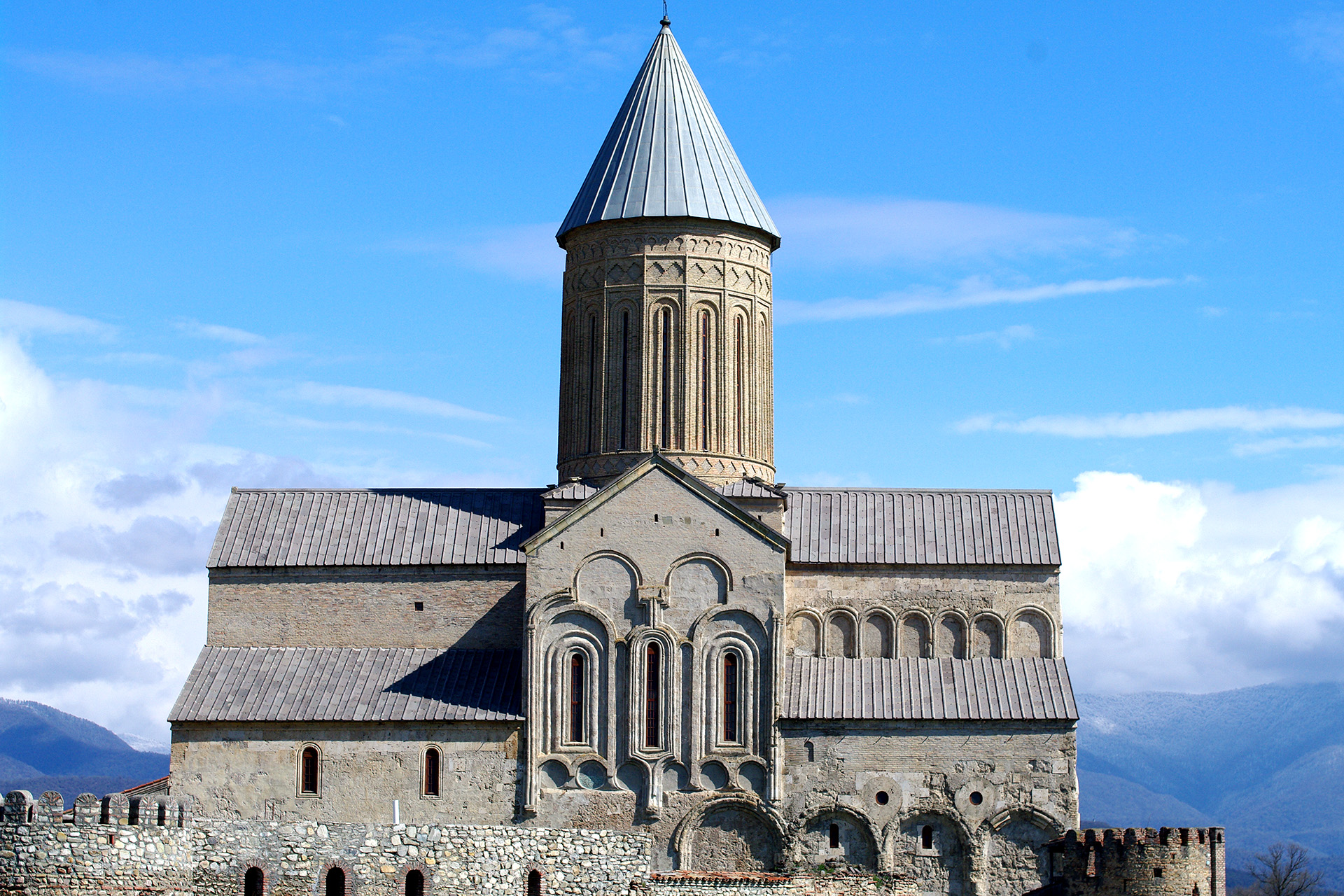 Special meetings
Now I am in Sighnaghi, a picturesque small town, which most closely resembles a small Tuscan 'cittadina', but built in the Caucasus, surrounded by mediaeval town walls, with beautifully renovated bourgeois houses, balconies, narrow alleys, sloping streets, cafés, hotels, galleries and wine bars, and Turkish and Russian-speaking market stallholders. The town was built on a crag about a thousand metres above sea level, with a precipice on one side, while on the other side, only a ravine separates it from the mountains, with just a bridge arching over it. The plain lying below is splendid in thousands of shades of green and on the other side the 4-5000m-high peaks of the Caucasus line up. I meet John H. Wurdemann, an American painter, who, after finishing his art studies in Moscow, fell in love with the scenery and Georgian polyphonic songs while travelling around here, so decided to move here 16 years ago. By now, he has become a real Georgian, at least from my point of view. He is a good-humoured man with such a typical strong personality, for whom I would walk through fire with no hesitation, although I have only known him for ten minutes. Not incidentally, he is also the owner of the so-called Pheasant's Tears winery, a fantastic wine bar, a restaurant, an artists' colony and a travel agency. After a long conversation and many glasses of wine (knowing that it's my last day in the country), I already head back to Tbilisi, where I have just a few hours to pack, so I have to forgo the last dinner with the group. I am just hanging around in the hotel bar thinking about how, as a wine writer, how reprehensible it is to say farewell with Georgian grappa (known as cha-cha by the locals), when my phone rings. Sarah May, one of my new American friends, is calling to invite me to dinner with her at one of her friends. Without giving it much thought, I'm soon sitting in the taxi, but I vow that I won't stay more than an hour or two, because the taxi is coming in less than six hours to take me to the airport. My host actually lives in one of those German-built bourgeois houses with high ceilings, with paintings hanging on the walls, and Caucasian and Persian carpets on the floor, and there is a table laid for eight people. Eko Glonti immediately offers me a seat and some wine, even of her own. As we become more and more engrossed in conversation, guests arrive one by one. Two Georgian ladies from London, and a Russian-British couple, the gentleman is a professor of Russian history at Cambridge University, and finally Irakli, the head of the Georgian Oenological Institute. We talk about many things, there are conversations going on in English, Russian, Georgian, German, and French, so I feel like I'm caught up at the beginning of the twentieth century. I almost expect Lawrence of Arabia to come in through the door and request some information on Russian or Turkish troop movements on the Georgian military road. Our host opens wine after wine and each is better than the last, although taking notes would naturally be a show of impoliteness towards my companions. Of course, I only leave at the last moment after a long farewell and much hugging; at the hotel, I was only able to shut my suitcase by jumping top of it because of the hastily squashed in clothes and finally I arrive at the airport half an hour late. It seems very hard to be released by Georgia.

Post-journey thoughts
All journeys come to an end at some point, but the most successful ones are those which you can't get out of your mind for weeks or months on end. One of the first things I did once back in Budapest was to go to a Georgian restaurant, where I relived my journey by savouring the familiar flavours, smelling the scent of Georgian black tea and the enjoying the taste of saperavi. John, Irakli, Eko and the others flashed in front of my eyes as I wandered around the Caucasian countryside in my imagination. It was then that I realised that this journey had given me much more than the acceptance of orange wines, more than having my eyes opened to a method of winemaking previously unknown to me and more than tasting these wines with a different mouth in the future. This journey had given me friends in the literal sense, people who will live in my soul forever, no matter how far away they are from me. I pay the bill, sit in my car and travel home to start this article; the radio is playing the enduring hit by Ray Charles, Georgia is on my mind, and I drive down Andrássy út, sad, but still smiling, as this song already means something totally different to me.