Rain greeted the day we were due to sail the Balaton, Central Europe's largest lake, with the Bujdosó brothers. But that was in Budapest and we were assured that the weather down in Balatonboglár was perfect. Arriving in Balatonboglár, the sun was shining and there was a pleasant breeze as we sipped our coffees in the harbour café while Feri gave us some background both on the winery and their sailing exploits.
The family is well qualified in viticulture with four members having graduated in this from the University of Horticulture. Feri papa and Klari mama look after the vines, whilst Feri and his wife Bea produce the wine. Feri has also been president of the local wine community since 2013. Younger brother Zsiga works on the commercial side and Orsi, a trained sommelier presents the winery at events. The third generation also looks promising to continue the family business.
Two-thirds of their grapes are white with the most important being Királyleanyka, Pinot Grigio, Olaszrizling and Rhine Riesling. Merlot, Cabernet Sauvignon, Cabernet Franc and Kékfrankos make up the reds. In line with the sailing theme, many of their wine names have some connection with sailing, such as life ring or knot, and their premium wines are named after classic, elegant, old Balaton sailing boats, e.g. Sirocco, Nemere and Tramontana.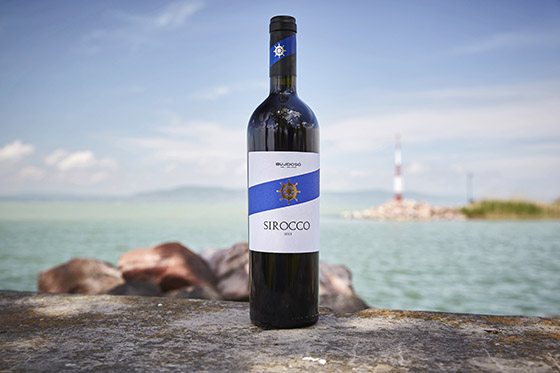 They have sailing in their blood too, Feri papa obtained his sailing licence in the seventies and has since sailed around the 200km shoreline of the Balaton numerous times, whereas young Zsiga and Feri were members of the Hungarian Boating Sport Association in Siófok from the eighties. In 2011, with Feri as captain and both Zsiga and Orsi on board, they won the Winemakers' Regatta. They also participate in other regattas, including one annually on the Adriatic.
Feri explains how we should have gone out in two smaller boats, one of which would be the Pannonia, but since he had hurt his finger the previous day and this was now covered in a rather bulky bandage with some blood to be seen on its tip, he could not sail us himself, so had hired a larger boat which could accomodate the whole group. So, somewhat less sporty than planned, and demoted from skipper to wine waiter whilst on board.
The Balaton is a wonderful place for sailing in the summer, with warm breezes caressing the smooth aquamarine waters; however, by the time we had manoeuvred our way out of the harbour and were heading towards the centre of the lake, the wind had got up and the emerald waters had turned to a mass of angry, choppy, grey waves, resembling the North Sea more than the Balaton. The wind whips up surprisingly quickly at the Balaton, turning a calm millpond into a potentially dangerous churning expanse of waves. The skipper told us that had the wind been much stronger than this, he'd have been reluctant to leave harbour. The sun cream we had so carefully covered shoulders and face with now seemed somewhat redundant as a thick wall of black cloud drew ever closer.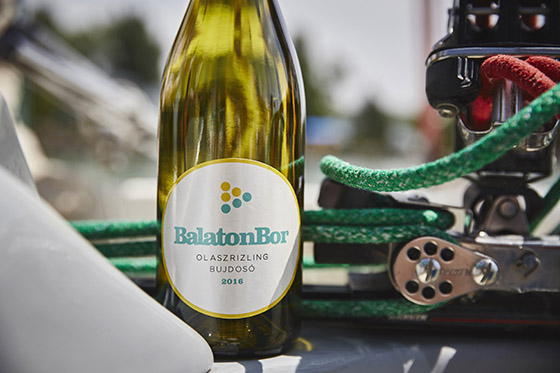 We sped towards Badacsony's familiar flat-topped volcanic butte surrounded by other volcanic hills and cones making up this portion of the lake's northern shore, before turning and heading for home, hoping to outpace the blackening sky. The boat keeled significantly for much of the time, so bracing legs against the side was necessary to avoid any men or women overboard. Those at the front also found themselves liverally doused with spray from the lake. However, we were still able to cling on to wine glasses for some tasting en route, Bujdosó Zöld Gyöngyözőbor 2016, a refreshing, aromatic lightly sparkling wine from Irsai Oliver, Sauvignon Blanc and Muscat Lunel, the Kék version from 2016, a rosé from Pinot Noir and Cabernet Sauvignon, Bujdosó Torony Olaszrizling 2016 and Bujdosó Mentőöv Rosé 2016 (Merlot and Cabernet Sauvignon). Although no wine was spilled, taking notes naturally proved impossible till we reached dry land, just as the rain was beginning.
Tasting on terra firma proved simpler, beginning with the winery's BalatonBor 2016 – a lakewide initiative to produce a uniform, reductive style entry-level Olaszrizling, made by a number of wineries, but marketed under the brand BalatonBor. Six BalatonBor came from Balatonboglár this year. Their version, originating from the Csirip-tető vineyard had notes of fresh apple and lemon with a touch of white peach and wax. Slightly mineral on the finish. We then moved onto the Bujdosó Cirkáló 2016, a crisp citrus blend of Olaszrizling and Rhine Riesling with attractive floral notes and a crisp, fruity finish. The premium Bujdosó Nemere 2015 (Chardonnay, Sauvignon Blanc and Pinot Grigio) was the final white – a lovely mouthfilling combination of ripe apricots, peach citrus and hones. A balanced and elegant wine. Originally, they had called it 'Altanus', but Feri told us that somehow a gap appeared between alt and anus at one point, thus making the name not terribly appealing! They then thought about 'Kishamis', which literally means little fake or phony, but then decided against it before settling on the name 'Nemere'. However, Feri says they are still considering using this, as a kind of joke for their pezsgő, traditional method sparkling wine, that they are starting to produce.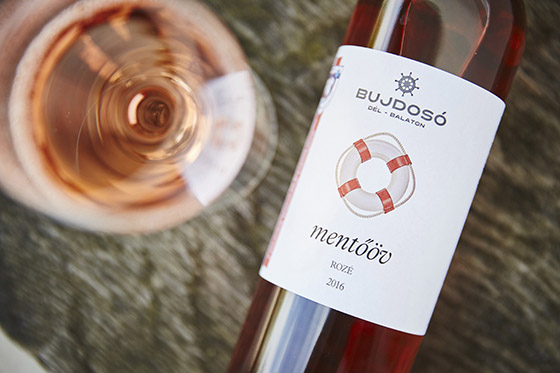 We then tried two wines from the Bujdosó Katamarán family, a rosé from 2016 and a red from 2013, both from a 50/50 blend of Cabernet Sauvignon and Cabernet Franc, both attractive, fruity wines, before moving up to the premium Bujdosó Sirocco 2013 Cabernet Franc based Bordeaux blend, a beautiful balance of bright berry fruit, toast and spice, with ripe, smooth tannins and then the Ibituba Cabernet Sauvignon 2013 from the exotically named Ibituba vineyard. Toasty black fruit, touch of meat and liquorice. Full-bodied yet elegant. We finished off our water and land tasting with a treat from the vaults, a Bujdosó Pinot Noir 2006. Now more tertiary than primary, meaty, earthy with dried fruit and smoke. Fine tannins and still fresh acidity made the wine a pleasure to sip at the end.
Photos by Ferenc Dancsecs