All variants are in fact correct, and the region has been listed as a UNESCO World Heritage Site since 2002.
I have wanted to visit the Tokaj region for a long time - the pearl of wines of our neighbouring country, Hungary. It was pretty hard for me to decide what to visit. So, I studied carefully, trying to decide which wineries to visit. I read about "Cellar of the year in Hungary", the top wineries from 2001 to today, I also read Robert Smyth's "Hungarian wines - A tasting Trip to the New Old World" and consulted "Castle Hotels" in Hungary and narrations of a French woman.... Finally, I decided to visit Disznókő Vineyard Estate and Gróf Degenfeld Winery first, then I would see!
I'll start with Degenfeld, which is now run by Countess Maria Degenfeld.
Degenfeld Castle is a beautiful property, a 4-star hotel, with rooms furnished in Empire style (€110/room), a lounge, library, restaurant, wine shop and tasting rooms. It is situated in a huge park, well maintained with an appealing outdoor pool and spa & wellness centre near the winery and vineyards. The winery owns 100 hectares of vineyards in the heart of the wine region Tokaj-Hegyalja. 35ha of vines are cultivated organically – these are operated by the winery - and a further 65 hectares are leased.
It's a small world: Countess Maria's parents (Count and Countess Agnes Degenfeld Sandor Bethlen) were born in Cluj (Kolozsvar) and managed to emigrate to Germany in 1964. Mary married a German industrialist, Dr Thomas Lindner, who post 1990 managed to recover the winery of the Tarcal property and began rebuilding and renovation of the premises. The castle has been rebuilt based on the structure of the old viticulture school.
In 1996, the first oenologist was Demeter Zoltan, a young man who, at 30 years, revolutionised Tokay wines, following a stint in Napa Valley at Stag's Leap Winery. He helped Mary to build the Degenfeld winery and plant the vines. Since 2008, they have been producing wines from their own wine cellar bearing her name. Zoltán and István Szepsy (another prominent Hungarian oenologist) independently created other styles of wines which were vinified dry. They are both pioneers in this field, marking the beginning of a new era for Tokaj wines, which had previously focussed primarily on sweet wines.
The wines we tasted were created by another oenologist, Vivien Ujvári, who has also undertaken internships in Napa Valley, New Zealand and Australia. She left Degenfeld in December 2015, after three years there.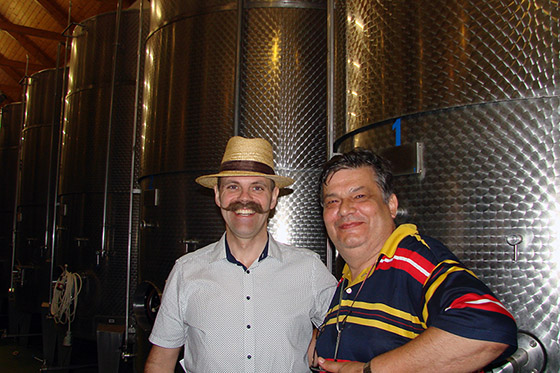 I tasted six wines with their sommelier, at a cost of €13. After visiting the winery and learning about the history of the area, we chose wines from the wine list, which Gregor guided us through in clear, fluent English.
Tokaji Zomborka Furmint 2015 – dry
Notes of wood, anise, mint, pear, apricot and vanilla on the nose. Full-bodied and complex, with attractive acidity, grippy tannins and flavours of plasticine and apricot. A long finish and a lot of promise.
Tokaji Hárslevelű 2015 – dry
Ripe fruit, flowers and sweet spice on the nose. Quite full-bodied with medium acidity. On the palate, oriental spice, citrus fruit, tobacco and apple. Acidity dominates on the finish.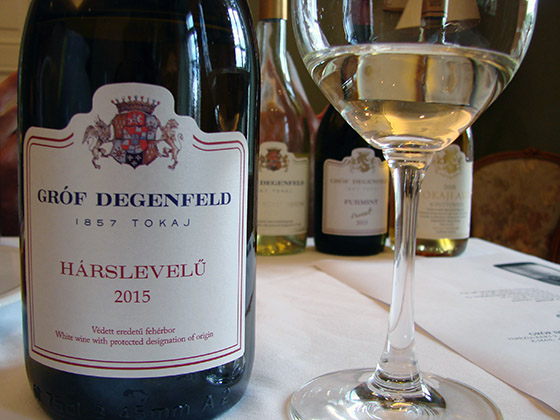 Tokaji Muscat Blanc 2015 – off dry
Aromas of gooseberry, green bananas and white flowers. Clean, elegant, crisp and fresh, with flavours of white flowers and plenty of citrus fruit. Easy-drinking, young wine.
Tokaji Szamorodni 2013 – sweet*
On the nose, notes of yellow fruit, such as apricot, ripe peach and cantaloupe, followed by hints of vanilla and lychee.
*Szamorodni can be dry or sweet, with or without botrytis.
Tokaji Sweet Furmint 2013 – sweet
On the nose, typical Furmint character with a little honey, peach and pineapple. Vibrant, lively acidity with a broad structure, dried fruit and citrus. Elegant, clean and very long on the finish.
Tokaji Aszu 6 puttonyos 2008 - sweet
Notes of botrytis, ripe peach, dried apricot, anise, mint, citrus fruit and clove on the nose. Full-bodied, with good acidity, balanced tannins and a wonderful long finish. The palate mirrors the nose. A wine to keep.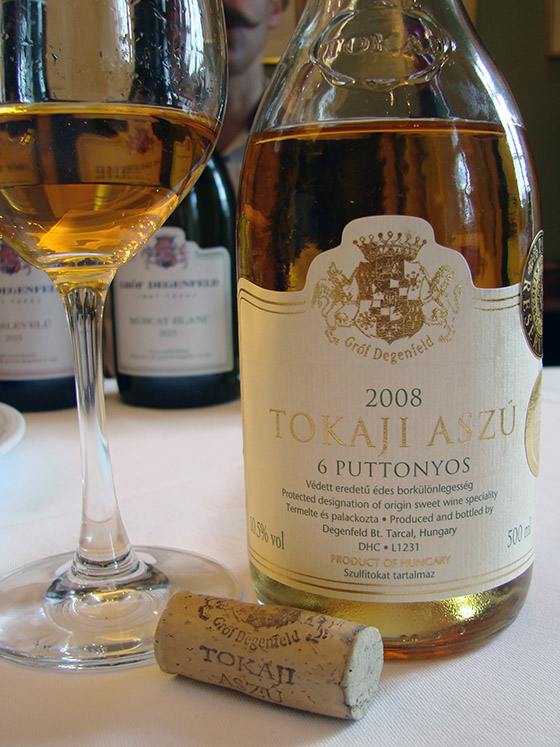 We received data sheets for each wine tasted with the sommelier and discussed the olfactory and gustatory qualities of the wines. Each participant expressed preferences for certain wines. I was particularly impressed by the Furmint and Hárslevelű. I should just mention here that I had my first serious meeting with sweet wines in 2014 at ROvinHUD during a masterclass held by Agnes Németh, at that time Editor-in Chief of the magazine Vince and coordinator of the Hungarian wine fair of the same name held in Budapest.
We had lunch following the tasting. How can you describe eating at the 'chateau'? Well, perhaps as 'perfect, or more than perfect!!!' I thought about the Queen and 'a day at the races', no, even better, 'a night at the opera'. I was then already thinking about the pool…
It was an unforgettable experience and one I'd be more than happy to repeat.
Ing.George Ignat
Sommelier, WSET 2, membre O.S.R.2011(Organisation des Sommeliers de la Roumanie)
membre de l'A.S.E.( Association des Sommeliers d'Europe ), Hospes O.E.V.E. ( Ordo Equestris Vini Europae)
facebook.com/George Wine
www.georgewine007.simplesite.com
www.winetourismromania.ro