One of the most decisive trips in my career as a wine journalist was one to Istria in summer 2005. Those ten days convinced me to take this seriously, and that if I had to select another favourite area besides Hungarian wine, then it would certainly be the nearby, yet not so well-known south, primarily Croatia, but also the ex-Yugoslavian regions from Slovenia to Macedonia.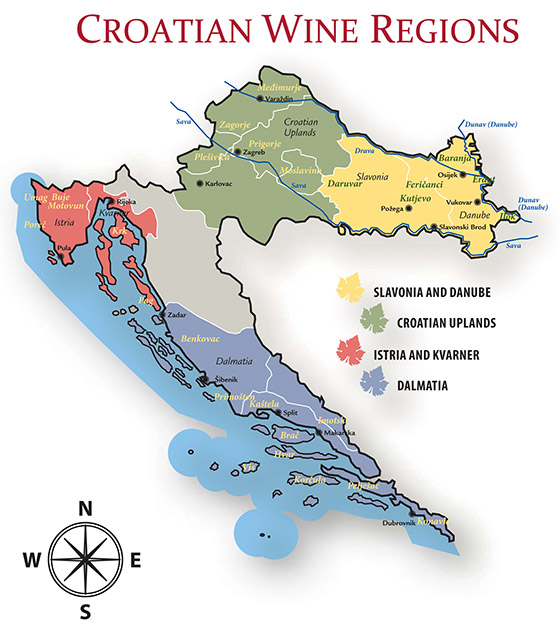 Map: Croatian Fine Wines
Istria is not only a peninsular, it is a much more complex phenomenon. It's neither entirely Italian nor completely Croatian, rather it is very much both. There's some beach and some hills, it's often said to resemble Tuscany, but what is far truer is that it is Istria.
This was the first of the Croatian regions to respond to modern winemaking challenges, creating a popular and well-positioned product from a previously maligned variety, Malvazija Istarska. About 6,000 hectares of vines are cultivated in Istria, with the majority, i.e. almost 5,800 hectares, in the Zapadna Istra (Western Istria) wine region. There is far less in the other two wine regions, with Centralna Istra (Central Istria) boasting 210 hectares and Istočna Istra (Eastern Istria) 100 hectares.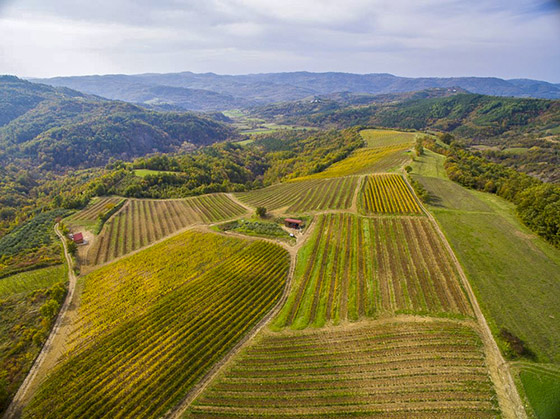 Photo: Matosevic Winery Facebook
The region is characterised by a dual soil structure which yields very different wines from the same variety. The coastal region is typified by terrarossa (crvenica) whose high iron content gives highly structured wines whilst inland, the region is characterised by flysch (white soils), a marly sedimentary rock that endows the wines with more exciting aromas. There are 1,700 hectares of Malvazija here, whereas its local red partner, Teran is cultivated on 500 hectares. The rest is primarily planted with international varieties, such as Chardonnay, Merlot, Cabernet Sauvignon and Muscats, but you can also find Blaufränkisch here, which the Istrians call Borgonja.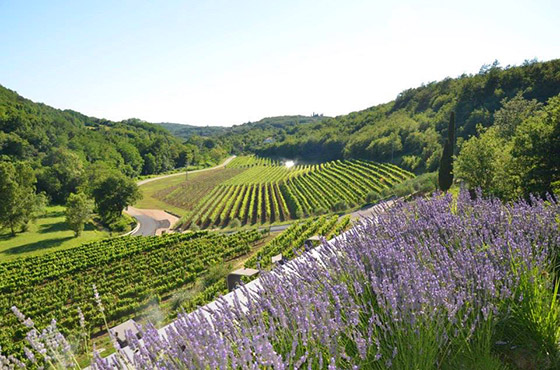 Photo: Kozlovic Winery Facebook
The great generation of the wine revolution that began in the second half of the nineties is now being followed by many young people. The young people of that era, such as Ivica Matošević, Gianfranco Kozlović, Giorgio Clai, Moreno Coronica, Moreno Degrassi, Franc Arman or Marijan Arman, are nowadays the role models for today's young crowd like the Benvenuti brothers with amazing accommodation - the editor), Marko Fakin or Bruno Trapan. But we shouldn't forget the Vina Laguna Winery either, which although mainly decisive in terms of quantity, produces good quality, well-priced wines from its 600 hectares.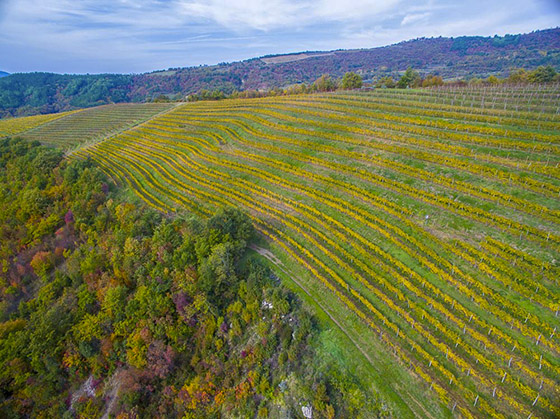 Photo: Matosevic Winery Facebook
In addition to wines, Istria is recreating itself as an outstanding gastronomic destination with its olive oil, truffles, prsutt (ham) and other local products as well as boasting Croatia's first Michelin-starred restaurant. This is enabling it to escape the trap of purely summer-based mass tourism.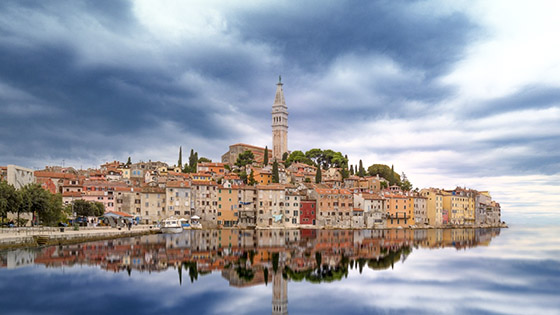 Rovinj
The associated subregion Kvarner Bay aka Hrvatsko primorje (Croatian Littoral) is lagging behind a little but is now starting to catch up nicely. It comprises five subregions - Opatija-Rijeka-Vinodol, Krk, Rab, Cres-Lošinj and Pag - with about 2,500 hectares under vine. The most important wineries here are on the island of Krk and in Pag. Krk is home to the Žlahtina variety, which produces light white wine that is the ideal summer drink and often paired with seafood dishes. Wineries on the island worth watching out for include Toljanić, Katunar, Nada and PZ Vrbnik. Pag is primarily all about the Boškinac winery near Novalja, which has embraced the local variety Gegić, although many of their other wines are also well worth your attention; their restaurant and hotel are excellent too.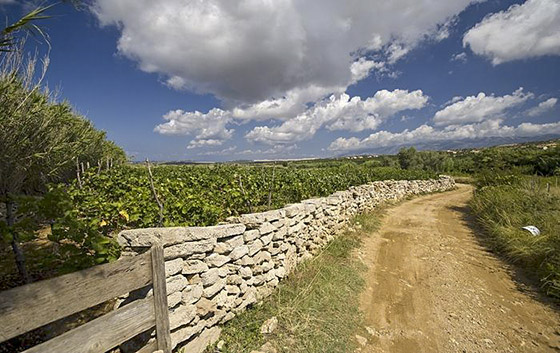 Photo: Boskinac Winery Facebook
An interesting phenomenon is the sandy island of Susak, which once had around 300 hectares under vine. Many local varieties evolved here (Sušćan Crni, Susac Crni, Susac Bijeli, Trojišćina), but these are on the verge of extinction, although a few committed winemakers here and on the island of Cres are trying to save them.
Some wines
Kozlović Malvazija Istarska 2017 (Istra) I 88 points
Fresh fruity nose with acacia blossom and aromas of apple, apricot and citrus fruit. Good acidity with fresh fruit and a touch of tartness. Fresh, light Malvazija.
Benvenuti Malvazija Istarska 2017 (Istra) I 90 points
Clean nose with a floral note, white fruits and a touch of barrel spice. Creamy on the palate with mango and apricot. Tart and sweet, salty and flinty. Complex, rich wine capable of ageing.
Meneghetti White 2016 (Istra) I 88 points
Chardonnay and Pinot Blanc. Powerful barrel spices on the nose. On the palate, some tannic grip, ripe fruit, lovely sweet spiciness, tight structure and a long finish.
Benvenuti Teran 2015 (Istra) I 90 points
Attractive nose, fresh acidity and powerful aromatics. Vital and vibrant, still on the way up. Lovely acidity and fruit with just the right dose of tannins, although the alcohol is a little high. It can and should still age for a while.
Meneghetti Red 2012 (Istra) I 91 points
Rounded, ripe aromas. The Merlot supplies velvetiness whereas the two Cabernets add flavours of chocolate, blackberry and herbs. Nicely aged, yet still very powerful wine.