In the gloomy early days of March in Budapest, some Istrian olive oil brought some sunshine to my soul. Tasting Table served up an Istrian dinner preceded by an introduction to olive oil tasting with guest Ted Chiavalon, from Chiavalon, one of Istria's premium olive oil producers. With a glass of chilled Istrian Malvazija in hand, we learnt a little about tasting and selecting olive oil.
Naturally, we all think of Italy, Spain and Greece in connection with olive oil, but Croatia is also a major producer of olive oil and Istria lies at the northernmost extreme of where you can produce olive oil, which means the trees blossoming and the olives' oil accumulation begins later than elsewhere, giving a higher quality oil with an intense aroma and lovely grassy, herbal notes. Ted was given some trees by his grandfather to care for when he was 13 and has been doing this ever since, only he has far more trees now and a successful, award-winning business.
We all imagine that the colour of the oil is important as regards its quality, but unlike wine, it is not, so professional tasters actually taste the oil in a blue glass. Warm the glass a little and swirl, with the top covered to release the aromas. A quality olive oil should release aromas of freshly cut grass and on tasting should have a slightly bitter finish of almonds and radicchio. If it just tastes sweet, then it's lower quality oil with less of those antioxidants that are so good for you. Always make sure you taste the oil to assess its quality. Once you have your olive oil at home, make sure you store it at the right temperature, 16-18°C is ideal; so don't put it next to the cooker or in the fridge!
Following our oil tasting, we were served an Istrian-style dinner with Istrian charcuterie from the Fény utca market in Buda, roast trout with a side of potatoes served on a bed of onion, capers, olives and garlic and to finish a chocolate mousse (apparently containing quite a bit of Ted's olive oil), drizzled with olive oil and sprinkled with sea salt. Delicious. Naturally, all the courses featured Ted's oil.
Croatia is also a large producer of wine and this evening also saw the launch of Tasting Table's portfolio of Croatian wines. We met six of them, as an aperitif and paired with the dinner dishes.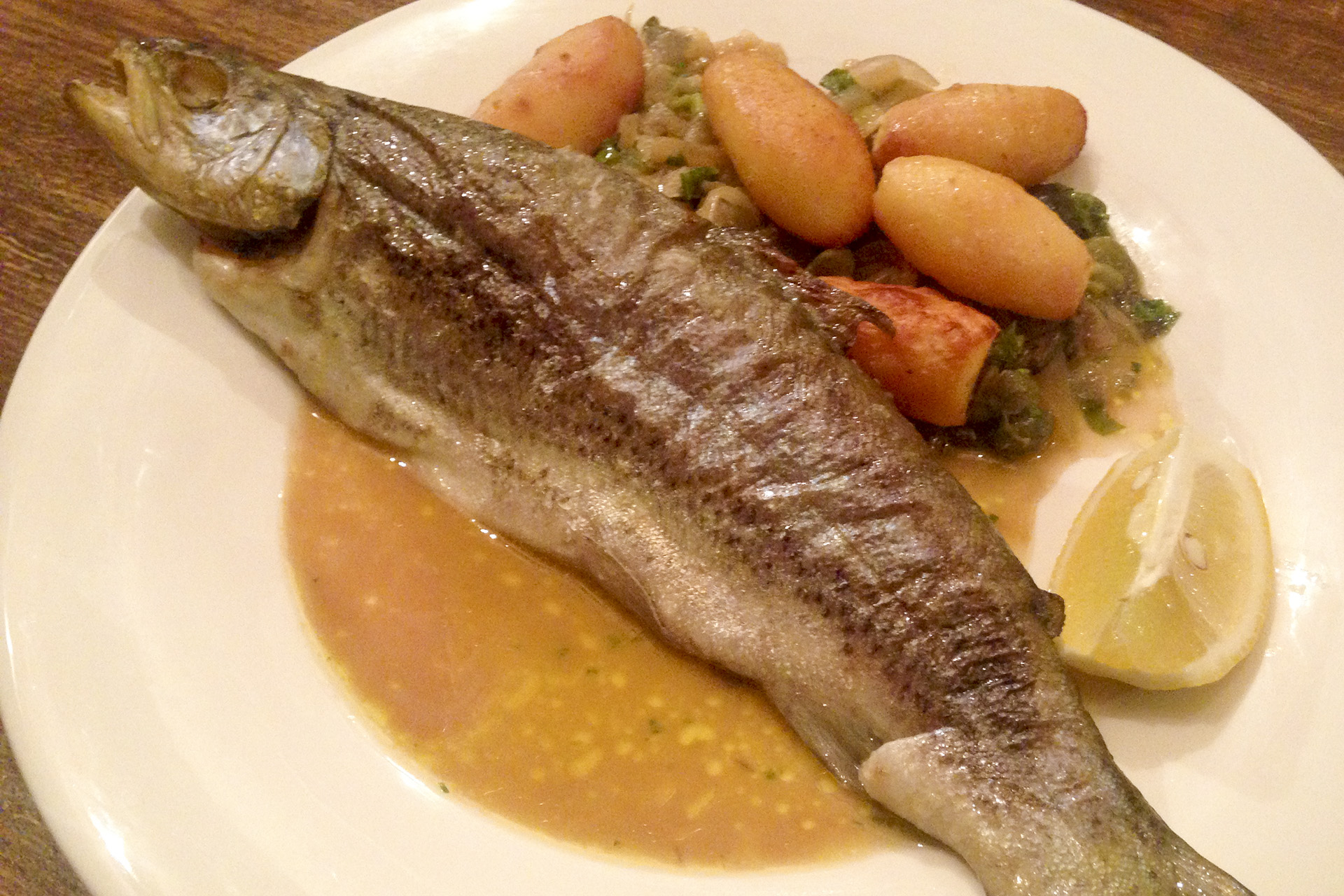 Veralda - Malvazija 2014 (Istria) I 82-84 points
A lovely honeyed wine with acacia and elderflower notes on the nose with ripe peach and pineapple fruit. On the palate, rounded and smooth with flavours of honey, apricot and peach. Slightly tannic, with a long refreshing, salty finish.
Bibich - Debit 2013 (Dalmatia) I 83-85 points
Aromas of ripe apple, pear and peach with a touch of cinnamon spice. Mirrored on the palate with a slight nuttiness, a hint of tannins and a salty finish. Slightly warming alcohol.
Bibich - R6 2010 (blend of Plavina, Lasin and Babić, Dalmatia) I 84-86 points
Aromas of plum, cherry and toast, sweet spices and a hint of coffee. Relatively high refreshing acidity and slightly grippy tannins, with flavours of ripe cherry, plum and raspberry. Savoury and herbal on the finish.
Bibich - Debit 2008 (Dalmatia) I 86-88 points
An intriguing orange wine with aromas of orange peel, mushroom, toast, dried fruits and coffee. Complex and rounded on the palate with smooth tannins and a long finish of dried fruit and butterscotch.
Benkovach - Korlat Cabernet Sauvignon 2010 (Dalmatia) I 84-86 points
Aromas of black cherry and blackberry complemented by with plenty of sweet spice and coffee. Slightly grippy tannins but fresh acidity, with flavours of blackberry, blackcurrant, toast, forest floor and chocolate. Oak is perhaps a little dominant. Slightly warming alcohol.
Ivan Dolac - Plavac Mali 2009 (Dalmatia) I 88-90 points
One of Croatia's signature grapes. A ripe nose of black berry fruit, with some spice, violet and chocolate. Rich, perhaps a little jammy, fruit on the palate, raspberry, blueberry, cherry and blackberry. Mouth-filling, with smooth, ripe tannins. Fruit lingers on the finish.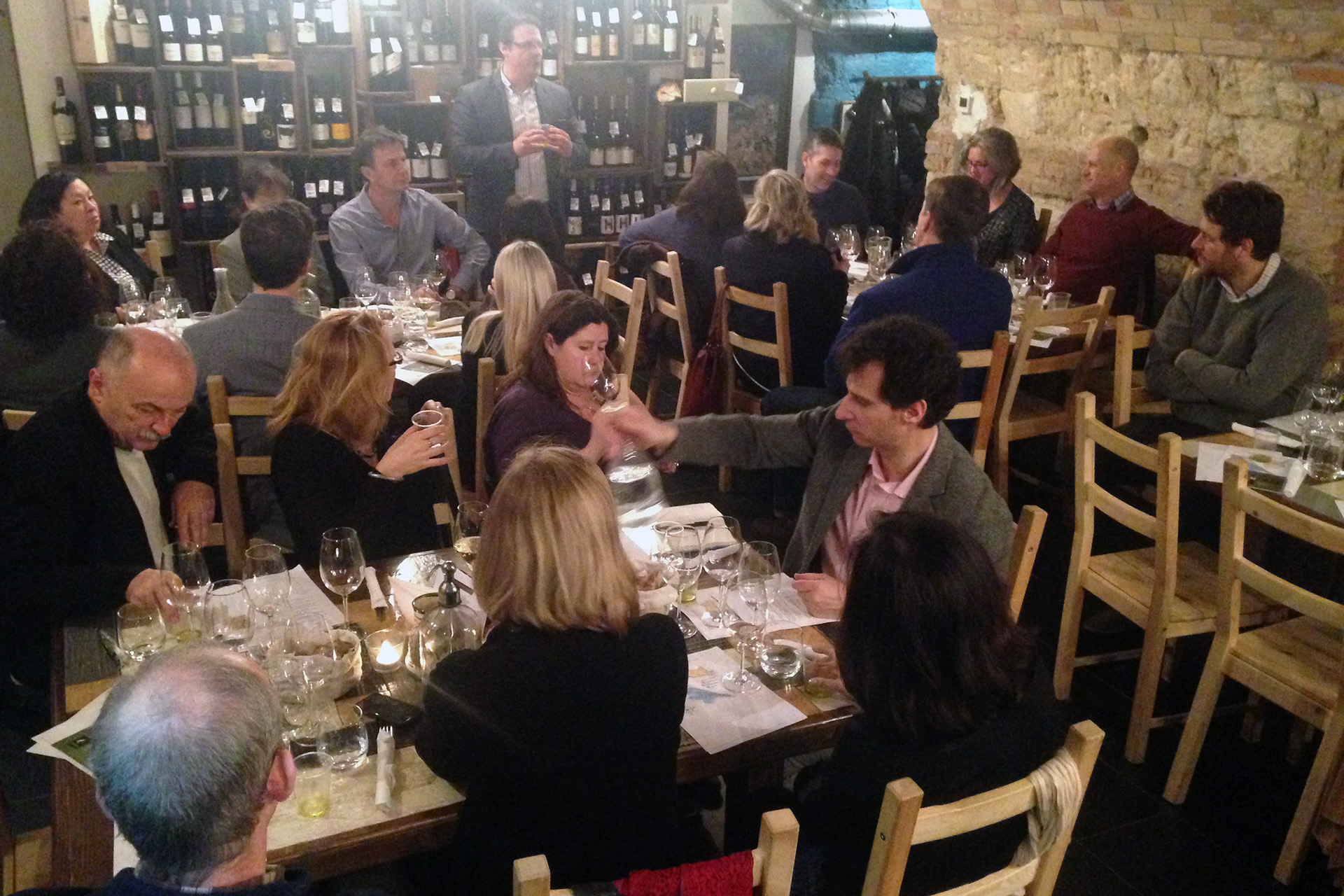 The Tasting Table
The Tasting Table is located in a rather un-presupposing street in the eight district of Budapest, just behind the National Museum. It is a cosy cellar and wine shop stocking wines from Hungary and the surrounding countries run by Hungarian-American couple Gábor and Carolyn Banfálvi. You can pop in and taste some wines during the day or early evening, and of course purchase them, or attend one of their evening events. They run regular Thursday evening tastings and dinners – Thursdays @ The Tasting Table, which you can read more about here.
Naturally, you can buy the above wines and Ted's olive oil in the shop too.
If this has whet your appetite about Istria, Croatia's gourmet capital, and you're interested in tasting its food and wine specialities, you could also join Taste Hungary and Zimmerman's Food Tours tour to Istria in September.