A group of wine-loving friends paid a visit to Istria and some of its wineries late last year and kindly laid on a mini tasting with a handful of the wines that they had brought back. We tasted wines from three wineries and three grapes, if you include the grape brandy that is!
Of course, being a bit of a swot when I have the time, after the tasting, I decided to read up a little on Istria and the wineries in question to provide a little background to the wines we had tasted.
Istria, a peninsular in the north-west of Croatia, has a mild climate influenced by both the Mediterranean and the Alps, sharing both climate and cultural influences with neighbouring northeast Italy and Slovenia. Once part of Italy, there is still a great Italian influence with many locals having Italian names and roots, and the wines bearing some similarities to its one-time compatriots just across the border in Italy too. It has a long tradition of wine-making, but with the emphasis on quantity rather than quality, especially while part of the former Yugoslavia. However, in the late nineties, a wave of young Croatian wine-makers began to work with Malvazija, a neglected and unfashionable variety due to its perceived poor quality. They also work with Teran, a characteristic firm, tart red varietal with aromas of raspberries, also known as Terrano or Refošk in Slovenia, although reds are less important in the region. The third most widely planted varietal is Muscat, which is generally vinified as semisweet or sweet wines. Things are definitely on the up, as the stringent quality control and cutting-edge wine technology employed by some producers means that Istrian producers are now starting to win awards.
The vineyards and wines are dominated (80%) by white varieties, in particular Malvazija Istarska, Croatia's third most planted variety. This can be made in a variety of styles from light, crisp, floral dry whites, to rich, creamy, lees-aged and oaked whites, often with extended skin contact. There are also experiments with natural wine making and ageing in amphorae, although it is still most often vinified without oak in a fresh, fruity style.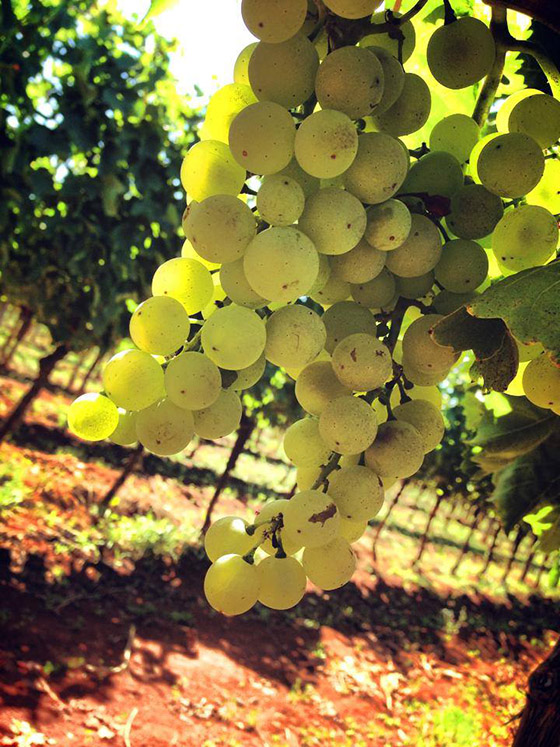 We tasted three Malvazijas, all quite different. A fourth was unfortunately corked.
Matošević Alba 2015 I 82 points
(Malvazija Istarska)
A little smelly initially, but when that dissipated, attractive aromatic pear and apple aromas peeked out. A touch thin on the palate with a feeling of residual sugar on the finish. Fresh, fruity and simple with a little pepper, slight almond bitterness and a metallic note. Easy drinking wine.
(Ivica Matošević also produces an Alba Antiqua, also Malvazija Istarska, which is fermented on skins for several days and then aged on the fine lees in French oak and acacia barrels for 30 months. It's only produced in exceptional years, has won awards at DWWA and IWC, and has been listed at top UK restaurants such as Heston Blumenthal's The Fat Duck. The 2012 version of this was our corked wine; what a shame!)
Uroboros Trapan Malvazija Istarska 2015 I 88 points
(unfiltered, aged in acacia barrels, biodynamic)
Pear, apple, stone fruits and sage on the nose. Medium bodied with slightly flabby, grainy acidity and a touch of tannic grip. Plenty of spice, lemon peel, peach kernel and buttered almond with just a hint of mineral saltiness. Perhaps a little acetone on the finish. Exciting and complex wine.
(Uroboros, the Greek symbol of a snake biting its tail is meant to represent the closed development cycle employed by the winery, hence eternal recurrence. It also represents the connection between heaven and earth as well as the balance between the grape and wood contact. The winery also makes a fresh Malvazija, Ponente, which takes its name from the western wind blowing in this area.)
Kozlović Malvazija 2015 I 87 points
Aromatic floral nose with plenty of stone fruit, lemon, vanilla and cream. Elegant and harmonic with fresh acidity and a touch of saltiness. Wet stone, mandarin peel, white pepper and plenty of spice dominating on the palate. Slight almond bitterness on the finish.
(This was Kozlović's basic Malvazija, but they also have a vineyard-selected, skin contact, oak-aged version, Santa Lucia, and an acacia-aged wine, Akacia.)
We didn't get to taste the Teran as a still red but rather in sparkling and fortified form.
Vina Laguna Perla Rosa Teran Brut Pjenušavo Vino I 84 points
(sparkling wine)
Attractive pale pink with spicy raspberry, cherry and a touch of mushroom on the nose. Off dry, with a splash of residual sugar balanced by fresh acidity and a fine mousse. Plenty of berries on the palate with some lemon, cherry cake and apricot. Very quaffable.
Kozlović Mediteran I 83 points
(100% Teran, fortified wine flavoured with acacia honey, 16.5%)
Deep ruby in colour. Plenty of ripe red cherry fruit, spice and vanilla on the nose. Intense, sweet and full bodied with grainy tannins, reminiscent of ruby port. Flavours of dark red fruit, dried fruit, spice, smoke, cocoa and a touch of honey. Rather noticeable alcohol and a slight bitterness on the finish. A true curiosity.
We tasted the third dominant variety produced locally, Muscat, in the form of a grape brandy.
Kozlović Lacrime Muscat Brandy I 85 points
(Grappa, 43%)
Made from the grape pomace of Momiano Muscat, this 'grappa' is aromatic and fresh with the sweet floral bouquet of the Muscat variety, along with some grassy and earthy notes. Crystal clear. Warm, balanced and long.