Quinta Maria Izabel Glou Glou is a homage wine, a special product launched by Quinta Maria Izabel, a wine company from Douro with products internationally recognized by its superior quality.

With image signed by Omdesign, it presents an innovative character, reinforced by the strong identity created by the Portuguese agency to emphasize the unusual nature and boldness of this edition. It is a different wine, that allies several friends, different arts and two cities (Oporto and Lyon) and that honours and does justice to the region that has seen its birth by the hands of the reputable winemaker Dirk Niepoort – the Douro region.
Produced by Quinta Maria Izabel, Glou Glou Red 2017 is a project of this brand that aims to continue mirroring in its products what the most important is made and produced in Douro. In addition to the unique grapes that are born in the old vines of Quinta Maria Izabel and that embody this wine, also the experiences are here valued and shared with the ones that have the pleasure to enjoy Glou Glou.
With a central positioning on the labelling of this edition, the painting that pays homage to Nini, the Jójó's three-legs female dog, elaborated by Jakè, a street artist, is highlighted not only by its positioning but by the surrounding as well, since it embraces this unique Douro wine. The 360º sleeved labels mirror, truly, the original works of Jakè who, during a trip to Oporto, utilized an ancient dictionary bought from a used bookstore to apply as background image of these unique pieces. "Glou Glou", by its turn, is the famous expression that Jójó proclaims, invariably, whenever he opens a bottle.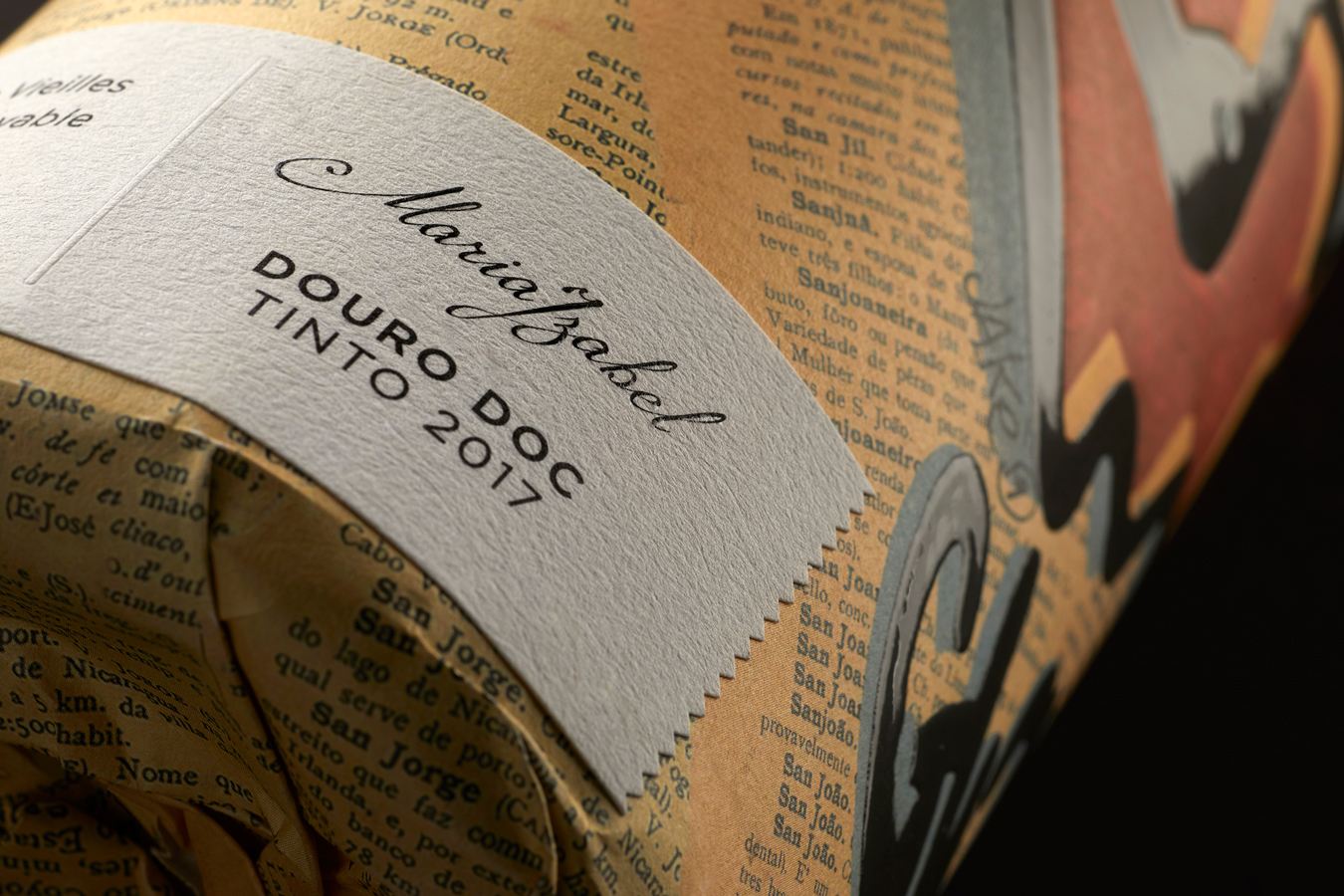 Inspired by this story, Omdesign was challenged to create something different and innovative and to give life to this narrative throughout a contemporary and bold packaging, in which each bottle contains an illustration and it is adorned by the manual effect of a dictionary paper that is embracing it, granting it with a highly distinctive aspect. The sealing wax and the remain materials and finishing chosen by the agency, as varnish, modelling relief, pasted fine paper and the vibrant colours selected, ensure and reinforce the premium positioning of this edition. This wine, that has travelled the world while diffusing the memories of Nini by its storyteller Jójó, alongside the art of Jakè and the mastery of Dirk Niepoort and Quinta Maria Izabel, is available in two different versions that can be seen as collecting and that are only different in terms of colours.
Designed by Omdesign
Via: Packaging of the World